The Waxing Moon Knight: Marvel Comics' (more) Mentally Unstable Batman
First Appearance: Werewolf by Night #32 (1975)
Created by Doug Moench and Don Perlin
Billionaires and gadgets. Both Marvel and DC love them. From Batman to Lex Luthor at DC, and Iron Man at Marvel. But there's one hero at Marvel, now getting his own Disney+ series, who arguably does Batman better than Batman: Moon Knight, the Fist of Konshu.
All Marvel Comics Wanted Was a Villain
When Moon Knight made his Marvel Comics, debut in Werewolf By Night, he was working for the "Committee," who gave Marc Spector his superhero name and silver gear—all to take down Jack Russell, said Werewolf by Night. Though Spector captures Russel, he ends up letting him go and disrupts the Committee's plans. But we'd find out later, in the debut of his own series, that Moon Knight was never worked for the Committee—he infiltrated them in order to shut them down, with the help of his friend Frenchie.
Marc Spector is a wealthy mercenary who may or may not have been given gifts from the Egyptian god Konshu. But there's just one problem—Moon Knight is one of Marvel Comics' characters with a mental disability. In his case, like Legion, he suffers dissociative personality disorder. But he doesn't get a new power with each personality, more like varying degrees of violence and skills. As Steven Grant, he was a wise investor, turning Spector's blood money into a vast fortune. As Jake Lockley, he was a cab driver who weaved a network of informants. Later he would channel the personalities of Spider-Man, Captain America, and Wolverine (the less said about that, the better). And he'd develop "Mr. Knight," working with the NYPD as a consultant and private detective. Like most characters with DPD, his stories get weird and confusing, but there's something about Moon Knight that keeps people coming back—and keeps Marvel Comics trying to launch a successful reboot.
The Many Series of Moon Knight
In total, there have been nine volumes of Moon Knight. The longest lasted for 60 issues, Marc Spector: Moon Knight, while one series, Vengeance of the Moon Knight lasted just ten issues (plus a Shadowland mini-series). For a popular character, Marvel seems to have trouble keeping a Moon Knight series afloat, even when they have star names on the projects, like Brian Michael Bendis, Charlie Huston, Gregg Hurwitz, and Jeff Lemire—and that's just in the last decade. With so many different takes on the character, here's where to go to find the best Moon Knight stories that Marvel has to offer.
Moon Knight Epic Collection: Shadows of the Moon
(Marvel Comics)
You could certainly read Epic Collection: Bad Moon Rising, but Shadows of the Moon includes the brilliant collaboration of Doug Moench and Bill Sienkiewicz. The 80s was a fascinating time for comics. Creators began to play with different art forms and narratives. At Marvel, Moench and Sienkiewicz turned Moon Knight into a dark, broody, street-level horror comic. Their work would define the character for years (including comparisons to Batman, but we'll get to that.
Moon Knight by Jeff Lemire and Greg Smallwood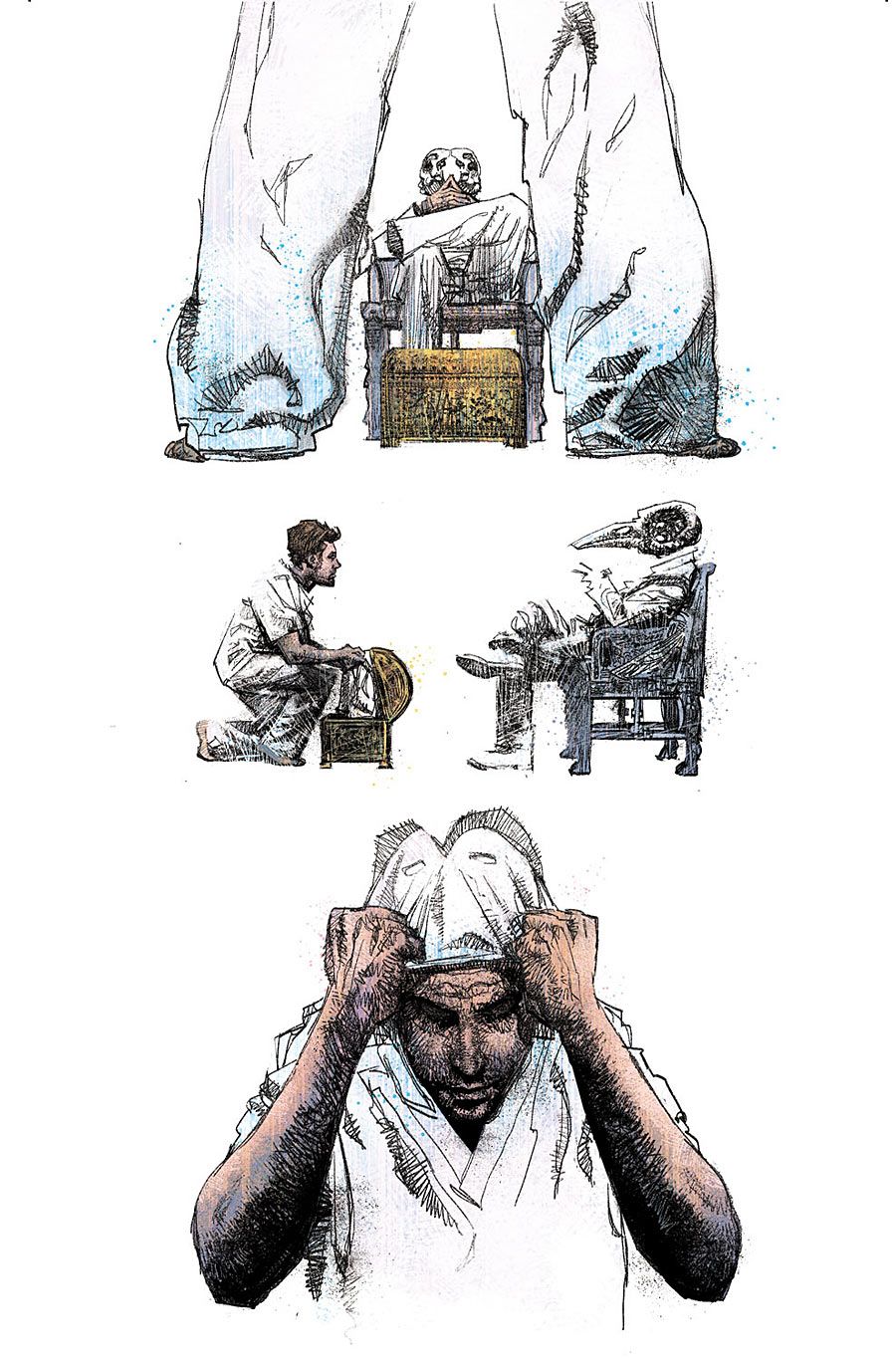 (Marvel Comics)
While works like Vision and Miracle Man were praised for their complexity—and with good reason; Tom King did amazing work on the titles—Jeff Lemire and Greg Smallwood were exploring mental health disorders in refreshing and surprising ways. More than any time before, Marc Spector has to confront his identities and come to terms with his illness. Smallwood's art is especially fantastic, taking elements of Sienkiewicz while creating a pretty trippy book.
Vengeance of the Moon Knight by Gregg Hurwitz
(Marvel Comics)
At some point, Marc Spector's time as a mercenary kind of faded away in importance, but mystery-thriller writer Gregg Hurwitz brought it back with, well, a vengeance. During this time, Marvel was in the Dark Reign era, and Moon Knight was one of many heroes who Norman Osborne pushed to his limits. Hurwitz dives into the violent nature of the "fist of Konshu" with a frenetic pace. However, the series only lasted ten issues, though Hurwitz did conclude his arc in a Shadowland tie-in just after its cancelation. The brevity of the run kind of works, however. This series is very much a product of Dark Reign, and issue 10 carries the Heroic Age banner. Vengeance has no place in an age of heroes.
Moon Knight by Charlie Huston and David Finch
(Marvel Comics)
Vengeance may have explored Moon Knight's violent ways, but Huston and Finch probably delivered one of the bloodiest Moon Knight titles that Marvel ever produced. They also turned Marc Spector into a punching bag. Huston and Finch revitalized the character for the 21st century while dragging him through misery in an opening arc literally called "The Bottom."
Marvel Legacy: Moon Knight by Warren Ellis and Declan Shalvey
(Marvel Comics)
Warren Ellis and Declan Shalvey's six-issue run is full of goodies. Every issue is a one-shot, but they wonderfully develop the character and give him even more promise for further adventures. But most of all, they gave us the personality Mister Knight.
The Moon Knight vs. The Bat
(Image via Comic Vine)
So, Moon Knight is often called the Marvel response to Batman. If that's the case, Marvel waited nearly forty years to create their own Batman. Tony Stark has much more in common with Bruce Wayne than Marc Spector does. Sure, Spector and Wayne are both wealthy, but Bruce is old money. Spector created his fortune instead of inheriting one. As Charlie Huston pointed out, they're both driven by very different motives. Batman "fights crime to avenge the murders of his parents," whereas Moon Knight "beats up whoever has it coming because he believes he is the avatar of the Egyptian god of vengeance and it helps him to feel better about all the people he killed when he was a mercenary."
Batman is also much more of a detective. He is called the world's greatest detective, after all. Moon Knight…he's more about enacting justice than finding justice. The one actual commonality that both characters share is one that never comes up: both characters are superheroes because of their PTSD.
They also both have cool gadgets.
And though the costumes are strikingly different, Marc Spector's reason for wearing white says everything you need to know about Marvel Comics' Moon Knight:
(Marvel Comics)
So, who should play Moon Knight?
(Featured Image: Marvel Comics)
Roman Colombo finished his MFA in 2010 and now teaches writing and graphic novel literature at various Philadelphia colleges. His first novel, Trading Saints for Sinners, was published in 2014. He's currently working on his next novel and hoping to find an agent soon.
Leave a comment