Marvel Comics Incoming Comic is Insufficient But Fun
Marvel Comics used to do "Point One" and "Now" anthology comics that had original stories previewing new series and events to come—and that's what Incoming is. Now, as a preview anthology comic, the issue kind of works. We're exposed to every corner of the Marvel Universe. If you didn't know about the robot revolution going on in Iron Man, the creative teams quickly catch you up. Also, HERBIE bleeped out as he scolds the Fantastic Four is the single greatest moment in HERBIE's history. New events are set up, like the upcoming Outlawed and Empyre—which does look like it will be the massive space war we've been waiting for, but I won't spoil it.
But wait, wasn't Incoming supposed to be a one-shot event—like DC Rebirth?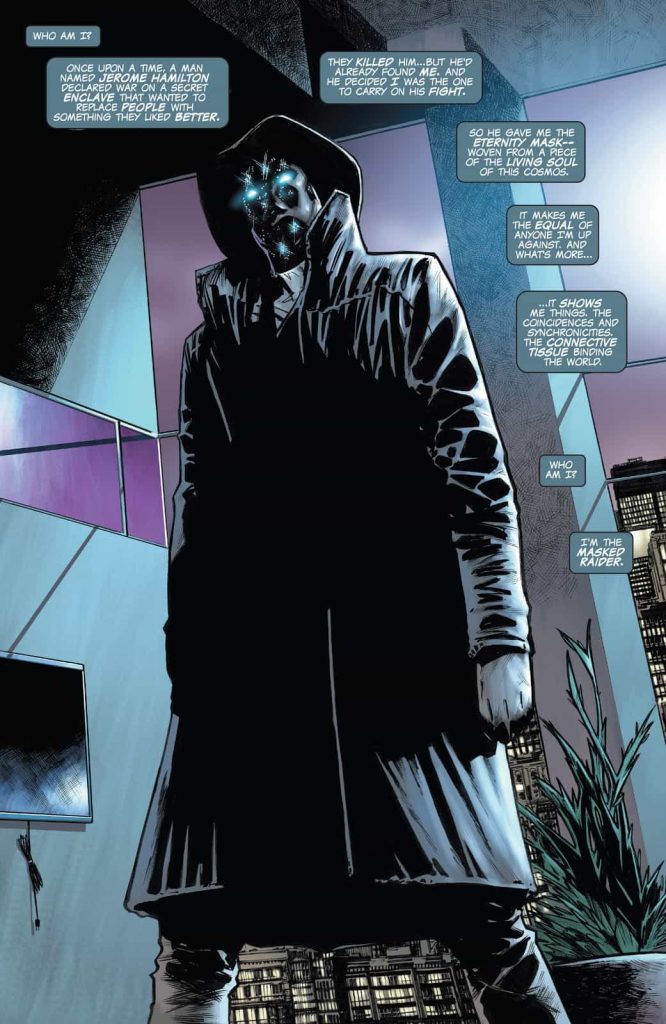 Oh, I thought your name was Masked Exposition. (Image: Incoming, Marvel Comics)
That's the problem. Marvel Comics sold Incoming as a single event revolving around a huge murder mystery that will "unite them all." Read the solicitation below:
ONE WILL UNITE THEM! A mysterious murder brings together the heroes of the Marvel Universe in the search for a killer – but no one can imagine where the trail will lead, or how it will affect everything in 2020 and beyond! Who is the victim and who is the assailant? The closing chapter to MARVEL's 80th year, which will connect the dots of everything that happened in 2019 and propel the narrative into the year that is to come! Featuring the Avengers, the Fantastic Four, the X-Men, the Guardians of the Galaxy, Daredevil, Spider-Man, the Champions, the Agents of Atlas, Valkyrie, the Immortal Hulk, Jessica Jones, Venom, Ghost Rider, the Masked Raider and more!
And when the Incoming goes away from that to explore the rest of the Marvel Comics universe, it's kind of annoying.
What is the Mystery in Marvel Comics Incoming?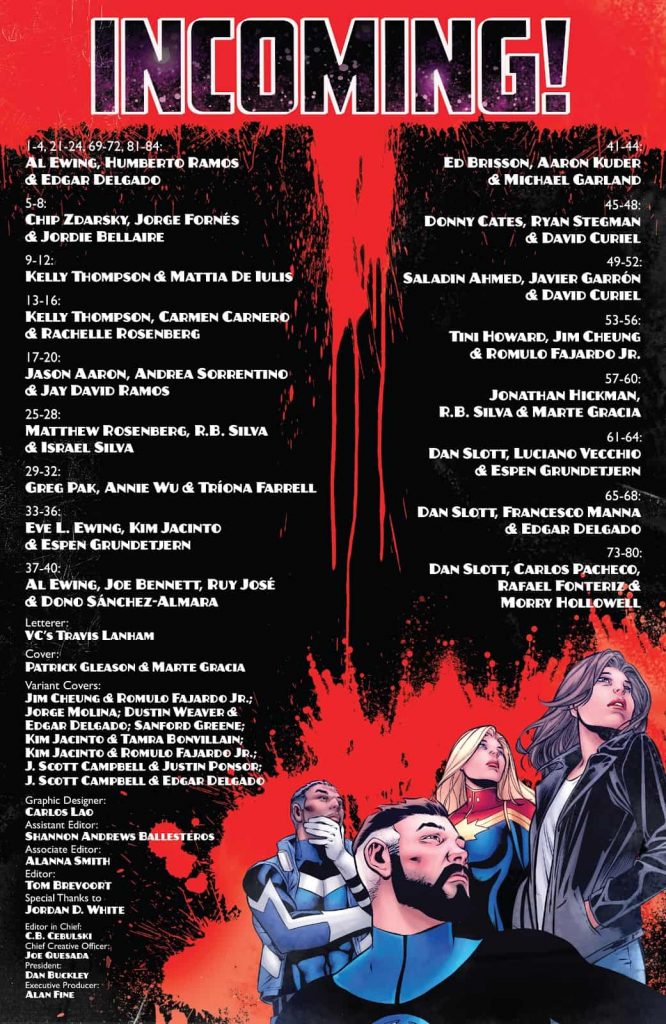 Your Creative Team: Everyone! (Image: Incoming, Marvel Comics)
Some random dude is dead. The Masked Raider feels drawn to this murder, so he passes it off immediately to Daredevil and Electra. They immediately pass it off to Jessica Jones, who immediately passes it off to Captain Marvel, who immediately passes it off the Avengers who immediately pass it off to the Blue Marvel. And it's around then that Marvel Comics editors stop trying to loosely connect the stories with this dull mystery. Instead,  we just bounce around the MCU until the end when the mystery randomly comes back into play. When they solve the mystery, I won't spoil who it was because, spoiler, it's nobody important. It's a terrible murder mystery.
It's not bad writing—especially for how many creative teams continued. And each little story is fun. It just doesn't feel like it added up to anything when it should have.
Grade: A HERBIE Rant

We feel ya, HERBIE. We Feel ya. (Image: Incoming, Marvel Comics)
Roman Colombo finished his MFA in 2010 and now teaches writing and graphic novel literature at various Philadelphia colleges. His first novel, Trading Saints for Sinners, was published in 2014. He's currently working on his next novel and hoping to find an agent soon.
Leave a comment