What Marvel Comics Graphic Novels You Should Read This December 2020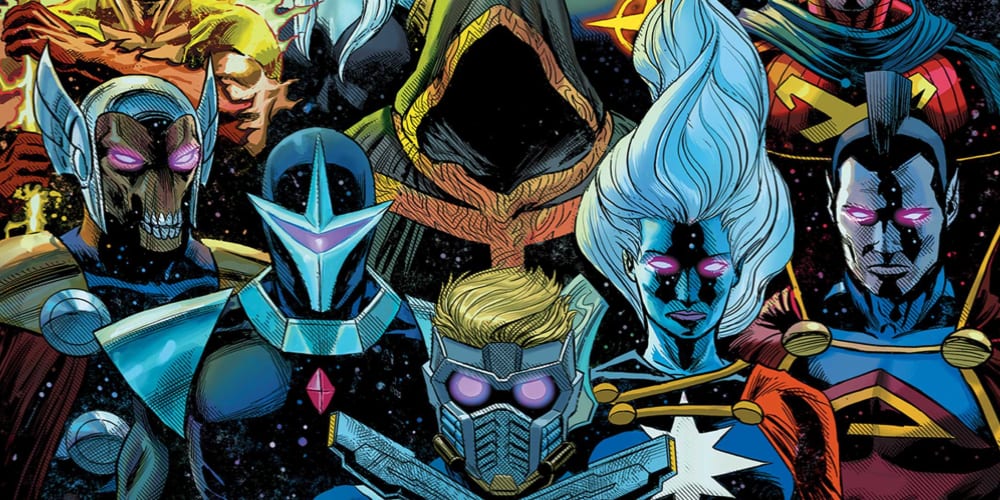 Christmas is around the corner, so, as usual, Marvel Comics has some epic collections coming out—both in titles and in volumes. Looking at everything coming out, the question is less, what Marvel Comics Graphic Novels You Should Read This December" and more "What shouldn't you read." The answer to that is generally "none." There are always great graphic novels coming out, but here are some ones to definitely take a look at.
The Marvel Cosmic Universe by Donny Cates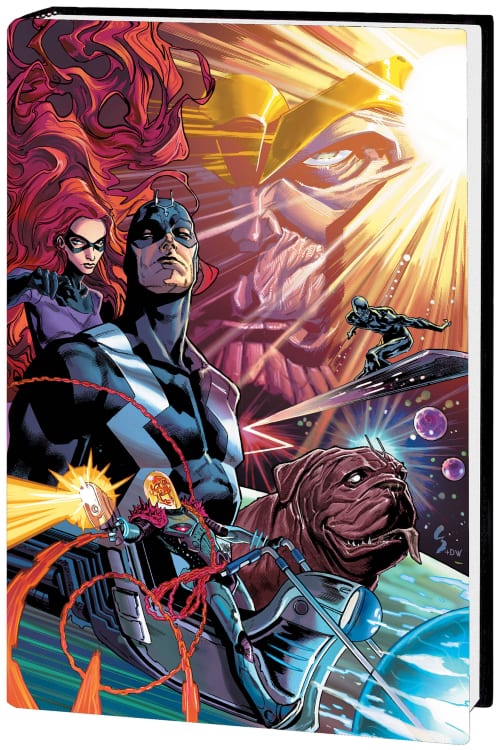 (Marvel Cosmic Universe by Donny Cates Omnibus Vol 1, Marvel Comics)
Generally, Christmas is about that amazing person born on December 25th. Me. But when people aren't celebrating my birthday all over the globe with songs and gifts, chances are, they're reading something by Donny Cates. Not only does he have King in Black starting this December, but Marvel Comics is releasing a few of his graphic novels that you should read. And his cosmic books are fantastic. Silver Surfer: Black is worth buying the omnibus for as it is. But everything here is great.
Guardians of the Galaxy by Donny Cates
Co-Writers: Al Ewing, Tini Howard, Zac Thompson, and Lonnie Nadler
Artists: Filipe Andrade, Ibrahim Moustafa, Cory Smith, and Geoff Shaw
Release Date: December 23rd
Official Solicitation:
Donny Cates' complete Guardians saga in one stellar hardcover!

Hundreds of worlds are at war. More than ever, the galaxy needs the Guardians — but in the aftermath of the Infinity Wars, who is left to answer the call? Thanos is dead, but the search for his successor has just begun. Who will it be? And who are the Dark Guardians? Cosmic chaos commences when the new Guardians take on Thanos' Black Order — but could the Mad Titan be fighting his way back from the grave?! Plus: The Universal Church of Truth returns at the worst possible time — because Rocket Raccoon is dying! He's still got some fight left in him, but his allies are few and the odds are slim. Can Rocket hold on long enough to make a difference?

Collecting GUARDIANS OF THE GALAXY (2019) #1-12 and ANNUAL #1.
Marvel Cosmic Universe by Donny Cates Omnibus Vol. 1
Artists: Ariel Olivetti, Brian Level, Dylan Burnett, and Geoff Shaw, and Tradd Moore
Release Date: December 23rd
Official Solicitation:
Blockbuster writer Donny Cates (VENOM, GUARDIANS OF THE GALAXY, THOR) unleashes cosmic chaos! Ask the galaxy's most powerful beings how they fear the universe will end, and they will answer with two words: "Thanos wins." Now, that disturbing thought becomes a horrific reality! Meanwhile, the Kree have targeted the Inhumans for annihilation, and Black Bolt must lead the few survivors into one final, bloody battle. In the future, Frank Castle has been transformed into the Cosmic Ghost Rider! And now this bizarre hero has plans for vengeance on Thanos himself! And when the Silver Surfer is lost in space and time, his struggle to survive will leave him changed forever!

Collecting Thanos (2016) #13-#18, Thanos Annual (2018) #1, Cosmic Ghost Rider (2018) #1-#5, Death of the Inhumans (2018) #1-#5, Silver Surfer: Black (2019) #1-#5, Thanos Legacy (2018) #1 (A story).
Spider-Man Noir: Twilight in Babylon TP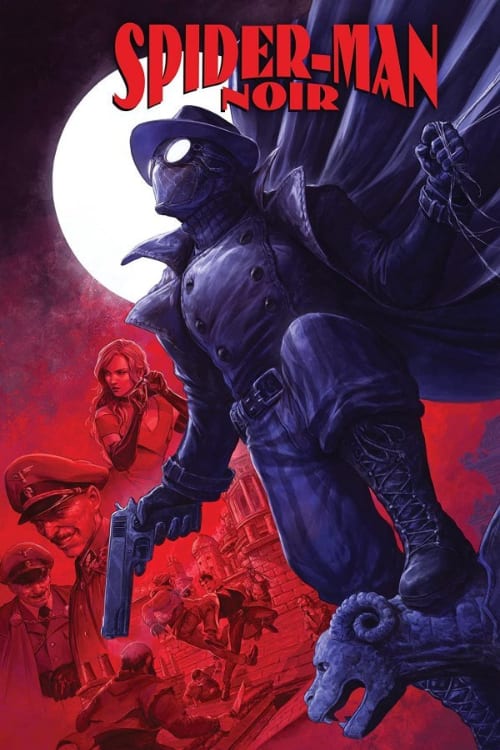 (Image: Spider-Man Noir: Twilight in Babylon, Marvel Comics)
Of all the Spider-Verse characters, there are two that fans love most: Spider-Man 2099 and Spider-Man Noir. Oddly, Spider-Man Noir followed his 2099 counterpart's tradition. The Marvel Noir series ended over a decade ago, but this one part of that world lives on. Spider-Man 2099 did the same thing for the 2099 stories. Spider-Man Noir always deserves a spot on the "Marvel Graphic Novels You Should Read" lists, but this December has one of the best. Margaret Stohl and Juan Ferreyra return to the Noir universe and give us everything we love. Fighting Nazis, night club murders, and a few surprises.
Writer: Margaret Stohl
Artist: Juan Ferreyra
Release Date: December 30th
Official Solicitation:
MURDER AND MYSTERY IN THE MIGHTY MARVEL MANNER!

Dateline, 1939: As the specter of war looms on the horizon, a very noir Spider-Man fights the good fight at home. But when there's a murder at the Black Cat Nightclub and all clues point overseas, Spidey will have no choice but to board the next flight to Europe! After months of searching, the Nazis have discovered an ancient evil in a dig site on the other side of the world. And scrappy young reporter Peter Parker soon finds himself torn from his friendly neighborhood and thrust into the international action! Unsure who he can trust, the rookie gumshoe must embark on a globe-trotting adventure, encountering friend and foe alike — some of whom readers may find disturbingly familiar!

Collecting SPIDER-MAN NOIR (2020) #1-5.
The Incredible Hulk: Epic Collection – Going Gray
(Image: Incredible Hulk Epic Collection: Going Gray, Marvel Comics)
When Stan Lee and Jack Kirby first debuted the Incredible Hulk, he was gray, not green. But for a while, he returned to his gray look, and that epic storyline led to one of the best and longest runs of all time: Peter David's. This collection lays the groundwork and gives us some of the early issues. This is definitely one of the Marvel Comics graphic novels you should read this December, especially if you're a Hulk fan.
Writers: Peter David, Danny Fingeroth, John Byrne, and Al Milgrom
Artists: John Byrne, Al Milgrom, Todd McFarlane, Dwayne Turner, Sal Buscema, and Steve Geiger
Release Date: December 2nd
Volume #14 in the Incredible Hulk Epic Collections
Strange changes for the Hulk! Doc Samson has a wild plan to separate Bruce Banner and the Hulk for good — but can Banner survive without his emerald alter ego? And can the planet survive a rampaging, Banner-less Hulk? As the Avengers battle the behemoth, a new team of Hulkbusters forms — and Bruce, seemingly free at last, finally finds happiness with Betty Ross! But two halves of a whole can't stay apart forever, and the Hulk that returns is surlier, craftier — and gray! But if this is the Hulk, then who's the long-haired green giant smashing up the American Southwest? And which longtime supporting character will meet their maker? Featuring the complete classic John Byrne run — and the status quo-smashing setup to Peter David's multiyear epic!

Collecting INCREDIBLE HULK (1968) #314-330 and ANNUAL #14-15, and material from MARVEL FANFARE (1982) #29.
What Marvel Comics graphic novels are you reading this December that we should too? There are so many to choose from!
(Featured Image: Guardians of the Galaxy by Donny Cates, Marvel Comics)
Roman Colombo finished his MFA in 2010 and now teaches writing and graphic novel literature at various Philadelphia colleges. His first novel, Trading Saints for Sinners, was published in 2014. He's currently working on his next novel and hoping to find an agent soon.
Leave a comment