Marvel Comics 9/11 Tribute "The Four Fives" Is Short, Quiet, and Powerful
It's been twenty years since the attacks on September 11th, 2001, but for every American old enough to remember, it will always feel like it was only a few years ago. However, it really has been a generation since we watched the attacks. I have students now whose parents hadn't even met yet, let alone were alive. It's a strange feeling. For them, it's just history. Sad history, but a history lesson, nonetheless. For us old-timers, it's a painful reminder of how vulnerable we are – and how arrogant we were leading up to that point (yes, even more than we tend to be now). Amazingly, in the Marvel Comics 9/11 Tribute, "The Four Fives," Joe Quesada and John Romita Jr captured the emotion of looking back on that day.
"The Four Fives" Is A Beautiful 9/11 Tribute and A Powerful Marvel Comics Story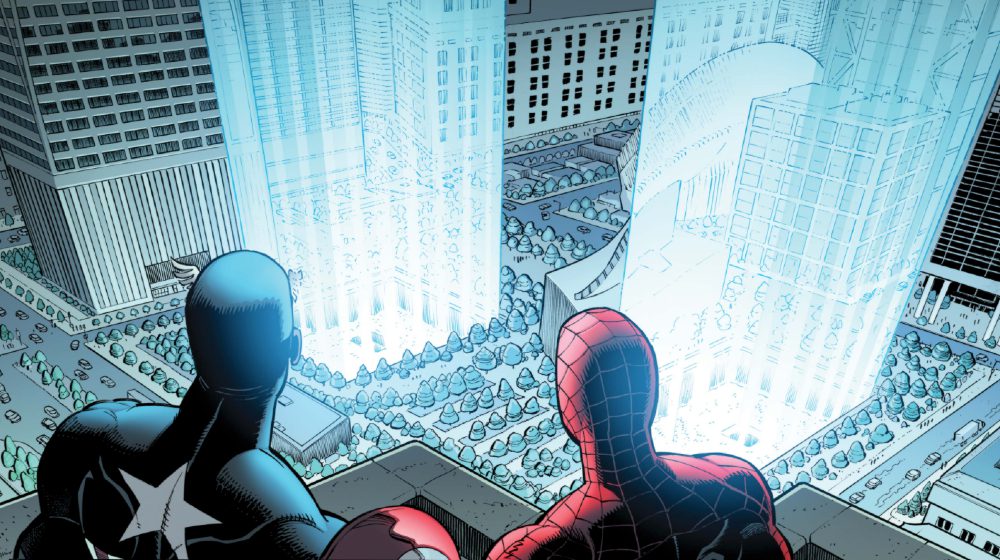 (Image: Marvel Comics)
The entire comic is just seven pages long. We start with Spider-Man on the phone with Aunt May, but he's crying. When he finishes the conversation, he quickly puts on his mask and joins Captain America at the World Trade Center monument.  After the first two panels, the comic goes silent. We're left with just the images of people around America in mourning as the bell tolls loudly during the ceremony. We don't see any more dialogue until the last panel on the second to last page. Then we have the full-page final image. John Romita Jr's art is filled with his love for New York City and the United States. Meanwhile – and it's hard to find a way to give accolades to the creators while not undercutting the significance of the piece – the 9/11 Tribute is the best thing Joe Quesada ever wrote for Marvel Comics.
And it's all in the final moment. The short comic goes from a beautiful tribute to a heartbreaking reminder. The guy behind Spider-Man: One More Day nearly had me crying. To read the comic, head to Marvel, the Marvel Unlimited app, or Comixology. And have a tissue ready.
(Featured Image: Marvel Comics)
Roman Colombo finished his MFA in 2010 and now teaches writing and graphic novel literature at various Philadelphia colleges. His first novel, Trading Saints for Sinners, was published in 2014. He's currently working on his next novel and hoping to find an agent soon.
Leave a comment