Kingpin Running For President? Who Could Possibly Cage That Idea?
 Devil's Reign #1 hit stands last Wednesday – and it hit hard. Kingpin, the Mayor of New York City, is going to the extreme to fulfill his vendetta against superheroes. Mainly, he's a bit upset at Daredevil. Way back, at the beginning of Charles Soule's run, the Purple Man's children erased Daredevil's secret identity from everyone in the world. Kingpin knows his mind was altered, knows it was Daredevil, but doesn't know how. Yet his war against superheroes might only be the first stage in a much bigger game. Thanks to some wealthy New Yorkers' controlling Kingpin like a puppet, he might be running for President of the United States.
Why Kingpin Running for President is Unique for Marvel Comics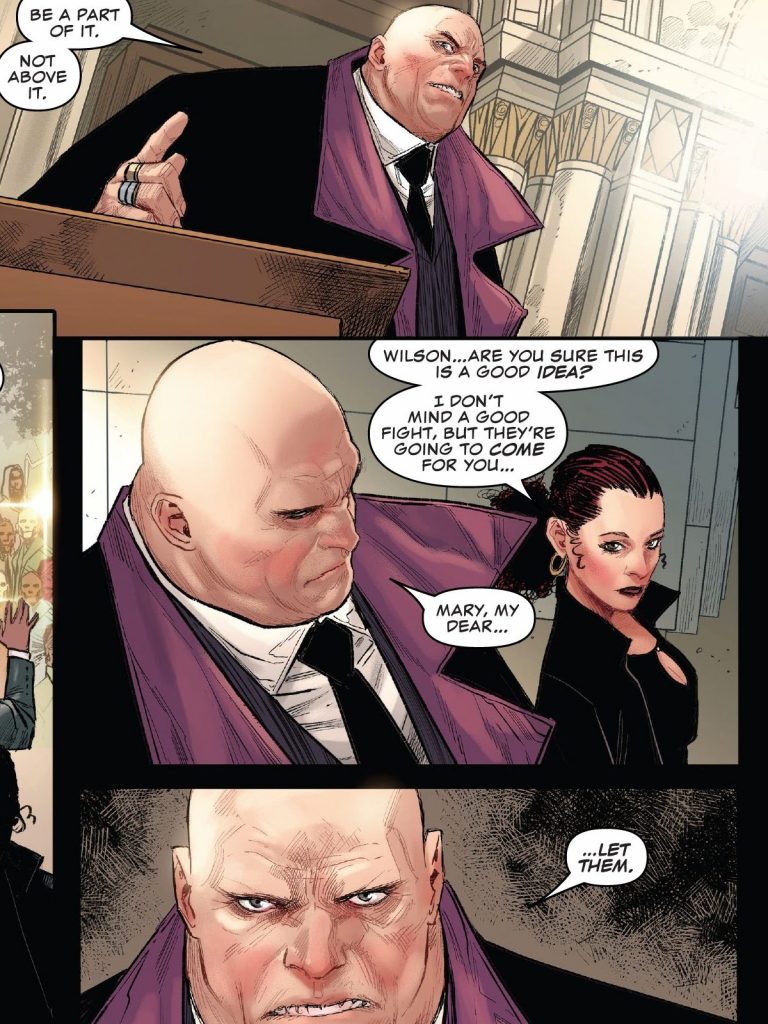 (Image: Marvel Comics)
Since the early days of Marvel Comics, the President in the stories was the same President in the real world. This, of course, causes some issues with continuity and storytelling. For instance, Dark Reign, the era when Norman Osborne took over SHIELD, started right when Barack Obama won the presidency. It's unlikely enough that any president would promote Norman Osborne to that much power, but especially not Obama. Maybe the president eight years later, though. If Kingpin succeeds in running for President, it will be the first time in the 616 that a fictional character held the highest office in the land.
Kingpin wouldn't even be the first bald villain running for, and potentially winning, the presidency.  In the early 2000s, Lex Luther won the presidential election. It ended just as badly as you'd expect. A Wilson Fisk administration would, in theory, go down just as badly. So, if Kingpin is running for President, the heroes must come up with a plan. And the first part of that plan? Make sure Fisk isn't reelected for Mayor.
One Marvel Hero Already Plans to Run Against Wilson Fisk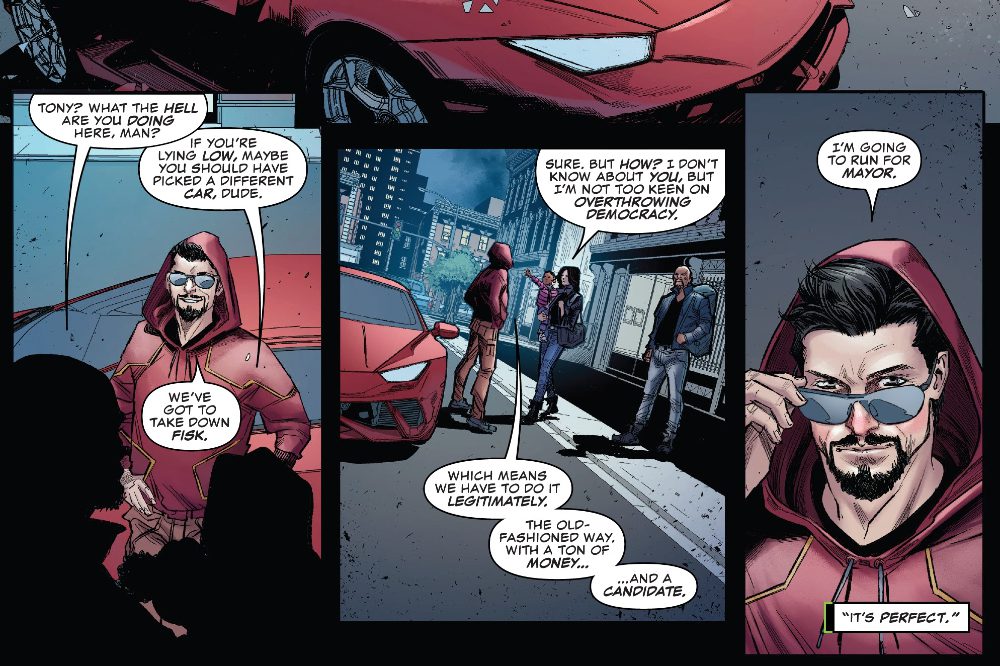 (Image: Marvel Comics)
Tony Stark. Genius, Billionaire, Playboy, Philanthropist – Politician? When Tony reveals his plans to Luke Cage and Jessica Jones, it's both surprising and not surprisIt's It's surprising because it seems that writer Chip Zdarsky is setting up someone else for the election. But, sit's it's Tit's it's not surprising that he thinks that he is the best option New Yorkers have against Fisk. And if Tony fails in running for Mayor, it will make President Kingpin a more plausible outcome. So, who should run for Mayor?
Forget Running for President; Kingpin Should Be Worried About Mayor Cage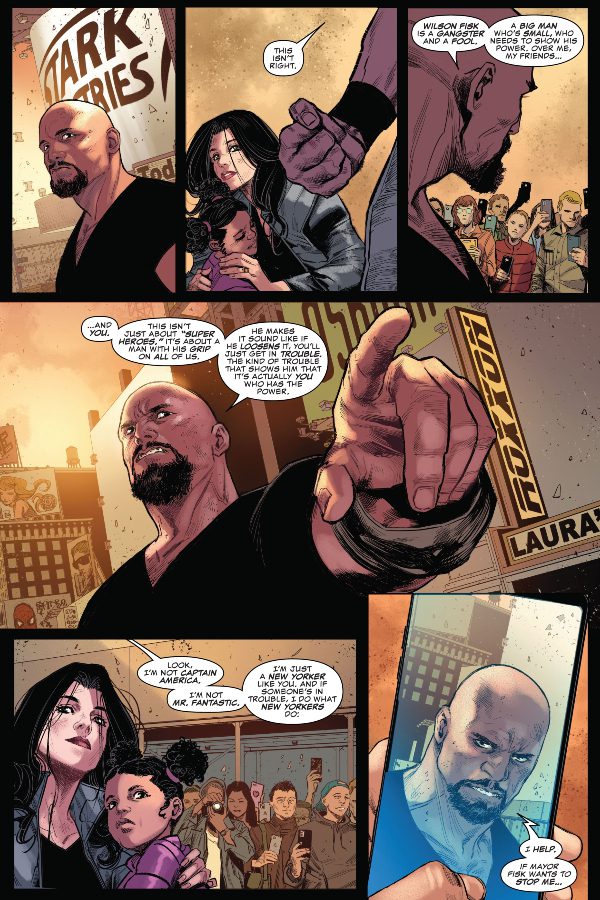 (Image: Marvel Comics)
That scene above? That's a stump speech if we ever saw one. And Luke Cage, for all of his street-level, down-to-earth qualities, is also a damn good leader. We saw this in Dark Reign as he led the Secret Avengers. He's also the best kind of leader – a reluctant one. Tony and Kingpin each have a ton of ego, the kind that makes politicians running for President "say "I alone can f" x it" even though they're more likely to make it worse. In fact, Tony even said something along those lines once. At the end of 2006's Civil War, this is what Tony said in regards to why he should be the director of SHIELD: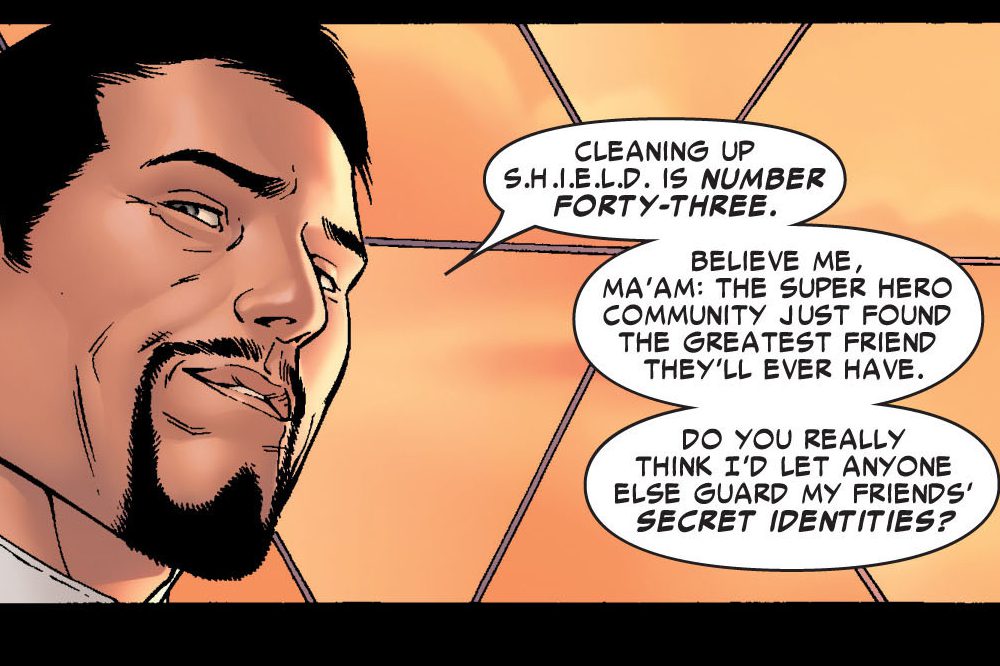 (Image: Marvel Comics)
But The Initiative era proved just how much Tony can screw up a significant leadership role. As director, he was so bad that people thought Norman Osborne was a better option. Luke is the opposite of that. He's "the "okay people, let's get shit" done" kind of leader. So, hopefully, if Kingpin even thinks about running for President, we'll have Mayor Luke Cage crushing his prospects.
Although, I kind of hope we get Mayor Hulkpin from Devil'svil's Reign variant covers.
(Featured Image: Marvel Comics)
Roman Colombo finished his MFA in 2010 and now teaches writing and graphic novel literature at various Philadelphia colleges. His first novel, Trading Saints for Sinners, was published in 2014. He's currently working on his next novel and hoping to find an agent soon.
Leave a comment