X-Men: Inferno Promises To Answer All The Questions of the Jonathan Hickman Era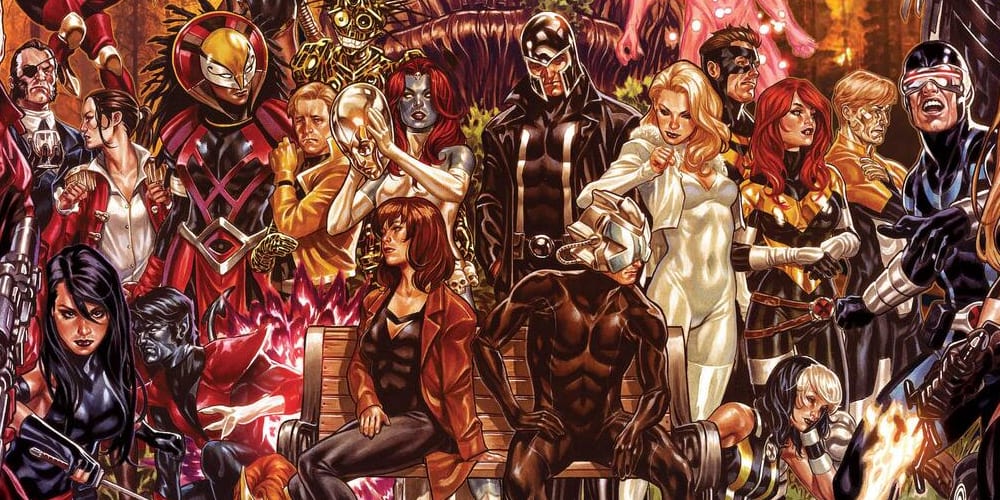 Throughout the Age of Krakoa – or Age of Hickman – Professor X and Magneto have manipulated Mystique to take on the most dangerous jobs. Why is she constantly risking her life? Because Xavier and Eric promised to speed up Destiny's resurrection. But though they dangle her wife's resurrection before her, they have no plans to actually bring her back. Krakoa does not want precogs resurrected, and Moira X wants to make sure Destiny can't disrupt her plans. However, the trio secretly ruling Krakoa has pushed Mystique over the edge. After she fails on her most dangerous mission yet, Xavier and Eric brush off her request. This moment may usher in the fall of Krakoa, as it will lead to the crescendo of the Jonathan Hickman X-Men Era, Inferno.
What is X-Men: Inferno and What Is Jonathan Hickman Planning for Krakoa?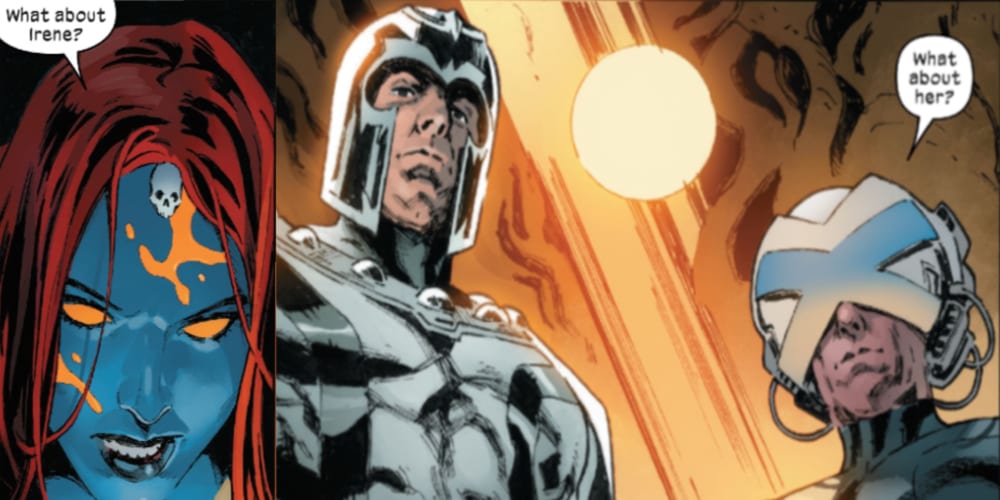 Be a couple of dicks to one of the world's deadliest assassins? Yeah, you two are truly brilliant leaders. (Image: X-Men (2019) #20, Marvel Comics
As Marvel described in their announcement, "a day of reckoning is upon mutantkind's leaders, and the shocking payoff to seeds planted in HOUSE OF X and POWERS OF X arrives in mastermind writer Jonathan Hickman's brand-new X-Men series: INFERNO!" Right now, however, the nation of Krakoa is doing well, as we see (for the most part) in Hellfire Gala week one. But that event has a cloud hanging over it. The last issue of X-Men before the  Hellfire Gala didn't merely hint at what Jonathan Hickman plans for X-Men: Inferno. It's front and center. For instance, Mystique's first lines in issue #20 are "I have annihilation on my mind." However, this has a double meaning. Firstly, she wants to take down Orchis once and for all, and prevent Nimrod from going online. Secondly, she means Krakoa. As we see on the last page: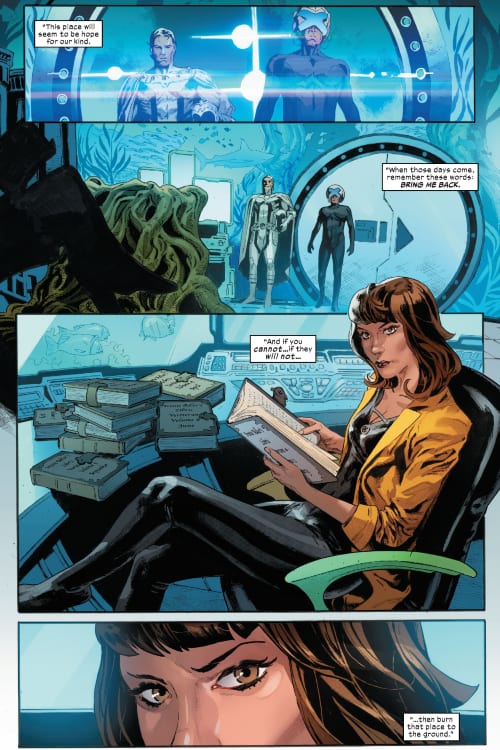 And Moira is reading Destiny's journals. Mystique isn't going to like that. (Image: X-Men (2019) #20, Marvel Comics)
Destiny's past words to Mystique start on the page before. In full, she says:
There will be an island – not the first, but the last. This place will seem to be hope for our kind. When those days come, remember these words: Bring Me Back. And if they cannot…if they will not…then burn that place to the ground.
So, yeah, an actual inferno is coming. Good job, Xavier.
Why that Title is So Familiar, and What it Could Mean for the Jonathan Hickman Event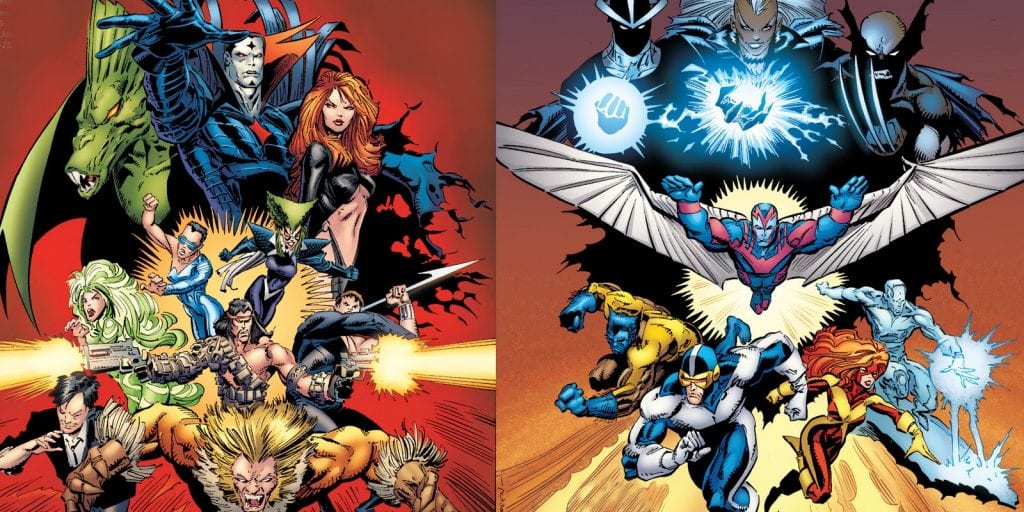 Mister Sinister's look is the least altered in comics – because it is fabulous. Don't mess with perfection. (Image: X-Men: Inferno TPB, Marvel Comics)
One of the most praised crossovers in X-Men history was the 1980's classic Inferno. In the original Inferno, Madelyne Pryor became the Goblin Queen and literally raised Hell on Earth with the help of a couple of demons manipulating every X-team. As suggested in the title, the event had plenty of destruction. For instance, under the influence of a spell, the X-Men went on a killing spree against the Marauders. Now, will this have any bearing on the new X-Men: Inferno when Jonathan Hickman starts burning Krakoa to the ground? Maybe, maybe not. Havok, on the Hellions, keeps trying to convince the Quiet Council to bring Madelyne back. Despite being a clone of his brother's wife, Havok fell in love with her. So yeah, he fell in love with Jean Grey light. It's weird. Excalibur is always up to something magical, so there's that too.
But one interesting aspect of this event? It's when Jean and Scott finally find their baby son, Nathan – the future Cable. A lot is happening in Cable too, and Marvel already announced that the old guy is returning (it's not looking good for kid cable). However, like Heroes Reborn, it could just be the same name. Marvel's been doing that a lot lately. There might also be some clues in the full promo image: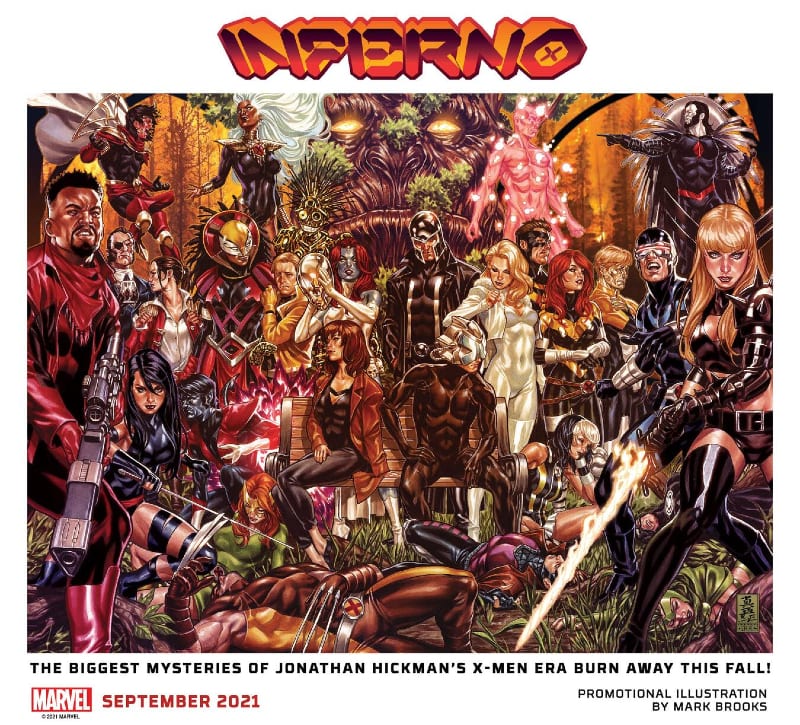 Why are they all just standing around seemingly dead mutants? Kind of weird, everyone. Especially with the Five right there. (Image: Marvel Comics)
What do you think? Is the end of Krakoa near?
Well, we have to wait until September to find out. But damn, between The Death of Doctor Strange and X-Men: Inferno, Jed Mackay and Jonathan Hickman are loading the month up with tragedy.
Roman Colombo finished his MFA in 2010 and now teaches writing and graphic novel literature at various Philadelphia colleges. His first novel, Trading Saints for Sinners, was published in 2014. He's currently working on his next novel and hoping to find an agent soon.
Leave a comment