April 6th Image Comics Give Us Sci-Fi, Fantasy, And Scripture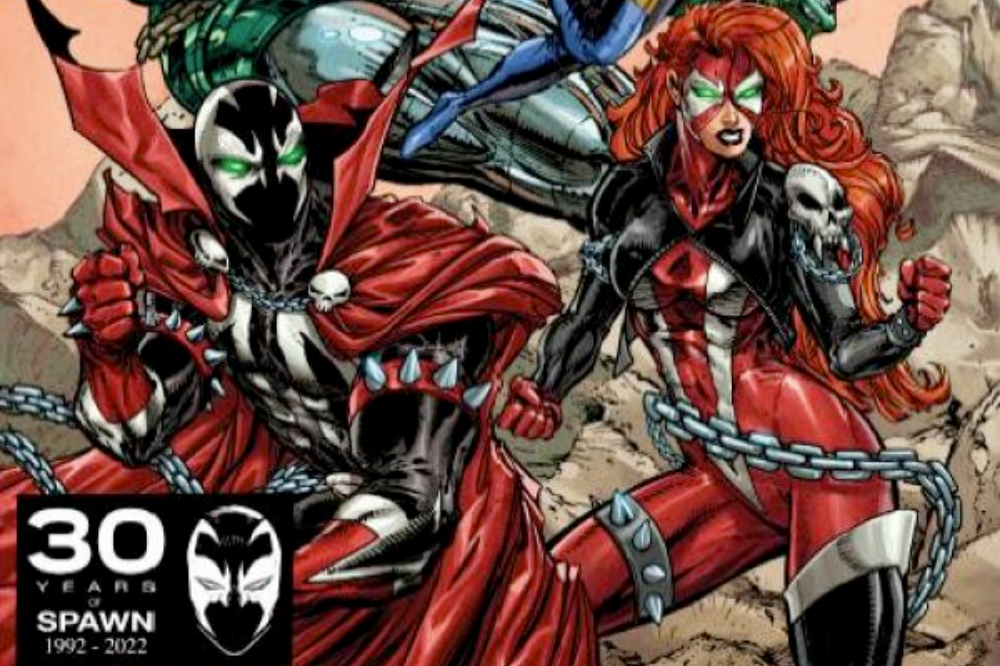 There's a common mistake in the comics industry – thinking there is a "Big 2." That only DC and Marvel Comics are at the top of the heap. However, it's really a "Big 3." Which publisher consistently holds their own against the superhero houses? That's Image Comics, and the April 6th comics show why. Sure, there there isn't as many as DC or Marvel. But there are some kickass Image Comics you should read, even if you need to catch up on some comics released before April 6th. Here are our top picks:
Image Comics Brings a Little Bit of Easter to April 6th with Loaded Bible
(Image Comics)
Technically speaking – technically – Jesus is a zombie. In the Marvel Universe, according to Immortal X-Men #1, he was a mutant. To others, he's a divine figure, while others see him as a man. Well, an illiterate Jewish carpenter who almost took down the Roman Empire, so also a badass. In the comic Second Coming, he was a sidekick to a superhero. And in the video game I am Jesus Christ, he was…you! We've applied all kinds of supernatural or grand titles to Jesus, but you know what we haven't called him yet? A vampire. Thankfully, Tim Seeley and Steve Orlando, two of the most brilliantly weird minds in comics, are doing just that. Issue #1 came out last month. So, there isn't much to catch up on, so grab both issues when picking your April 6th Image Comics selections. Here's the holy scripture solicitation:
Jesus has been bitten by Dracula's sleeper vampire, but how long can he stave off the infection? As Dracula's evil plan evolves, the real meaning of the ancient impaler's alliance with the church is revealed. All life on Earth is under threat! Can Jesus's own people save their savior in time to save the world? Featuring the DEBUT of JOHN THE MECHANIC!
The Radiant Black Universe Grows a Little More With Radiant Red #2
(Image Comics)
So, if you haven't been reading Radiant Black, you're missing out on a fantastic series. But if you don't want to catch up on all the back issues of Black, pick up last month's Radiant Red #1. It looks like Image Comics intends to expand the Radiant-verse, so before everyone is snatching up Radiant Blue, Green, Indigo, and Puce use Wednesday, April 6th to catch up. Oh, Radiant Puce? It'll be as magnificent as it sounds. For now, here's the solicitation for Radiant Red #2:
It's one o'clock on a Thursday morning. Satomi Sone should be at home with her husband, in bed, asleep. So why is she in an abandoned warehouse in an empty industrial district? And who-or what-waits for her inside?
The Spawn Universe Gives Us Something Awesome on Wednesday
(Image Comics)
Ever since Spawn #300, the longest-running, non-interrupted series exploded into a shared universe. King Spawn, Gunslinger Spawn, and The Scorched hit the road (to hell) running. But with the April 6th Image Comics releases, The Scorched might jump to the best Spawn book. So let's get right to the solicitation:
SOUL CRUSHER returns to do battle with the Scorched! But why now, and why here?
If you've been following Spawn and The Scorched, this should make you pumped for more.
April 6th Image Comics Full List
Little Monsters #2
Loaded Bible: Blood of My Blood #2
Monkey Meat #4
New Masters #3
Radiant Red #2
The Scorched #4
What comics are you looking forward to this Wednesday?
(Featured Image: Image Comics)
Roman Colombo finished his MFA in 2010 and now teaches writing and graphic novel literature at various Philadelphia colleges. His first novel, Trading Saints for Sinners, was published in 2014. He's currently working on his next novel and hoping to find an agent soon.
Leave a comment