House of X Finale: It's a Beautiful Day in The Krakoa-hood
House of X #6 marks the finale of one of the two titles transforming the X-Men for the next few years to come. Once again, Jonathan Hickman delivers a smart comic, but this one has ten pages of emotional points that will make you feel like you're being hugged by every mutant in the Marvel Universe.
These are the Laws of the House of X
The first half of the House of X finale is about setting up the government of Krakoa. After all, they've tried this island nation thing twice before with Genosha and Utopia, so what makes this time different? The most important detail: unity. As far as we can tell, there are no longer good vs evil mutants. It's just mutants now. They are all on the same side. The council consists of people who have literally tried to kill each other on several occasions. The council consists of four houses—not unlike Harry Potter: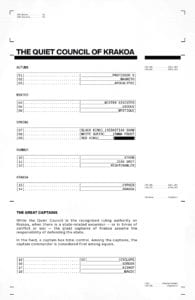 (Image: Marvel Comics)
The first thing the Quiet Council accomplishes is setting the first three laws of Krakoa: Respect The Land (Krakoa), Kill No Man (Referring to humans since mutants no longer die), and Make More Mutants. The conversations between these mutants is dynamic and compelling. The only downside is that there was a lot to accomplish in the House of X finale, so it was a short scene. It could have been an entire issue.
House of X Ends with a Bang (of Fireworks)
The finale ends with the Council finishing their first gathering—and sentencing Sabretooth to an undying oblivion—before walking out of the House of X to the biggest celebration in mutant history:
(Image: Marvel Comics)
Most of the partying are combinations of characters you'd expect, or at least make sense, like Hope enhancing Dazzler's powers to create those beautiful pyrotechnics above. However, the image that moved me most was this one: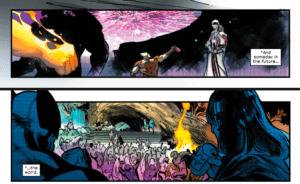 (image: Marvel Comics)
This is Wolverine and the Gorgon sharing a beer. Why is this such an important moment? Because these two mutants have destroyed each other. Gorgon brainwashed Wolverine in the classic Enemy of the State to be a Hydra agent, and in return, Wolverine turned Gorgon's mutant powers against him—turning his enemy to stone. Wolverine running into Gorgon should end in buckets upon buckets of blood and stone. But this is a new era, and it's a perfect way to show this revolution.
So find an enemy, hand them a copy of the House of X finale, grab some drinks, and become best friends.
Grade: These are the laws of great comics.
Just one more week to the Dawn of X!
(Featured image: Marvel Comics)
Roman Colombo finished his MFA in 2010 and now teaches writing and graphic novel literature at various Philadelphia colleges. His first novel, Trading Saints for Sinners, was published in 2014. He's currently working on his next novel and hoping to find an agent soon.
Leave a comment