Heroes Reborn Week Seven: Forget The Squadron Supreme – President Phil Coulson Is The Most Evil Villain In This Reality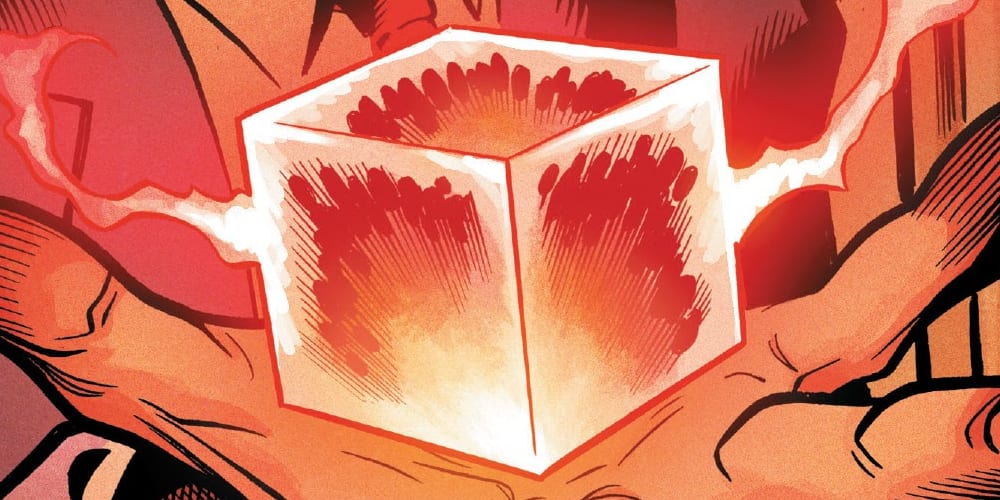 Technically, week seven marks the end of Heroes Reborn, as the final week's issue is Heroes Return. However, though the main series' numbers are up, we're nowhere near the end. In fact, it feels like this is the midpoint of a much larger event, so next week will have to accomplish a lot. So, let's look at the two comics that came out this week, one from the main series and one tie-in. Oh, and that tie-in? It's the last one for a reason.
Heroes Reborn Week Seven: Aaron Puts All The Cubes On the Table
Um…everyone? (Image: Heroes Reborn #7, Marvel Comics)
This last issue of Heroes Reborn was probably the most fun out of all seven issues. It also has the craziest backup story yet, with Ed McGuinness obviously having a great time with the – ahem – Hellish story.  The best part of Heroes Reborn week seven, both the main series and the tie-in, is that we really get to see the Squadron work together as a team. We also get some moments that make the team a bit more sympathetic. Not so much that we can ignore the atrocities we've seen so far, but enough to make us more interested in them. But the backup story? Let's say it all goes to the dogs.
The World of No Return
Power Princess really touches your heart – literally. (Image: Heroes Reborn #7, Marvel Comics)
Writer: Jason Aaron
Artist: Aaron Kuder
Colorist: Dean White
We've heard mention of some of the battles and tragedies the Squadron faced over the years of this false reality, but we really get to see them this time. Generally, a series of flashbacks aren't the most exciting moments. Even if they show a good amount of action, knowing the outcome can take away momentum. Prequels are more about revealing a truth we didn't know about. Flashbacks are there to explain a moment. Sometimes they don't work. But in Heroes Reborn week seven, they work. Especially the way they twist classic – and non-classic – events. And we start with a little superhero scuffle called…
Civil War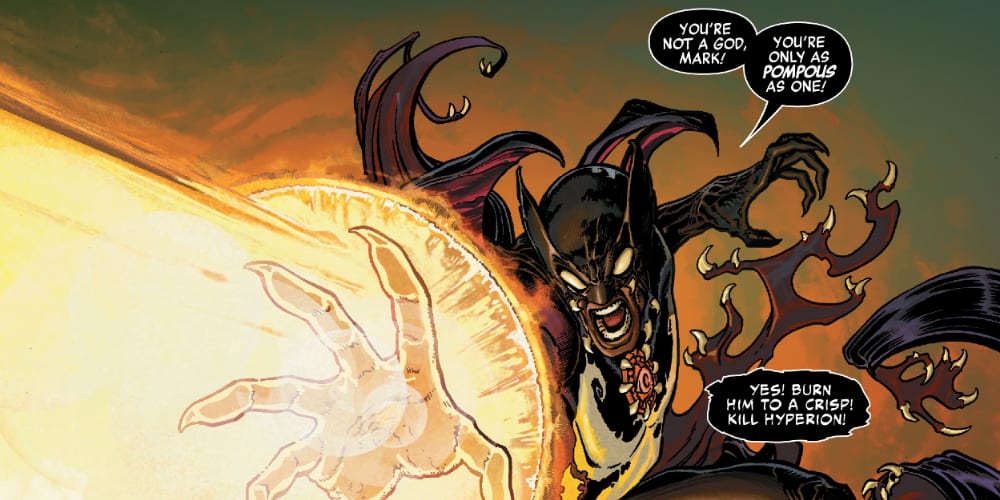 (Image: Heroes Reborn #7, Marvel Comics)
Often hailed as either Marvel's best event of all time or their worst, there's one thing everyone agrees on: the movie was better. But here's another one we can add to that list: the battle between Hyperion and Nighthawk feels far more devastating than the one between Iron Man and Captain America. Maybe that's because the anger of the two Avengers is still there, but the relationship between the two Squadron Supreme members reflects Superman and Batman. Sure, Batman and Superman had thrown down before, but never in such a personal, hostile way as Civil War manifested.
And they go a lot further. Nighthawk, to fight Hyperion, combines the Venom symbiote with the Eye of Agamotto. But the way Hyperion says "hurt me" instead of "fight me" emphasizes that this is so much more than a policy disagreement. The bad blood in this flashback is so strong, you forget for a moment that Hyperion incinerated Hulk with his eyes.
The Dark Phoenix Saga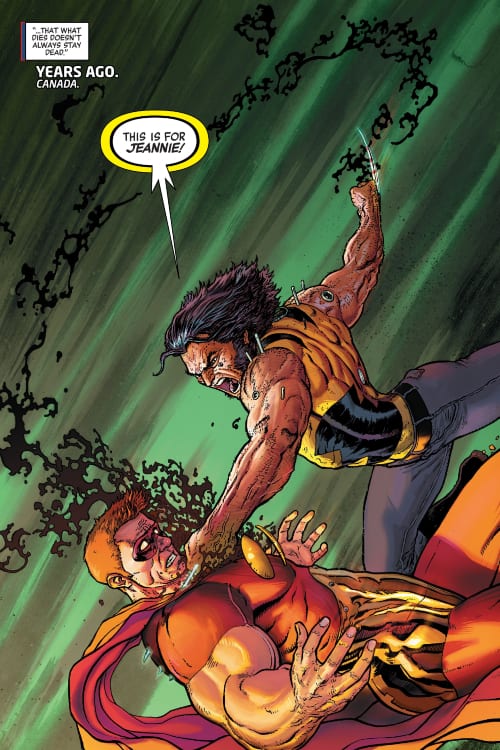 (Image: Heroes Reborn #7, Marvel Comics)
Another classic turned upside down. In the original Dark Phoenix Saga, the X-Men faced the Shi'ar Empire on the moon, ending with Jean sacrificing herself to save her friends. But in this reality, there is no heroic sacrifice. We know from Heroes Reborn week six that Power Princess killed Jean (and spread her body parts across the universe). However, in Heroes Reborn week seven, we see the aftermath of Power Princess's actions. Namely, Wolverine gets a magical upgrade to his claws (hence the green glow) and kills Hyperion. Of course, being comics, he comes back. But the flashback shows two teams – the Squadron Supreme and Alpha Flight – ready to tear each other apart. Literally: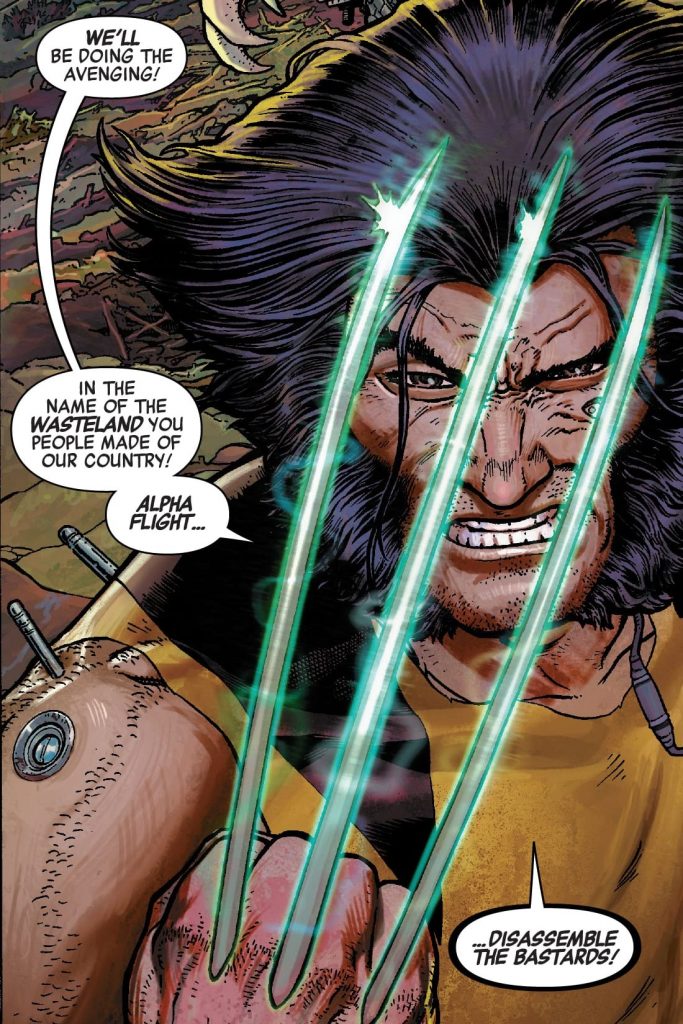 (Image: Heroes Reborn #7, Marvel Comics)
Weapon X just killed Power Princess's boyfriend, but we'll see more ramifications for his actions in the tie-in for this week.
Dark Reign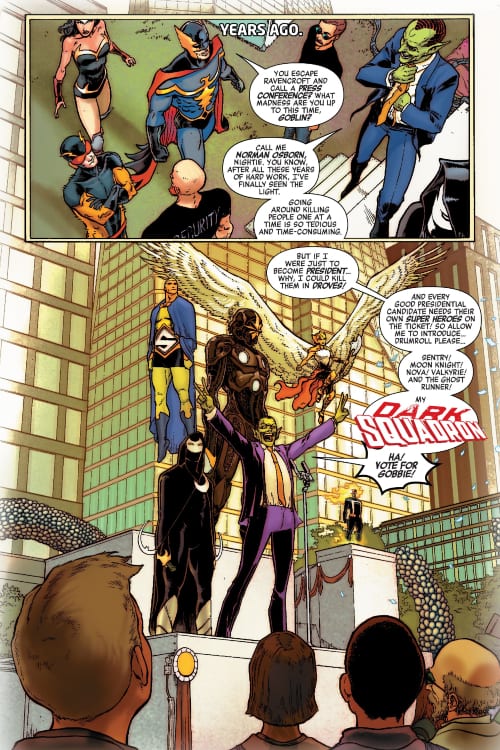 (Image: Heroes Reborn #7, Marvel Comics)
In Heroes Reborn week seven, Power Princess does what Nighthawk refused to do for decades: kills the Goblin. But though the moment seems like Power Princess's everyday violence, we learn that it's a bit more personal than that in the flashback. And for a single page, we learn how the Goblin is just as manipulative in this reality as in the unaltered version. But where Norman Osborne created his Dark Avengers out of necessity and piss off the Avengers, Goblin creates his Dark Squadron only to piss off the Squadron Supreme.
It worked.
Spider-Man: One More Day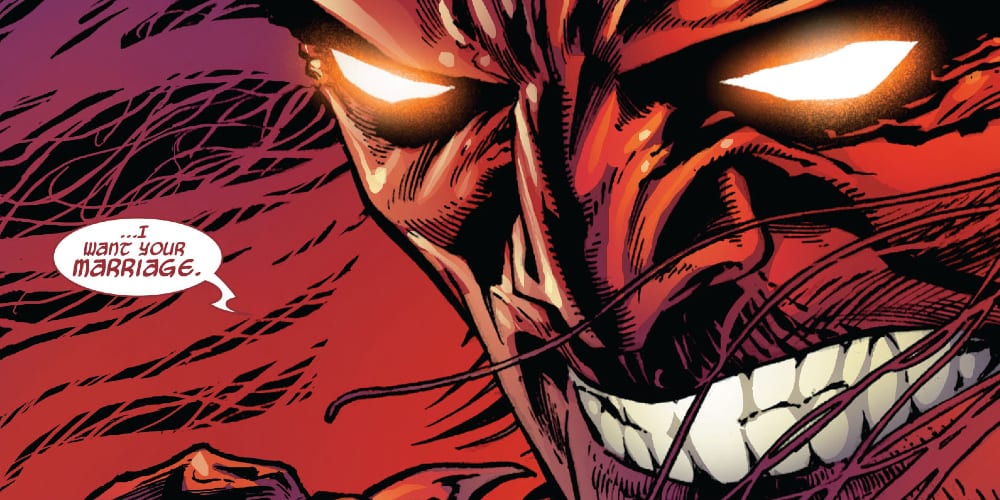 (Image: Spider-Man: One More Day, Marvel Comics)
What do Civil War, Dark Phoenix, and Dark Reign all have in common? For the most part, people love these stories. There's a reason Fox tried (and failed, mostly) to tell the Dark Phoenix Saga story twice. In many graphic novel courses, you'll find Civil War and Dark Phoenix. But as far as banner events, Dark Reign was one of Marvel's best in two decades. However, you know what event nobody liked? One More Day. That famous for all the wrong reasons story about Peter Parker selling his marriage and love for Mary Jane to Mephisto so that Aunt May wouldn't die. At the end of J Michael Straczynski's most epic story in an epic run, Back in Black.
Sadly, it tainted everything he did before it. Now, JMS has been very vocal about how this story was not his choice, but Marvel dictated to him. Editor Joe Quesada wanted Peter and Mary Jane's marriage gone. Not just ended – he wanted to make it so that it never existed. JMS hated this idea so much that he considered taking his name off of the credits. Other writers definitely smelled the stink of "OMD." When it came time for the sequel, One Moment in Time, or OMIT (really), nobody wanted to touch it. Quesada ended up writing and drawing the four-issue arc.
That's how much everyone hated One More Day. Thankfully, even though Nick Spencer is leaving Spider-Man, he already laid the groundwork for the retcon to be retconned. Still, the original story is not one many people want to look back on.
Blur: One More Day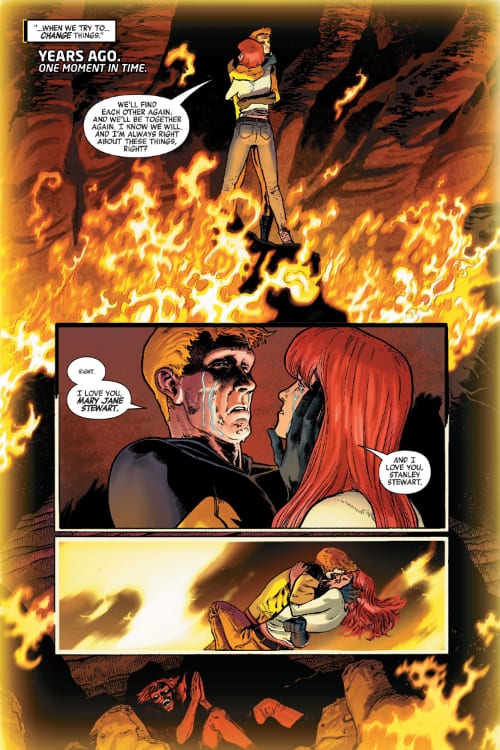 (Image: Spider-Man: One More Day, Marvel Comics)
In Heroes Reborn week seven, it's Blur and Mary Jane making the deal with Mephisto – and considering Mephisto actually is God in this world, that makes a lot more sense. It also explains why Blur isn't fully on board with the Squadron's actions. It's also the first time we see Mephisto actually present. So far, we've only seen statues and his name on money. This time, he's right there, watching his work play out before him. Now, the real question is if Blur can truly break away from Mephisto's control. We'll have to find out next week.
Heroes Reborn Week Seven Brings Us to the Confrontation We've Been Waiting For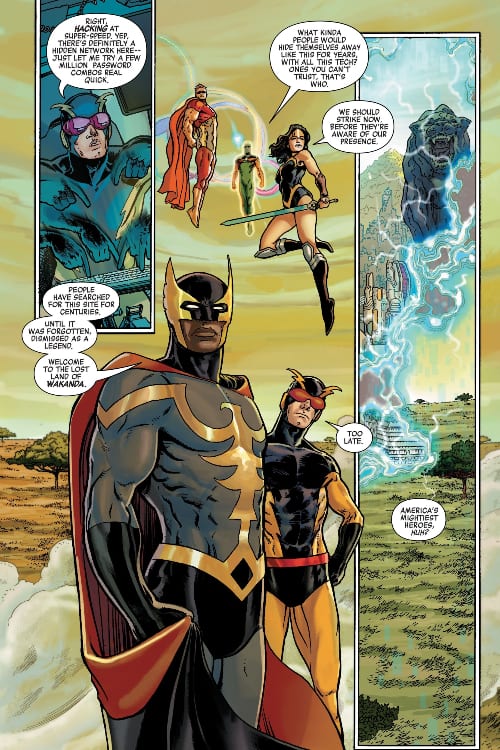 Is it about to go down? (Image: Heroes Reborn #7, Marvel Comics)
Throughout Heroes Reborn #7, the Squadron hunts for the Avengers, tracing Blade's steps from when he pulled Cap out of the ice in issue #1. This brings them to Wakanda, where we found out a couple of weeks ago that the Black Panther is also Ronin in this world. He also knows something is wrong and uses the Ronin identity to go out beyond Wakanda's sanctuary. But let's just appreciate Aaron Kuder's brilliant art instead of hypothesizing and diving in:
Indubitably, it is going down. (Image: Heroes Reborn #7, Marvel Comics)
That's all the excitement we need to propel un into next week, but we still have some things to wrap up for Heroes Reborn week seven.
The President's Best Friend
Don't presidents have people who do that for them? (Image: Heroes Reborn #7, Marvel Comics)
Writer: Jason Aaron
Penciler: Ed McGuinness
Inker: Mark Morales
Colorist: Matthew Wilson
While Heroes Reborn isn't the end of the event, we get some nice wrap-up concerning Phil Coulson and how the Mephisto reality formed. And it's all Coulson. Working for and with Mephisto, Coulson reshaped the world so that the Avengers never existed. Obviously, he failed at that goal, but Mephisto – taking the form of a hound – doesn't seem bothered. Now, usually, when someone fails a demonic character, bad things happen to them. Mephisto shrugs it off. Wait, can dogs shrug? He wags it off? There's also this cryptic exchange in dialogue: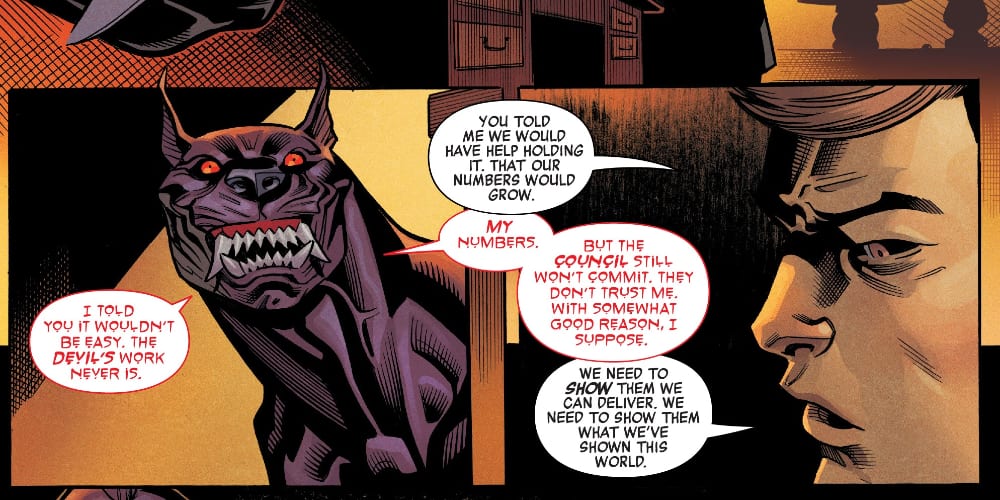 OMG, is that puppy demonically cute! (Image: Heroes Reborn #7, Marvel Comics)
So, this council…generally things don't go well for villains having to answer to a council. When Coulson and Mephisto inevitably fail, we're probably going to see this council, and it will most likely end badly for the two. However, their confidence isn't misplaced. We get a new artifact for Marvel lore. Where Red Skull had the Cosmic Cube, Coulson has: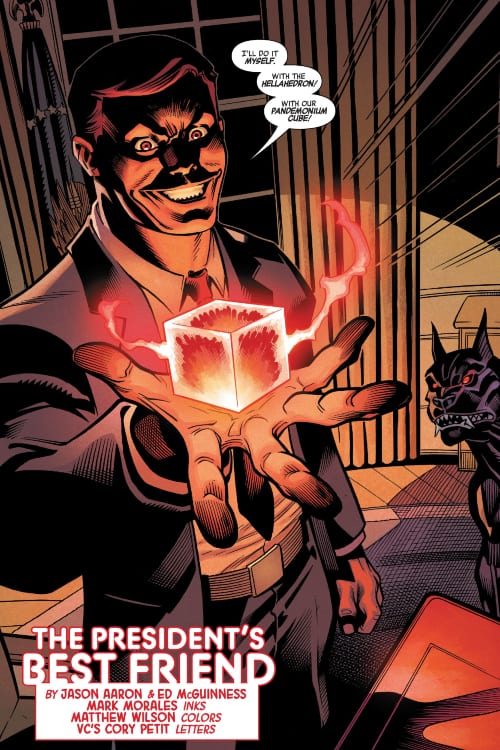 Can we just appreciate Matthew Wilson's art for a moment? (Image: Heroes Reborn #7, Marvel Comics)
Yeah, a Pandemonium Cube. Can't wait to see what other writers do with this.
Heroes Reborn Week Seven: Weapon X and Final Flight Seek to Avenge Canada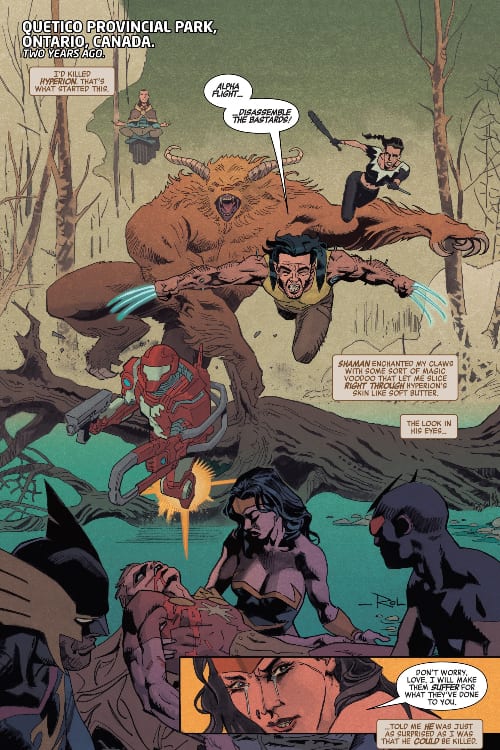 Who drew it better? Kuder or Boschi? (Image: Heroes Reborn: Weapon X and Final Flight #1, Marvel Comics)
Freedom or Death
Writer: Ed Brisson
Artist: Roland Boschi
Colorist: Chris O'Halloran
While the main series in Heroes Reborn Week Seven almost made it seem like the Squadron Supreme aren't murderous bastards, Weapon X and Final Flight reminds us that, indeed, bastards they are. We've seen some brutal moments over the past seven weeks. Doctor Spectrum pushing Rocket into a sun. Hyperion and Power Princess committing genocide against the mutant population. Nighthawk trading the lives of his teammates just to capture Baron Zemo. It's been a blast.
But what they do here is the worst yet. Firstly, Mutants aren't the only people they tried to wipe out. For some reason, the Squadron really hates Canadians. They've killed millions and put millions more in concentration camps. It's so bad that characters refer to Canada as "the Great White Nothing." Weapon X and Alpha Flight only made it worse when they killed Hyperion – and it got even worse when Hyperion returned. They are constantly hunting Alpha Flight, but the team managed to stay one step ahead, sometimes literary. Also, they kill anyone they even suspect of helping Alpha Flight.
However, they eventually catch up with them. But not because they figured them out or found their hiding place. It's something much worse.
Alpha Flight, the Last Team Standing Against the Squadron, Betrayed in Heroes Reborn Week Seven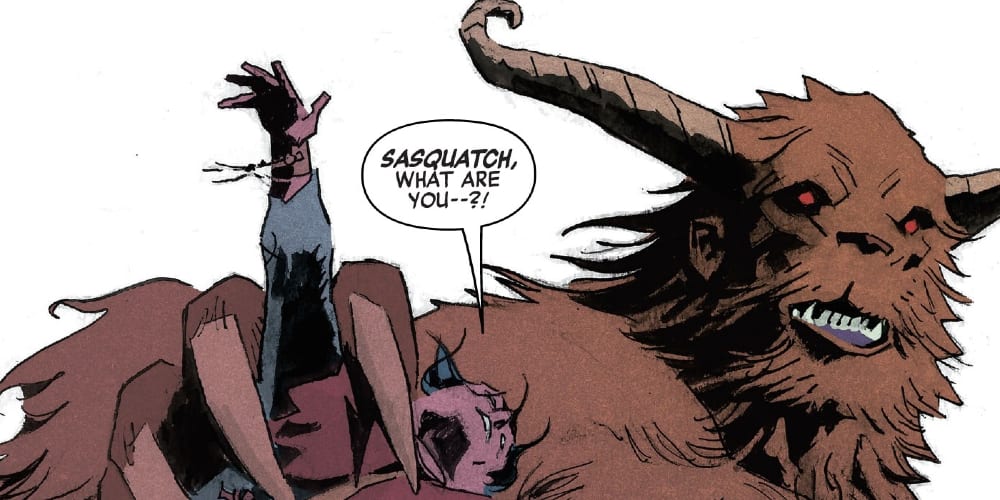 I never agreed to Marvel using my likeness for this character. (Image: Heroes Reborn: Weapon X and Final Flight #1, Marvel Comics)
Betrayals are commonplace in comics. Quicksilver betrayed X-Factor, Magneto betrayed the brotherhood…and then the X-Men. And the crème de la crème of betrayal stories: Teen Titans: The Judas Contract. Now, Sasquatch's betrayal might not have the same intensity since it takes place in an alternative reality, but the fallout of his actions is just as horrible as the worst betrayals in comics – and then some.
He leads Alpha Flight into a trap, where the Squadron Supreme waits for them. But the Squadron only has one target: Weapon X. Hyperion might be alive again, but he never forgot that Logan stabbed him in the throat. The deal is simple. Sasquatch delivers Weapon X, and the Squadron lets the rest of Alpha Flight walk away. They honor the deal, but this is Mephisto's Squadron Supreme, so all the hatred they have for Alpha Fight and Canadians, in general, they take out on Logan.
Hyperion fries him with his heat vision through the eyes, leaving not much more than a charred – but healing – corpse. However, as he's in that condition, Doctor Spectrum, the most sadistic member, takes him to a nightmare planet: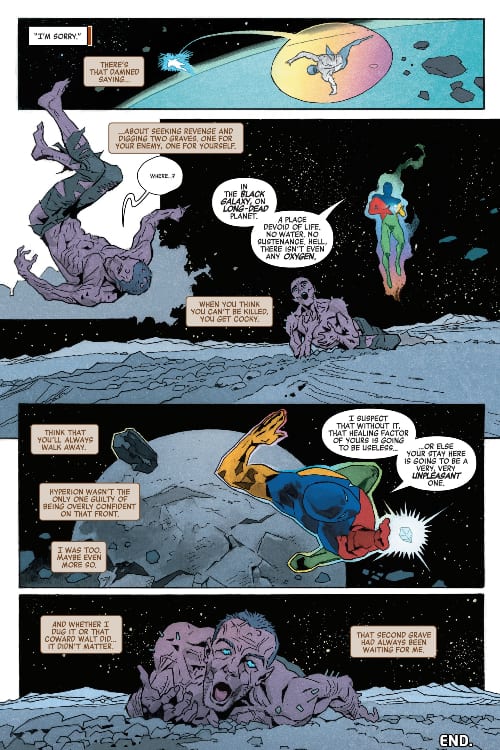 Damn. (Image: Heroes Reborn: Weapon X and Final Flight #1, Marvel Comics)
Blur: Mischaracterized or Revealed? Heroes Reborn Week Seven Complicates the Character
For the most part, Blur has been the most stable and innocent member of the Squadron Supreme, but in Weapon X and Final Flight, the only tie-in for Heroes Reborn week seven, he basically acts like all the other members of the team. And it's this moment that is particularly troubling: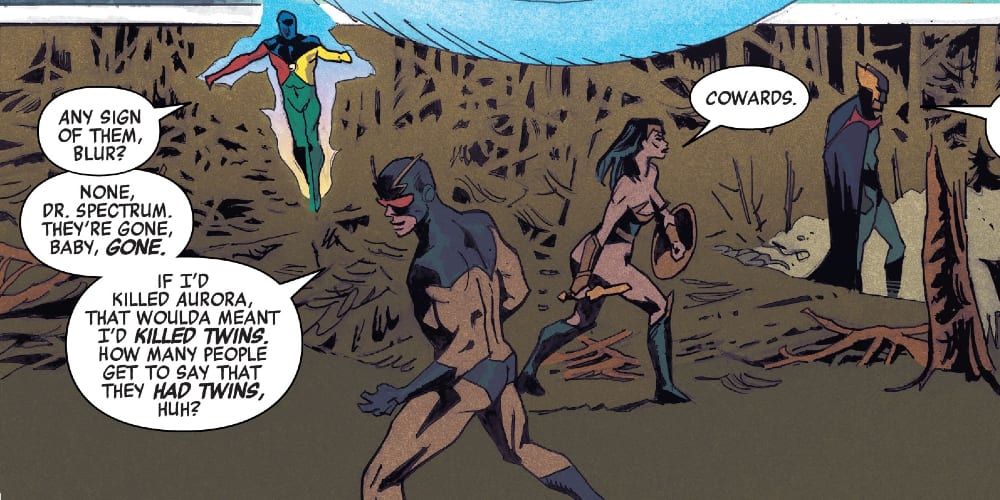 (Image: Heroes Reborn: Weapon X and Final Flight #1, Marvel Comics)
So, this doesn't seem consistent with how writers have portrayed Blur so far. Now, is this just a missed beat from Ed Brisson and his editors? Or are we finally seeing, in week seven of Heroes Reborn – just before the finale – who Blur really is?
Another question we'll have to wait for. But I'm hoping we get one Squadron member who sides with the Avengers, and Blur is the most likely candidate.
What do you think?
Roman Colombo finished his MFA in 2010 and now teaches writing and graphic novel literature at various Philadelphia colleges. His first novel, Trading Saints for Sinners, was published in 2014. He's currently working on his next novel and hoping to find an agent soon.
Leave a comment