Hellfire Gala Week Three: Please Stand By For Planet Arakko
The X-Men resurrected a planet. A PLANET. And they did it during a gala event, no less. In the centerpiece of week three (okay, the entire event), Hellfire Gala: Planet-Size X-men, a team of 15 mutants worked together to terraform Mars. But it's not just to make a planet for the millions of Arakkii mutants who Apocalypse brought to Earth. The X-Men also declare "Planet Arakko" as the capital of the solar system. Here, diplomats from all over the galaxy can meet in peace and try to prevent conflicts. And they have to be civil. Outside the boundaries of the diplomatic zone are mutants who have only known war and suffering for millennia. So they aren't just citizens – they're security. And it also helps that there is a new SWORD station, "The Keep," over the planet.
So, considering this massive development, it was a little disappointing that the other two Hellfire Gala week three titles, X-Corp #2 and New Mutants #19, barely even mentioned the mutant phenomenon. Let's take a look at what did happen in those issues, because they weren't bad, but the cataclysmic events of Planet-Size X-Men cast a planet-sized shadow over them.
Hellfire Gala Week Three: New Mutants  #19 had an Impossible Task: Following Planet-Size X-Men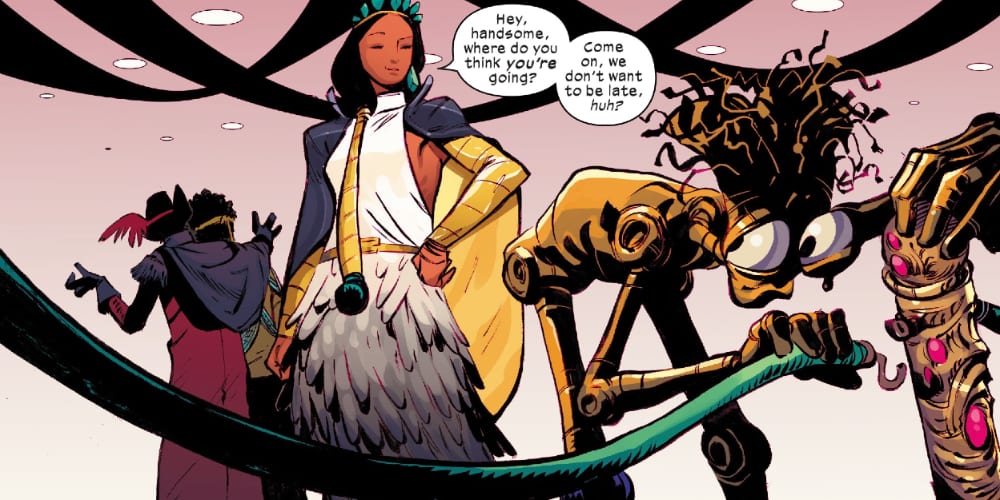 Warlock just misses his friend Doug – who married a seven-foot-tall mutant warrior named Bei the Bloodmoon. Anyone can relate to that. (Image: New Mutants #19, Marvel Comics)
Writer: Vita Ayala
Artist: Alex Lins
Colorist: Matt Milla
A quick note: If the Hellfire Gala of New Mutants came out before Planet-Size X-Men, it would have felt like a fun series of character moments and interesting developments. From Dani and Rhane talking about her missing son to Karma and Magik getting a little flirty. Finally, to the big mystery at the center: where is Scout? She's X23 and Daken's little sister, a clone of Laura who is a clone of Logan (it's a weird family). Also, there's this artist who is just a dick to the New Mutants. Like, he should be one of X-Force's exceptions to the "Kill No Man" law.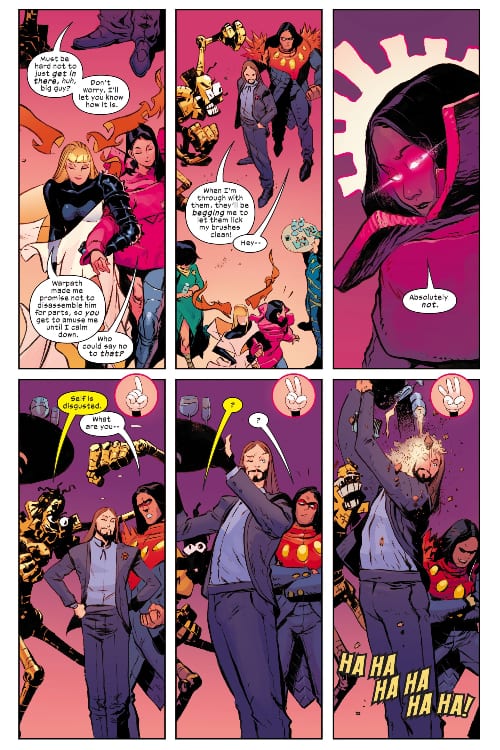 Barry the Artist? More like Barry the Asshat. (Image: New Mutants #19, Marvel Comics)
As far as Hellfire Gala developments, we just see the New Mutants changing their wardrobes (and Warpath getting stuck in his fancy shoulder pads) on Mars, signaling the after-after party. Possibly mutants only. But we don't learn much about what comes next for the planet formerly known as Mars. Nor do we learn how the Arrakii will run it or who the mysterious regent is. My money's on Apocalypse. Of course, a scene on Mars couldn't happen before Planet-Size X-Men, but with just a minor tweak, this could have been at the beginning of Hellfire Gala week three, and it would have blended in wonderfully with all the other shenanigans going on in the event.
Also, the Shadow King murdered Scout, a preteen girl, so there's that too.
Hellfire Gala Week Three: X-Corp#2 is Mostly Business and Corporate Warfare…and not Much Mars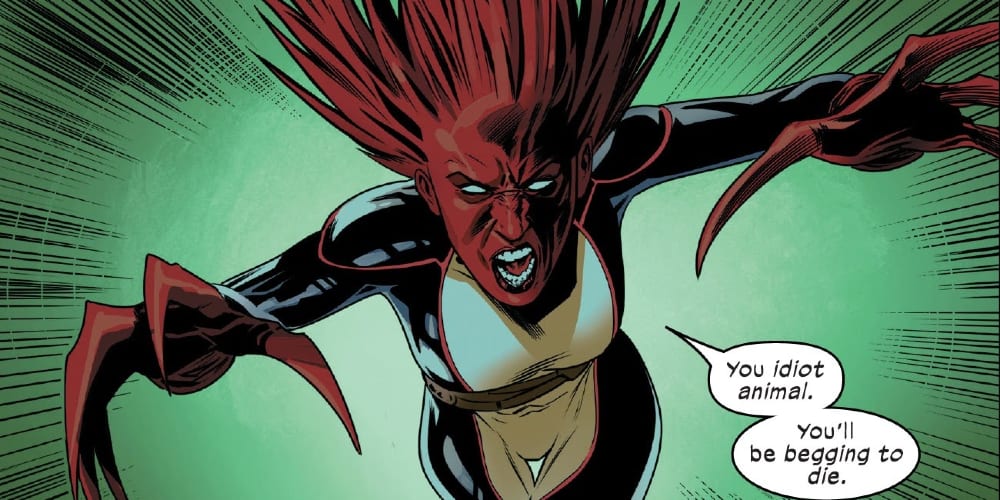 That kind of charm really reminds me of my ex. (Image: X-Corp #2, Marvel Comics)
Writer: Tini Howard
Artist: Alberto Foche
Colorist: Sunny Gho
In Planet-Size X-Man, we saw the mutants curate their own planet. Working together to rebuild something, the mutants shocked the world. Meanwhile, in X-Corp #2, we see the amazing excitement of…
KITCHEN MANAGEMENT!
(Image: X-Corp #2, Marvel Comics)
JOB INTERVIEWS!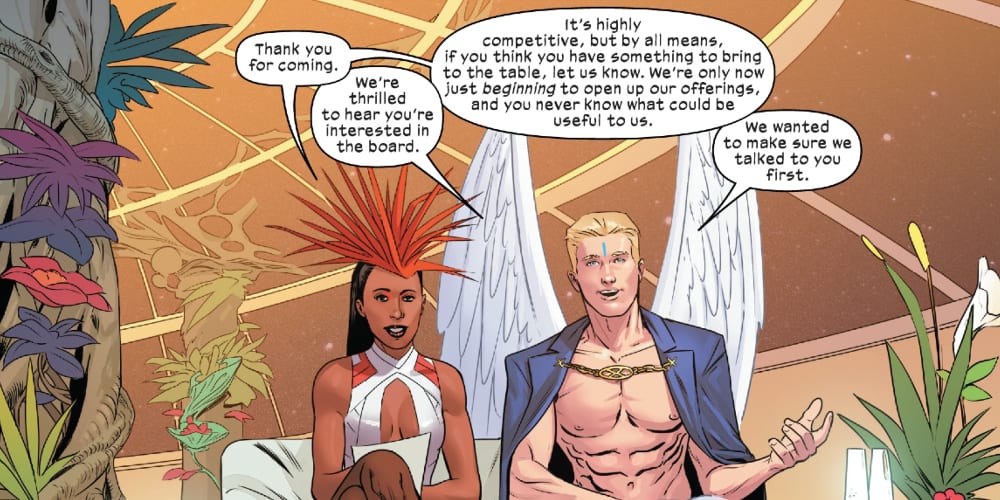 (Image: X-Corp #2, Marvel Comics)
PUTTING ON MAKEUP!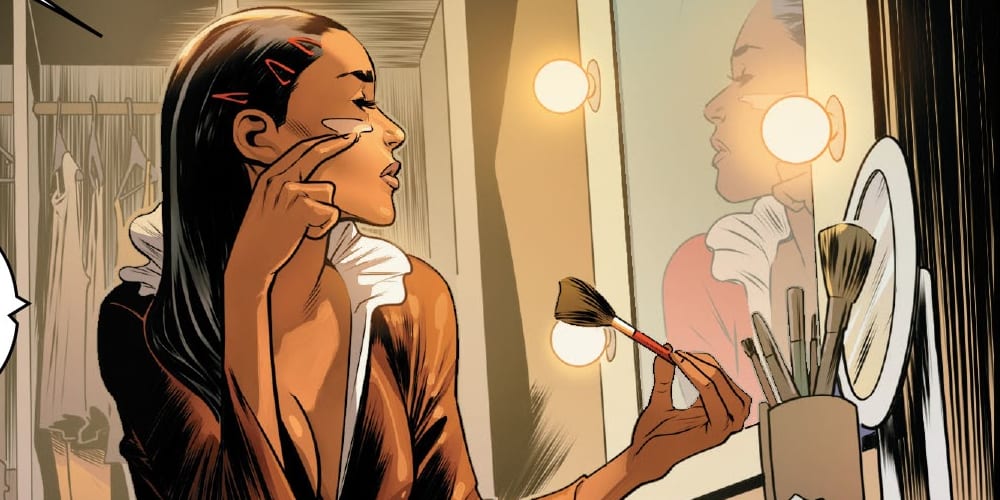 (Image: X-Corp #2, Marvel Comics)
SHAVING!
(Image: X-Corp #2, Marvel Comics)
Even though X-Corp #2 comes at the end of Hellfire Gala week three, we don't see Mars or even hear mention of it. Even more so than New Mutants #19, X-Corp should have come before Planet-Size X-Men. It's hard even to say if this was good or not since the entire time you're reading, you're thinking, "what's happening on Mars – or is it Planet Arakko now – or is it The Orb Formally Known As Mars, or TOFKAM for short."
However, like New Mutants #19, it's a good comic. To be fair, the Nazi mutant Von Strucker siblings attempt to assassinate members of X-Corp and are met with the uglier sides of Monet and Angel – Penance and Archangel. It's just unfortunate that it came at the end of Hellfire Gala week three when we were all still blown away by the big firework show.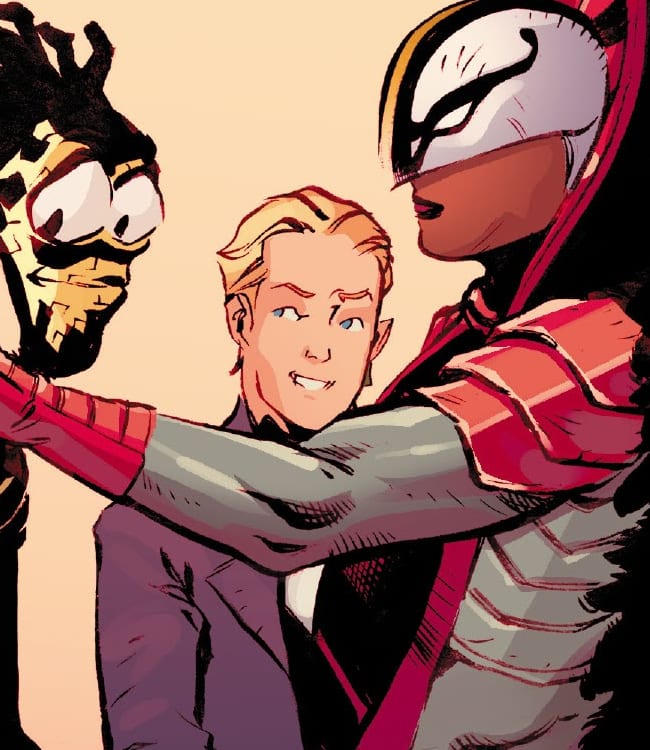 At least Warlock, Doug, and Bei the Blood Moon are all friends at the end. (Image: New Mutants #19, Marvel Comics)
(Featured Image: X-Corp #2, Marvel Comics)
Roman Colombo finished his MFA in 2010 and now teaches writing and graphic novel literature at various Philadelphia colleges. His first novel, Trading Saints for Sinners, was published in 2014. He's currently working on his next novel and hoping to find an agent soon.
Leave a comment