Gotham Future State Week Three Continues To Be The Better Side Of This Event (Spoilers)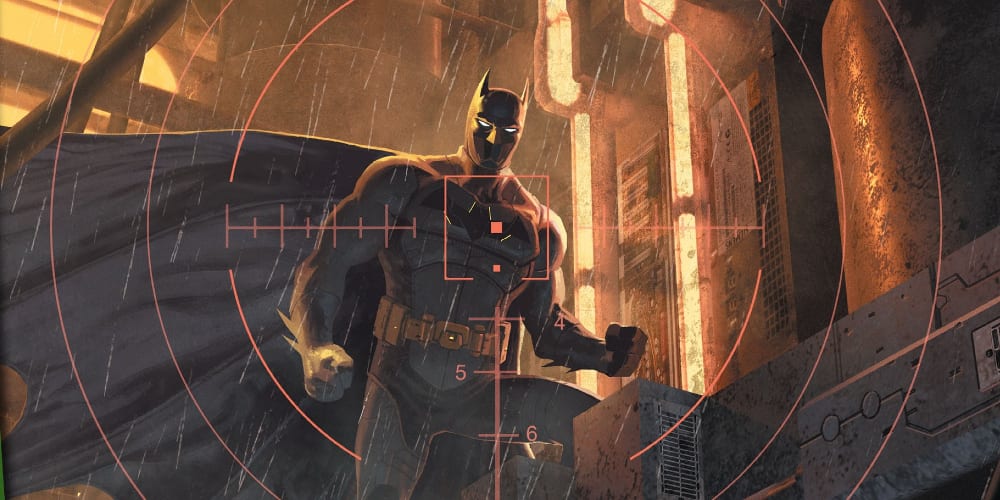 This train is just speeding along now. Literally, there's a train in Future State: Catwoman #1, the best issue in the week three Gotham stories by a mile. But that doesn't mean the others are bad. Indeed, The Next Batman #2 and Nightwing #1 continue Gotham's streak of great comics. So, let's take a look at what the Bat-Family is up to.
The Next Batman #2 Weaves More Mystery in the Gotham Stories of Future State Week Three
We've got three stories again for The Next Batman #2, but only the first follow-ups on from #1. But overall, the second issue was a bit better than the first. It might be because, by week three, we're fully entrenched in what Gotham looks like in Future State. This entire fascist regime in Gotham thing felt like an eye-roller when solicitations first came out, but the creative teams are doing well. And one of the reasons why is because of John Ridley's central story…
The Next Batman Chapter 2
Beware the Bat-crotch! (Image: The Next Batman #2, DC Comics)
Writer: John Ridley with Nick Derington (breakdowns)
Artist: Laura Braga
Colorist: Arif Prianto
Tim isn't Bruce Wayne, but he's on his way there. He doesn't have all the ninja skills or finesse, but the Peacekeepers can hardly tell the difference. To them, Batman, regardless of the man behind the cowl, is back. And like Bruce Wayne, we see in Future State week three that the new Gotham hero is also struggling with morality. When he tracks down a couple who brutally murdered a man, he's paralyzed with indecision when he finds out that that man "groomed" their daughter on the internet and then killed her. And that ethical conundrum gave enough pause for the Peacekeepers to show up for a cliffhanger.
Then there's Tanya Fox, Lucius Fox's wife Tim Fox's mom. And man, Tanya is a great villain. She blames superheroes for her own daughter's death, so she's working with the mayor and the Peacekeepers to make sure everything they do is legal. Even if that thing is shooting people with masks on site. She has the legal genius of Matt Murdock and Jennifer Walters. And she hares superheroes. What is she going to do when she finds out her son is the new Batman?
Also, who is Vol?
Batgirls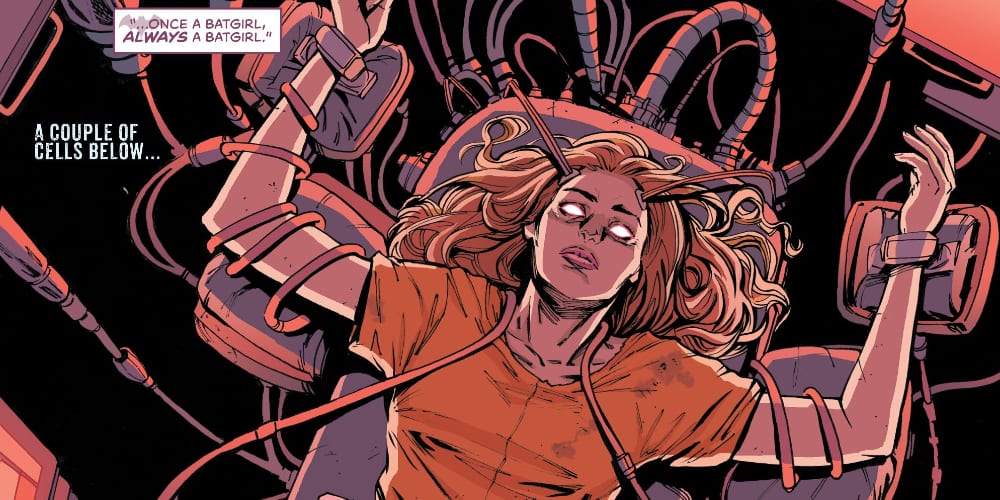 I warned about spoilers, right? Well, um…spoilers? (Image: The Next Batman #2, DC Comics)
Writer: Vita Ayala
Artist: Aneke
Colorist: Trish Mulvihill
If they weren't writing two X-Men series for Marvel, I'd want Vita Ayala writing a Batgirls series. This story takes place who knows when, but it's not good for the masked community. Nearly every hero and villain are a Magistrate facility—and some of them, like Two-Face and Killer Croc, we've seen filling important roles elsewhere. Therefore, it's an important detail to figure out after Gotham Future State week three. But let's talk about the story itself.
Ayala focuses on Cassandra Cain, now called Orphan, and Stephanie Brown, now called Spoiler (like this article!). Both are former Batgirls—and they both find themselves in the Magistrate's prison. But there is a lot of hostility between them. When the peacekeepers place Cassandra in Stephanie's cell, she immediately tries to punch her former fellow Bat-family member. As far as Cassandra knows, Stephanie betrayed them. But she's actually deep cover, looking for Bruce Wayne, who is rumored to be in a hidden cell somewhere.
But he's not—it's actually Barbara Gordon in that cell, as seen above. Stephanie tells Cassandra she'll help her, causing a distraction (read: superpowered prison brawl), and that's where we leave off. But the dynamic between these two Batgirls is great, and hopefully, when this event ends, we'll see them together in a series even if Ayala isn't writing it.
Oh, and Nightwing is leading resistance…when was he sent to Arkham?
Gotham City Sires: Ladies' Night Out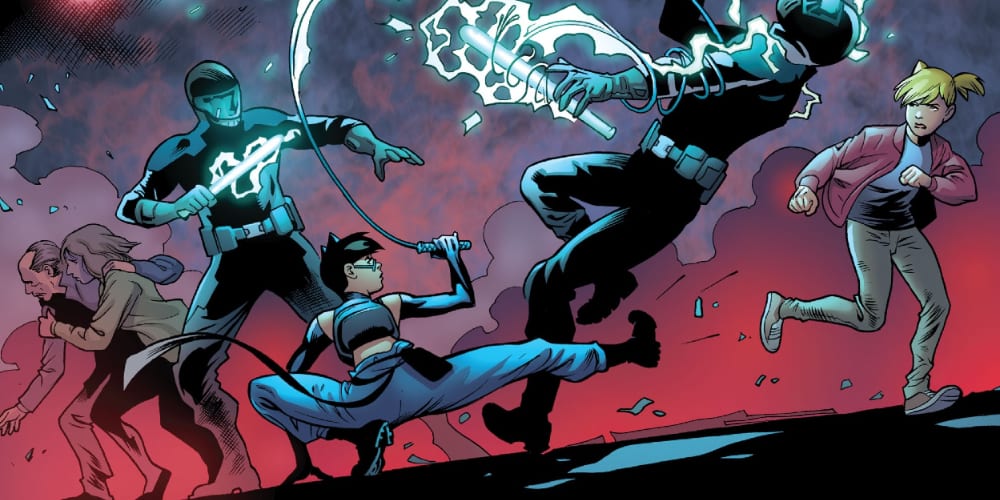 This is exactly how I imagine every ladies' night out looks like. (Image: The Next Batman #2, DC Comics)
Writer: Paula Sevenbergen with Rob Haynes (breakdowns)
Penciler: Emanuela Lupacchino
Inker: Wade Von Grawbadger
Colorist: John Kalisz
The first two stories are pretty serious, but this is a bit more lighthearted if you can't tell by the title. The rundown? Poison Ivy and Catwoman need classified information about the Peacekeeper robots. So, a domestic robot the manufacturer locks in a room agrees to help them—if they do something for her.
She wants a ladies' night out, just like in Sex and the City!
But we actually learn a lot indirectly. For instance, a private company is making these killer robots. Now, companies making money from less than moral situations isn't shocking. However, since one company profiting from Gotham's new fascist regime, how many others are profiting too? And we learned in The Next Batman Chapter 2 that the Magistrate is a private company.
And again, when does this take place? Ivy was a prisoner in Batgirls but free and working with Catwoman here. Whoever planned Future State is clearly a fan of the later Lost seasons, when we had to figure out if something was a flashback or flashforward, and what events happened on the island and when.
Catwoman #1 Elevates the Gotham Future State Stories Even More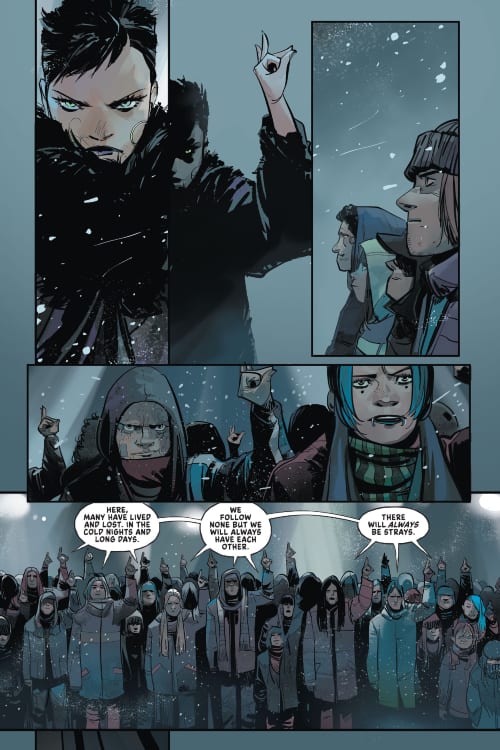 Inspiring yet creepy. (Image: Future State: Catwoman #1, DC Comics)
Writer: Ram V
Artist: Otto Schmidt
What do you get when you take Hunger Games, Snowpiercer, Blade Runner, and Ocean's 8 and toss it all into a Bat-Blender? You get Future State: Catwoman #1, one of the best issues of this event thus far, let alone the Gotham stories.
We start with the Magistrate boarding kids on trains to take to reeducation camps…yeah, they've gone full Nazi. In fact, the commanders and Magistrate soldiers are starting to look like Hydra agents. Obviously, Catwoman isn't going to just let this happen, so she has a plan. A heist. She's not going to get the kids off the train; she's going to steal the train!
That alone would make for a great comic, but we have more like the return of Onomatopoeia, a villain who only speaks in sound effects. He's also terrifying, but Catwoman sees a use for this prisoner—an ally. She sets him loose upon the Magistrate, and he shlucks and crrkkkkk and pow's his way through them. But he's not even the biggest surprise of this comic.
Catwoman isn't the only one pulling a heist on this train. So is Talia Al Ghul. But she's not there for the children. Her prize is something not exactly more important, but definitely more powerful: Bruce mother-fracking Wayne! Now, do the two former Bat-lovers know they are both on the same train at the same time fighting the same enemy? That's not yet clear. But if not, when they meet up, it might turn into more than just a catfight.
So, is this before or after The Dark Detective #1? Ah, this puzzle is great.
Nightwing #1 Gives Us Answers—But Not the Ones We Were Looking For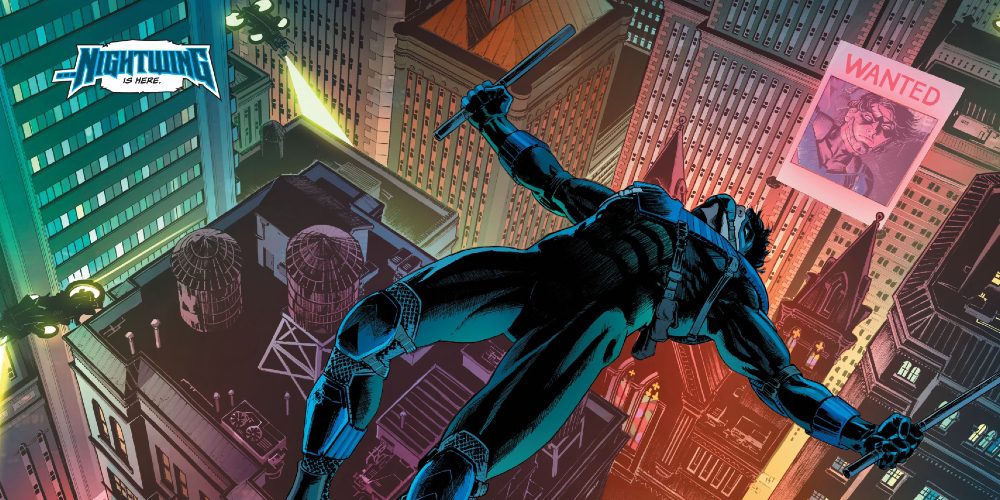 No need to show off, Dick…Grayson (Image: Future State: Nightwing #1, DC Comics)
Writer: Andrew Constant
Artist: Nicola Scott
Colorist: Ivan Plascencia
Finally, we're going to see Nightwing and learn how he went totally insane and ended up in Arkham Asylum. Obviously, he went off the deep end. In Teen Titans #1, he turned himself into Deathstroke and refused to go by Nightwing. What lands him in the asylum?
Nothing. He's in Arkham, yes, but what we learn in this Future State week three comic is that Dick Grayson leads the opposition from the ruins of Gotham. It's his damn base of operations. Inside, we see his makeshift Batcave, and on a panel of screens, he's holding a meeting with every group we've seen in Gotham so far. Firstly, there's Chesire Cat, who was part of Catwoman's crew in her comic, and a member of the "strays." There's Batgirl…not in a prison cell hidden underground, so, another puzzle piece. But most interesting? Two-Face, in his Arkham Knight uniform. So, the Knights aren't some rogue group of villains working as heroes. They've become real heroes. The kind that Dick Grayson trusts with Batgirl's real name, apparently, since he says it aloud on the call.
We're also treated to the first encounter of Nightwing and the Next Batman. Interestingly, Dick doesn't seem to care who's under the mask. Tim Fox tracks him down because he wants Grayson's help finding a missing girl. But there's a little problem—Nightwing purposely led basically the entire Magistrate to his base so that he can fight them on his own terms. However, maybe next issue, we'll see what makes him give up being Nightwing.
Oh, and Renne Montoya was Gotham's Police Commissioner? What happened? And damn, did Jason Todd become evil.
What Comes After Gotham Future State Week Three?
(Image: Future State: Dark Detective #2, DC Comics)
So many things…
Dark Nights: Death Metal #7
Generations Shattered #1
Superman of Metropolis #1
Wonder Woman #1
The Flash #1
Swamp Thing #1
The Next Batman #1
Harley Quinn #1
Justice League #1
Green Lantern #1
Super-Man/Wonder Woman #1
Kara Zoe-El: Superwoman #1
The Dark Detective #1
Robin: Eternal #1
Teen Titans #1
DC Future State Week Three
Immortal Wonder Woman #1
Superman: Worlds at War #1
Shazam! #1
Gotham Future State Week Three
The Next Batman #2
Nightwing #1
Catwoman #1
DC Future State Week Four
Superman Vs. Imperious Lex #1
Aquaman #1
Legion of Super-Heroes #1
Gotham Future State Week Four
The Dark Detective #2
Batman/Superman #1
Suicide Squad #1
DC Future State Week Five
Superman of Metropolis #2
Wonder Woman #2
Swamp Thing #2
The Flash #2
Gotham Future State Week Five
The Next Batman #3
Harley Quinn #2
DC Future State Week Six
Justice League #2
Green Lantern #2
Superman/Wonder Woman #2
Kara Zor-El: Superwoman #2
Gotham Future State Week Six
The Dark Detective #3
Teen Titans #2
Robin: Eternal #2
DC Future State Week Seven
Immortal Wonder Woman #2
Superman: Worlds at War #2
Shazam! #2
Gotham Future State Week Seven
The Next Batman #4
Nightwing #4
Catwoman #2
DC Future State Week Eight
Superman Vs. Imperious Lex #2
Superman: House of El #1
Aquaman #2
Legion of Super-Heroes #2
Gotham Future State Week Eight
The Dark Detective #4
Batman/Superman #2
Suicide Squad #2
DC Future State Epilogues
Generations Forged #1
Infinite Frontier #0
(Featured Image: The Next Batman #2, DC Comics)
Roman Colombo finished his MFA in 2010 and now teaches writing and graphic novel literature at various Philadelphia colleges. His first novel, Trading Saints for Sinners, was published in 2014. He's currently working on his next novel and hoping to find an agent soon.
Leave a comment