Gotham Future State Week Four Brings Us From the Sewers of Gotham to the Far Reaches of the Universe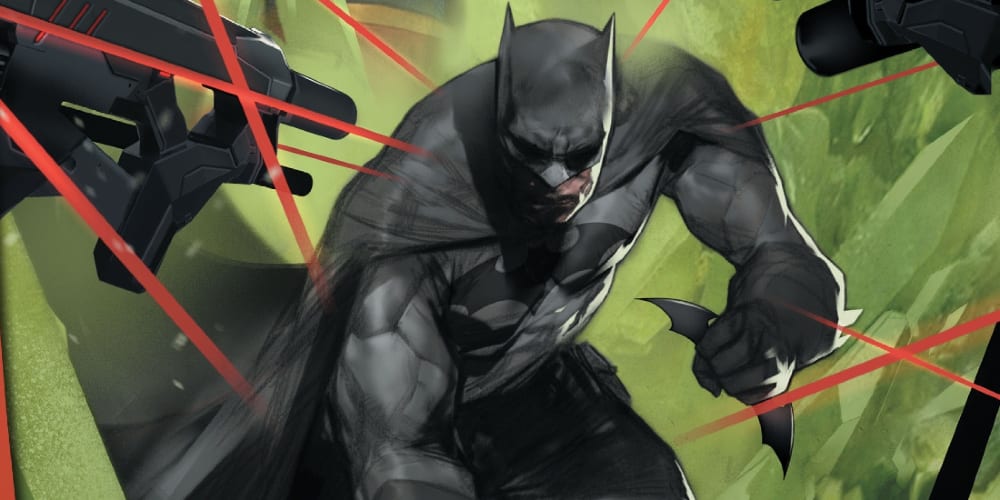 The Magistrate is getting more and more aggressive, with everything from the Cybers, enhanced with Lazarus Pit materials, to surveillance drones the size of bees. But, as we'll see in The Gotham Future State stories of week four, the heroes aren't letting up. However, that doesn't mean they are on the same side. Also, remember, the Bat-Family keeps talking about a major betrayal, yet it might not be the way we thought it was. So, let's take a look.
With Dark Detective #2, Gotham Future State Week Four Throws a Wrench Into a Major Theory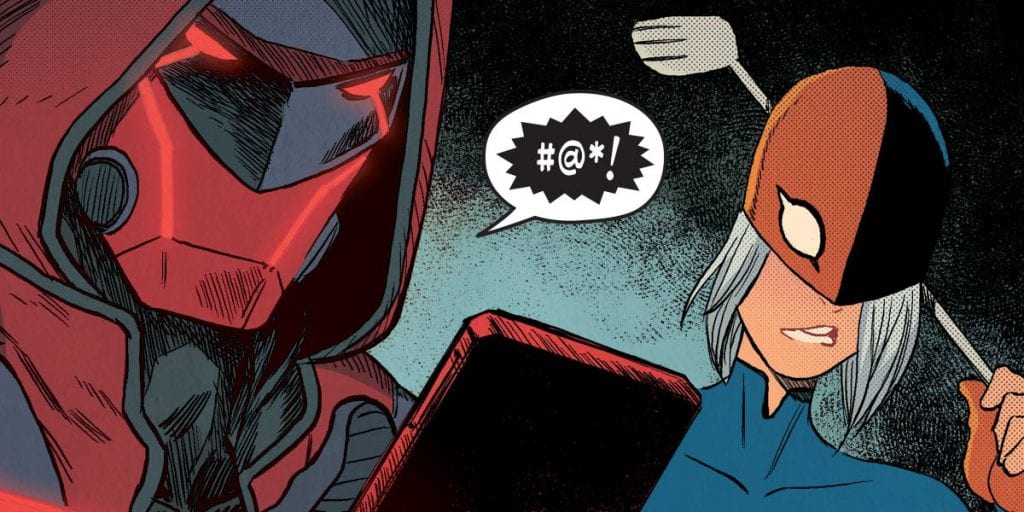 How I felt after reading this issue. (Image: Future State: Dark Detective #2, DC Comics)
Future State: The Dark Detective gives us two stories. The main story continues the saga of Bruce Wayne. The other features the Red Hood and complicates the mystery of whoever Peacekeeper-001 really is. Regardless, this is Future State Gotham, so get ready for some pretty dark stories for week four.
Dark Detective Chapter Two: A Sign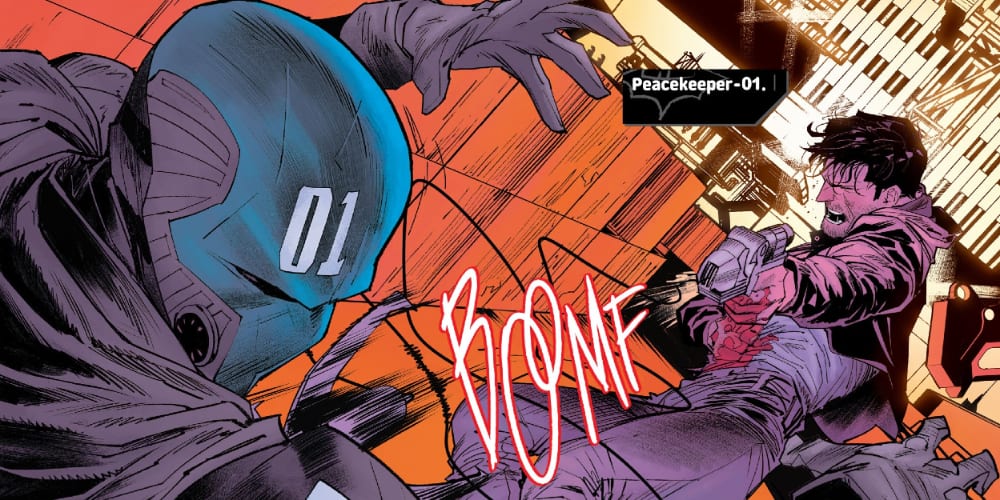 Grappling guns have so many uses! (Image: Future State: Dark Detective #2, DC Comics)
Writer: Mariko Tamaki
Artist: Dan Mora
Colorist: Jordie Bellaire
We last saw Bruce Wayne in Gotham Future State week two, and we thought he had hit bottom. However, week four shows that the bottom is a little deeper. He can't use technology, which is kind of Batman's thing. He's living in the basement of a conspiracy theory lunatic's house, and he's constantly suffering from PTSD—which, coupled with Bruce's paranoia and OCD-like behavior, becomes increasingly more dangerous. But while he's right to be paranoid, he certainly isn't thinking clearly. Nor is he doing things the way a Batman should. He's getting reckless.
For instance, Bruce isn't a creature of the shadows anymore, even if he tries to be. His methods don't work in the age of the Magistrate, and the smallest things expose his whereabouts. All the while, he's still trying to play Batman, protecting innocent people and stopping crime. That might be noble, but it's not good for him right now. He's still, as they say, shook from Peacekeeper-001's brutal attack.
We got to see how Bruce survived the assassination attempt. After jumping into the bay, a floating body was mistaken as his. But that only helped long enough for him to escape. But the reason why he keeps reliving this day over and over again isn't because of the near-death experience. Instead, it's what the Peacekeepers said when they encountered him. They called him "Mr. Wayne." Sure, everyone in Gotham knows his face, but not many law enforcement officials would go up to a suspect and address them this way. They knew who he was and where to find them. So, who would betray Batman?
So far, all signs point to the Red Hood, but that might not be correct after all…
Red Hood Chapter One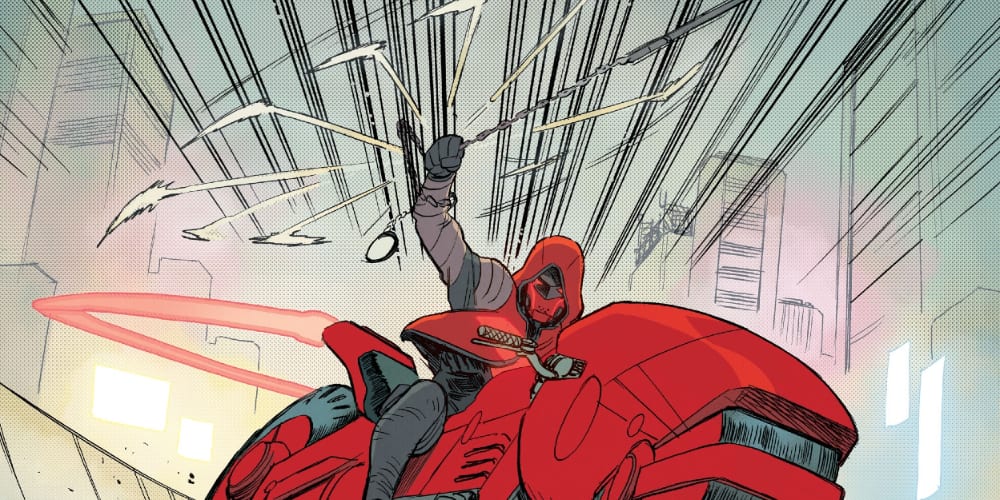 I don't remember Tron being so violent! (Image: Future State: Dark Detective #2, DC Comics)
Writer: Joshua Williamson
Artist: Giannis Milonogiannis
Colorist: Jordie Bellaire
Red Hood is Peacekeeper-001, and nothing can convince me otherwise, but Williamson sure is trying in this Future State week four Gotham story. Gotham has outlawed all masks—unless you serve their purposes. If you're willing to capture or kill other masks, the Magistrate doesn't just like you; they pay you. And that's what Red Hood's been doing. Jason Todd, along with Ravager (Deathstroke's daughter), he's rounding up masks. The difference between the two is that Red Hood apprehends, Ravager assassinates.
Red Hood going after his own family on behalf of the Magistrate is bad enough, but there's still the mystery of Peacekeeper-001. We know it's someone Bruce Wayne knows. And for the most part, we've narrowed down enough suspects that there are only a handful of options. The whole "Mr. Wayne" thing could be Peacekeeper-001 throwing him off, but knowing how. However, only three people would call him "Mr. Wayne" like that, and all are very unlikely: Jim Gordon, Alfred Pennyworth, and Lucius Fox. But two of them are pretty old by this point, and Alfred is dead as far as we know. But with this Red Hood story, the mystery deepens.
Suicide Squad #1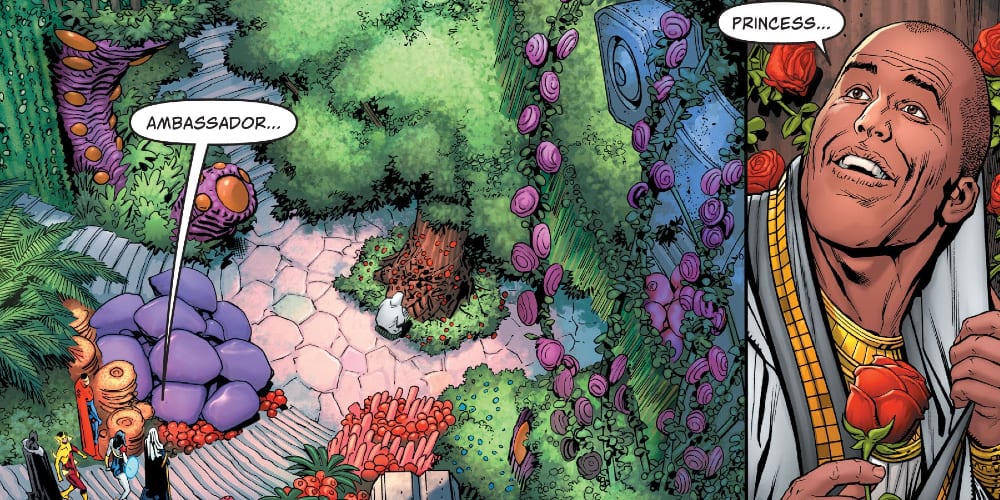 We knew the Rock would eventually show up, right? (Image: Future State: Suicide Squad #1, DC Comics)
Yes, I know this isn't really a Gotham book, but, like Future State: Teen Titans, it definitely matches the tone of what's happening in Gotham. Also, it would make the DC Future State recaps way too long, and my editor would kill me through Zoom. But that might happen anyway because there's a lot to cover. Seriously, Future State: Suicide Squad #1, the most dynamic Gotham Future State week four books.
The Justice Squad?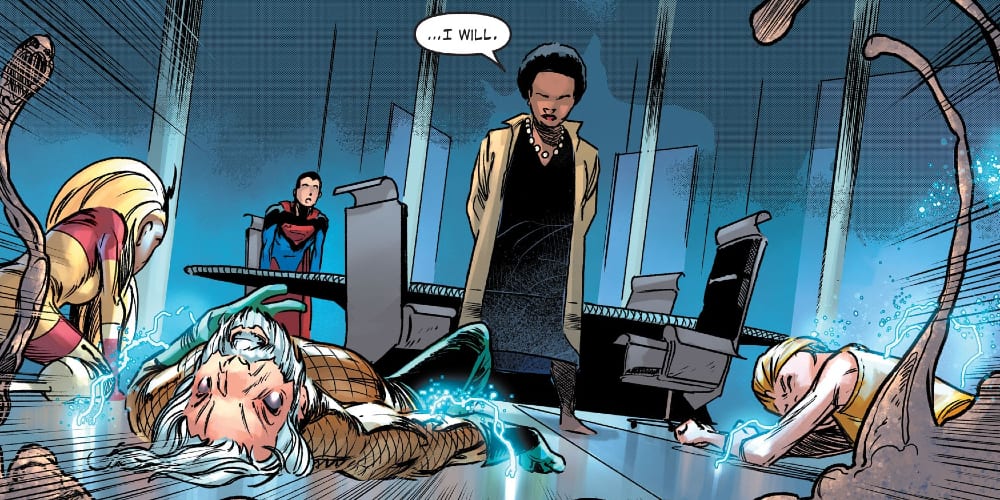 Amanda Waller is the scariest person in comics. (Image: Future State: Suicide Squad #1, DC Comics)
Writer: Robbie Thompson
Artist: Javier Fernandez
Colorist: Alek Sinclair
It wouldn't be a dark future without Amanda Waller doing something suspicious. If you aren't familiar with Waller, she's a lot like Nick Fury, except that she makes Fury look like a kitten compared to her methods. As Viola Davis's portrayal of her says, when asked where she keeps supervillains, "I put them in a hole and threw away the hole." That's not just a cool line—it's her modus operandi. And here, she's gone further than ever, creating the most deranged version of the Justice League we've ever seen.
A decade ago, Marvel Comics had a banner event called Dark Reign, which featured the Dark Avengers—villains not simply pretending to be heroic, but wearing the mantles of heroes. Daken took his father's identity as Wolverine. Mac Gargan's Venom becomes Spider-Man, Bullseye became Hawkeye. It was a twisted version of the Avengers—but not as twisted as this Justice League.
A psychopathic Talon is now Batman. A sick offshoot of Clayface is Martian Manhunter. Likewise, Aquaman is a twisted fish-person they call the Fisherman. The Flash is now former Teen Titan and villain Bolt—who lost her legs and made a deal with Waller to get her power back. The Hypnotic Woman took the place of Wonder Woman. But most twisted of all? Superman is Superman. Kind of. He's a clone of Clark Kent laced with the DNA of Lex Luthor. He's Waller's response to Jonathan Kent turning Metropolis into a snow globe. So…that's not good.
A Fake Justice League Isn't Even the Worst Thing Waller Does in Gotham Future State Week Four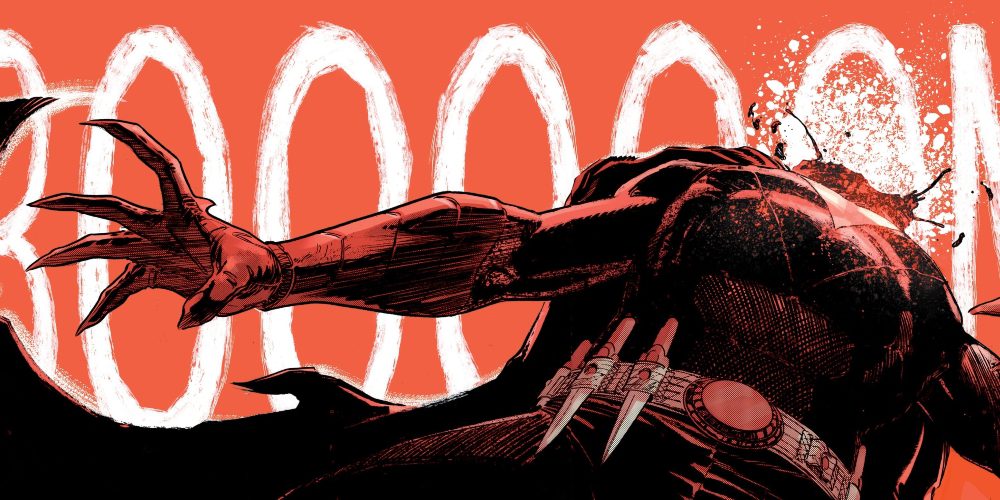 It doesn't matter how far in the future you go, Amanda Waller still loves blowing up heads. (Image: Future State: Suicide Squad #1, DC Comics)
Within the first act, she detonates her Batman's head when he doesn't follow an order. Yeah, she doesn't care about the mantle itself, just her control over the person wearing it. But aside from that, she has an even more twisted supervillain group she can control—the Crime Syndicate of Earth-3, the real evil Justice League. How did she get them on Earth One?
Wrong question. Waller went to Earth-3, and the real Suicide Squad is there to get her back. With Peacemaker leading them, this new Suicide Squad goes to Earth-3, but at a high cost. Just being on the planet is killing them, and before the end, it claims Black Manta in a painful scene, both physically and emotionally. However, even if they are risking their lives, will Waller even want to go back? She has more power on Earth-3 than she's ever had before. Looks like we'll have to wait to find out.
Black Adam Chapter One: The Beginning of the End
The Rock is free from the Rock…of Eternity. (Image: Future State: Suicide Squad #1, DC Comics)
Writer: Jeremy Adams
Penciler: Fernando Pasarin
Inker: Oclair Albert
Colorist: Jeromy Cox
The second story of Future State: Suicide Squad #1 takes place nearly 1000 years in the future, and all that's left of the Earth is a dead rock. Oa is now home to the Justice League, and the entire planet is their Watchtower. And when the worst threat in centuries arrive, they are ready…or so they think. The Unkindness erupts into the universe, containing  Vandal Savage, the Lords of Chaos, a corrupted Dove, and the Seven Deadly Sins avatars. When they arrive, the original Superman bursts from his fortress in the sun, covered in gold, with a Green Lantern Ring. The Unkindness destroys him in seconds. Afterward, they wreak havoc on the Atlantean fleet. In response, Wonder Woman—now a statue of the warrior brought to life with magic—calls her boyfriend: Black Adam. Wait, what?
It's true. Teth-Adam, now a pacifist who looks remarkably like the Rock, and Wonder Woman have been in a relationship for "centuries." She kept this from the other members of the Justice League for, well, obvious reasons. But with their backs against the wall, his alter ego, Black Adam, might be the only weapon that can possibly defeat the Unkindness. But before they can convince him, the seven deadly sins arrive, and Wrath makes his move to kill the former King.
However, that turns out to be the wrong move. The Sin Avatars infect their targets, and their smart idea is to have Wrath face off against a pacifist who was once one of the most vengeful people on Earth. All Wrath does is awaken the part of Teth-Adam that he's suppressed for nearly a century. And with that, he calls on the power of Shazam and returns as Black Adam.
Things Get a Little More Complicated, and a Lot Weirder
The Rock is going to have a little Rock! (Image: Future State: Suicide Squad #1, DC Comics)
At first, Black Adam just accepts that the Unkindness will destroy everything. In fact, he wants it. He spent half his life imprisoned in the Rock of Eternity and the second half lamenting the deaths of friends, lovers, and even enemies. He wants to die. Until his literally statuesque partner reveals that, somehow, she's pregnant with his child.
Obviously, this changes everything—except for the fact that they are still hopelessly outmatched. Luckily for them, a golden figure returns just in time. No, not Superman from earlier in the story. Instead, it's the Gold Beetle! Who is she? No idea! But it will be fun to find out.
Future State: Batman/Superman #1 Brings a Classic Vibe to the Week Four Gotham Stories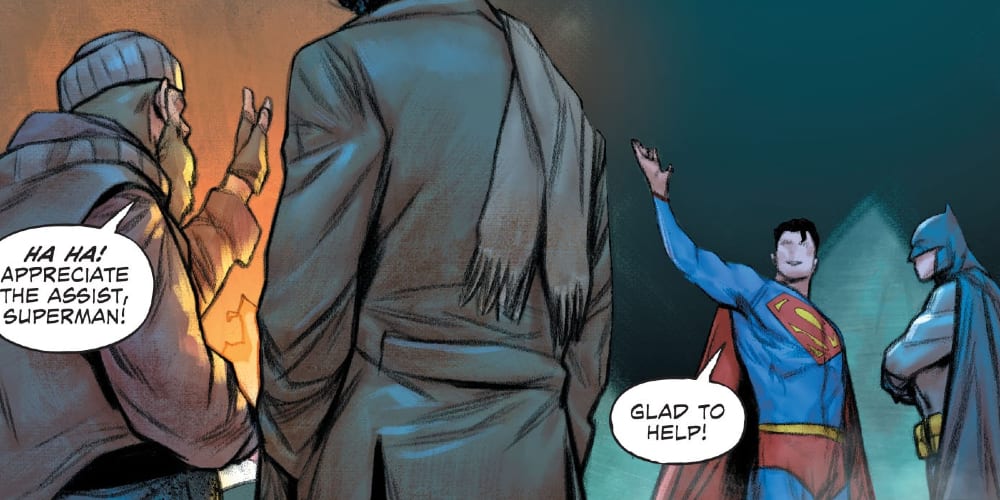 Have you ever met someone so nice, you want to punch them in the face? That's Batman in this panel. (Image: Future State: Batman/Superman #1, DC Comics)
Writer: Gene Luen Yang
Artist: Ben Oliver
Colorist: Arif Pianto
Though Future State: Suicide Squad #2 offered the most story, and The Dark Detective #2 offered more mystery, it's Batman/Superman #1 that sticks out most for the week four Gotham stories. That's for two reasons. The first is that this one takes place earliest of all the Future State stories so far. Bruce Wayne is still Batman. Clark Kent is still Superman. And the Magistrate is just a growing nuisance at this point. This takes place long before really horrible things happen to these two heroes.
But it also feels like a classic story and not some dystopian future story. Batman and Superman need to team up to solve a mystery. A drug called False Face, which has the ability to turn someone's head into any animal they choose, is circulating through Gotham and Metropolis. In Metropolis, kids are using it recreationally. But in Gotham, people are using it to protect themselves from the Magistrate. In this story, we see how desperate Gotham citizens are in the timeline of things. The False Face and its side effects are still better than the Magistrate's surveillance.
A routine detective story already has that anchoring feeling, but to really make this feel like a past and not a future story, Gene Luen Yang goes back to a Grant Morrison creation. And even when Morrison created this villain, they were harkening back to classic Batman enemies. The villain spreading the drug? Not the Joker or Lex Luthor. Not any number of their top tier or even B-list villains. Instead, it's…Mister Toad? And not even the original Mister Toad, but his cousin who takes the identity to fight the magistrate.
The Problem With Teaming Up With Superman for a Street-Level Mystery
No, he doesn't get it. At all. (Image: Future State: Batman/Superman #1, DC Comics)
Obviously, this should be an open and shut case. If it were just Batman, he would have knocked him out, found a way to stop the drug, and move on to the next adventure. 22 pages one-and-done comic. But Superman is there, and he does his boy scout thing, trying to reason with a guy willingly calling himself "Mister Toad." Superman doesn't get Gotham. He doesn't understand the desperation people had even before the Magistrate moved in. As a result, this happens: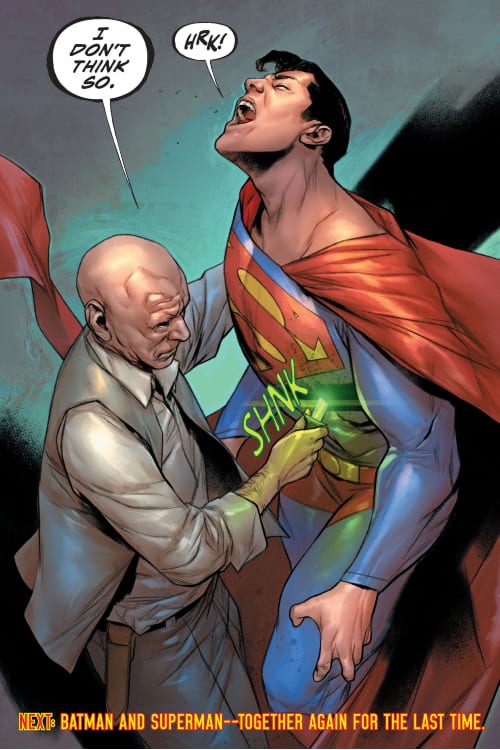 Superman just got taken down…by Mister Toad. Just let that sink in. (Image: Future State: Batman/Superman #1, DC Comics)
So, Clark's naivety might cost him his life. Of course, we know it won't. He has much worse coming for him.
Before and After Gotham Future State Week Four
Dark Nights: Death Metal #7
Generations Shattered #1
Superman of Metropolis #1
Wonder Woman #1
The Flash #1
Swamp Thing #1
The Next Batman #1
Harley Quinn #1
Justice League #1
Green Lantern #1
Super-Man/Wonder Woman #1
Kara Zoe-El: Superwoman #1
The Dark Detective #1
Robin: Eternal #1
Teen Titans #1
Immortal Wonder Woman #1
Superman: Worlds at War #1
Shazam! #1
The Next Batman #2
Nightwing #1
Catwoman #1
DC Future State Week Four
Superman Vs. Imperious Lex #1
Aquaman #1
Legion of Super-Heroes #1
Gotham Future State Week Four
The Dark Detective #2
Batman/Superman #1
Suicide Squad #1
DC Week Five
Superman of Metropolis #2
Wonder Woman #2
Swamp Thing #2
The Flash #2
Gotham Week Five
The Next Batman #3
Harley Quinn #2
DC Week Six
Justice League #2
Green Lantern #2
Superman/Wonder Woman #2
Kara Zor-El: Superwoman #2
Gotham Week Six
The Dark Detective #3
Teen Titans #2
Robin: Eternal #2
DC Week Seven
Immortal Wonder Woman #2
Superman: Worlds at War #2
Shazam! #2
Gotham Future State Week Seven
The Next Batman #4
Nightwing #4
Catwoman #2
DC Week Eight
Superman Vs. Imperious Lex #2
Superman: House of El #1
Aquaman #2
Legion of Super-Heroes #2
Gotham Week Eight
The Dark Detective #4
Batman/Superman #2
Suicide Squad #2
DC Future State Epilogues
Generations Forged #1
Infinite Frontier #0
(Featured Image: Future State: Batman/Superman #1, DC Comics)
Roman Colombo finished his MFA in 2010 and now teaches writing and graphic novel literature at various Philadelphia colleges. His first novel, Trading Saints for Sinners, was published in 2014. He's currently working on his next novel and hoping to find an agent soon.
Leave a comment