First Graphic Novel Newbery Medal! Jerry Craft's "New Kid" Breaks Barriers
Winning a Newbery Medal is one of the top honors a writer can receive. Books like The Voyages of Doctor Dolittle, A Wrinkle In Time by Madeleine L'Engle, Bridge to Terabithia by Katherine Paterson, are part of this prestige, nearly-100-year-old list of winners. And finally, in its 98th year, the first graphic novel won a Newbery Medal: New Kid, by Jerry Craft.
New Kid is a "distinguished contribution to American literature"—Newbery Medal Criteria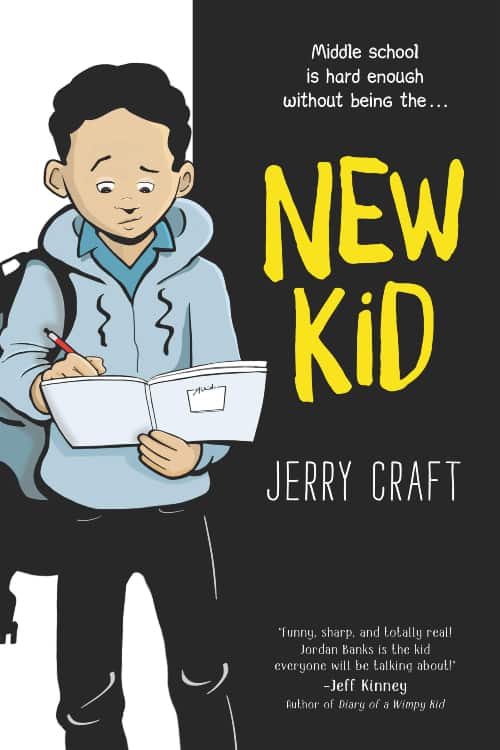 (Image: Quill Tree Books)
Jerry Craft's New Kid follows Jordan Banks, a new student of color in a predominately white private school. Newbery committee chair Krishna Grady describes the book as "Respectful of its child audience, it explores friendship, race, class, and bullying in a fresh and often humorous manner." But most of all, New Kid is a "distinct and timely story." While the graphic novel format alone makes it distinct from previous winners, it's the way Craft tells the story.
"There are very important books that talk about slavery and civil rights or police brutality or gang life, but I really wanted to add to their narrative by adding a boy who has a mom and a dad, a family who loves him, a support system, neighbours," Craft said in an interview for the School Journal Library. It was important to him to tell a story where Black characters weren't "driven by misery." But there was also a much more personal reason:
"More than anything, I wanted to give 10-year-old Jerry Craft a book he could read and say was his own. That was probably the reason I was not a reader until I was an adult. The things I had to read in school couldn't have been further from my life. Or if it was someone who looked like me, it couldn't be further from the life I wanted to live when I got older."
Craft Hopes the First Graphic Novel Newbery Win Will Help Graphic Novels Gain More Respect
As someone who teaches graphic novel literature and writing, I know exactly where Craft is coming from when he says he hopes that New Kid becoming the first graphic novel to win a Newbery Medal will "legitimize" the medium. Despite offering deep stories and analysis, there are still people out there who look down on them. For the most part, graphic novels are almost there. Last year, Nick Drnaso's Sabrina became the first graphic novel to earn a Man Booker Prize nomination. Of course, graphic novels have won other prizes. Art Siegelman's Maus won the American Book Award and a Pulitzer. Alison Bechdel's Fun Home won a Lambda Literary Award among others. And what book found its way to Time's 100 books of the 20th century? Along with Lord of the Rings, To Catch a Mockingbird, and Ulysses? Watchmen by Alan Moore and Dave Gibbons.
Craft's win just brings graphic novels more prestige. Congrats, Jerry!
Side note. I taught graphic novel writing to a recent Newbery winner…can you guess who?
It was Erin Entrada Kelly, who won for Hello, Universe.
Okay, done bragging now.
Roman Colombo finished his MFA in 2010 and now teaches writing and graphic novel literature at various Philadelphia colleges. His first novel, Trading Saints for Sinners, was published in 2014. He's currently working on his next novel and hoping to find an agent soon.
Erin Entrada Kelly
Jerry Craft
New Kid
Newbery Medal
Leave a comment