That Time When Fans Hated Jason Todd So Much, They Voted to Have Him Killed…
Today, when comic fans think of Jason Todd, they picture the Red Hood. He's the vigilante anti-hero, the Robin who came back to life and trained with the League of Assassins. Jason even slept with Talia Al Ghul, Damian Wayne's mom, and Batman's former lover. He's the Outlaw—sometimes working with a team, whether it's with Starfire or Bizzaro Superman (honestly one of the best character arches in comics), or running solo. But back in the eighties, long before taking up the Joker's former alias, Jason was a teenage kid trying to steal the tires off of the Batmobile. And fans hated Jason Todd so much that they voted to kill him off. But Jim Starlin and his fellow creators at DC Comics were more than happy to do.
The One Time Fans Could Actually Dictate the Franchise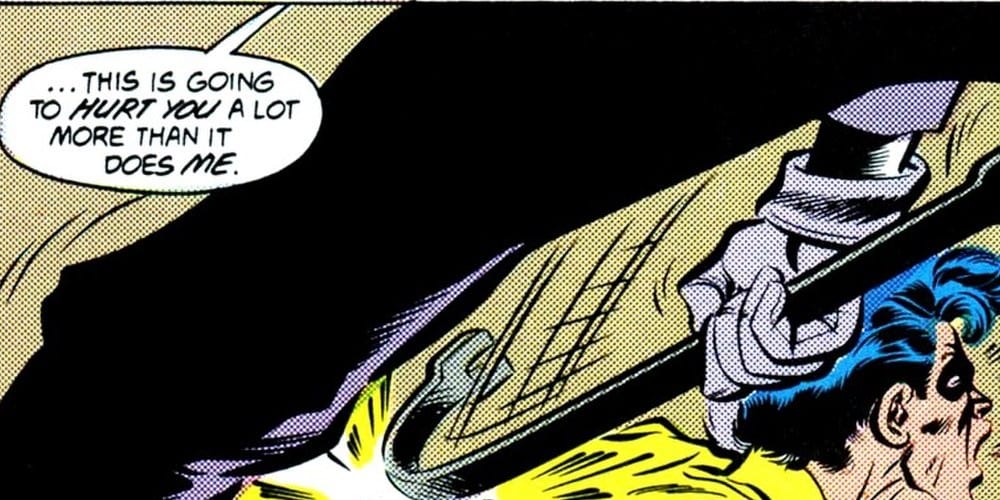 Sorry, Jason Todd, this is what the fans voted for. (Image: Batman: Death in the Family, DC Comics)
Today, many fans have a gross sense of entitlement when it comes to certain properties. They have no problem harassing stars of the franchises, demanding changes to movies that already released, and griping when something is too similar or too different from the original material.  Before the days of the internet, when fans didn't have an outlet to voice their grievances. They couldn't even troll creators! Unless they waited for a Comic-Con panel and did it in person. DC wanted to let the fans feel like their voices mattered. So, they created a call-in poll, and the vans voted if they wanted Jason Todd to live or die.
"This was a bit morbid example of it, but the possibilities from the pre-Internet immediate voting/nearly immediate outcome were tempting," former DC President/Publisher Paul Levitz said in an interview with Newsarama. However, that's as far as the excitement went. For the creative team, it wasn't that big of a deal. "I felt at the time it was a bit hokey, "inker Mike DeCarlo said. "But I understood marketing enough to go along with the idea."
But there wasn't much doubt over which way fans would go. "We counted on the vote being against him living," DeCarlo added. Though they had plans in case the fans let Robin live, the only thing that surprised them was the small margin the vote turned out to be. As Starlin put it: "I never expected to see that in print actually. I knew who my fans were and I figured that Robin was toast the moment they decided to put this thing out. I was surprised at the time just how close it was."
Why Did the Fans Want Starlin to Write Jason Todd Out of the Franchise?
Robin must die. So say we all! (Image: Batman: Death in the Family, DC Comics
"We knew we had a problem with Robin," O'Neil said in a 2014 interview with 13th Dimension. "It was a case of something you hear about and seldom encounter: a character taking on a life of his own. Maybe I should have been a more hands-on editor but it just kind of slipped past us and all of a sudden we had this disagreeable little snot and I thought we either had to give him a massive personality change or write him out of the series."
Fans found Jason Todd was so annoying that they voted for the Joker viscously killing him with a crowbar. Well, the crowbar scene wasn't their idea. Starlin came up with that iconic scene.
Would a marketing campaign like this work today? Maybe…but it would be a lot messier, and there would be much more bickering online. Besides, DC planned that fans voted for Jason Todd to die. So did the fans ever really have that much control? Let's let them think so.
(Featured Image: Batman: Death in the Family, DC Comics)
Roman Colombo finished his MFA in 2010 and now teaches writing and graphic novel literature at various Philadelphia colleges. His first novel, Trading Saints for Sinners, was published in 2014. He's currently working on his next novel and hoping to find an agent soon.
Batman
Death in the Family
Jason Todd
Jim Starlin
Joker
Robin
Leave a comment