Doctor Doom Joining Guardians Of The Galaxy … With Several Others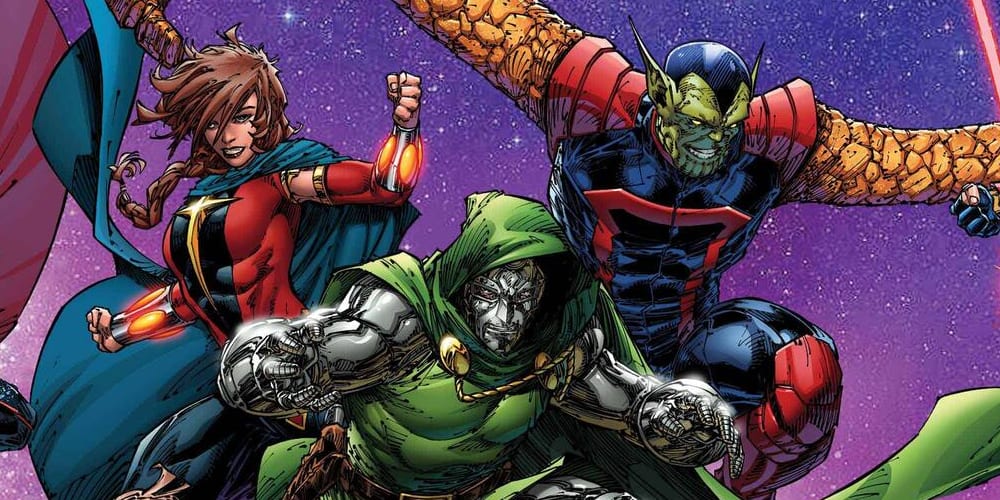 After Empyre, the Guardians of the Galaxy had to play a neutral role in the Galactic Council. But immediately after, they had to contend with the catastrophe left in Knull's march to Earth, as seen in King in Black Week Six. But space is pretty big, so Al Ewing is expanding the team—by a lot. And joining the Guardians of the Galaxy is none other than Doctor Victor Von Doom. In total, there will be 17 members, most of which have been on some version of the team at some point in time. And others, like Doom, who are new to the team. But, why the massive team?
Doctor Doom is Joining the Guardians for "A New Age of Space."
Stunning new art from Issue #13 (Image: Marvel Comics)
After the Galactic Council deputizes the Guardians, they probably realize that their usual roster of six won't cut it. However, for about a year now (in comics, not in the Marvel Universe), there are already two teams claiming to be the Guardians. While Rocket leads one team, Gamora leads the other—she blamed Rocket for Star-Lord's temporary death. Yet even those two factions coming together won't be enough. So, along with the Emperor of Space himself, Hulking, and his husband Wiccan, Doctor Doom is joining the Guardians of the Galaxy too! Here's the full roster, as Marvel thankfully listed:
Hulkling
Star-Lord
Groot
Nova
Wiccan
Gamora
Quasar (Avril Kincaid)
Rocket Raccoon
Doctor Doom
Super Skrull
Moondragon
Marvel Boy
Mantis
Drax
Phyla-Vell
Hercules
Quasar (Wendell Vaughn)
Doom Isn't the Only Surprising New Member of the Team.
A big ass team for a big ass galaxy. (Image: Marvel Comics)
Additionally, Hercules recently joined the Guardians, which was already pretty cool. Doctor Doom joining the Guardians of the Galaxy is tilting towards the epic side. But for long-time readers, the name Wendell Vaughn should be just as exciting. Vaughn is the original Quasar. In the early '00 event Annihilation, Annihilus killed the hero. Afterward, Phyla-Vell took the mantle, and later, Avril Kincaid. Speaking of Kincaid, she's also a surprise since the last time we saw her, she was trapped in the Void.
It's a big team, but it's a big universe…but really, can anyone see Doctor Doom taking orders from a talking raccoon?
(Featured Image: Marvel Comics)
Roman Colombo finished his MFA in 2010 and now teaches writing and graphic novel literature at various Philadelphia colleges. His first novel, Trading Saints for Sinners, was published in 2014. He's currently working on his next novel and hoping to find an agent soon.
Leave a comment