DC Editor Brian Augustyn Passes Away, Gotham By Gaslight Writer Was 67 Years Old
It's another sad day for the comic book community. Brian Augustyn, best known in the comics community for his amazing career as an editor for DC Comics and several other publishers, died after suffering a massive stroke. His colleague, and one of his closest friends, Mark Waid, delivered the news to his fans and fellow creators. If you've read DC Comics, you've read something that Brian has either edited or written. He's most famous for Gotham by Gaslight, in which he worked with artist Mike Mignola. But that's just a small drop in his overall career.
As a DC Comics Editor, Brian Augustyn Launched Mark Waid's Comic Writing Career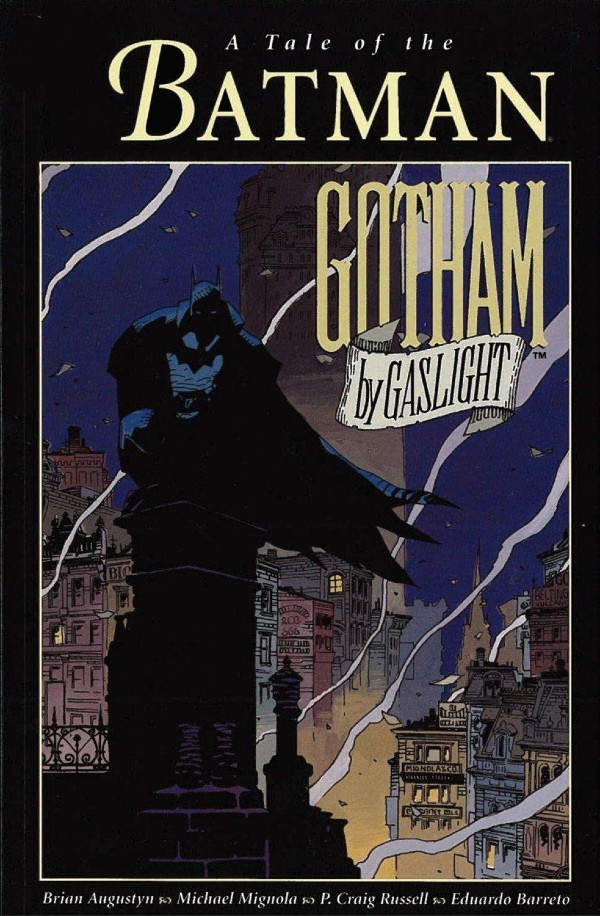 Brian's most famous work. (DC Comics)
In 1991, Mark Waid was an associate editor at DC Comics, but Brian Augustyn saw that his talents were better suited as a writer. And ever since then, the two have been best friends. That relationship is evident in Waid's letter to friends and fans:
"This one hurt unimaginably: Brian Augustyn, rest in peace.

"The Augustyn family has asked me to let Brian's friends and fans know that Brian passed away after suffering a sudden, severe stroke over the weekend. I have spent a lot of time these last few hours writing about Brian, and I'll share those thoughts soon, but for now I simply wanted to let everyone know. Comics has lost a very kind, very talented man who has been my big brother and one of my very best friends for nearly 35 years."
Throughout his career as a DC Comics editor, or as a writer or editor elsewhere, he's worked with some of the best creators in the business. In his call for condolences cards, Waid names just a few of them:
"If you've ever been a friend, colleague, or fan of Brian's–or, frankly, a fan of the work done by Humberto Ramos, Mike Wieringo, Mike Parobeck, Oscar Jimenez, Howard Porter, Travis Charest, or any of the many, many other creators who owe their careers to Brian, myself included–I'm asking you to send a card or a note to express your condolences and tell them what he meant to you."
A Look at Brian Augustyn's Contributions to Comics and Graphic Novels
Brian's First DC Comics work. (DC Comics)
There are plenty of best-of books we could list here, but instead, let's look at the beginning of his career and the last books he left us with. The first comic Brian Augustyn received an editor credit for wasn't DC Comics. It was for the now-defunct publisher Now Comics. The superhero he was responsible for? Valor Thunderstar and His Fireflies! You know Thunderstar, right? No?
He finally made his DC Comics debut as a writer for the newspaper-style comic Daily Planet #1. Oddly enough, Mark Waid was the editor of that book! Following this, he started editing on pulse-pounding books like Who's Who in the DC Universe and Who's Who in the Legion of Super-Heroes. Thrilling. The first big superhero he edited was the dark Hawkman title Hawkworld. However, he would go on to either write or The Flash from 1989 to 2000! He's the person most responsible for making Wally West the best Flash. But let it not be said he was biased towards DC. He did write a Marvel title: Imperial Guard #1-3, 1997.
Brian recently helped launch Dragonlance: The Legend of Huma for Devil's Due Comics. He also had a hand in premiering a new comic imprint, Absolute Comics, with titles like Darchon and Amped. But his most popular recent comic was Archie 1941, which he co-wrote with Mark Waid.
From his work as an editor at DC Comics to his contribution to indie comics, Bryan Augustyn was a guiding force in comics, often working behind the scenes. It's a heavier loss to the comics community than most readers will ever realize. But chances are, he edited a comic you loved.
(Featured Image: Facebook)
Roman Colombo finished his MFA in 2010 and now teaches writing and graphic novel literature at various Philadelphia colleges. His first novel, Trading Saints for Sinners, was published in 2014. He's currently working on his next novel and hoping to find an agent soon.
Leave a comment