Who Is Teth-Adam? A Look At The Characters In DC's Upcoming Black Adam Movie
Last year's DC Fandome introduced viewers to the Black Adam panel, something that Dwayne Johnson has been working with DC and Warner Bros. on for more than a decade. The movie was originally supposed to come out later this year, but thanks to several delays, it's now coming out summer of next year. Well, we can now legitimately feel excited because this year's DC Fandome not only gave us a glimpse of the actors and actresses involved in the movie, but we also got to see the first look teaser trailer! It looks amazing, but it also left me wondering…who are these new DC characters? In this series of posts, I'll be looking at these obscure DC characters, although it's likely they'll soon become household names. So first off, who is Black Adam?
Who Is Black Adam And What Are His Powers?
Black Adam (who will be played by Dwayne Johnson) has an interesting history as he was first introduced as a supervillain in The Marvel Family #1 (published in 1945 by Fawcett Comics and created by Otto Binder and C.C. Beck) and was the main antagonist to Captain Marvel (later known as Shazam), but in later iterations, he became involved with the Justice Society and sometimes seemed good, but also made some questionable choices.
He gets his powers when he says "Shazam," which is actually an acronym for what he's capable of. Billy Batson's SHAZAM is based on the powers of the Greek gods and heroes: Solomon, Hercules, Atlas, Zeus, Achilles, and Mercury; Black Adam's SHAZAM is based on the Egyptian gods: Shu, Heru, Amon, Zehuti, Aton, and Mehan. Basically, Black Adam has unlimited stamina, supernatural speed, super strength, vast access to wisdom, the ability to fly, and very strict adherence to inner discipline and willpower. He has a very strong mind and can resist telepathy and mind control.
The Beginnings of Black Adam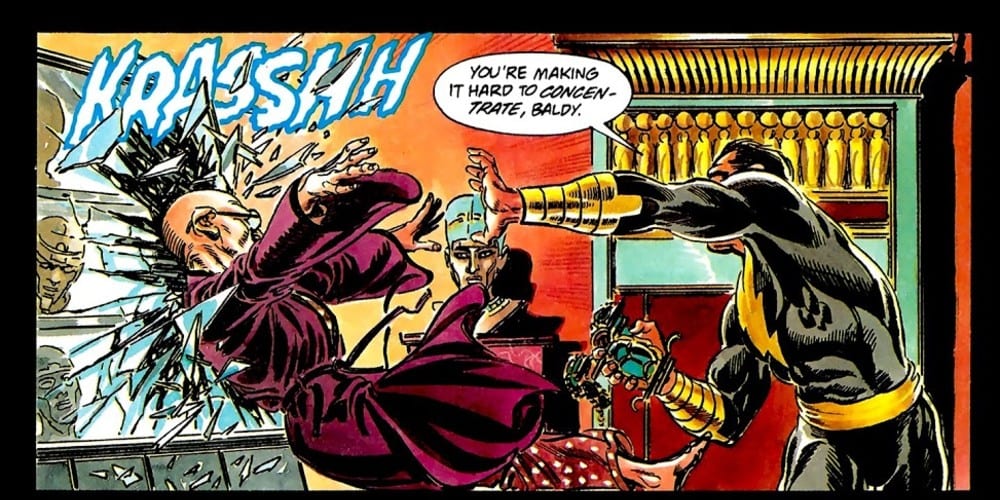 Take that, old man! (The Power of Shazam!) Image via DC Comics
OK, that was a lot all at once in the previous section, so let me back up. Black Adam appeared only once in 1945's The Marvel Family #1 as an ancient Egyptian named Teth-Adam (i.e. "Mighty Human"). He was chosen by the wizard Shazam to be his successor; when he utters "Shazam," he transforms into Mighty Adam, a superhuman possessing the same powers that Captain Marvel would later have. Unfortunately, he becomes corrupted by his powers and has to be taken out by the Marvel family and banished to the far side of the universe by Shazam.
Black Adam wouldn't be seen again until 1994 when writer Jerry Ordway made him the villain in the graphic novel series, The Power of Shazam!. The version is basically the same except Black Adam is seduced by Shazam's evil daughter, Blaze, and as punishment for letting power get to his head, Shazam renders Black Adam powerless and locks him in a scarab amulet. Thousands of years later, an archaeological aide named Theo Adam discovers the scarab amulet with his superiors C.C. Batson and his wife Marilyn (aka Billy Batson's parents). Adam ends up killing the Batsons so he can steal the amulet and ultimately becomes Black Adam.
Towards the end of The Power of Shazam! Series, Black Adam works with the Justice Society to bring about his version of morality (this is where the line between hero and villain becomes blurred). The Justice Society was actually a predecessor to the Justice League and first made an appearance in 1940 in All-Star Comics #3 and it included members such as Doctor Fate, Hour-Man, the Sandman, the Atom, the Flash, Hawkman, and Green Lantern. Given that some of these characters are set to appear in the Black Adam movie, this hopefully means we'll learn a lot more about the Justice Society!
Black Adam is supposed to be a spinoff as well as a prequel to the 2019 Shazam! movie. The character was actually referenced in the movie when the wizard Shazam is explaining to Billy that he had chosen a champion many years ago that unleashed the Seven Deadly Sins on Earth.
In case you haven't seen the teaser trailer from DC Fandome, check it out below:
Black Adam is coming to theaters July 29, 2022 thanks to Dwayne Johnson's Instagram.
What do you think of Black Adam as a character? Let us know in the comments below!
Featured image via Reddit
Keilin Huang is a freelance writer that likes the Oxford comma, reading from her neverending pile of books from the library, and Reeses peanut butter cups. She thanks her Dad for introducing her to his Superman comics and probably majored in Journalism because of Lois Lane. Contact her at [email protected]
Leave a comment