Who Is Swamp Thing? Protector Of Planet Earth's Green
Swamp Thing is an American comic book character published by DC Comics. His appearance is a mixture of humanoids and plants. Writer Len Wein and artist Bernie Wrightson created Swamp Thing.
He exists in several different stories. The first time was in 1971 in House of Secrets #92, a horror story set in the 20th century. The character was so popular that he had his own series, which is not very well known by all fans. 
Image via DC Comics
Who is Swamp Thing? 
Swamp Thing is a monster composed of plant matter in humanoid form. He fights to protect his home, the swamp, humanity, and the environment from terrorists and supernatural threats. When riding the Queens subway, writer Len Wein had the idea for the character. When he first thought of him, he didn't have a title but thought of a swamp monster.
Wein wrote his first 13 issues, and Gerry Conway and David Michelinie finished the series. The first ten issues came from famed horror cartoonist Bernie Wrightson, with Fred Carrillo continuing for the following 13 issues. From the beginning, Swamp Thing fought against evil, searching for those who had murdered his wife, causing his monstrous transformation. Likewise, he always seeks to return to his original form, a human being.
From that moment until now, he has fought against the villains, facing countless battles. In these confrontations, he had to fight to be considered good and not evil.
At one point in history, the character's comic book sales began to plummet, and his writers struggled to keep him in the limelight. In an effort to revive interest, they introduced fantastical creatures and aliens in later stories. The Swamp Thing series ended with issues 24 and 25. Later, Swamp Thing reappeared in Challengers of the Unknown #81-87.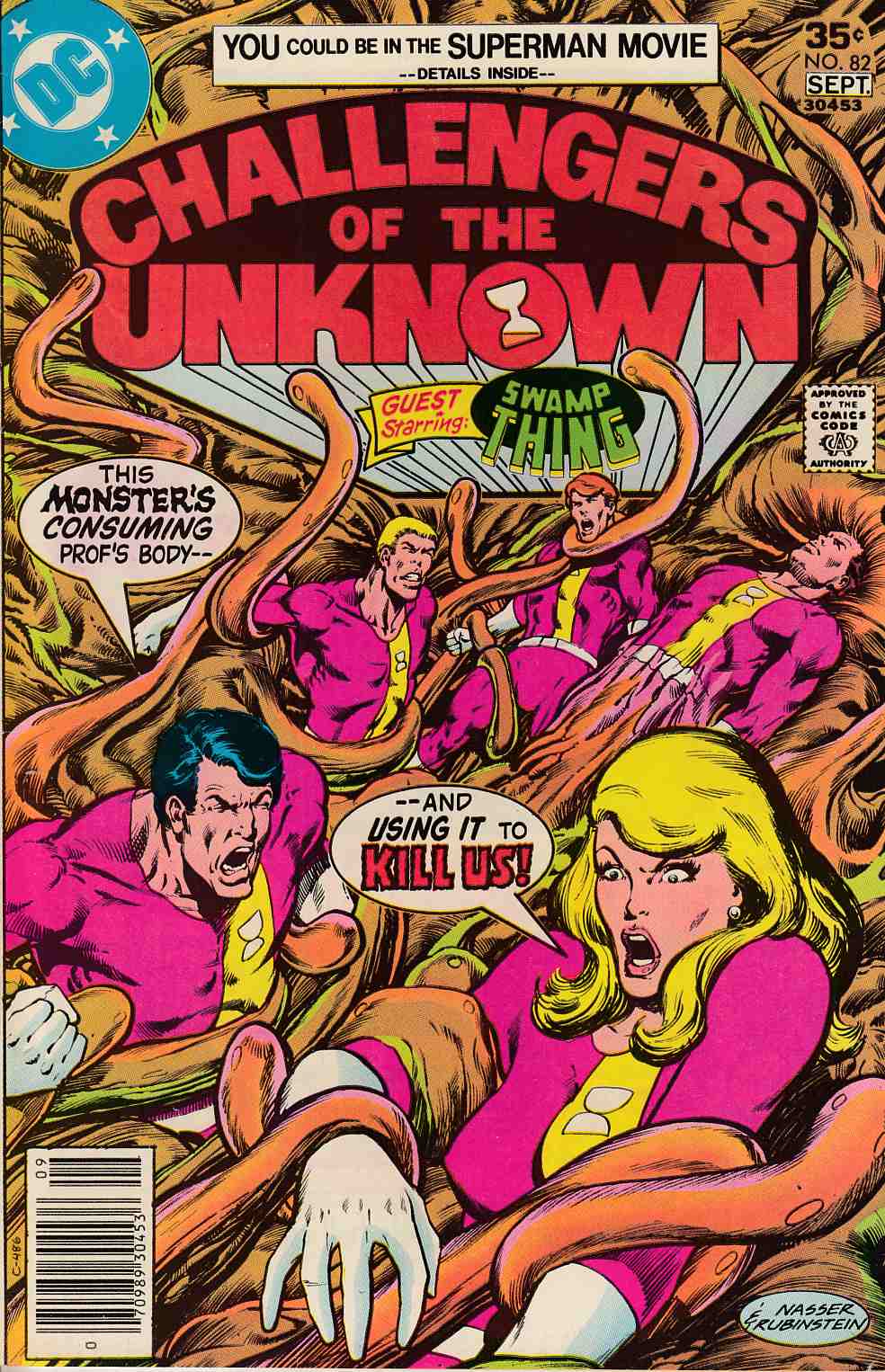 Image via DC Comics
By 1982, DC was trying to revive Swamp Thing using Wes Craven's film of the same name, which would release in the summer. This film was supposed to release in 1978 initially.
The Saga of the Swamp Thing
Dc released a new series, The Saga of the Swamp Thing, from writer Martin Pasko. In this volume, he is a monster roaming the swamps of Louisiana. He becomes an urban legend, feared by the locals. Swamp Thing seeks to stop Karen Clancy, a possible anti-Christ, from destroying the world.
After Martin Pasko leaves the writer's role due to his multiple commitments, Alan Moore takes over. In addition, the editor, Karen Berger, also gives free rein to her imagination. In this way, they reformed the character, turning him into an absolute monster, thus bringing out several issues.
For issue 65 of The Saga of the Swamp Thing, Rick Veitch replaces Moore as the writer. Thus begins a new script for the series, where the story is similar to the previous 24 issues. Veitch's tenure ended in 1989 due to a creative dispute, and issue 88 was not published. DC considered that issue very conflictive for using a figure like Jesus Christ.
Because of this, Dough Wheeler, who continued until issue 90, replaced issue 88 with a new issue. After a high turnover, in 1991, DC revived Swamp Thing with the addition of Nancy A. Collins. This new management shifted the stories to an ecological basis, introducing giant killer flowers. Swamp Thing was rewritten from issues 110 to 138. From issue 140 onwards, Grant Morrison took over, with co-writing assistance from Mark Millar.
Volumes 3 and 4
Swamp Thing Vol. 3 begins in 2001, written by Brian K. Vaughan and drawn by Guiseppe Camuncoli and Roger Petersen. This series focuses on his daughter, Tefé Holland. This 11 to a 12-year-old girl was aged up to 18 years old. Tefé had a mind-wipe orchestrated by Swamp Thing. She also had power over flesh and plants.
Tefé rediscovers her powers on prom night when she discovers that her best friend and boyfriend betrayed her. Tefé murders them and has to fake her own death to escape to Africa, searching for the "Tree of Knowledge".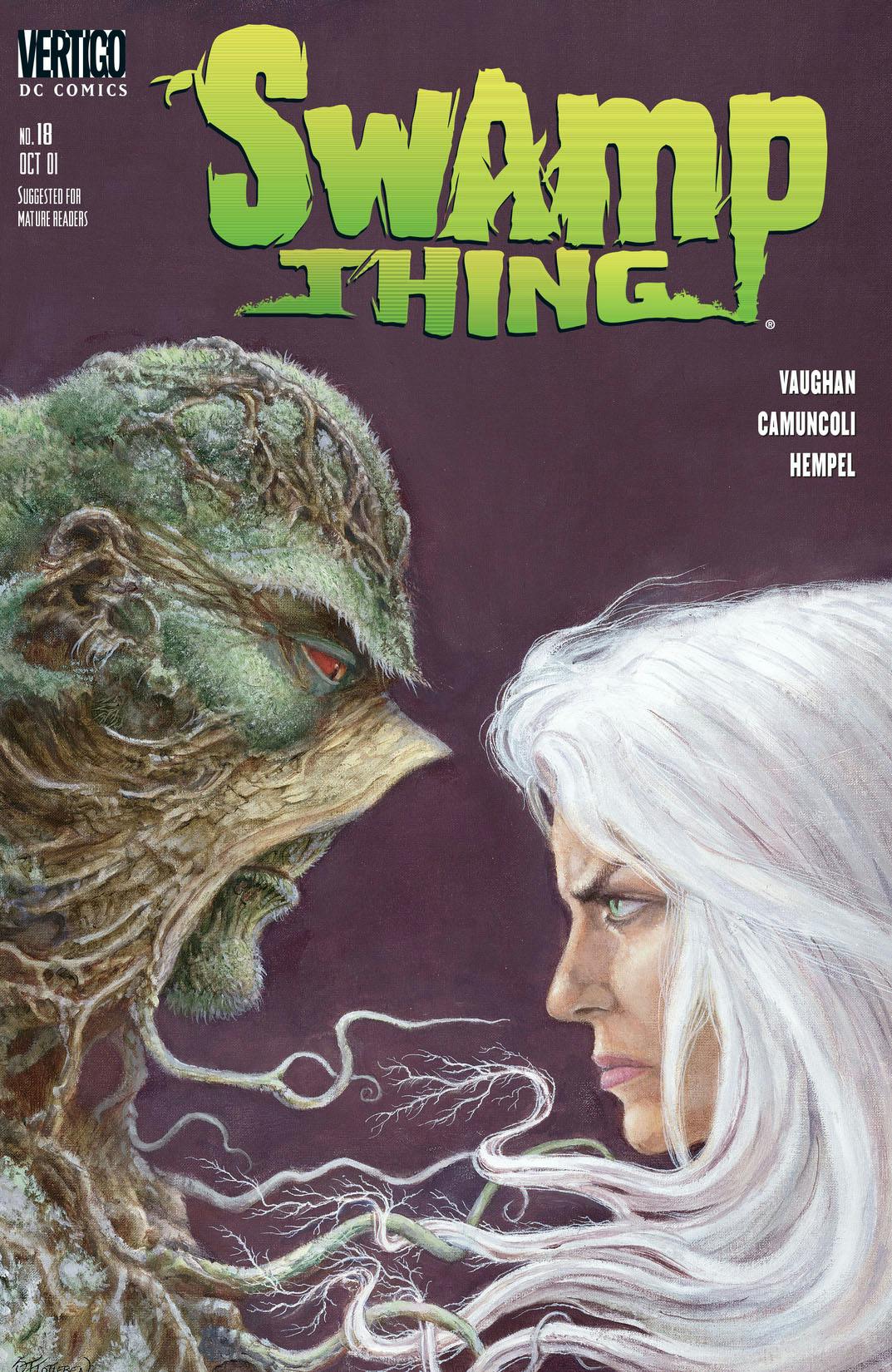 Image via DC Comics
Volume 4 appeared in 2004, with the participation of several writers. Andy Diggle participated in issues 1 to 6, Will Pfeifer in issues 7 to 8, and Joshua Dysart in issues 9 to 29. For this series, the plot returns Swamp Thing to his original state on Earth, so he is seen with plants trying to live without incident in the swamps of Louisiana. Issue 29 brings the series to an end due to low sales figures.
Swamp Thing's Return to DC
Swamp Thing returns to DC, showing him corrupted by the villain Nekron in the wake of Blackest Night, where he seeks to destroy all life on Earth. Then, heroes such as Hawkgirl, Hawkman, Martian Manhunter, Firestorm, Deadman and Aquaman created a new Swamp Thing.
That version confronted the original Swamp Thing, defeating and killing him. In this way, he restored natural areas, returning the heroes to normal. The book culminates with Swamp Thing killing several business people who were destroying the planet.
Volumes 5 and 6
Volume 5 begins in 2011 with DC Comics relaunching Swamp Thing as part of The New 52, written by Scott Snyder with issues #1-18. Volume 6 comes in 2016, with a 6-issue miniseries, which Len Wein wrote, and art by Kelley Jones.
Swamp Thing's Biography
This character has assumed different names, such as:
Alex Olsen:

 This is a version depicting a young scientist originally from Louisiana in the 20th century, married to Linda. Alex's assistant was Damian Ridge, and he was in love with Linda, planning Alex's death in an explosion, throwing his body into the swamp. Afterwards, Olsen resurrects as a monster in vegetable matter.

Albert Höllerer: 

He is a World War II pilot who was shot down in 1942, falling into a swamp. Because of he had a gruesome death, burning alive, he became the Swamp Thing.

Tefé Holland:

 He is the daughter version of Swamp Thing.

Alan Hallman:

A scientist trying to recover damaged crops, he burned to death, becoming a Grey creature full of mould and fungus.

Aaron Hayley:

 He was an American soldier who fought in World War II, died and became Swamp Thing for a brief period.

Calbraith AH Rodgers:

 Born in 1920, he had direct contact with nature from childhood. He enlisted in the Royal Air Force and was shot down on his fourth mission. He landed in a swamp, melted into the branches and petals, and became its protector.

Jon Haraldson: 

He is a Viking spirit presented as an agent of the Green to defeat the Ice King. Upon completion, he returns to Valhalla.

Levi Kamei:

 He stars in the most recent version, from 2021, a 16-issue miniseries.
Image via DC Comics
Powers, Abilities and Weaknesses
Swamp Thing is a character with transformational abilities who uses plants in combination with physical combat. His powers include animating and inhabiting anything that represents plant matter, including alien plants.
This power allows him to construct a body for himself, regenerating himself after damaging or cutting off any parts. He can also transport his body worldwide without representing his current form. That allows him, among other things, to transfer his consciousness to other new forms created from plant matter that is present in him. 
Swamp Thing is the size of an average human but can grow larger. He possesses unusual strength making him stand out from other heroes. His power allows him to pull trees out of the ground easily.
He was part of the Justice League Dark team, becoming their driving force. Swamp Thing can control any plant life, causing it to buckle or accelerate its growth. He can use his powers on alien beings, such as when he cured Superman of an infection caused by the Kryptonian plant.
Appearances in Other Media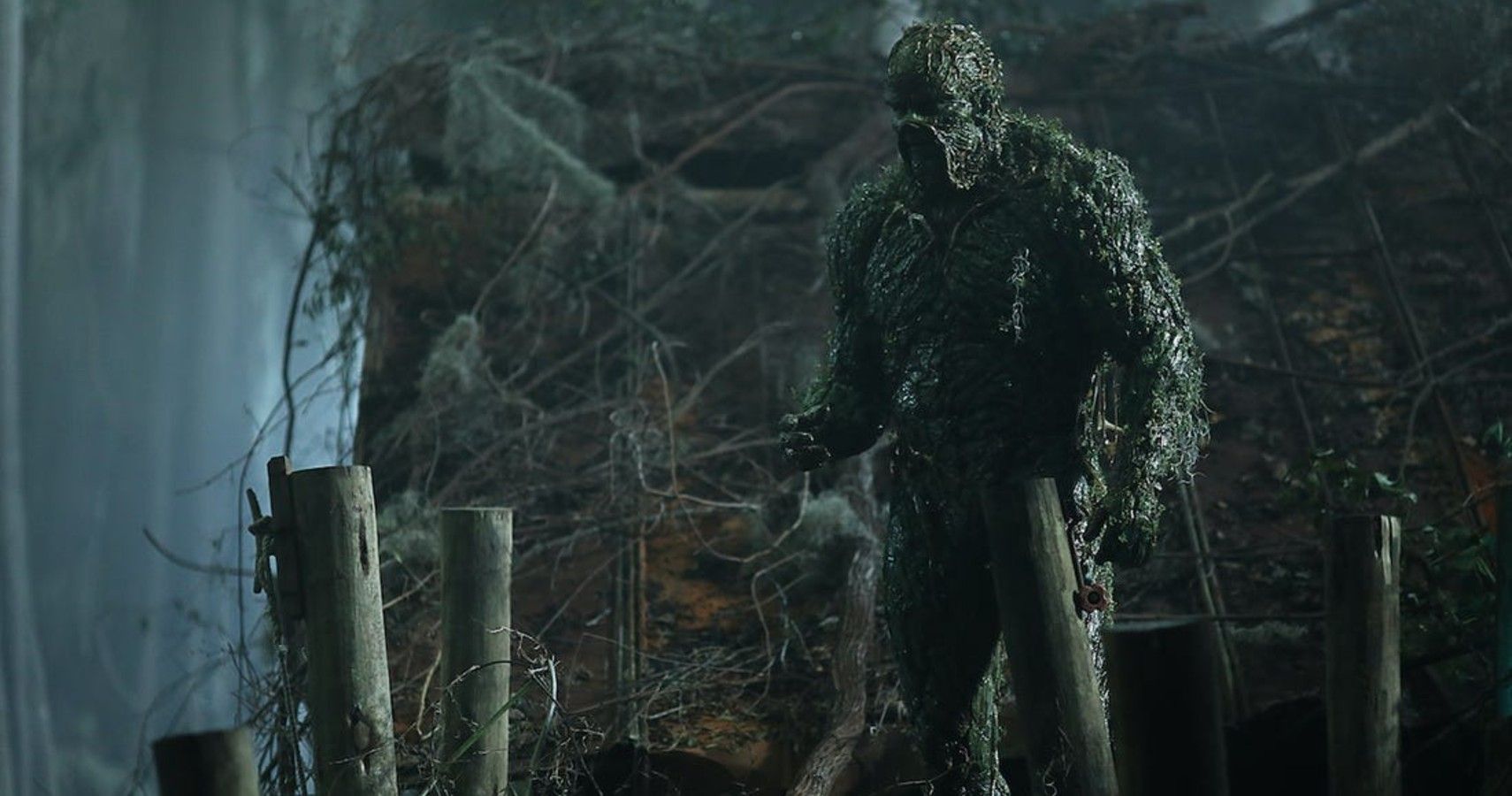 Image via DC Universe
Swamp Thing has made several appearances in various media, such as:
Television
On the small screen, Swamp Thing has appeared in the following live-action series:
Alec Holland appears in a 1990 television series called Swamp Thing.

This incarnation of Alec Holland reappears in 2019 in a television series of the same name.

He makes a cameo in Arrowverse's 

Crisis on Infinite Earths

 in the episode "Loose Ends".
Swamp Thing Movies
On the big screen, Swamp Thing appears in films such as:
1982's 

Swamp Thing,

 played by Ray Wise and Dick Durock, respectively.

The Return of Swamp Thing

, in which Dick Durock reprises his leading role, and Ray Wise appears again as a flashback. 

In 

Justice League: Crisis on Two Earths

, Swamp Thing appears in a cameo as a member of the Crime Syndicate.

Swamp Thing also appears in a series of DC Universe animated films as a member of the Justice League Dark.

An incarnation of Swamp Thing, voiced by John DiMaggio, appears in 

Batman and Harley Quinn

.

Swamp Thing would appear in 2023 in a DC Studios horror film bearing his name. James Mangold will direct this new film.
Video games
Swamp Thing appears in several video games, such as:
Swamp Thing

 as a playable character.

DC Universe Online

 features Swamp Thing as a playable character.

Lego Batman 3: Beyond Gotham

, he also appears as a playable character in the voice of JB Blanc.

Infinite Crisis

, Swamp Thing is a playable character voiced by Michael Dorn.

Injustice 2

, Swamp Thing is a playable character voiced by Fred Tatasciore.

Lego DC Super-Villains

, Swamp Thing is a playable character and is part of the "Justice League Dark" DLC pack.
The Protector of the Green
Swamp Thing is one of the DC characters that found popularity in the 1970s and 1980s under the direction of Stephen Bissette, Alan Moore and John Totleben. Now, he has become a staple of Justice League Dark.
The character has been adapted into video games, TV series and feature films. So, he will soon be back on the big screen with his own movie, a production that James Gunn announced will be made at DC Studios in 2023.
It is worth noting that Swamp Thing has received nominations for several awards since the 70s. It even won Alan Moore the Jack Kirby Award for Best Writer in 1985 and 1986. That may be why this character has attracted attention in the new comics landscape.
I am a circus aerialist influenced by Dick Grayson and Spider-Man. Fortunate to write about the characters that inspired me. I also have a Bachelor's degree in Political Science and a Master's degree in International Trade.
Leave a comment