Who is Damian Wayne? The Stranger Son of Bruce Wayne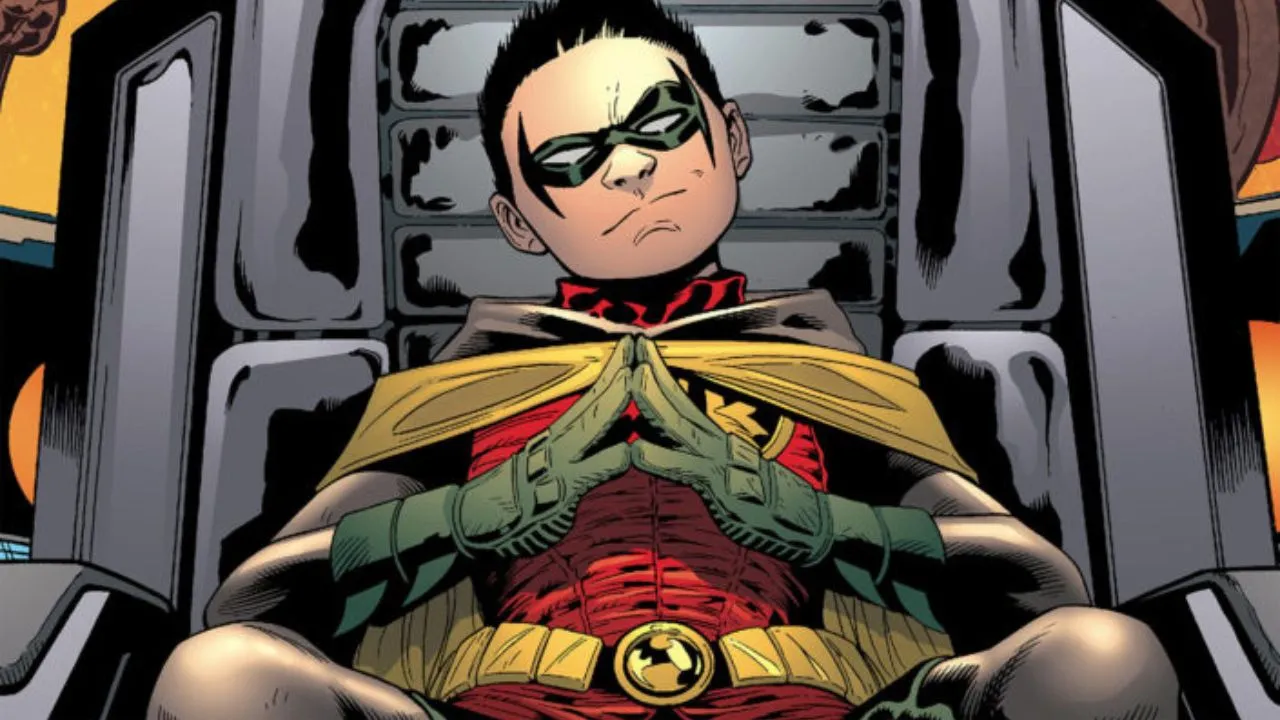 Damian Wayne is one of the characters Grant Morrison and Andy Kubert created directly related to Batman. This DC Comics superhero is the son of Batman and Talia al Ghul. This means that he is the grandson of the villain Ra's al Ghul and is, in turn, the potential heir to Wayne Enterprises.
Damian Wayne's existence has been kept secret from Batman for security reasons, so it's not surprising that he's not as well known to fans. However, he has made several interesting appearances in the comics.
History and Biography of Damian Wayne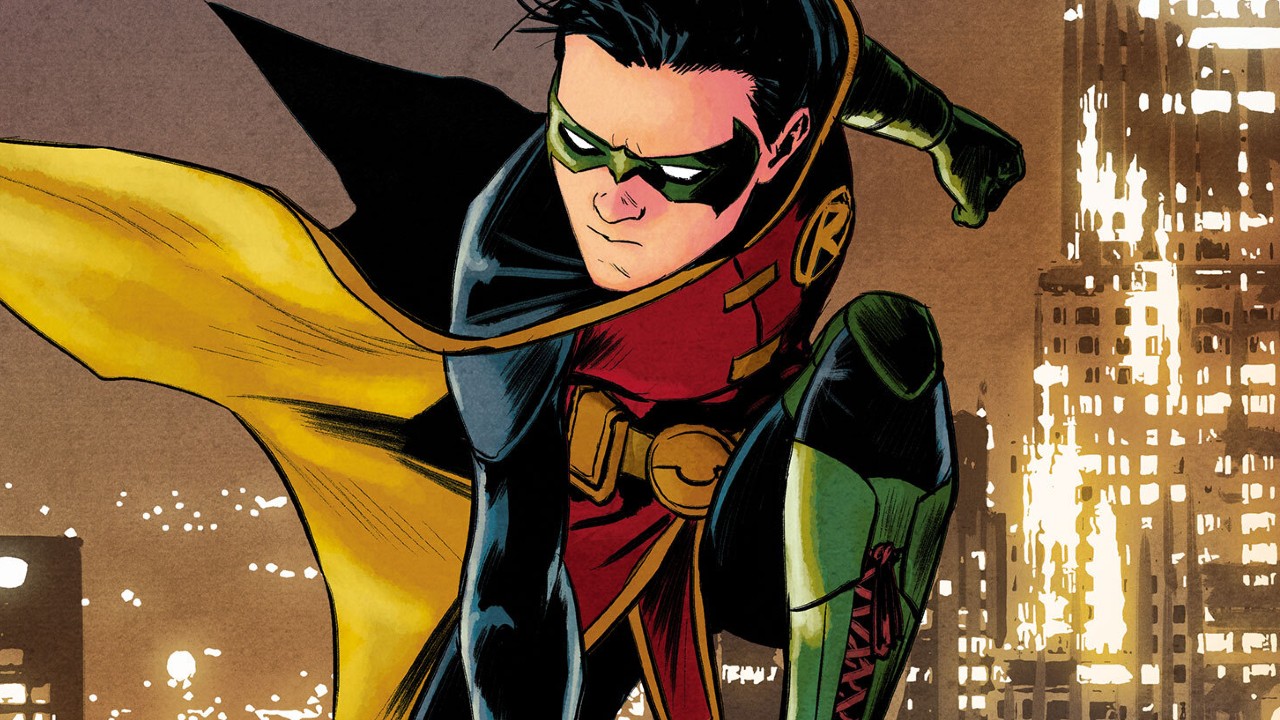 Image: DC Comics
Damian Wayne's history from the beginning has been marked by controversy. His mother, Talia al Ghul in love with Bruce Wayne, had to cancel their marriage and fake an abortion to his father, to protect her son from the fate that awaited him.
Damian Wayne's existence was hidden from Batman until 2006, Batman #656. At his creation, his intention was, from the beginning, "to kill and replace his famous father". In this way, he would serve as a host for Ra's al Ghul.
In 1987 a prototype of the character appeared, the first time he appeared, but he was an unnamed baby in the story of Batman: Son of the Demon. After this, several stories show alternative universes. In these, they dealt with the character's life, giving him different names.
By 2006, Grant Morrison reinterpreted Damian Wayne, introduced in the continuity of Batman #655. This was the first issue of the story arc called "Batman and Son". This character was the fifth to assume the role of Robin, Batman's inseparable companion.
Damian Wayne, from a young age, was in the care of his father without knowing his existence. He had a rather disturbed pre-adolescence since the League of Assassins formed him. But Batman was very concerned to know about his lost offspring.
This led him to take on the role of Robin at age 10, which can be seen in Batman: Battle for the Cowl and Batman RIP. His first job was with Dick Grayson. Then he went to work with his father.
Bruce and His son Damian Wayne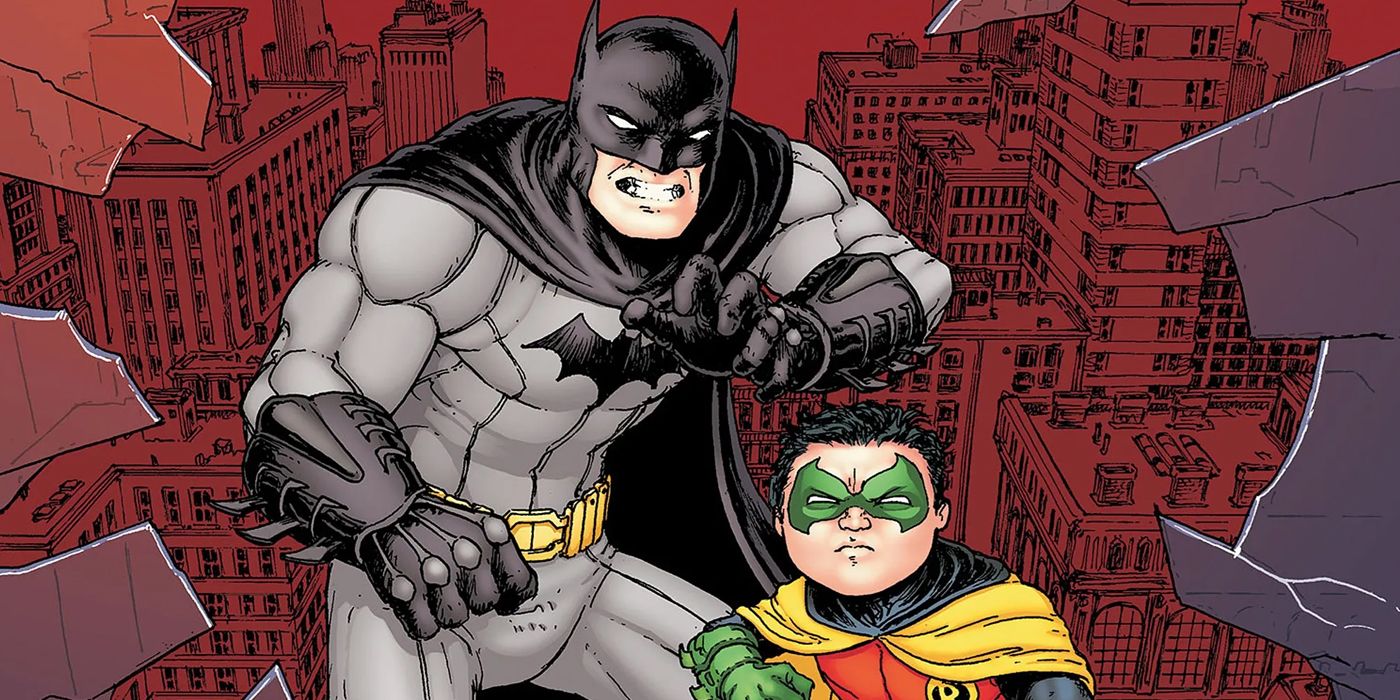 Image: DC Comics
Batman did not know about Damian Wayne's origin. One of the versions indicates that he was artificially created in a womb to be genetically the perfect warrior. His mother raises him, Talia al Ghul. Moreover, the League of Assassins trained him from an early age.
From his early days, he demonstrated great skill in martial arts. As a pre-teen, his mother reveals his true origin, that his father was Bruce Wayne, leaving him in her custody to get him out of harm's way.
His personality was marked by being violent, spoiled and very intelligent, performing activities not in accordance with his age. One of these episodes includes initiating a fight against Tim Drake to replace Robin, which ends in almost defeating him and fleeing the scene.
He assumes a Robin disguise from Jason Todd and joins Bruce's crime fight despite that. Instinctively or consciously, Damian Wayne seeks his father's approval.
But, because of how he was raised, Damian is disrespectful and unaware of how he should behave socially. He even thinks that killing will gain Batman's attention. On the contrary, the relationship between father and son becomes more complicated, and Damian vows never to kill again.
Batman, doubting his paternity with Damian, confronts Talia so that she can corroborate his identity. In the meantime, Talia and Damian are trapped in an explosion, surviving, but Damian requires organ transplants and being treated, he survives.
Batman RIP
In the story arc shown in "Batman RIP" written by Grant Morrison in Batman #675, Damian feels they want to catch Batman. So, he and Talia devise a plan to protect him since he is delusional and lost.
The plan involves Commissioner James Gordon, who owes them one. Talia and Damian rescue him from a booby trap in Wayne Manor as they set out to find Batman.
Alfred and Damian find Batman, and to help him, they rush to his aid against the Black Glove in the Batmobile. Damian is driving the car and lashes out at the ambulance by throwing it off a bridge without concern or remorse. Alfred reprimands Damian for the action, but he only replies that the only occupant of the ambulance was the Joker.
Damian Wayne in Rebirth of Batman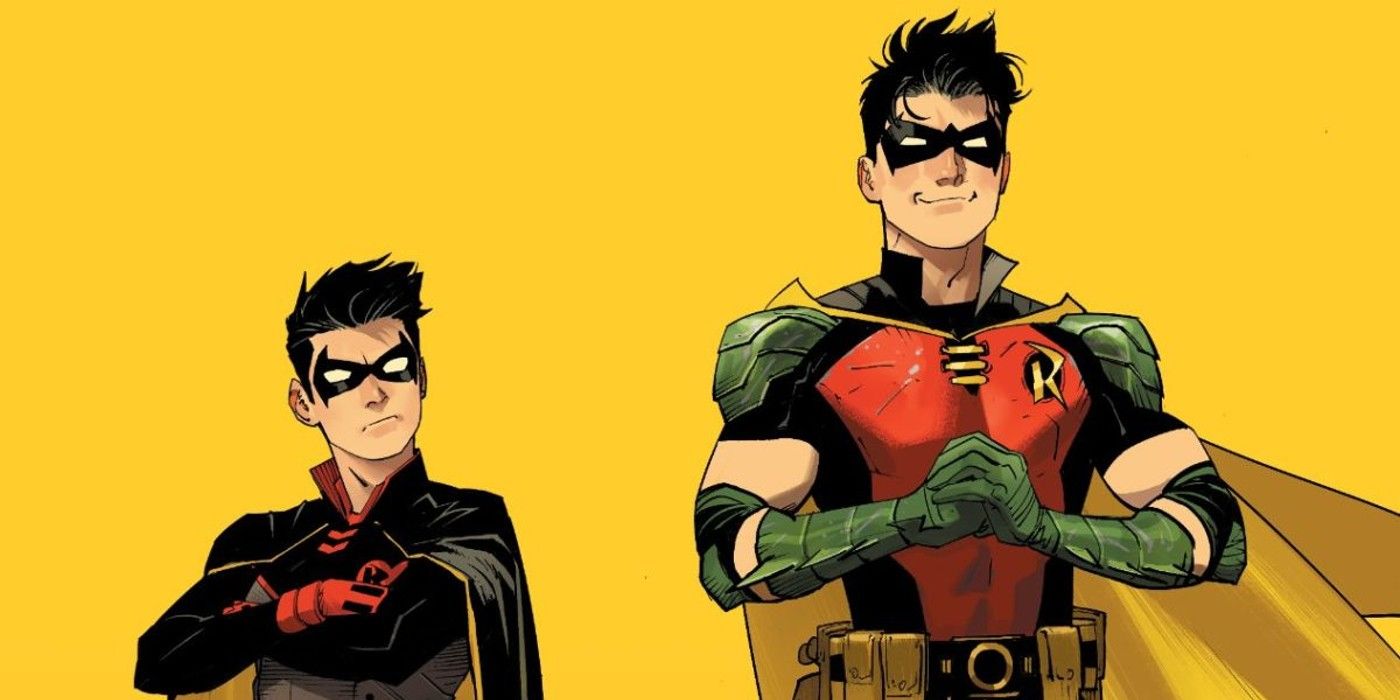 Image: DC Comics
Damian has an older brother he cares little for and disrespects, despite becoming the Robin to Grayson's Batman. Because of his very personality, he performs a defiant act, making Damian's Robin mantle independent of Batman's. In this way, he individually seeks to prevent Dr. Phosphorus from breaking into Project Cadmus but fails, and Dick saves him.
Dick, seeing Robin's eagerness, decides to train him to be a true hero, developing their styles of fighting crime, which turned out to be original and unique.
Dick and Damian, thus, undertake several adventures fighting villains such as Professor Pyg, Victor Zsasz, Black Mask and others, so they become more and more united. Damian demonstrates his interest in preserving Wayne Enterprises' heritage by filing a lawsuit against Tim.
Blackest Night
Blackest Night was overlaid by Damian and Dick's removal of Bruce's remains to the base underneath Wayne Tower, next to his paternal grandparents. This shocks Damian strongly when he sees the rest of his entire family.
After Deadman possesses Damian and Dick and lashes out at each other, they prepare for the assault on the Black Lanterns in Gotham. When they raid the Reserve National Guard Armory, Dick and Damian are joined by Tim Drake. The two save Commissioner Gordon, police officers and Oracle in Gotham Central.
Damian Wayne in Batman Returns
Bruce Wayne returns from the dead when Damian and Alfred set out to find him. This happened after Talia cloned Damian, considering him a perfectionist and linked to the Wayne family. Damian confesses to his mother that the best thing that ever happened to him was to be Robin. This revelation leads to the definitive banishment of the Gul family.
Upon learning that Oberon Sexton is the Joker in disguise, Damian tortures him. However, this was nothing more than another trick of the Joker. The villain's goal was to use Dick and Damian in his interests to fight against the Black Glove.
But help arrives least expectedly. Batman reappears to rescue them. In this way, they defeat the Black Glove and the Joker together. Thus, Wayne accepts Damian's existence as his son, as well as that of Robin. Keeping Damian working with Dick for his good and seeing him as a role model.
Teen Titans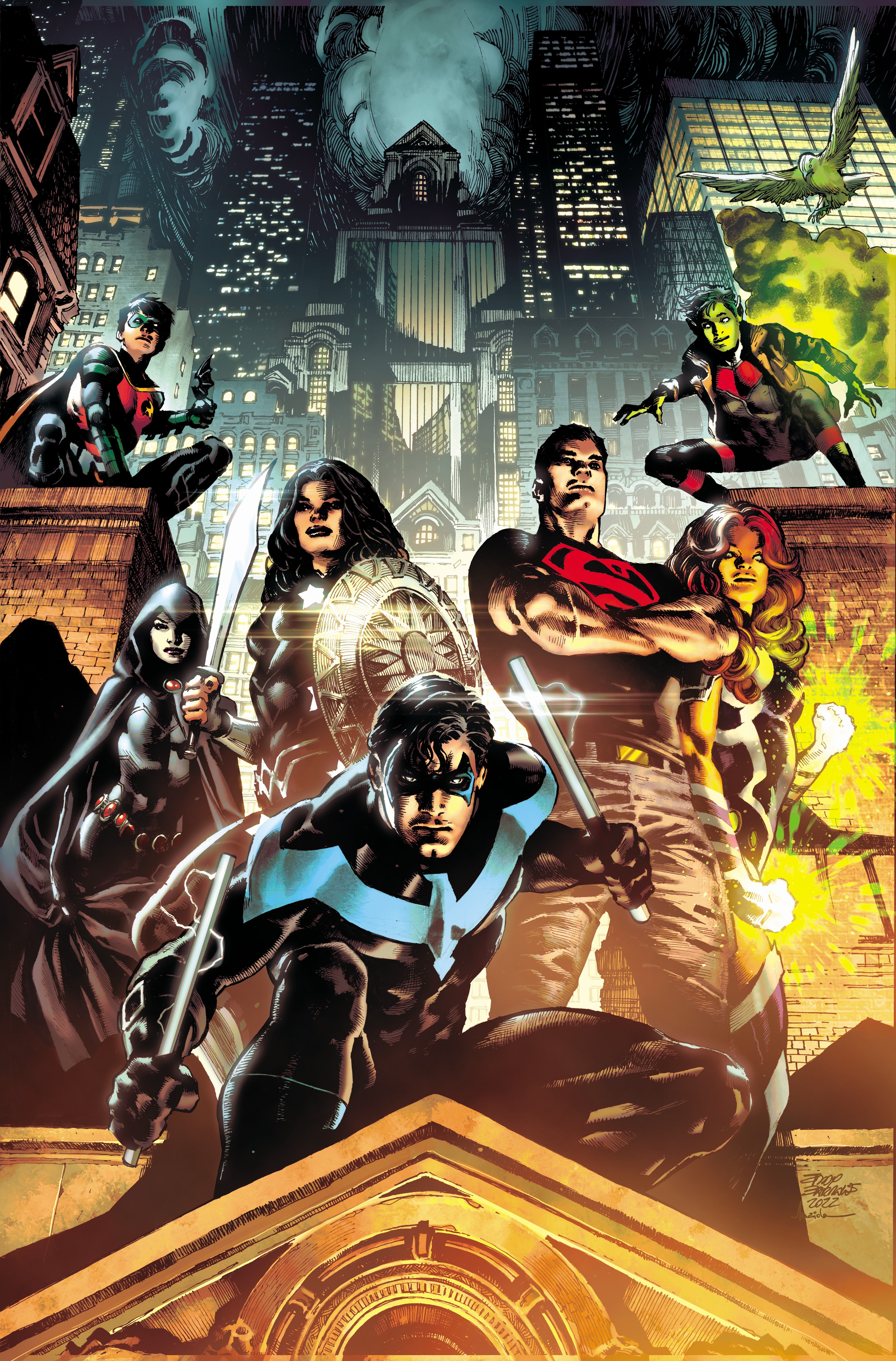 Image: DC Comics
Among Damian Wayne's exploits is his foray into the Young Titans team. This happens thanks to Dick Grayson, who concludes the need for Robin to fulfill the missions entrusted to him.
Even though he has already shown a behavior that is not at all coherent from the beginning, Dick wants to get him out. However, Wonder Gril opposes allowing him to learn teamwork and trust each other. 
His time here was a great learning experience for Robin, but he must still be banished. Although in the end, he comes with other former Titans to the aid of the original team to defeat Superboy-Prime and Legion of Doom.
The New 52
Under the "Flashpoint" storyline, Bruce Wayne returns in 2011 as the only Batman in the New 52 relaunch of DC Comics. Dick Grayson returns to the role of Nightwing, where Damian serves as his father Robin's vigilante sidekick.
In an alternate timeline, Damian reads his father's letter, where he tries to put the past behind him and teach his son the same values that were instilled in him. But despite Bruce's efforts to get closer to his son Damian, Damian remains distant.
Damian and Batman Inc.
In 2013 Damian is shown fighting the heretic, and he loses his life. This was in Batman, Inc, issue 8 of the second volume. In Requiem, Batman's pain and thirst for revenge for the death of his son are shown, undertaking a fight against Talia, which unbalances him mentally. This leads Batman to locate all means to resurrect his son.
Damian Wayne's Powers, Abilities and Appearance
Image: DC Comics
Damian Wayne is presented with an incredible resemblance to his father. His appearance was thanks to his theft of a Robin robe and mask from Jason Todd. To that, he incorporated a pair of American fists. Subsequently, the suit is seen in black and grey with red borders around the chest, knees and neck.
In addition, Robin's logo was also incorporated as a black "R" in the middle of the chest. He also retains his black and yellow cape and green domino mask. This makes him one of the most colorful and best-represented superheroes.
Among his powers and abilities stand out his handling of weapons and his expertise in mastering martial arts. All this, is thanks to the fact that he was taken in by the League of Assassins from an early age.
Because of the training his grandfather and mother received, he has the skills and stealth of a well-trained assassin. He has undertaken fights against very strong villains, such as Red Robin, Red Hood, the Joker, and even his mother, Talia Al Ghul.
Damian is also trained in forensics, criminology, and acrobatics. He also has skills in escapism and using various disguises, and excels at accurately imitating voices and speech patterns like others.
As if this were not enough, he is one of the superheroes with advanced engineering skills. This knowledge contributes greatly to the completion of his father's Batmobile project. He has business skills, which can be seen in how he handles decisions in Wayne Enterprises. 
We know of the weaknesses that he was a spoiled child by his upbringing. He was raised by the League of Assassins, which developed a killer instinct in him. He constantly fights against this impulse, especially as these actions are against what his father, Batman, stands for.
Damian Wayne's Appearances in Other Media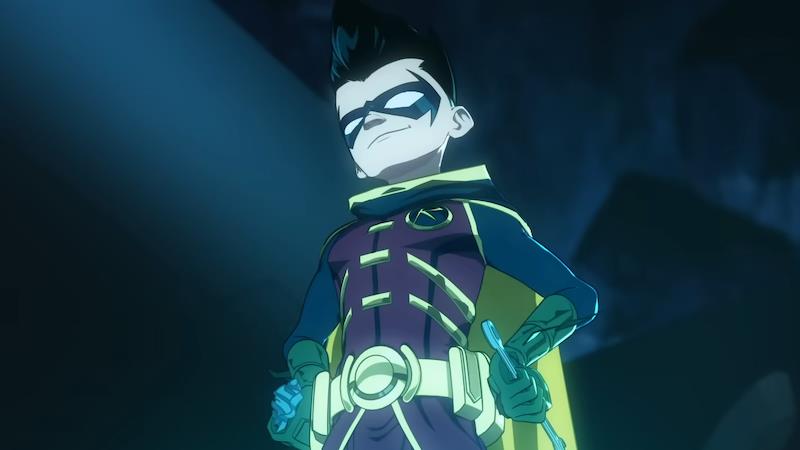 Damian Wayne is one of the comic book characters that has aroused controversy because of its origins, his appearances are diverse in different media such as:
Television
On television, Damian Wayne makes various appearances such as in:
Batman: The Brave and the Bold, Damian makes his debut in the episode "The Knights of Tomorrow", voiced by Patrick Cavanaugh.

DC Super Hero Girls, he appears in the episode "Kid Napped", where Gray Griffin voices him.

Young Justice, Damian makes cameos, where the version presented is of a little boy, so he is not yet Robin.

Harley Quinn, Damian appears in the voice of Jacob Tremblay, where he is portrayed as a spoiled brat.
Movies
In movies, Damian Wayne has made several appearances such as:
Son of Batman, where he plays an important role and is voiced by Stuart Alan.

Batman vs. Robin reprises the role of Stuart Alan, and represents a sequel to Son of Batman.

Batman: Bad Blood, again voiced by Stuart Alan, and is the sequel to Son of Batman and Batman vs.

Justice League vs Teen Titans, Stuart Alan continues in the role and this film is a sequel to Justice League: War and Justice League: Throne of Atlantis.

Since then, there have been many films where we will see Damian Wayne as in Injustice, where the voice is performed by Zach Calliso, and Batman and Superman: Battle of the Super Sons, among others.
Damian Wayne in Video Games
In video games where Damian Wayne appears as a playable character are many, we mention just a few:
Lego Batman 2: DC Super Heroes in the voice of Charlie Schlatter.

Infinite Crisis in the voice of James Arnold Taylor.

DC Unchained.

Lego DC Super-Villains voiced by Stuart Allan.
Batman's Unknown Assassin Son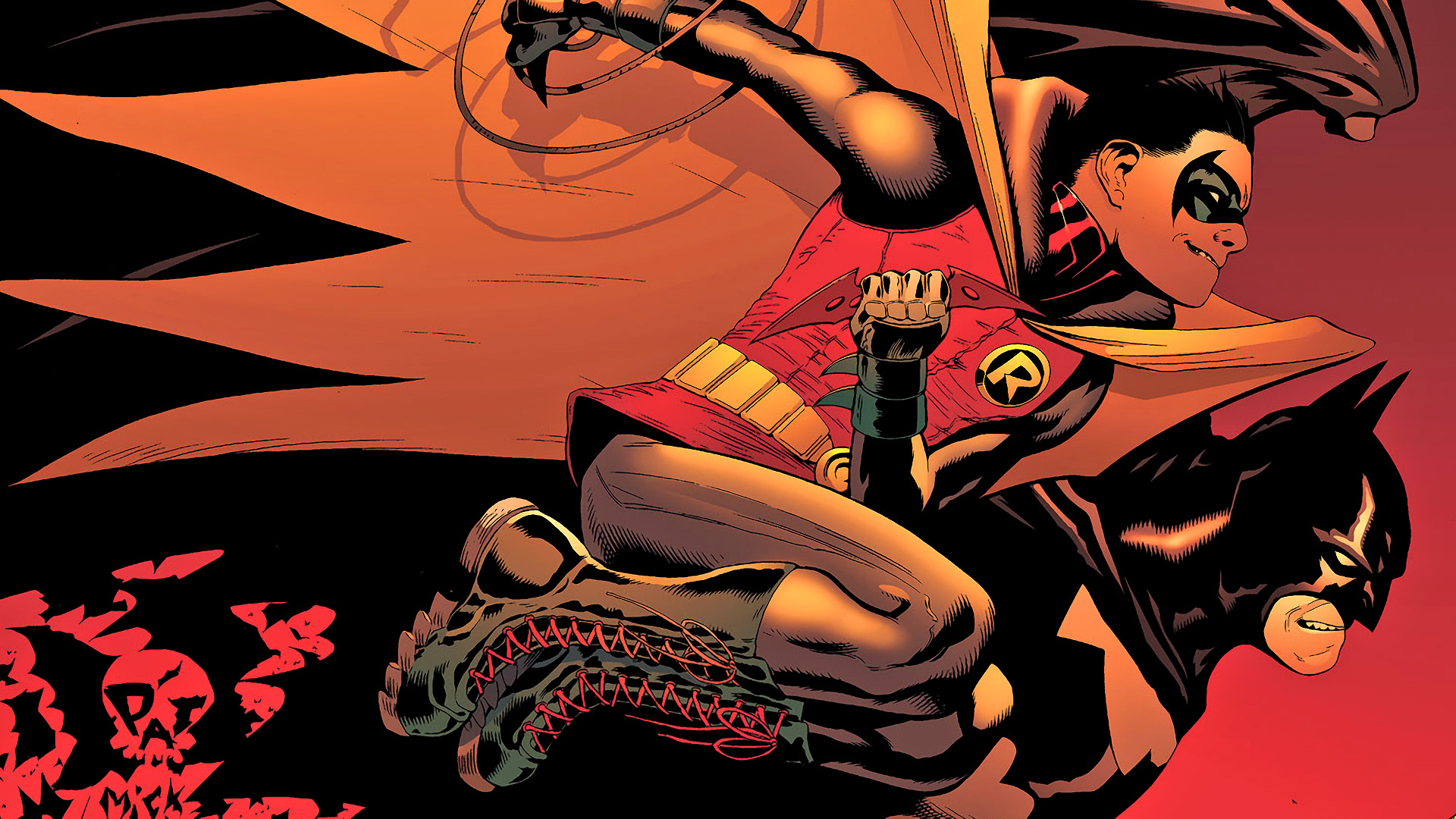 Image: DC Comics
The character of Damian Wayne depicts a troubled pre-teen. The boy was left by his mother to be cared for by a father unaware of his existence. The League of Assassins educated him, so he learned to kill at a young age. He also developed a conceited and capricious character.
Although it is true, Batman's son is not very well known. Soon we will have his live-action appearance in The Brave and The Bold. This is one of the productions announced by James Gunn and Peter Safran. DC Studios will make this movie as part of the 10-year plan.
Featured Image Via DC Comics 
I am a circus aerialist influenced by Dick Grayson and Spider-Man. Fortunate to write about the characters that inspired me. I also have a Bachelor's degree in Political Science and a Master's degree in International Trade.
Leave a comment