Who Is Booster Gold The Superhero Imposter From the Future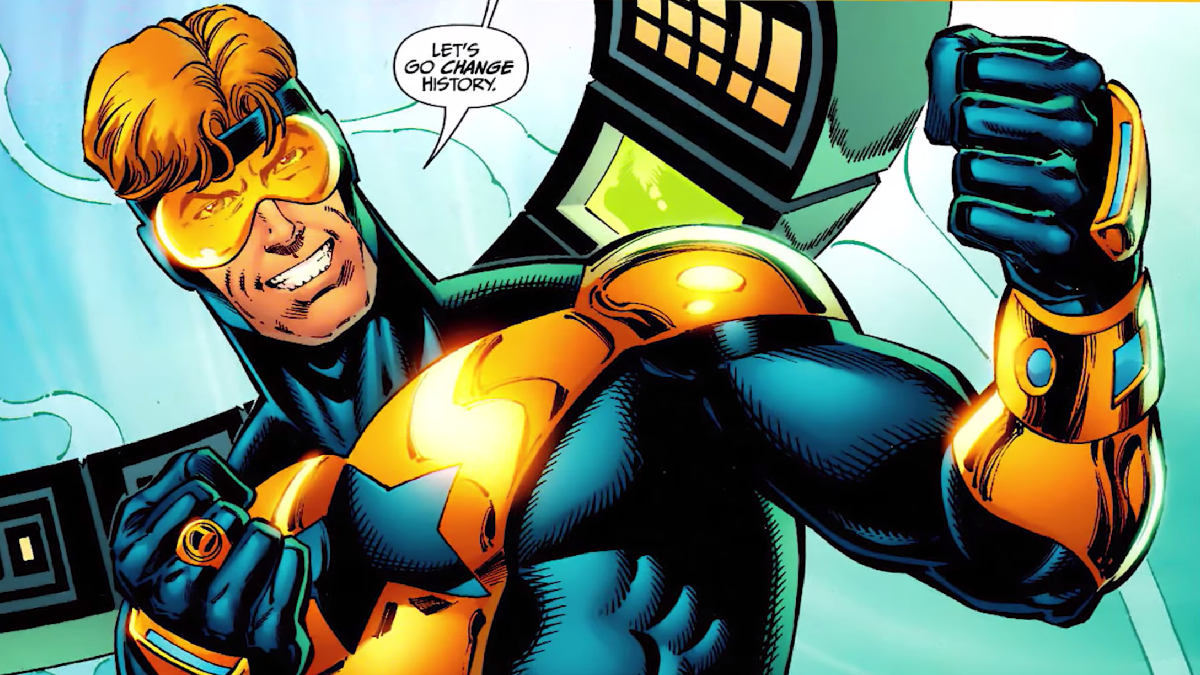 Booster Gold is one of the DC Comics characters destined to do more than they think. He was made for a greater purpose. His name is Michael Jon Carter, and he was created in 1896 by Dan Jurgens.
Booster's Gold first appeared in Booster Gold #1, and has been an active member of the Justice League. His history shows accomplishments and personal tragedies that make him a ballasted hero, thanks to the reputation he created for himself.
History and Biography of Booster Gold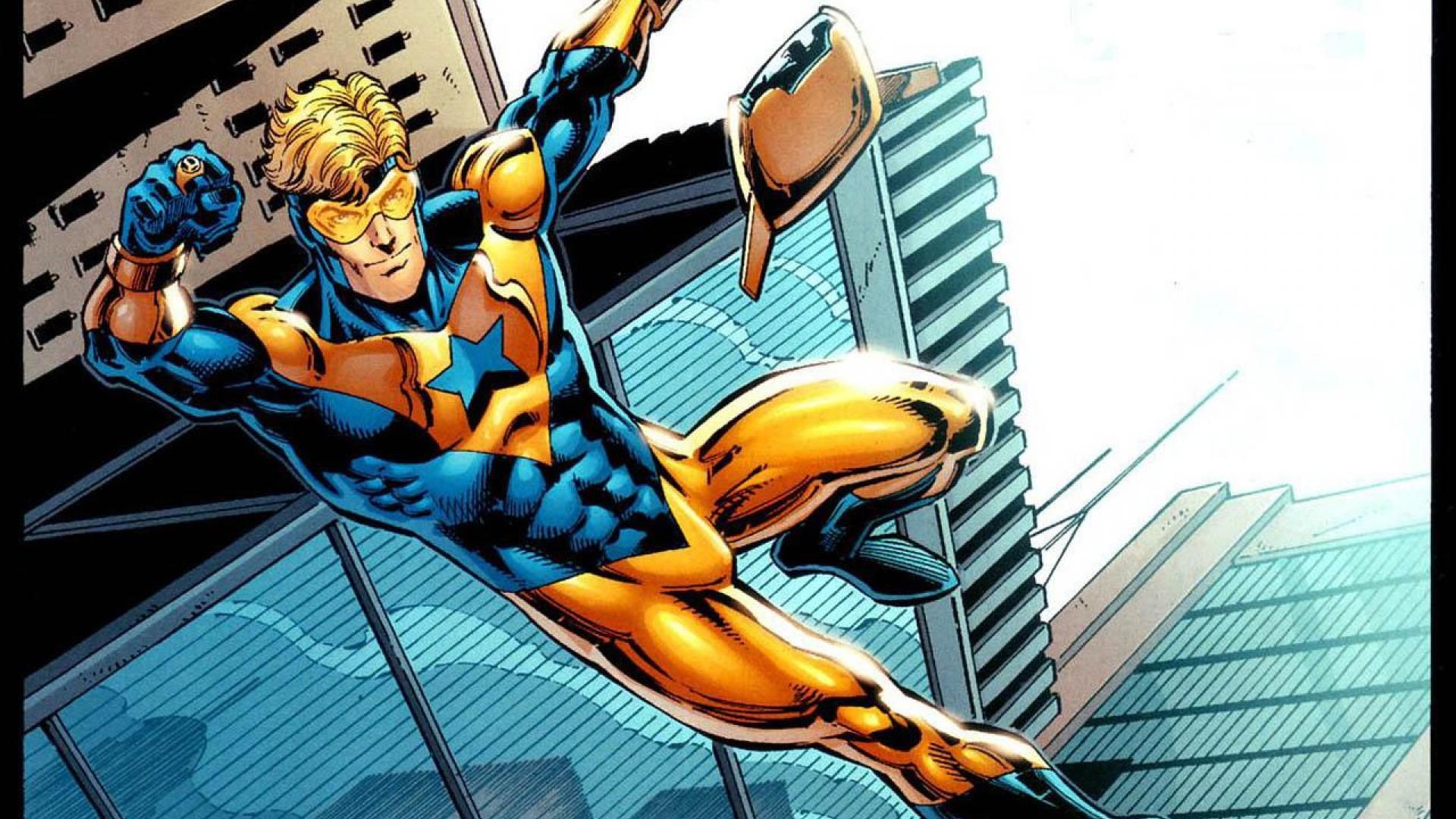 Image: DC Comics
Booster Gold emerges as a continuity of the DC Universe after the Crisis on Infinite Earths. He first appeared in Comics in February 1986 in Booster Gold #1.
A year after his first appearance, DC regularized his presence in the Justice League series, where he was part of the team until its dissolution in 1996. The former members and Booster subsequently appeared in "Superbuddies", a miniseries known as Justice League and its JLA: Sequel.
A new series came out in 2007 called All-New Booster Gold, initially, but came out as Booster Gold. The series focused on Booster Gold's clandestine time travel to the DC Universe.
By 2010, Keith Giffen took over Booster Gold. For this, he linked it with the 26-week miniseries Justice League: Generation Lost. From July 2010 to February 2011, Rip Hunter stars in the six-issue miniseries called Time Masters: Vanishing Point. By 2011, DC created the DC crossover event called Flashpoint.
Booster Gold Origins
Michael Jon Carter is from the 25th century, born in Gotham City in a poor rural area. He has a twin sister named Michelle. Neither of them ever knew their father, a gambler who left them broke and fled when he was left without any money.
Michael excelled at Gotham University as an athlete in college, playing soccer and earning a scholarship to pay for his studies. There he played on the field as a quarterback, proving to be a star. Everything was going well until his father reappeared in his life, proving to be a bad influence.
Michael even lost games due to his father's suggestions, which led to his expulsion and disgrace. Later, he managed to find a job at the Metropolis Space Museum as a night watchman. There he devoted himself to studying exhibits of superheroes and villains of the past from the 20th century.
Thanks to the robot Skeets, Michael managed to steal devices from the museum's exhibit, including a suit, the Legion of Superheroes flight rings, and Brainiac 5's force field belt. At the museum, he also steals Rip Hunter's Time Sphere. He then uses this artifact to travel back to the 20th century to become a superhero and amass fame and fortune. Thus Booster Gold was born.
The Justice League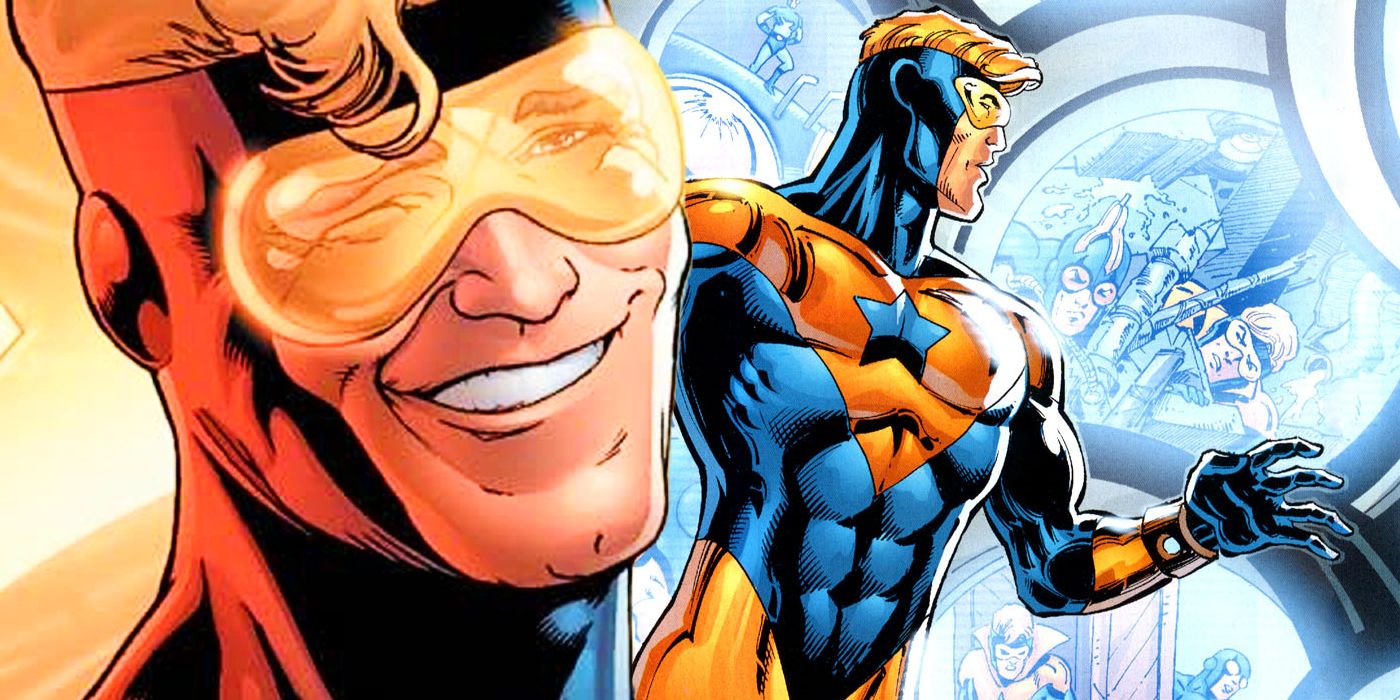 Image: DC Comics
After some adventures, Booster Gold joins the Justice League, one of the key characters in the renewal of this team in the late 80s and early 90s. Writers Keith Giffen and JM DeMatteis were in charge of creating a character that would bring a new look to the team.
When he joined this team, he immediately made friends with Blue Beetle, becoming excellent friends, and making a quite remarkable duo. The two of them are credited with building a gaming complex on the island Kooey Kooey Kooey Club JLI.
Seeking to regain the reputation he had when he was an athlete, he leaves the Justice League and founds Conglomerate, a team of superheroes who various corporations sponsor.
The mission of this new team was to behave like true heroes and fight evil at all costs. But over time, they discover that their sponsors compromise them a lot and with high frequency, which leads to the reformation of the Conglomerate on more than one occasion.
Infinite Crisis
In the Infinite Crisis stage is the rebirth of Booster Gold, who had been killed in a previous attack. Resurrecting from the ruins of the Watchtower, on the moon, of the Justice League.
Booster appears with his inseparable robot sidekick Skeets, who was again branded a criminal for "hijacking historical records." Skeets seeks to locate the Martian Manhunter, to no avail, so Booster searches for Jaime Reyes, who is considered the new Blue Beetle.
Booster seeks help from Batman by reporting the stolen records, but Batman never finds Brother Eye, believing that they could succeed with Jaime's help. And so it was. The mission went as expected, with Booster pivotal in destroying the satellite.
Blackest Night and Brightest Day
Image: DC Comics
There were two events in which Booster Gold participated. These were Blackest Night and Brightest Day. In Blackest Night, Blooester confronts Black Lantern, who was actually Ted Kord.
In return to the past, Booster meets his ancestor Daniel Carter, and sees a Bug abandoned and crashed in his house. He later finds Black Lantern beating up Skeets, Daniel and Jaime Reyes. Upon being attacked by the latter, he takes Rose and Daniel out of place and takes them to Kord Industries so he can arm himself.
In this way, he uses a special light gun that Ted designed to annul the corpses, separating the ring with light, thus simulating an emotional spectrum.
When he manages to separate the corpse from the ring, he sets out to rescue Ted's remains, all before the ring can reanimate them. He then takes them to the Time Sphere and the Vanishing Point Fortress to secure them.
To help, Skeets dons special chronic surveillance equipment to monitor and display footage from the Gold and Blue Team days. Jaime joins in and vows to carry on Kord's legacy.
In the Brightest Day event, Booster has his twin sister in Coast Cuty, this within hours of the destruction of the place. He manages to save his sister, but not her boyfriend. This gave rise to the that they could fix their relationship. In this stage, Blosster looks much older, Rip Hunter's trainer, and also the master of Time, Hypertime and the Multiverse.
Flashpoint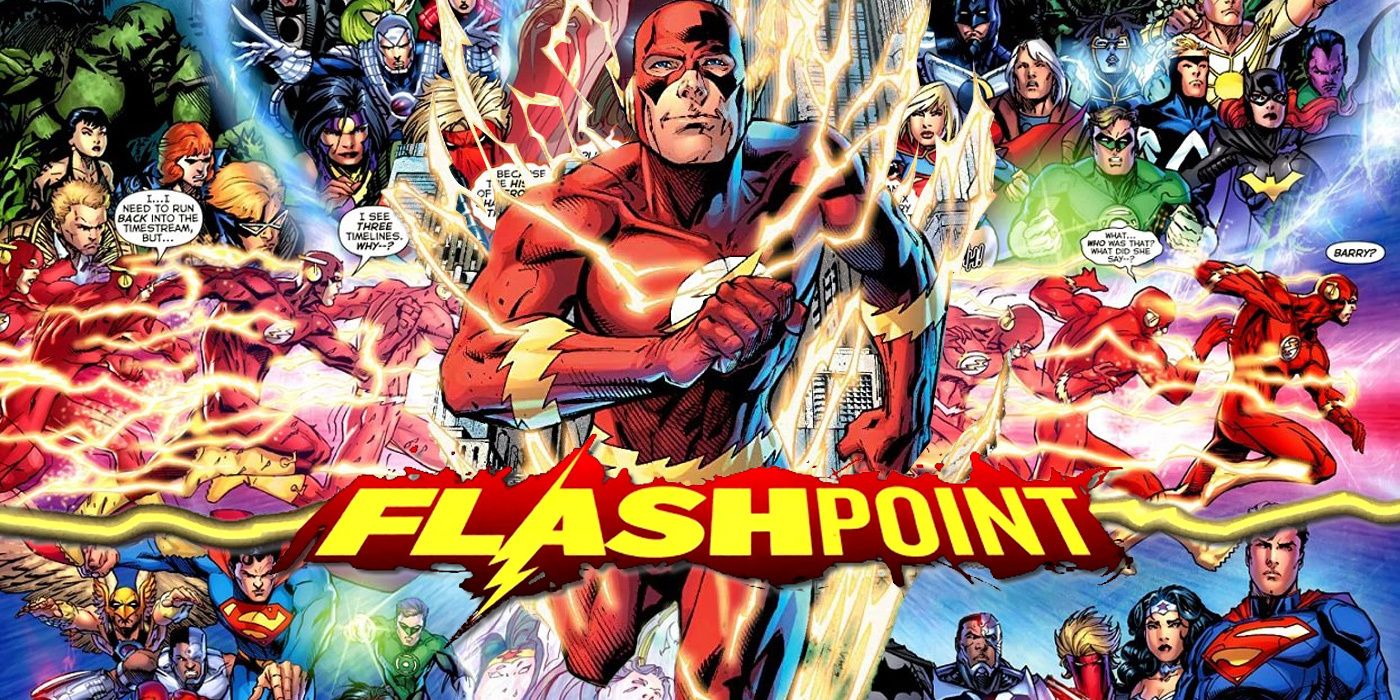 Image: DC Comics
When the events of Time Masters: Vanishing Point end, Hunter reports on the status of the altered timeline, proving that someone snuck in and left messages on the board.
Earth is at that moment in an alternate timeline due to the events caused by Flash, where paradoxically, Booster and Skeets are the only ones who remember the original timeline.
At this stage, there was a battle in Coast City, where Gold fights fervently, and Skeets suffers serious damage when attacked by Project Six, which belonged to the military revealed against Doomsday.
Doomsday is finally defeated, thanks to Alexandra with a control helmet, so Booster is charged with restoring history to normal. For this to occur, Alexandra sacrifices herself to save Booster from an attack.
Booster Gold in The New 52
In September 2011, DC restarted its continuity in The New 52. This marks a new timeline, where Booster Gold comes out as part of the new series Justice League International.
This is after Flashpoint and Booster demonstrate a personality for the glory he had in his beginnings. This is why the UN chose him to head the JLI, thanks to his good PR but mostly because of his ingenuity.
Booster takes his role very seriously, striving to become a better hero, marking a milestone in history. But despite this and unconditional support for Batman, he crumbles because of the attacks suffered against his team that caused several deaths and injuries.
This situation led Booster to look for new members, but all this was in vain. At the same time, Booster observes the betrayal of the hero OMAC to the team, causing many more deaths.
Booster Gold's Powers, Abilities and Equipment
Image: DC Comics
Booster Gold is a character who does not have superhuman abilities as such. However, he has unmatched physical conditions, which make him an excellent athlete. He has demonstrated incredible willpower when using his flight ring, which is called Legion at a distance, and it is a feat that few have demonstrated.
The powers he demonstrates are thanks to various artifacts he stole from a museum of the future. Among his rudimentary equipment is a suit that gives him super strength and wrist blasters that help him project force explosions.
He can control the suit, its power supply, and communications equipment with these blasters. He also has force field belt circuits, which once belonged to Brainiac 5 of the Legion of Superheroes, and help him resist physical and energetic attacks.
Likewise, when he activates his force field, he can repel objects of great force while generating an independent environment where he can breathe. The force field acts centred on Booster's body, but can expand and project outward, according to his will.
This character's costume contains goggles that allow him to magnify infrared. He can also fly, thanks to the Legion of Super-Heroes. He can also absorb mass and expel it as molten mass or in its natural state, but doing so depletes his force field for a time.
Equipment 
Booster Gold's equipment contains, among other things:
Force Field Belt.

Legion of Flight ring.

Power suit.

Force field belt.

Gauntlets.

Time travel circuits.

Visor devices.
Booster Gold Appearances in Other Media
Warner Bros. Domestic Television Distribution
This superhero has made several appearances in other media such as:
Television
On the small screen, Booster Gold appears in:
Justice League Unlimited, where he is a member of this organization, and Tom Everett Scott plays the voice.

Legion of Superheroes, where he appears in a cameo, and plays the role of a Superman museum janitor, alongside Skeets.

Batman: The Brave and the Bold, in the episode "The Menace of the Caveman Conqueror", where Tom Everett Scott voices him.

Mad, where he appears in episode 46, and is a sort of musical number that he performs alongside other superheroes.

Robot Chicken C Comics Special, where he appears with other members of the Justice League.

Justice League Action, with voice acting by Diedrich Bader. He is seen alongside his robot sidekick, Skeets using a Polaroid-style camera.

Smallville, where Eric Martsolf plays him, appears in season 10 episode 18.
Movies
On the films, Booster Gold has several appearances, such as:
The Death and Return of Superman from 2011 where Joe Bereta plays him.

Batman and Harley Quinn, where Bruce Timm plays Booster Gold. In this role, Booster seeks the help of Justice Antwoman after answering a call from Batman.

Teen Titans Go! To the Movies, where Booster Gold has a brief appearance.
Booster Gold had already had a movie of his own announced for some time. In 2016, Zack Stentz wrote the script indicating he would direct the film. But in September of that same year, Greg Berlanti indicated that the film had no connection to the DC Extended Universe. In 2018 Berlanti stated that the film was still in development. However, it was never completed.
TV Series 
La nueva directiva de DC Films, James Gunn y Peter Safran, van a recuperar al personaje. El proyecto será en forma de serie para HBO Max. Con esta confirmación, Booster Gold tendrá por fin una adaptación al live action. Al respecto del proyecto, Safran comentó "So next up is a series, Booster Gold, total fan favorite, as you guys know,", "A loser from the future who uses his basic future technology to come back to today and pretend to be a superhero."
Booster Gold in Video Games
In other media, Booster Gold appears in several video games such as:
Batman: The Brave and the Bold, where he is a "jumping hero" played by Tom Everett Scott.

DC Universe Online, voice played by Tracy W. Bush, where you can take virtual tours of Gotham City and Metropolis, serving as a mini-boss in duo mode of HIVE Base Mission.

Lego Batman 3: Beyond Gotham, where he is a playable character voiced by Travis Willingham.

Batman: Arkham Knight as a playable character.

Lego DC Super-Villains, where he is a playable character voiced by Travis Willingham.

Injustice 2 comes out as a playable character.
The Superhero Imposter From the Future
Booster Gold is a fascinating character because of his phony nature. Booster Gold is a fascinating character because of his fake nature. He has no superpowers but uses technology from the future in the past. This makes him look like a superhero, but he is not. However, the events that transpire end up making him a hero. 
There have been several attempts to bring the character into live-action. However, they have not entirely caught on. In its seventh season, Donald Faison has played Booster Gold in the Arrowverse series DC's Legends of Tomorrow. Also, the role has been played by Eric Martsolf in Smallville. With the new announcements made by James Gunn, Booster is expected to have his own series at DC Studios.
Featured Image Via DC Comics 
Leave a comment