Who Is Bob Kane? Meet Batman's Father And Creator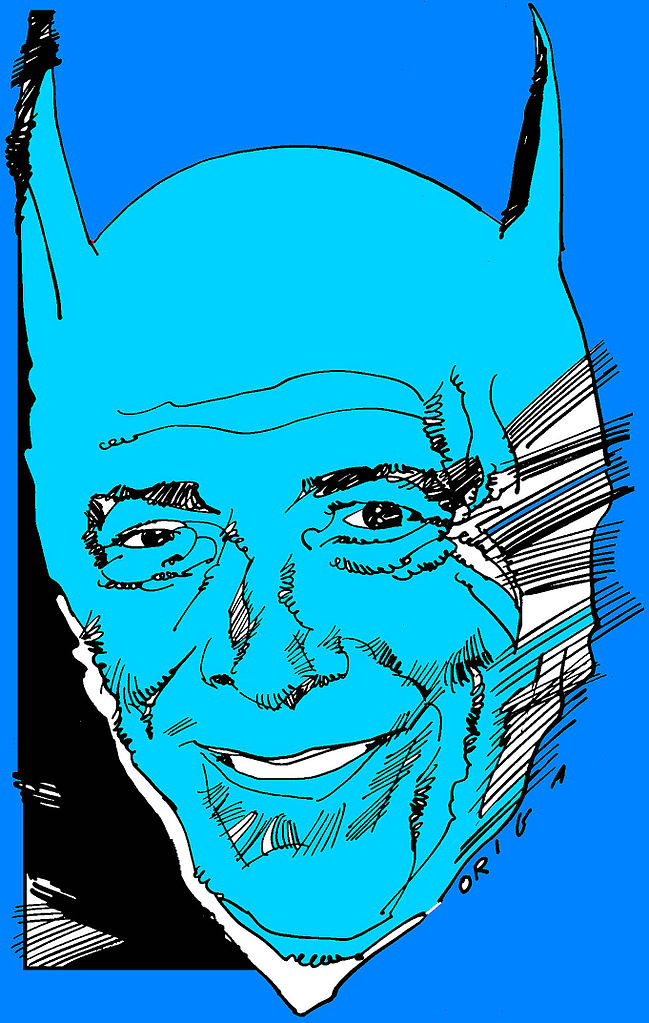 Bob Kane is one of the comic book artists who marked a milestone in history, keeping him as one of the most recognized in the world. Kane was the creator of the Dark Knight and had invaluable participation in other DC Comics characters.
Apart from Batman, this American artist, comic book writer, and animator has co-created the animated series, Cool McCool. His works have made him worthy of being in the Hall of Fame with Jack Kirby in 1993 and Will Eisner in 1996.
Image via DC Comics
Bob Kane's Early Years and Work
Bob Kane was born in New York on October 24, 1915, United States. His parents were of Ashkenazi Jewish descent, originally from Eastern Europe. His mother, Augusta, was a homemaker, and his father, Herman Kahn, was an engraver. Kane had a quiet childhood, arriving at DeWitt Clinton High School in the Bronx. Upon graduation, he legally changed his name to Robert Kane. There he met and befriended Will Eisner, who would be a famous comic book writer in the future.
He graduated from Cooper Union School of the Arts to study art, a private university on the border of the East Village neighborhood of Manhattan. There he managed to complete his studies successfully.
He later joined Max Fleischer Studio as an apprentice animator in 1934. After two years in that company, he began working in comics independently, with the editor Jerry Iger Wow, specifically in What A Magazine!, which included his first work in the series Hiram Hick, which he did in pencil and ink.
Image via Scrappyland
After a year, he began working in one of the first so-called "packagers" of comics, Eisner & Iger studio. There they were in charge of producing comics at the request of publishers new to the medium, which happened between the 1930s and 1940s. Among his first works was that of talking animals, called Peter Pupp, which had several nuances of "mystery and threat." It appeared in the British comic magazine Wags, which Jumbo Comics, belonging to Fiction House, later reprinted.
He also did other outstanding works, in this case for two companies that would merge and give way to DC Comics, which continued through Eisner & Iger, including humor and adventure themes.
Creating Batman
Bob Kane was responsible for the artistic creation of Batman in 1939. At that time, Superman already existed, which caused a genuine sensation, and forced all the editors at Action Comics to create similar heroes.
Kane later confessed that watching the interpretations of actor Douglas Fairbanks as Zorro, the swashbuckler, inspired him to create the great Black Bat, Batman. He was also strongly influenced by the famous ornithopter diagram of the artist Leonardo Da Vinci and The Bat Whispers, the 1930 film based on Mary Rinehart's famed 1908 mystery novel The Circular.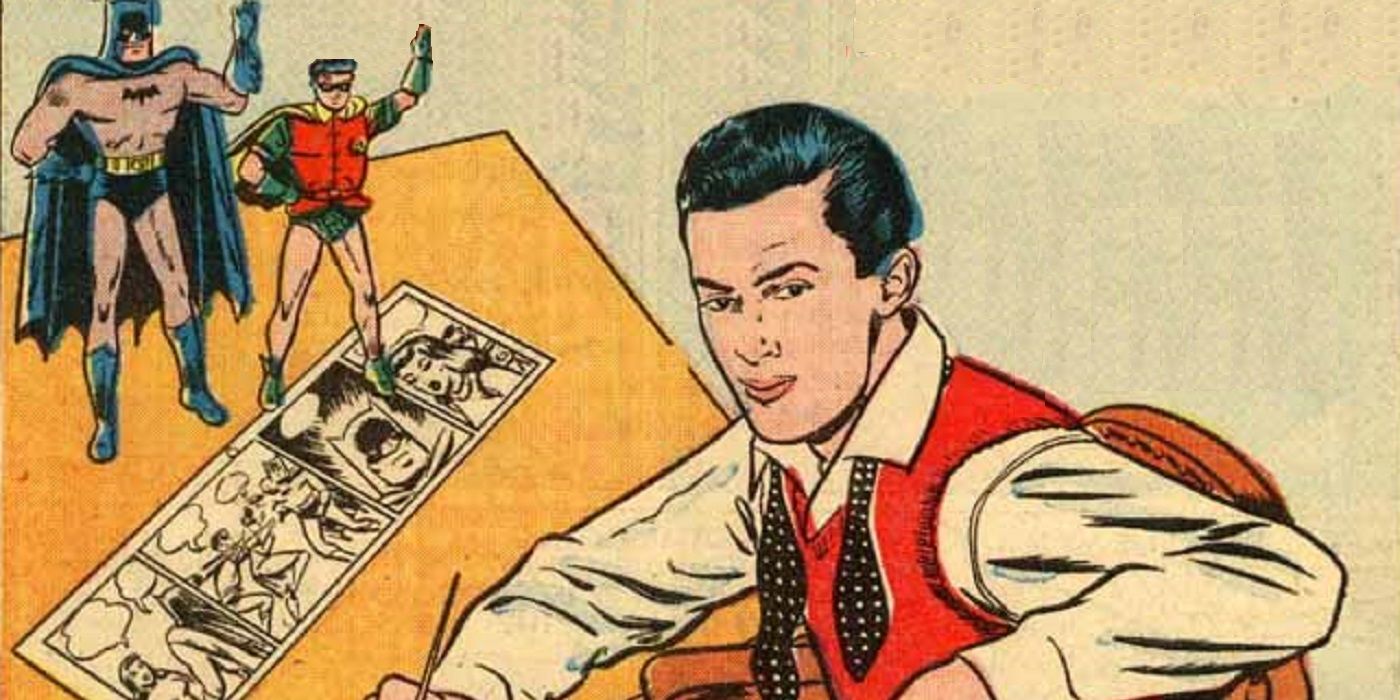 Image via DC Comics
While in his creative process, Bill Finger joined the staff of Kane's newly created studio in 1938. Finger was an aspiring shoe salesman and writer at the time. He met Kane at a meeting, which offered him a preliminary job, writing the Rusty and Clip Carson comics. Bill Finger collaborated arduously in creating the character, offering novel ideas that transformed the original version, such as placing a hood, cape instead of wings, and gloves. In addition to the mask he was wearing, Finger wanted to leave holes in it to denote mystery.
Batman's Inspiration
Finger's suggestions for Batman were inspired by Lee Falk's original The Phantom, a local comic strip character with whom Kane was familiar. Likewise, Finger collaborated on what might be the superhero's civilian name, Bruce Wayne, writing the first Batman comic, in which Kane did the art.
With only one paper of work, Kane managed DC company to accept the Batman proposal. He received a contract, so he was given the official credit for the authorship of Batman. However, Kane has stated that Bill's role in the creation of Batman is undisputed.
The character's debut in 1930 in Detective Comics #27 was a great success. Kane had Jerry Robinson and George Roussos as collaborating artists, who started as inker and background artists.
This character's success meant that Kane, in 1943, no longer continued with Batman comics and focused on his daily comic strips. DC hired other artists, Win Mortimer and Jack Burnley, to continue Kane's work.
Batman gets a Sidekick, Robin
Besides Batman, there was the creation of his inseparable companion, Robin. According to Bill Finger, Robin resulted from his conversation with Kane. Batman was a combination of Sherlock Holmes and Fairbanks. But, Holmes had someone to talk to, to interact with, a friend, that was Watson. However, the original Batman thought he had no one to talk to, or interact with, so they decided to incorporate a guy in the comics. Like Holmes, Batman needed a Watson, and he already had one.
Image via DC Comics
There was a debate about giving life to this new character, and the creators decided that the best thing to do was to incorporate an ordinary boy, who would be called "Robin," inspired by the books of the unforgettable Robin Hood. Adding a sidekick would give other airs to this comic, where history and drama would be present. In addition, this way, it would manage to capture another type of public. The older readers identified with Batman, and the younger ones would now focus on the young Robin.
The plot created for Robin from the beginning was an engaging young circus performer whose parents had abandoned him. His civilian name was Dick Grayson, and he went to live in Bruce Wayne's mansion to be his pupil from that moment. We can appreciate this in 1940, specifically in Detective Comics #38.
Incorporating a companion in this Batman comic book inspired the following comic strips in the Golden Age of comics, which gave a real plus to Bob Kane and Bill Finger's work.
Introducing The Joker
As it happens in comics, the superhero needed a nemesis. Bob Kane created the Joker, introduced almost simultaneously in 1940 in Batman #1. To this day, Jerry Robinson and Bob Kane dispute the creation of this charismatic character.
The version that Kane handles is that he shaped this new character with Bill Finger as the writer. Robinson, at the time, came to Kane with a deck of cards of the Joker only. For the creation itself, Kane was inspired by the character of Conrad Veidt, the actor in 1928's The Man Who Laughs, based on Victor Hugo. Finger showed Kane a photo of this actor, and the idea was born.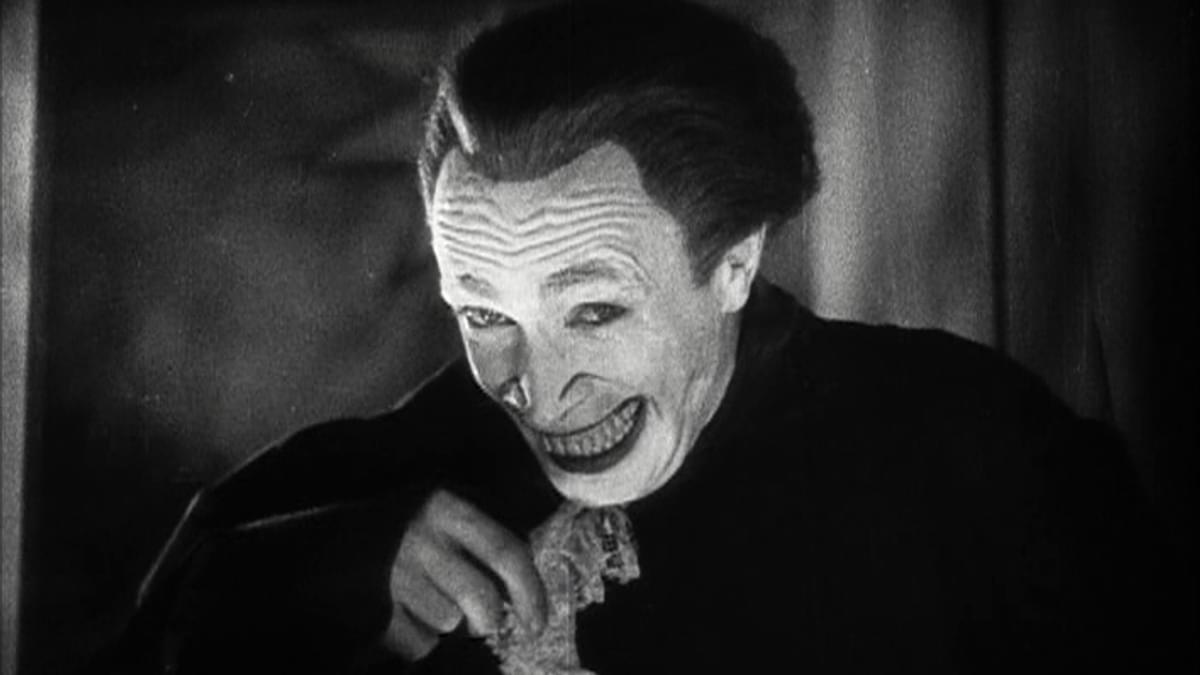 Image via Universal Pictures
Robinson's inspirational card was exhibited at the Masters of American Comics in the New York City Jewish Museum. The exhibition lasted from September 2006 to January 2007. It was also displayed in Atlanta, Georgia, from October 2004 to August 2005, specifically at the William Breman Museum of Jewish Heritage.
Other Characters
Other characters belong to Bob Kane's creation. Among those that stand out is the famous Catwoman, who Kane created based on his cousin Ruth Steel according to historian Les Daniels. Kane confessed to Jean Harlow, "I always felt that women were feline." He also received credit for the exclusive creation of Two-Face and The Scarecrow, where Bob Kane was the cartoonist, and the writer was Bill Finger.
Kane made what was considered the original incarnation of Clayface. He also drew The Penguin after being inspired by the Kool Cigar mascot, a penguin wearing a top hat and using a cane. However, Finger indicated that he drew this caricature with an aristocratic cut, inspired by the "stuffy English gentlemen," who were similar to the emperor penguins.
Bob Kane's Life and Career
After a long and renowned career at DC Comics, Kane turned his attention to fine art in 1966. That was a product of the decline in his comics work in 1960, turning Batman into a celebrity that had already lost luster. Bob Kane widely enjoyed his life after comics, playing roles in television animation, where he had the opportunity to create other characters such as Cool McCool and Courageous. He also dabbled in art galleries, although some think ghost artists made his creations.
In 1985, Kane received a tribute from DC Comics in the 50th-anniversary publication Fifty Who Made DC Great. In 1989, Kane wrote an autobiography called Batman and Me, making a saga in 1996, Batman and Me, The Saga Continues. Kane played the role of consultant in 1989 in the movie Batman and its three sequels. Joel Schumacher and Tim Bruton were the directors, evidently giving their personal touch. One of Bob Kane's last appearances was in the interview with Stan Lee in the documentary series The  Comic Book Greats.
Personal Life
Bob Kane had a life marked by the wide professional success he demonstrated in his first steps from the beginning. However, in his personal life, he had a failed marriage. He married Beverly, his first wife, in 1940 and divorced in 1957. From this union, they had a daughter, Deborah. After this divorce, Kane remarried in 1987 to actress Elizabeth Sanders, thus becoming his second wife.
Kane died in 1998, on November 3, in Los Angeles, Cedars-Sinai Medical Center, when he was 83. His body rests in Los Angeles, California, at Forest Lawn Memorial Park Cemetery in Hollywood Hills.
Bob Kane's Awards
Bob Kane not only marked a before and after in the world of comics, but he also deserved all of his awards. In 1977, he received the Inkpot Award. In 1994 he was inducted into the Jack Kirby Hall of Fame, then in 1996, he was inducted into the Will Eisner Comic Book Hall of Fame.
Likewise, he enjoys the privilege since 1999, of belonging to National Comics 'Honor Roll' Awards. For 2015, he was posthumously honored with a star on the Hollywood Walk of Fame, located at 6764 Hollywood Boulevard. Some of Bob Kane's works rest in New York City, at the Museum of Modern Art. Also at St. John's University and the Whitney Museum of American Art.
Image via DC Comics
Bob Kane laid the foundations of the Golden Age of comics. With the work he did, he left a clear before and after of how to do things in this artistic world. Therefore, he is considered one of the pioneers in the world of comics, and of course, of superheroes. The roles played throughout his extensive career ranged from cartoonist, writer, inker, inker, inker, cover artist, and of course his original creations, for which he was credited with several awards and being in several Halls of Fame.
It is unquestionable not to attribute the influence that Batman had and continues to have in our times. In fact, it is one of the most important assets of Warner Bros., from which countless products, movies, series, animated films and series, toys, as well as stories about Gotman, Robin, and much more have been drawn.
Long live Bob Kane, and long live The Batman.
I am a circus aerialist influenced by Dick Grayson and Spider-Man. Fortunate to write about the characters that inspired me. I also have a Bachelor's degree in Political Science and a Master's degree in International Trade.
Leave a comment