Who Are The Creature Commandos? The Strange Team James Gunn Sees Potential In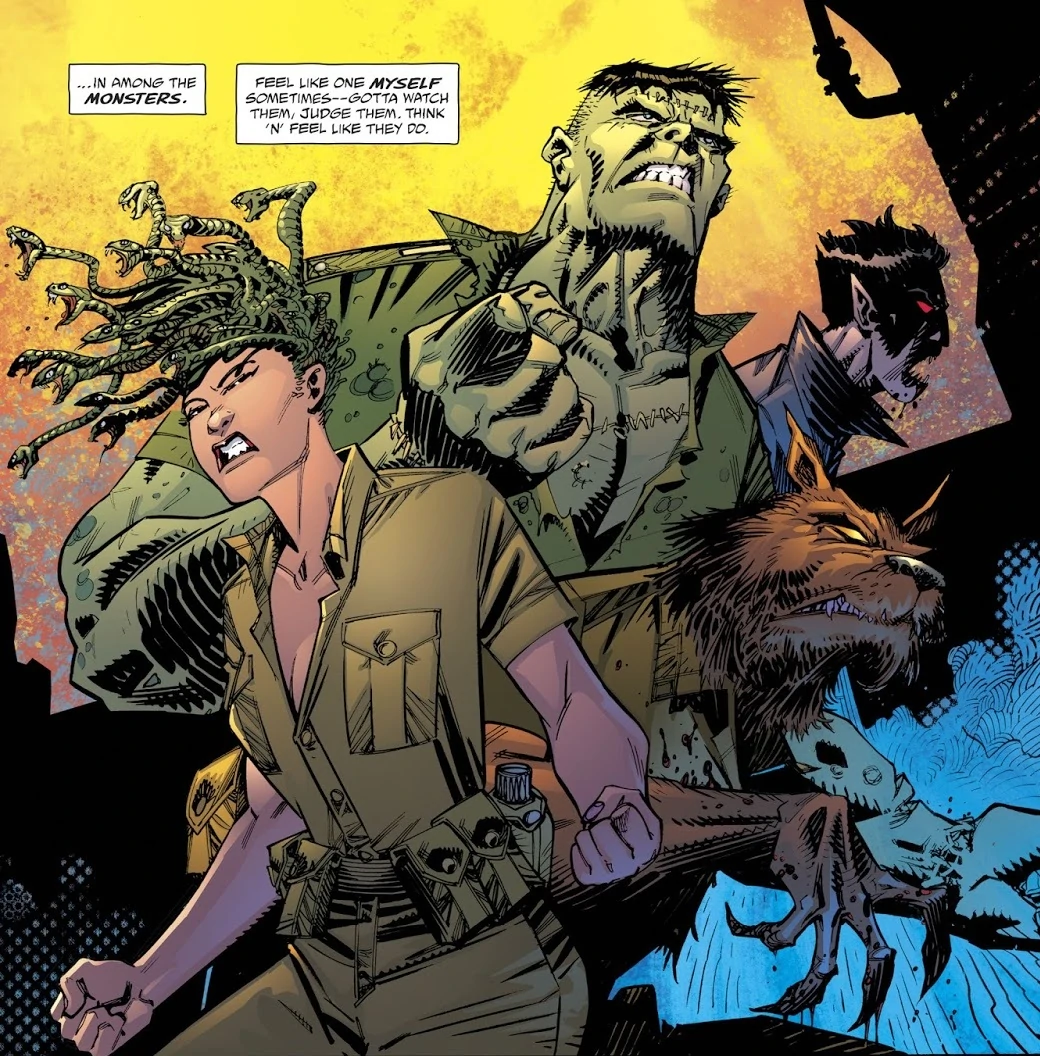 The American company DC Comics created a group known as Creature Commandos. They are a fictional military team from World War II whose main feature is being superhuman.
The original team was created by J.M. DeMatteis and Pat Broderick, in the comic book Weird War Tales, in its 93rd issue, released in November 1980. Its first issues were exclusively in English, from issue 180 of 1985. Later, the company translated them into different languages.
Image via DC Comics
Creature Commandos Concept and Creation
J.M. DeMatteis made some statements that perfectly define the process of creating this team of superhumans.
"I was doing War Tales for about six months before the D.C. Implosion put me out of work for almost a year. And the last idea I had… I took a look at the title, Weird War, and I said, "Ya gotta have a lot of monsters". … then after I was getting work there again was when they were trying to revivify the mystery books by putting series in them. So I went to Len with the Creature Commandos — the actual title may have been Len's; I think it was — and he said the same thing: "That's so silly that it will work. Let's do it". And we did it and it was silly and nothing came of it and the book died anyway."
However, DeMatteis was replaced by Robert Kanigher shortly after starting the story. His successor continued with the project until the cancellation of Weird War Tales in 1983.
Fictional History 
The Creature Commandos were born directly from Project M, a secret organization in the Second World War.
The company's specialty was necromancy and experimental biotechnology. Creature Commandos was not their only project; they also made G.I. Robot and Miss America.
Image via DC Comics
Robert Crane (Robotman in the Golden Age) led the Creature Commandos project along with Professor Mazursky. This group carried out operations secretly in a basement in Ferris Island, New York.
The original Creature Commandos were:
Lieutenant Mattew Shrieve:

 An ordinary human being with no superpowers.

Sergeant Warren Griffith:

 Human turned into a werewolf.

Admiral Sergeant Vincent Velcro:

 Human turned into a vampire.

Doctor Myrna Rhodes:

 Turned into a Gorgon named Medusa.

Private Elliot "Lucky" Taylor:

 Turned into Frankenstein's monster.
Creature Commandos Biography
The Creature Commandos team goes through different historical periods.
World War II
In the Second World War, the Creature Commandos had their first objective. The goal was to destroy a factory in France in charge of building androids replicas of the allied leaders.
In that same country, they received a second task: freeing Dr Renee Frederique, a renowned scientist. Unfortunately, the team had to kill the scientist to accomplish the mission because she was in a death camp. Dr Frederique possessed valuable knowledge about a nerve gas, which, if it fell into the hands of the Nazis, represented a risk for the nations.
Image via DC Comics
Another mission was morally dubious, involving murdering dozens of child super-soldiers. They carried out more missions on Dinosaur Island, where G.I. Robot J.A.K.E. lost his life.
At the end of the war, those who remained as members of this group had to stop a human rocket from reaching Berlin. In this attempt, they ended up in deep space. Sometime later, in Action Comics #872, Brainiac captures them, finding themselves in his spaceship.
Modern Era
In the modern era, the Creature Commandos return to Earth in their original gear. They serve as a special operations force, requiring them to maintain their youth. 
That is why the doctor initially in charge of their transformation, Dr Mazursky, began a series of body changes. This process notably affected their lives, sacrificing their own humanity.
The original Project M team adopted code names. At the same time, the leaders integrated new members, and the original members took on the code name M – Team Alpha. The new members were:
Captain Lucius Hunter:

 A former member of the Hellcats squadron came in to replace Shrieve. Hunter was about 74 years old and exposed to different rejuvenation therapies.

Mummy:

 A communications specialist.

Bogman

: An amphibious being with significant similarities to the Creature from the Black Lagoon.

Gunner Mackey: 

A cyborg.
This group of Creature Commandos appears in a modern version of the tie-in miniseries Infinite Crisis, the O.M.A.C. project, dating from 2005 to 2006.
Thus, in other issues, the Creature Commandos had other connections, like the one with the "Enclave M", narrated in Villains United. In 2008, they appeared in a Booster Gold miniseries directed by Maxwell Lord.
Likewise, Creature Commandos appeared in Justice League: Generation Lost, where they attacked the old J.L.I. embassy. In that battle, Max reveals himself by impersonating one of them. When he loses control, the other group members are unaware of why they are so far away from Project M.
The New 52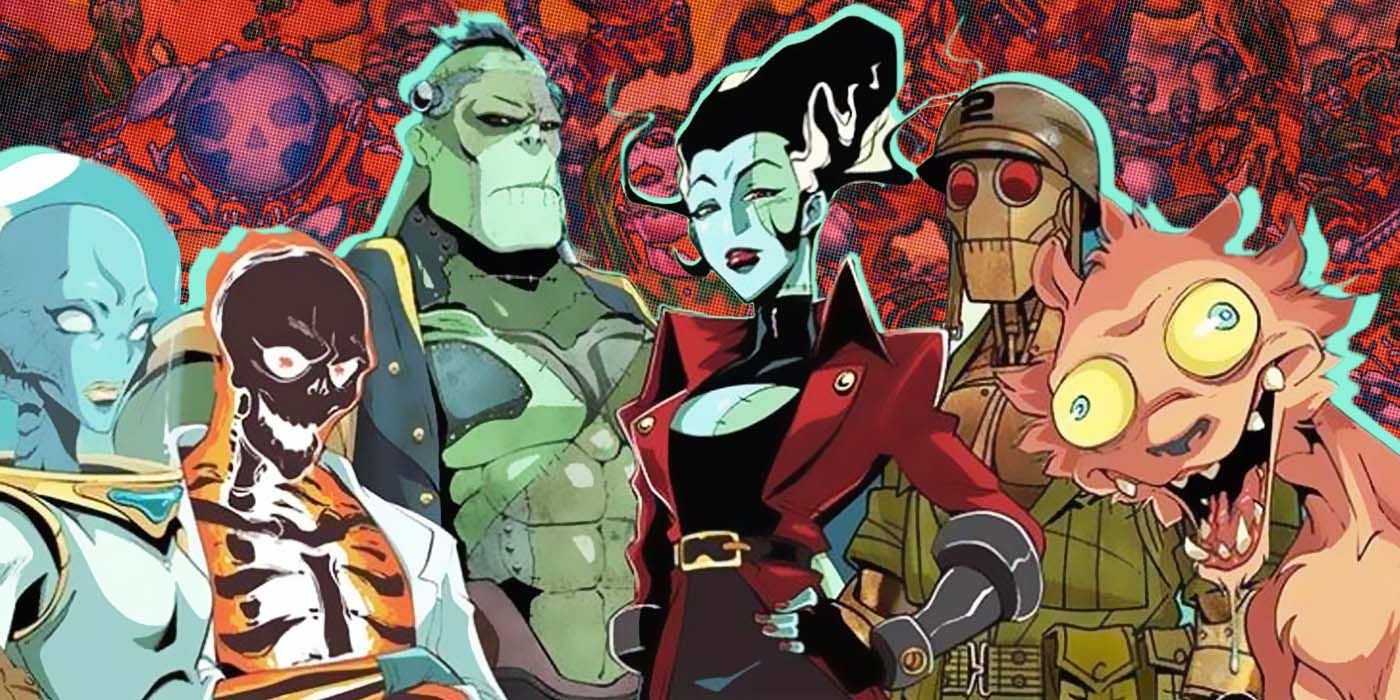 Image via DC Comics
Comic book fans know The New 52 for the continuity reboot of the DC Universe. Here, the Creature Commandos rethink their origin and are introduced into the pages of Frankenstein Agent of S.H.A.D.E.
In this era, the members in their new incarnation appear as field agents of the secret organization S.H.A.D.E., which Frankenstein led for many years.
The other members of the team consist of:
Khalis:

 An incarnation of an Egyptian mummy.

Warren Griffith:

 Werewolf incarnation.

Vincent Velcoro: 

A vampire.
From here, the facts stand out that Velcoro and Griffith were ordinary humans who volunteered for Dr Mazursky to transform them. Later on, Mazursky would change to the Creature from the Black Lagoon.
Creature Commandos Team Members
The members of the Creature Commandos team vary depending on their phases, such as:
Original Team
The original Creature Commandos team consisted of the following:
Warren Griffith:

 Better known as the Werewolf. His origins go back to a typical farmer with clinical lycanthropy. His selection to Project M allowed him to transform into a real werewolf.

G.I. Robot

 in his JAKE and JAKE 2 versions: He was one of the first robots to be part of Project M As JAKE. He was an original member of the Creature Commandos team who self-destructed to defend an Atlantean colony. JAKE 2 is the second robot lost with the Creature Commandos.

Doctor Myrra Rhodes:

 AKA Dr Medusa. Her transformation due to unknown gases caused snakes to grow on her head instead of hair. Her physical structure is identical to the Greek mythology Gorgons.

Lieutenant Matthew Shrieve:

 A human who leads the Creature Commandos.

Private Elliot "Lucky" Taylor:

 Frankenstein's monster personified. After stepping on a mine and being almost completely destroyed, Lucky had to be rebuilt without his authorization. 

Sergeant Vincent Velcro:

 A Vampire. He voluntarily became part of Project M to evade a 30-year sentence. Velcro can turn into a bat at will. His major flaw is his dependence on human blood, which is indispensable for survival.
Image via DC Studios
Modern Team
In the modern era, the Creature Commandos took on other members, including:
Aten

: A Mummy-like creature. His specialty is communications.

The Bogman

: Similar to the Creature of the Black Lagoon. He voluntarily transformed into an amphibious being.

Gunner MacKay:

 At first, he was a normal human being. But after his inevitable death during the Second World War, he was resurrected and transformed into a Cyborg.

Capt. Lucius Hunter:

 A 74-year-old human being who possesses extraordinary abilities. He underwent rejuvenation therapies to perform in the team of Creature Commandos. Hunter was a member of the Hellcats squadron during WWII.

Dr Medusa:

 Originally an average human, she mutated into a Gorgon-like being.

Patchwork:

 Elliot "Lucky" Taylor maintains his origins from the original team.

Velcoro:

 The Vampire who has now mutated into a being with red skin and white hair.

Wolfpack: 

The Werewolf. Wolfpack is a much wilder and out-of-control version of Warren Griffith.
The Agents of S.H.A.D.E.
The Agents of S.H.A.D.E. are part of one of the Creature Commandos stages, where they stand out:
Father Time:

 The leader of the S.H.A.D.E. organization.

Dr Ray Palmer: 

Previously known as the Atom. Palmer serves as scientific advisor to S.H.A.D.E. His mission is to liaise between the United Nations and his organization of origin and carry out activities oriented to the technology that characterizes S.H.A.D.E.

Frankenstein:

 A Zombie monster. He has no name, is a team leader, and prefers to be simply Frankenstein.

The Bride of Frankenstein

: Also a Zombie. Her creation is entirely artificial, destined to be Frankenstein's companion. He did not accept this and caused his retirement from the organization.

Dr Nina Mazursky:

 Known for resembling the Creature from the Black Lagoon. She is part of the team of scientists who founded S.H.A.D.E.'s Creature Commandos.

Vincent Velcoro:

 A Vampire and the team's pilot.

Warren Griffith: 

A werewolf soldier.

Khalis:

 An Egyptian mummy, part of the medical team.

Matthew Shrieve:

 A prisoner of war who reinforces the team.
Creature Commandos Continuity
Author Tim Truman explained that the Creature Commandos miniseries he created happens "a second in the future," therefore, some of the names have changed. Truman based Patchwork on a DC character from Swamp Thing and used old villains from the '60s Justice League of America.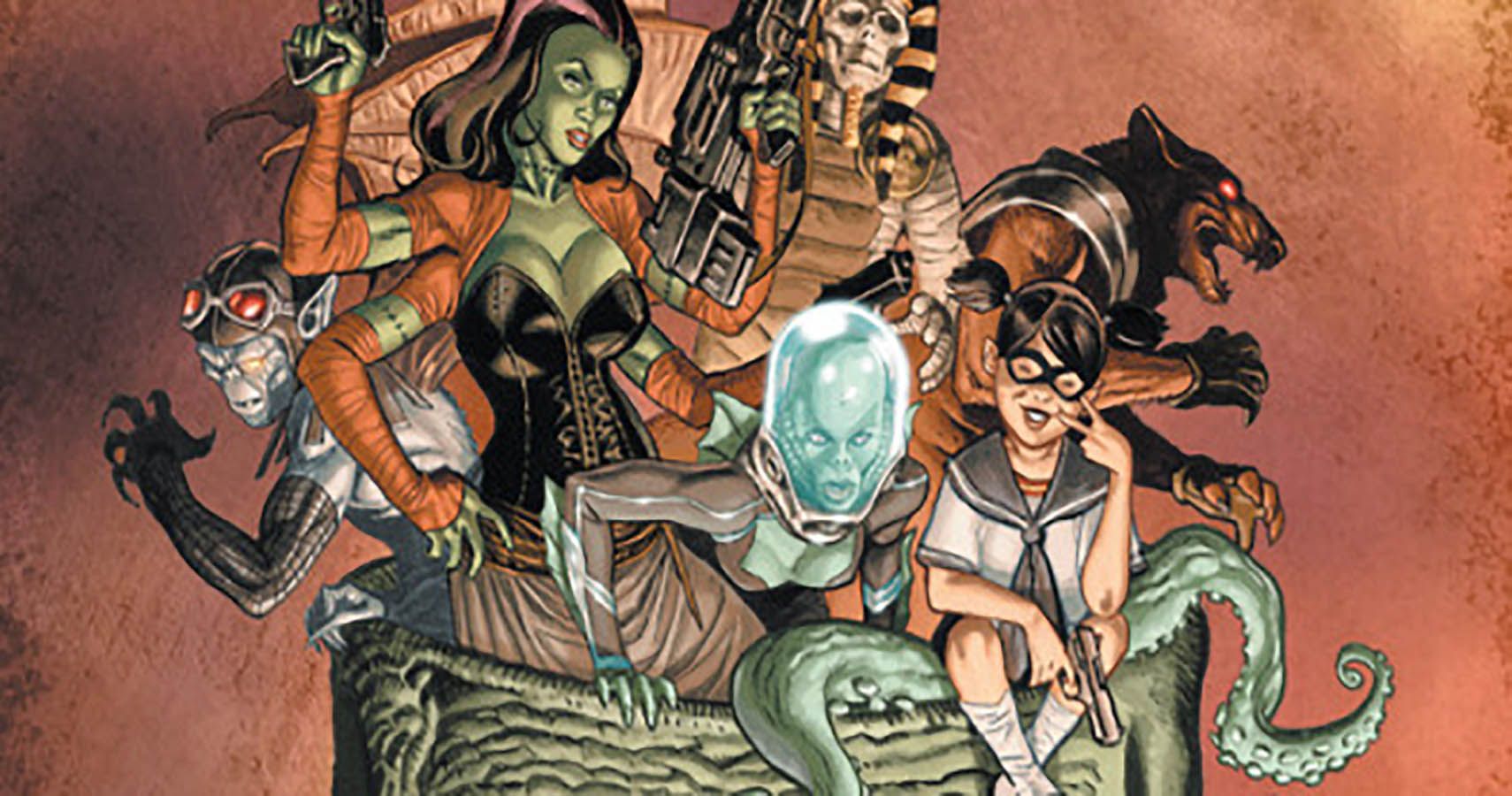 Image via DC Comics
Other Versions of Creature Commandos 
In other versions, we have:
Flashpoint
They appeared in an alternate timeline of a limited series called Flashpoint. The leader of the Creature Commandos team is Matthew Shrieve. Before being part of Project M, he was ambushed during World War II by the Nazis, and Frankenstein saved him.
At the end of World War II, the Creature Commandos' equipment was considered obsolete, so they were decommissioned. After 65 years, they were revived, escaping from the facilities where they were captive.
Shrieve's granddaughter, named Miranda, pursued the team members. As they fall prey to an ambush, Miranda tells them that members of a second incarnation of the Creature Commandos killed her grandfather, hence her hatred for the monsters. This time, only a few members of the original team survived; but they were brutally hunted down and attacked.
Creature Commandos 
Appearances in Other Media
The Creature Commandos team have a few appearances:
Television
They appear in the animated short "The Creature Commandos in The War That Time Forgot!" from Batman: The Brave and The Bold. They also appear in DC Nation Shorts and will be in a new DC Studios / HBO Max animated miniseries, as James Gunn announced recently.
Movies
The Creature Commandos appear in DC Showcase: Sargeant Rock, an animated short about war superheroes.
Image via DC Comics
An Extrange But Potentially Successful Team 
The Creature Commandos group is undoubtedly not very well known to comic book fans. The first time they saw the light of day with their own miniseries was in May 2000, thanks to Tim Truman, who wrote the script, and cartoonist Scott Eaton.
With the new directive of DC Films, James Gunn, fans expect them to jump definitively into the limelight with the new plans and projects in DC's 10-year plan.
Although Creature Commandos is one of the comic's strangest and least exploited franchises, James Gunn has seen the potential. This DC comic book saga brings much to talk about with a peculiar military team. So it is not surprising that they resurface as a kind of Guardians of the Galaxy from DC Studios.
Featured Image Via DC Comics
I am a circus aerialist influenced by Dick Grayson and Spider-Man. Fortunate to write about the characters that inspired me. I also have a Bachelor's degree in Political Science and a Master's degree in International Trade.
Leave a comment