The Suicide Squad HBO Max Ratings Aren't Great, So Is It A Success?
Times have changed, and things are still very weird on spaceship Earth. While we can do very little about most of it, we can perhaps parse whether or not the HBO Max ratings for The Suicide Squad make the film a success or not. We asked if The Suicide Squad was a box office flop in our report on its performance in theaters. However, with the entire 2021 slate of Warner Bros. movies also debuting on HBO Max, this is an entirely different animal. In fact, the HBO Max strategy is different from the Disney+ Premier Access release for Black Widow. (Which, worth noting, led to the star of that movie suing Disney.)
Before I wrote about entertainment and whimsy for a living, my main focus was news and politics, especially political campaigns. Box Office numbers are a lot like poll numbers, in that they are accurate data points to evaluate the success of a film. However, when we get into what that means, we writers are (at best) making educated guesses and (at worst, or most fun) speculating wildly. The fact that a spinoff series for the John Cena character Peacemaker is coming, it feels like a safe bet that Warner Bros. is, ultimately, happy with The Suicide Squad and James Gunn.
Still, now that we have an idea about how the HBO Max ratings line up for The Suicide Squad, we can get a better picture of its success or failure.
The Suicide Squad Ratings for HBO Max Aren't as Simple as Box Office Returns
Image via HBO Max.
First, the good news. The Suicide Squad is the highest-grossing R-rated opening this year, but it's probably not going to catch The Conjuring: The Devil Made Me Do It, which holds the top rated R gross spot at $65.3 million. It's possible, especially if the film rallies, but that seems unlikely when we get to mitigating circumstances. Yet, the most disruptive thing to the traditional box office business is the fact that people could watch the movie starting Thursday evening on HBO Max from the comfort of, well, anywhere.
Now, Warner Bros. does not release hard numbers for their streaming services. Yet, head of HBO Max Andy Forssell told THR.com that The Suicide Squad had the second-highest opening weekend ratings of any of their offerings also released in theaters. This tracks with the data offered up by Samba TV, a company that installs an app on users' devices to track their viewing habits much like Nielsen ratings for traditional TV. These data track with Fossell's comment, suggesting that the ratings for The Suicide Squad are 2.8 million households watching the movie in the first weekend. This is second only to Mortal Kombat which earned a full million more views on HBO Max, but $3 million less at the box office. The Suicide Squad also beat the opening numbers, as measured by Samba TV, for Wonder Woman 1984 (2.2 million) and Zack Snyder's Justice League (1.8 million).
Now, unlike Disney+ Premier Access, the HBO Max numbers don't add up directly to additional revenue. If each person who watched the film subscribed just to see it (they didn't), that would still only add up to $42 million or less than Black Widow's domestic $80.3 million opening. Though, Disney+ has significantly more subscribers than HBO Max, so every little bit helps.
The Suicide Squad Had to Deal With Many Mitigating Circumstances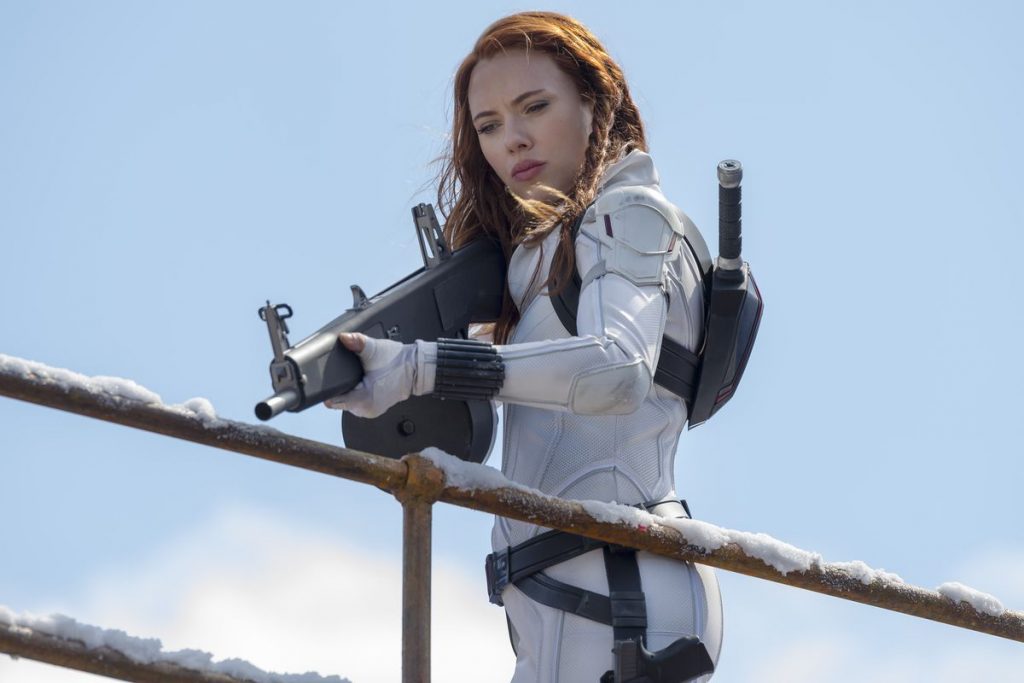 Image via Marvel Studios.
Now, just like spin doctors always do for campaign polling, defenders of this movie will immediately point to mitigating circumstances for the opening. And, just like in real campaigns, there is context to consider, and it's never just one thing. To fully expose my bias here, I absolutely loved The Suicide Squad. I believe this will be a comic book movie that we should talk about, in terms of Serious Cinema™, for years to come. This was a big, inspired swing on both Gunn's and DC Films' part, and in doing so they avoided a lot of the mistakes of DC movies' past.
When it comes to the HBO Max ratings for The Suicide Squad, the opening weekend performance is not as important as opening weekend box office. Winning the Streaming Wars is all about subscriptions and holding on to the folks who sign up. Let's just say that 5 million people signed up to watch The Suicide Squad, then canceled HBO Max before the first month or free trial elapsed. Well, that would give the film less value than if 1.5 million people stay subscribed, watching The Suicide Squad (or even parts of it) once or twice a month. So, if you hope to see more James Gunn or Suicide Squad from DC Films, rewatch the films often.
Still, just looking at the Box Office for this year, The Suicide Squad did not draw like many of us expected it would. While the R-rating is a big factor, franchise comic book films like Logan, Joker, and Deadpool all did big numbers for movies with that rating. So, let's look at all of the factors affecting the movie, and see where we end up.
The Delta Variant and COVID-19 Are Still Very Big Factors
Image via CW
Sadly, the United States is in the midst of a fourth wave of COVID-19 cases, almost all of them amongst unvaccinated people who've caught one of the Delta variants. While this has been a rising problem for a couple of weeks, only over the past week has it really reached a level of national alarm. So any folks worried about the virus or simply wanting to do something (anything) to help reduce the spread, not going out to places like the movie theater is a viable choice. Confidence that we are "out of the woods" where COVID-19 concern is generally low. So, folks may skip heading to the theaters and decided to catch it on HBO Max. (Especially since I'd bet $10 that most folks don't realize these films' time on HBO Max is limited.)
Yet, if this is the case it does make it possible that The Suicide Squad could rally if confidence rises or viewers space out their trips to the theater. Personally, I'd like to see numbers comparing matinee or weekday box office totals for these movies compared to past years. The thing that is throwing the entire industry for a loop right now is that viewing habits may be changing in fundamental ways. Things are changing, and we have no idea yet exactly how.
The Old Tomb Raider Trap
Image via Warner Bros.
I do not know why the Tomb Raider franchise has now become synonymous with a thing that's happened with movies for as long as there have been sequels. In case you're unaware, the "Tomb Raider Trap" is some cheeky box office jargon. A franchise film whose first installment makes money but disappoints reviewers or fans can get caught in the "trap" when the second installment is a much "better" film but underperforms financially because of the "stink" of the first one. David Ayer's Suicide Squad was indeed a moneymaker (and Oscar winner!), but reviewers, fans, and even the director himself do not look upon it kindly. (It was weird, but fine.) So, some fans may be unwilling to give it a chance, especially during a pandemic. In fact, this may be less about the first film in the franchise and more about DC Films in general.
With the exception of 2017's Wonder Woman and 2018's Aquaman, DC Films has not enjoy a universal hit (and profitable) superhero movie since The Dark Knight. From the second Littlefinger asked Bane why he put on the mask, DC Films has had a hard time delivering both a financial success and beloved film at the same time. Justice League made money, but it nearly killed the DCEU altogether. Birds of Prey was nothing short of a delight but did poorly in the pre-pandemic box office.
There definitely does seem to be something worth noting in the fact that the film with the highest domestic gross is a Marvel one starring a character who is dead in continuity This works against any theories that "superhero movie fatigue" or some aversion to franchises is at play here. If so, this is a concern for DC Films beyond just The Suicide Squad.
How the James Gunn Controversy Affected the Ratings for The Suicide Squad
Controversy when it comes to big-name franchises is not always a bad thing, at least eventually. Case in point: Zack Snyder's Justice League exists because of both controversy behind-the-scenes and later amongst the director's fans. It is likely possible that the controversy over Masters of the Universe: Revelation brought more eyes to the project than just being quiet about it would have. Ultimately, when it comes to the controversy that led to James Gunn being fired (and then rehired) by Disney, I think it has a net zero effect. (And this is mostly speculation, truth be told.)
If you're not familiar, Gunn sent some shock-jock tweets some years ago and a group of conservative troublemakers created a controversy that led to Disney firing Gunn. I think that part of what makes The Suicide Squad special is this does feel like Gunn letting off the brakes completely in case this is his final turn at the helm of a massive franchise feature like this. If any effect from this controversy lingered at all, I'd wager it was amongst Gunn's fans and they were the ones putting their asses in movie theater seats this weekend. (And probably streaming The Suicide Squad a few times on HBO Max when they got home, just to help the ratings.)
In fact, the biggest "name" in the film is Gunn. The marketing heavily emphasized that this was his film, even employing the term "beautifully twisted mind." Not only did Gunn direct over half of the episodes of Peacemaker, he's also directing two projects for Marvel: Guardians of the Galaxy Vol. 3 and the Disney+ Christmas Special featuring the characters. For now, at least, Gunn's future is secure in both the Marvel and DC worlds.
The Suicide Squad Ratings on HBO Max Are Just the Beginning
Image via Warner Bros.
There is no doubt that HBO Max made a statement about the HBO Max ratings for The Suicide Squad to divert attention from the box office performance. The industry press, and investors, still use that metric to judge a film's success. The last thing DC Films wants is for this to become a "cult favorite," and take ten years to earn its budget back. Yet, if it is a streaming hit then that changes the options Warner Bros. has to turn this film profitable. When the movie leaves HBO Max in September, it will be released to own or rent, generating revenue. If the numbers stay consistent for the month it is on HBO Max, Warner Bros. could then license the movie to Netflix, Hulu, or other streaming services the way they do with the Harry Potter films.
Conversely, The Suicide Squad could, along with a collection of films and series based on DC Comics characters, have a permanent home on HBO Max. It's unclear to what effect being the exclusive home of a franchise remains profitable. Does it reduce "churn" among subscribers, or does it just mean that a group of viewers will subscribe once or twice a year for a month just to enjoy it? Or does none of this matter, because people will just choose to purchase the film on physical media or via a digital movie store?
The big opening weekend ratings on HBO Max is undoubtedly good, but The Suicide Squad likely still has something to prove on the service.
The Suicide Squad is available on HBO Max and in theaters.
What do you think? Share your thoughts, theories, and predictions about this movie's legacy or how we watch movies as a society in the comments below.
Featured image via Warner Bros.
Joshua M. Patton is a father, veteran, and writer living in Pittsburgh, PA. The first books he read on his own were comics, and he's loved the medium ever since. He is the greatest star-pilot in the galaxy, a cunning warrior, and a good friend. His book of superhero short stories, Tales of Adventure & Fantasy: Book One is available as an ebook or paperback from Amazon.
Leave a comment