DC Universe Streaming Titles: What's Coming, What's Going, What Remains the Same
Well, it's that time of the month. I mean the time of the month when streaming services announce what will come and go, giving us just days to catch up on such classics as She's Out of My League and Bring it On: In It to Win It (Damn thee, Netflix!). Sadly, the streaming service-who-could, DC Universe, is also going to lose a few titles. But fear not! For what we lose, we shall also gain.
What's Leaving DC's Streaming Network?
Quick! Before she flies away! (Warner Bros. Supergirl)
Supergirl (1984)
Constantine (2005)
Batman: Gotham Knight
Green Lantern: Emerald Knights
Justice League:

Crisis on Two Earths
Doom
Gods and Monsters
The New Frontier
If you want to see the superhero cinematic milestone Supergirl, you only have until October 1st to experience the classic. But fear not, while DC Universe will no longer be streaming Supergirl, we are getting two classic Superman movies. I'd say the classics.
What's Jumping into the DC Universe?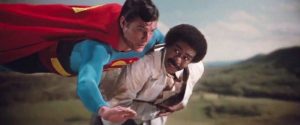 The Glorious moment (Warner Bros. Superman III)
Superman:

All-Star Superman
III
IV: The Quest for Peace
Unbound
vs The Elite

Wonder Woman (2009)
If you haven't seen the biggest superhero team-up ever shot on film, Richard Pryor and Superman, get on the DC Universe app and start streaming Superman III first thing on October 1st. Your soul is not ready for it yet. In the meantime, we can continue enjoying these titles.
What DC Movies and Shows Remain?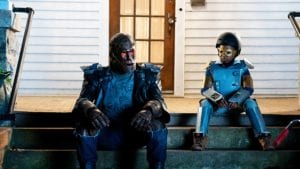 Heart-warming robot moments. (Warner Bros. Doom Patrol)
Doom Patrol
Young Justice: Outsiders
Justice League vs The Fatal Five
The Death of Superman
Reign of the Supermen
Batman:

Hush
Ninja
Gotham by Gaslight
Assault on Arkham
Nothing too surprising there. Mostly the sometimes-brilliant DC Universe animated films, and the DC originals should be available for streaming until the app dies or the heat death of the universe.
What do you want to be added to the DC Universe app?
(Featured Image from DCUniverse.com)
Roman Colombo finished his MFA in 2010 and now teaches writing and graphic novel literature at various Philadelphia colleges. His first novel, Trading Saints for Sinners, was published in 2014. He's currently working on his next novel and hoping to find an agent soon.
Leave a comment