DC's Blue Beetle Coming Out In Theaters Instead Of On HBO Max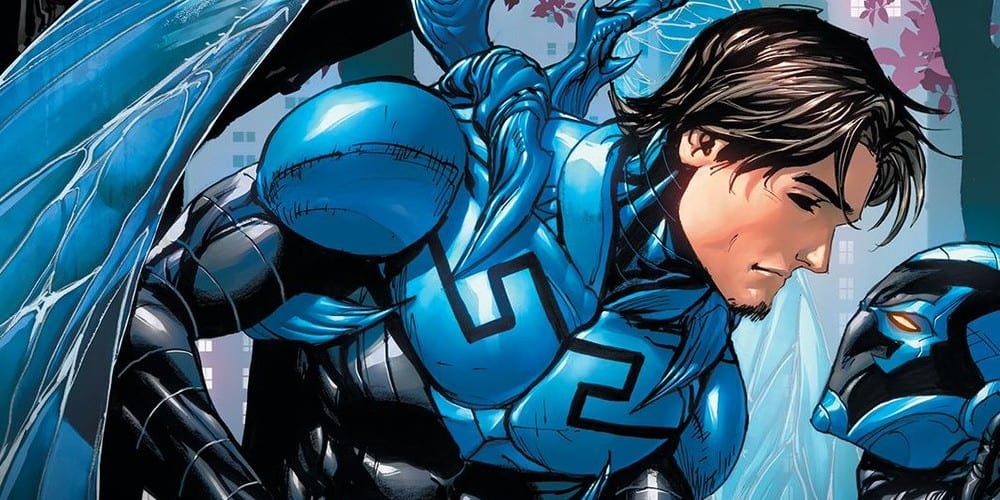 It's no secret that the pandemic has changed the way movie studios release their films. Should movies be released for streaming only or should they do a hybrid version? It seems like Warner Bros. is feeling pretty confident about movie theater attendance because they've announced that all of their 2022 films will have theatrical releases and will go to HBO Max after 45 days, including the highly anticipated Blue Beetle. Starring Cobra Kai's Xolo Maridueña, DC's Blue Beetle coming out in theaters instead of HBO Max first points to a changing trend of movies potentially coming to streaming platforms later.
Why Would Warner Brothers Skip HBO Max for Movie Theaters Instead?
Image via DC Comics
The short answer is that WarnerMedia expects to be back up in business, especially with more people getting vaccinated and boosted. While the Omicron variant could potentially throw a wrench in these plans, ultimately it seems like theaters will continue to remain open. The Spider-Man: No Way Home box office numbers have shown that if people are excited about a movie, they're willing to go to theaters to see it, so there's a lot of exciting potential for Blue Beetle. So far, Warner Media has two films set to be released in theaters first: The Last Train to New York (April 2023), a take on the popular Korean zombie film Train to Busan, and Toto, an animated Wizard of Oz-inspired film (February 2, 2024). There are three other films that are going straight to streaming and will not have a theater release: writer-director Megan Park's The Fallout (January 27, 2022), a Steven Soderbergh thriller titled Kimi (February 10, 2022), and Moonshot, a sci-fi rom com set on Mars (March 24, 2022).
Remind Me…Who Is Blue Beetle Again?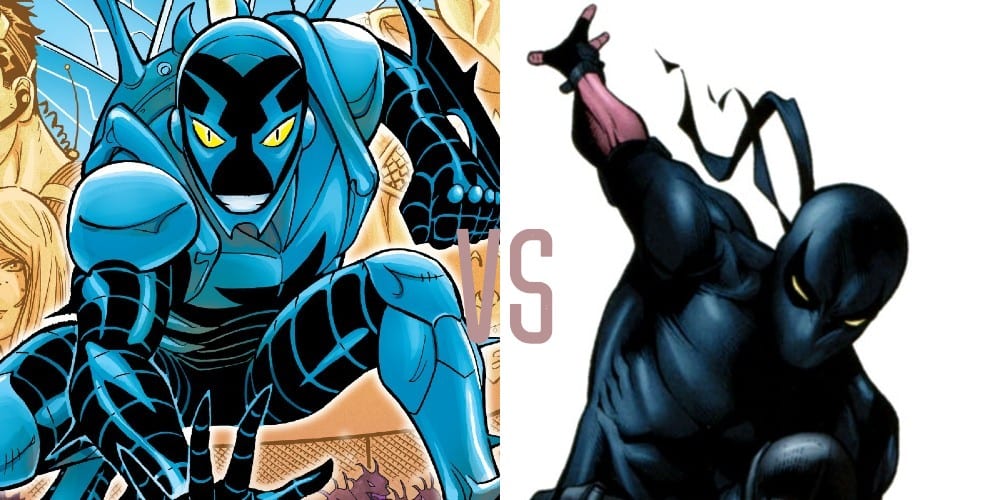 Blue Beetle V Nightrunner: Dawn of Don't Care. (Images: Blue Beetle #1 and Detective Comics Annual #12)
Blue Beetle will focus a Mexican-American teenage boy named Jamie Reyes who lives in El Paso, Texas. He was first seen in the comics in 2006 from creators Keith Giffen, John Rogers, and Cully Hamner. One day Reyes offers to help his father in the garage that the family runs and discovers the original Blue Beetle scarab in the empty lot. The scarab fuses to him while he sleeps and he discovers that it morphs into alien armor that allows him to fight crime and travel in space. His main powers include super-strength, flight, durability, instant weaponry, amazing combat skills, and access to alien technology, which Maridueña will probably have no problems with thanks to his role as Miguel on Cobra Kai. He told Variety that "Luckily I have a background in martial arts and training in that kind of realm but this is a whole different game, this is like the big boys, so I'm ready to pack on a couple pounds and hit the gym." Maridueña is also excited that Blue Beetle is a Latinx superhero, something that isn't very common. He shared:
"The only thing that is on my mind right now is just the fact that he's Latino. I have so much pride in getting to be a part of this project with Angel, someone like him. I think it's so important, and I don't want to stand on the soapbox for too long but representation is so important. It's such a great opportunity, and I'm not going to take it lightly, and we're about to make a kick-ass movie."
The original Blue Beetle was created by Fox Comics and his alias was a man named Dan Garrett. He had initially gained his super powers from a special vitamin, which was later changed to gaining powers from a "sacred scarab". Dan Garrett's Blue Beetle was featured in his own comic as well as a weekly radio serial. A second Blue Beetle (alias: Ted Kord) was created by Charlton Comics and was the successor to Dan Garrett. Kord "jumped" to the DC Comics universe during the Crisis on Infinite Earths alongside a number of other Charlton Comics characters. Kord never had any powers but used science to create various devices to help him fight crime. The Blue Beetle movie will focus on the third iteration, Jamie Reyes. In the comics, Jamie became a member of the Teen Titans, but later takes a break to take care of his mother. He has a girlfriend, the young sorceress Traci 13, who gets along well with Jaime's family, who are a major source of strength and guidance for Jaime. Christopher Smith aka Peacemaker also became a mentor for the young Blue Beetle, which is actually a really interesting factoid seeing as the fanatical pacifist is set to get his own HBO Max show. Crossovers anyone?
As the first DC movie with a Latinx lead (Maridueña), director (Angel Manuel Soto), and writer (Gareth Dunnet-Alcocer), it's exciting that Blue Beetle will be in theaters first. Similar to Black Panther and Shang-Chi and the Legend of the Ten Rings, there's definitely a special feeling of being in a theater with others, especially when there's a diverse cast doing kickass things.
Blue Beetle will be coming out in theaters everywhere on August 18, 2023.
Are you excited Blue Beetle coming out in theaters first is happening rather than it coming to HBO Max first? Let us know in the comments below!
Featured image via DC Comics
Keilin Huang is a freelance writer that likes the Oxford comma, reading from her neverending pile of books from the library, and Reeses peanut butter cups. She thanks her Dad for introducing her to his Superman comics and probably majored in Journalism because of Lois Lane. Contact her at [email protected]
Blue Beetle
xolo maridueña
Leave a comment