10 Great Batman Stories We Forget – Batman Day!
It's Batman Day and we have a bunch of Great Batman Stories! Really, with how many comics, tv shows, and movies he has, every day is Batman Day. Now, as comics editor, I was tasked to make a list of great Batman stories. But really, there are dozens of lists, and they all have the same top stores. Dark Knight Returns, Killing Joke, Knightfall, Long Halloween, Hush…we get it. We know the greatest of great Batman stories. But there are so many others we tend to overlook. Here are ten out of hundreds that you should definitely keep on your bookshelves:
Detective Comics: Faces of Death
During Scott Snyder's epic run on Batman during the New52 era, he had several stories that became some of the greatest Batman stories of all time. One of those stories was Death of the Family, in which a crazier-then-ever Joker goes off the rails after his face is removed. However, it wasn't Scott Snyder who did the face-ripping; it was Tony S, Daniel. Faces of Death helped set the tone of the Bat-word in the New52. And that tone? Chaos. Dollmaker takes off Joker's face and sets him loose, and gets the world to believe that it was Batman who skinned the Joker. And that's not getting into the Penguin's schemes to kill his competition.
Oh, hey, looks like my ex. (Detective Comics (2011) #1, DC Comics)
Gotham Central: The Complete Series
Despite being a "street-level" character, Batman is kind of, well, everywhere. However, Gotham Central brings it right down to the gutters. Ed Brubaker, Greg Rucka, and Michael Lark team up for a GCPD procedural comic. What is it like being a police officer in a city where Batman is constantly "helping" with the criminal element? Okay, technically this isn't one of The Dark Knight's greatest stories, but Batman appears in it, so that counts, right?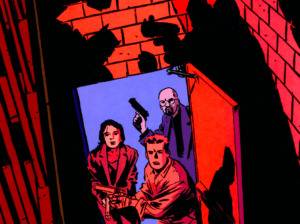 Like nine hours of paperwork just for two shadows. (Gotham Central #2, DC Comics)
JLA: The Tower of Babel
Batman being Batman and all, he has a plan for everything…and everyone. For instance, he has a file on every member of the Justice League (ever) which includes how to take them down. Wouldn't it be terrible if one of Batman's great villains, let's say Ra's Al Ghul, got a hold of said files and acted upon them to take down? So, yeah, that happens. It's one of the greatest Batman and JLA story all at once.
It's really hard to take Plastic Man seriously. (JLA #46. DC Comics)
Batman: Son of the Demon
While we wouldn't see Batman be a father figure for some time after, 1987's Son of the Demon dramatically altered Batman—and his other persona, Bruce Wayne. While trying to stop a terrorist linked to Ra's Al Ghul, Batman finds himself protecting Talia Al Ghul, who is pregnant…with his son, Damian. The Dark Knight now has to act as both a hero and a father, a role that he is not prepared for, even if he has a couple of Robins under his, um, wing.
Well, yeah, he kind of doesn't want his kid to die. (Batman: Son of the Demon, DC Comics)
Batman: Zero Year
Court of Owls, Death of the Family, Endgame—these are the stories that Scott Snyder is best known for in his Batman run, but Zero Year shouldn't be overlooked. Loosely written as a prequel to Year One, Zero Year explores the first time Bruce wore the suit—and the first time Gotham desperately needed a protector like Batman. As the Riddler upends Gotham and a gang of Red Hoods cause mayhem, Batman comes into his own. It's also a great story about Gotham itself, much like Gotham Central.
Oh, it's my recurring nightmare. (Batman (2011) #24, DC Comics)
Batman: Year One
While this story is famous, it tends to get overshadowed by Frank Miller's other Batman classic, The Dark Knight Returns. If you look at the two stories side-by-side, however, Year One is actually the better of the two. Sure, they are both great Batman stories, but in half the length, Frank Miller's Year One has better character development (for both Batman and Gordon) and better plotting. It's also a Batman story that feels contemporary, even for today, but also fits right in with his original case…
Super hi-tech (Batman: Year One #4, DC Comics)
The Case of the Chemical Syndicate
Detective Comics #27—which debuted March 30th, 1939—had only eight pages featuring Batman. It's eight pages that forever changed the course of entertainment. And though a lot of it is very dated, the story does hold up. Batman, or, Bat-Man, works with Jim Gordon to solve the murder of an Apex Chemical Corporation named Lambert. Batman quickly solves the crime—oh, and he was also perfectly fine with killing back then.
Sometimes, you just gotta let a dude melt. (Detective Comics (1937) #27)
A Lonely Place of Dying
In 1988, DC Comics fans hated the current Robin, Jason Todd, so much that they actually voted for him to die in overwhelming numbers. But by 1990, a new Robin would join Batman, and readers took to this one a lot more: Tim Drake. Robin(s) has had many great stories, but this one dives into why Batman needs a Robin. Drake figures out Batman and Nightwing's secret identities on his own, and basically demands to be the new Robin. Dick Grayson agrees that Bruce needs a Robin so that he doesn't go overboard. After the three battle Two-Face, Batman realizes the same truth. He needs Robin even more than Robin needs Batman.
And yet, this kid is the only one who could put the pieces together so far. (Batman: A Lonely Place of Dying, DC Comics)
Batman: Ego
No other Batman stories explore the character's fragile psyche better than Darwyn Cooke's great psychological study, Batman: Ego. This is a rough story for Batman, starting with a low-level Joker henchman killing his own family and then himself, knowing that the Joker will slowly torture and kill them all for giving up his location.  Shocked by the events, and with the henchmen cursing Batman, Bruce Wayne decides he will retire Batman. But one person has something to say about that: Batman.
Advice from a therapist? (Batman: Ego, DC Comics)
Great Batman Stories
What? Yep. Bruce Wayne's mind finally breaks. A dialogue begins between Batman and Bruce Wayne about the past, present, and future of their identities. There are a lot of great Batman stories out there, but this is one of the most unique by far.
What are some of your favorite Bat-stories? And, Happy Batman Day!
(Featured Image: Batman: Ego, DC Comics)
Roman Colombo finished his MFA in 2010 and now teaches writing and graphic novel literature at various Philadelphia colleges. His first novel, Trading Saints for Sinners, was published in 2014. He's currently working on his next novel and hoping to find an agent soon.
Leave a comment