April 19th DC Comics: Superman and Batman, Nightwing, and Wonder Woman
DC Comics continues to innovate with its most iconic characters. This week on April 19th DC Comics will have continuations of superheroes teaming up: Superman with Batman, Nightwing with Flash, Wonder Woman with Donna Troy, among others. Seeing our favorite characters working together is always exciting, combining their skills, measuring their strengths, and highlighting the importance of intellect over superhuman physical power. On April 19th, DC comics bring 14 new titles, all of which are continuations of existing series and combine a variety of characters to satisfy every DC fan. Strap on your cape and tights because the DC comic signal is already projecting into the sky. Here we go!
Nightwing #91 Dick Grayson and Wally West Have Each Other's Backs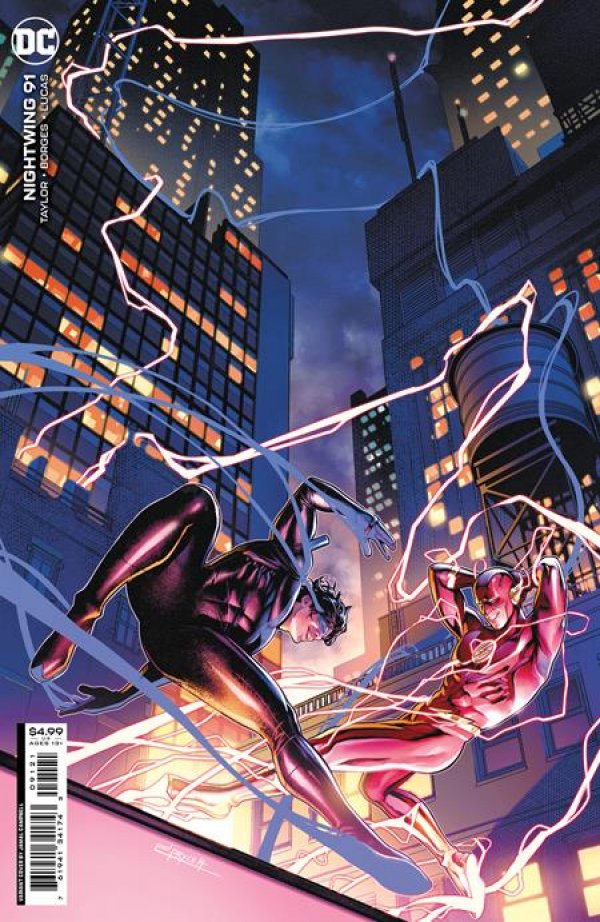 (Image: DC Comics)
The bromance between Nightwing and Wally continues. We have had to wait a month to enjoy the continuation of this successful series. Dick Grayson and Wally West must face serious challenges in this new 32-page volume. In the previous issue, we saw the duo facing KGBeast, a very dangerous villain who kidnapped Barbara Gordon and almost killed Dick. This new adventure, drawn by Geraldo Borges and written by Tom Taylor, promises to give us the best of the scarlet speedster and Batman's ally.
Trying to save a city that's even more beyond saving than Gotham is no small task, and even someone like Nightwing needs a day off to relax with his best friend and to recharge-but when your best friend is Wally West, a.k.a. the Flash, a "recharge" might not end up being so relaxing!
Batman / Superman: World's Finest #2 on April 19th DC Comics
(Image: DC Comics)
Although this series was canceled last year, we had the good news that the publisher hired a new creative team to relaunch the series. Fans and critics acclaimed the first part, and tomorrow April 19th DC Comics, we will have the second part, Batman/Superman: World's Finest #2. We will have fast-paced action, dynamic storytelling, and perfect dialogue in this new installment. The story was created by Mark Waid, art by Dan Mora, lettering by Aditya Bidikar, and colors by Tamra Bonvillain. A piece you can't miss if you love these characters.
THE DEVIL NEZHA, CHAPTER TWO: THE DEVIL HIMSELF
The Man of Steel and the Dark Knight have arrived at the compound of Niles Caulder-the Chief in charge of that strange band of misfits known as the Doom Patrol-but all is not as it seems. While Batman works with Niles to cure Superman of his freakish transformations, a side mission to track a mysterious figure known as "the Demon" attracts the Dark Knight's attention…and it could have some connection to Superman's poisoning at the hands of Metallo! It's danger, intrigue, and the surprise appearance of Deadman in chapter two of World's Finest!
Wonder Woman Travels Back in Time to Save the Earth in Evolution #6
(Image: DC Comics)
In this new issue of Wonder Woman, we will see her facing challenges at the highest level. This time she travels to the future, to a shattered Earth on the brink of extinction. She will meet a future version of Donna Troy, who will guide her through this thrilling adventure. The story will have 32 pages, written by Stephanie Phillips, and will have the support of top artists such as Steffano Raffaele (Penciller, Inker), Mike Hawthorne (Penciller, Cover Artist), Adriano Di Benedetto (Inker), among others.
Can even Wonder Woman save a world without hope? Diana faces her toughest trial yet as she is flung into the future to save an Earth on the verge of complete collapse. Guided by a future version of Donna Troy, Wonder Woman must question the reality of her surroundings, while accepting the reality of the consequences. All this, plus the reveal of a major new villain!
The Full April 19th DC Comics List
Nightwing #91
The Flash #781
The Nice House on the Lake #8
Batman / Superman: World's Finest #2
Batman: The Knight #4
Catwoman #42
Robins #6
Catwoman: Lonely City #3
Blue & Gold #8
Trial of the Amazons: Wonder Girl #2
Refrigerator Full of Heads #6
Wonder Woman: Evolution #6
Earth-Prime #2: Superman & Lois
Scooby-Doo, Where Are You? #115
And you, which of these comics do you feel like reading the most? Let us know in the comments.
Feature image via DC comics
I am a circus aerialist influenced by Dick Grayson and Spider-Man. Fortunate to write about the characters that inspired me. I also have a Bachelor's degree in Political Science and a Master's degree in International Trade.
Leave a comment