Dawn of X Wave Two: What We Know So Far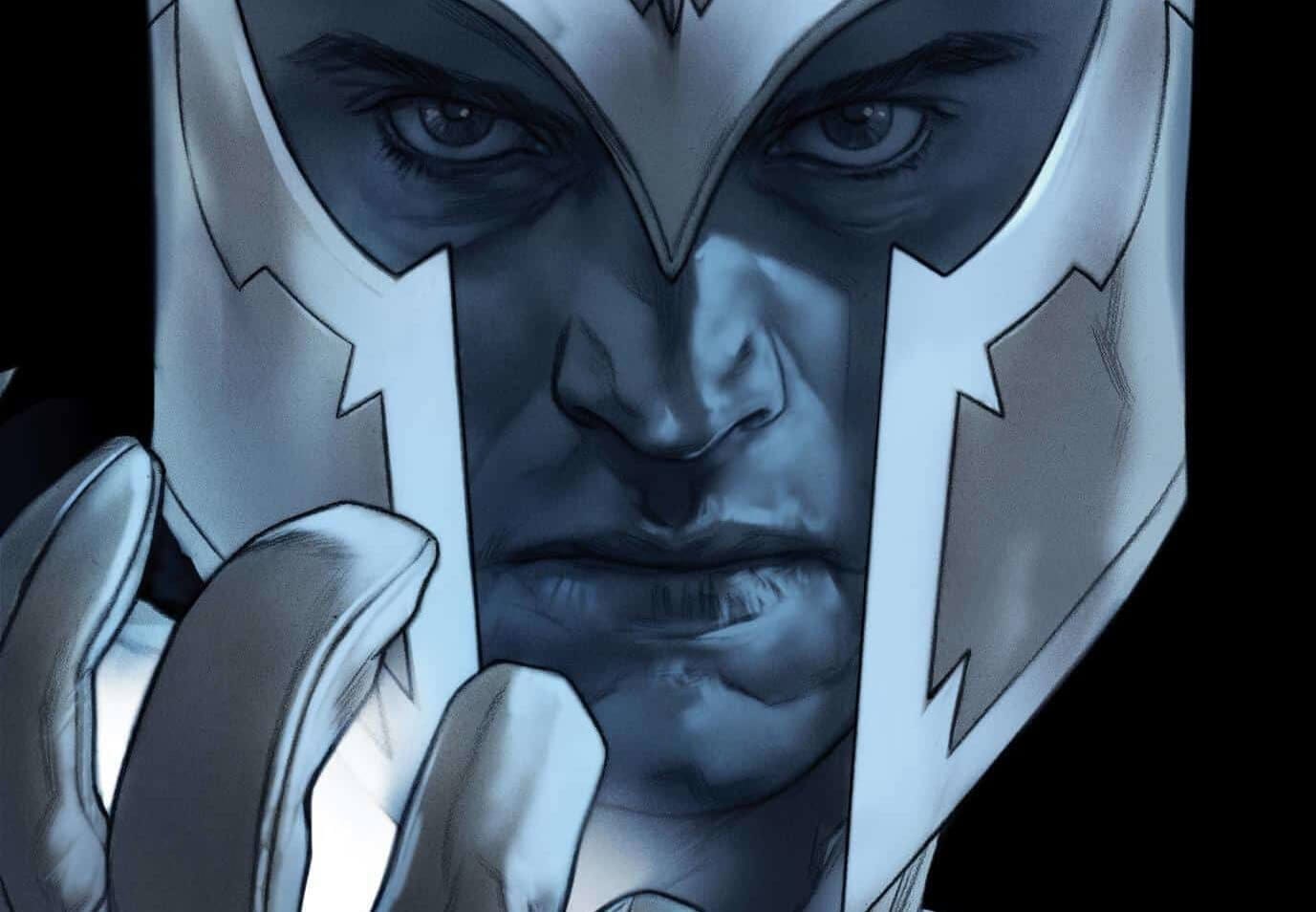 The first wave of Dawn of X titles must have been even more successful than Marvel anticipated because wave two is shaping up to be even bigger. In Wave 1, we had X-Men, New Mutants, Marauders, Excalibur, X-Force, and Fallen Angels. These six titles set the groundwork for the future of mutantkind. For wave two, we'll see at least six more Dawn of X titles. Here's what we know for sure:
Dawn of X Wave Two Title 1: Wolverine
Release Date: February 19th, 2020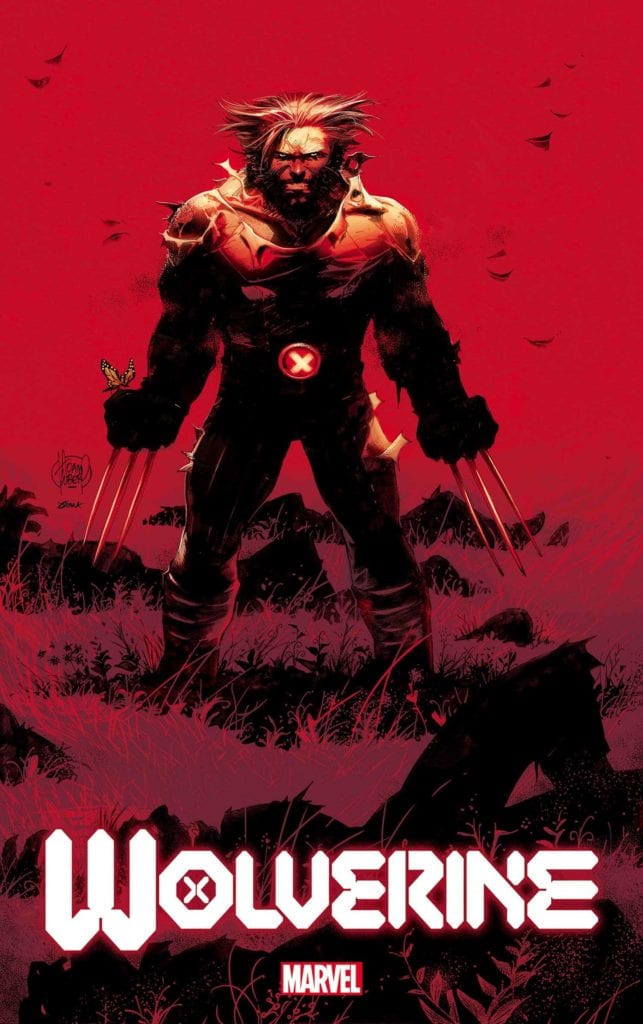 (Image via Marvel Comics)
It's no surprise that Wolverine gets the first solo series in Dawn of X, but it's a little surprising it was in wave two and not wave one. He's one of the most popular characters ever created, and Marvel Comics only recently brought him back to the world of the living. But they waited a decent amount of time to give him a new ongoing series. The creative team is great. First, writer Benjamin Percy, who wrote the immensely popular Wolverine: Longest Night podcast, and is currently writing the most intense Dawn of X book, X-Force. And on pencils…Adam Kubert. ADAM KUBERT!
Dawn of X Wave Two Title 2: Cable
Release Date: March 11th, 2020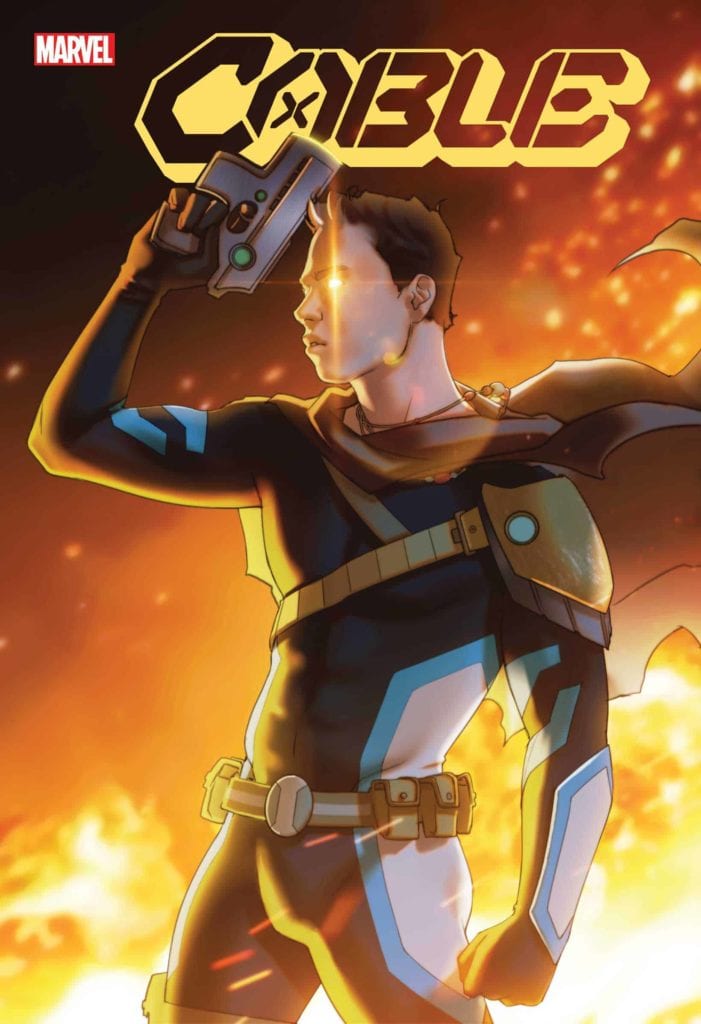 (Image via Marvel Comics)
After Wolverine, Cable is the next most successful mutant with a solo title. And of course, he's the second solo title for wave two of Dawn of X. But, this isn't the grizzled old Cable we've known and loved for decades, it's the new "kid" Cable; the younger version of Nathan Summers who traveled back in time and killed…Nathan Summers. We once again have a man-out-of-time story, but also a coming-of-age at the same time. In Fallen Angels, Cable feels lost. He doesn't fit in with Krakoa. For his solo series, we can expect him to do some soul-searching. On the creative team is Gerry Duggan (also writing the Marauders) and Phil Noto.
Dawn of X Wave Two Title 3: Hellions
Release Date: March 25th, 2020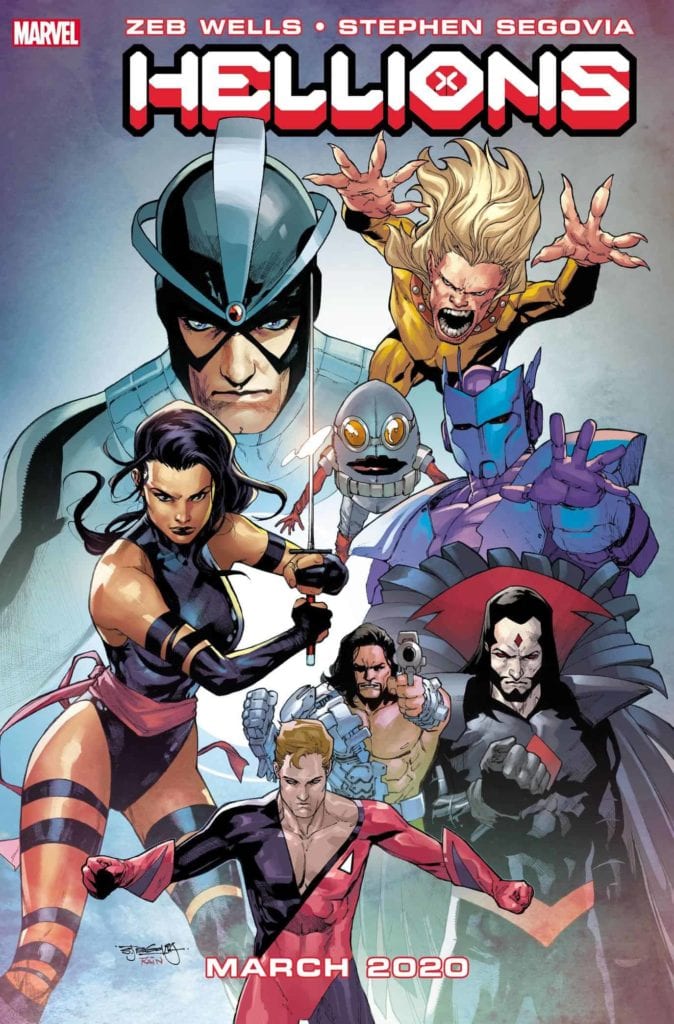 (Image via Marvel Comics)
The next incarnation of Hellions, which was once Emma Frost's team, is a strange bunch of characters. Mr. Sinister brings together Havok, Psylocke, Orphan-Maker, Nanny, Empath, Scalphunter, and Wild Child to create a black ops team. It's essentially the X-Men's own Suicide Squad or Thunderbolts. Psylocke and Mr. Sinister are already working together in Fallen Angels, so the big question is how Sinister convinces Havok to join this deranged little team. The good news is that Zeb Wells, who is great at bonkers-level stories, is writing, with Steven Segovia on pencils.
Dawn of X Wave Two Title 4: X-Factor
Release Date: April 2020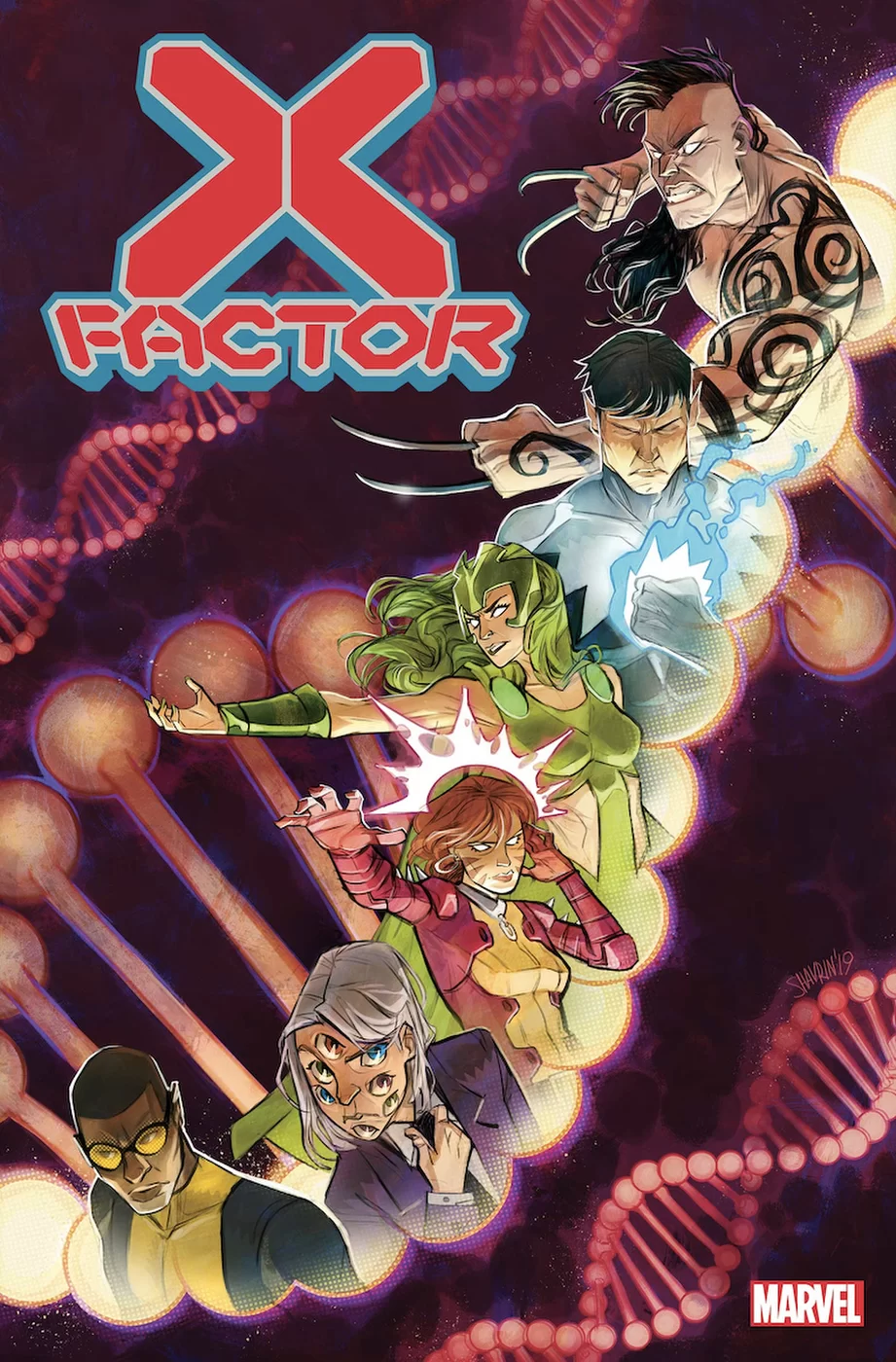 (Image via Marvel Comics)
For the first time in twenty-ish years, Peter David won't be writing X-Factor. Leah Williams is picking up the torch, but honoring the "Investigations" idea that David brought to the team in the early 2000s. The main team consists of Northstar, Prestige, Eye-Boy, Prodigy, Daken, and Polaris. But they answer to the Five: Elixir, Egg, Proteus, Tempus, and Hope Summers. X-Factor's mission is to investigate why a mutant died before the Five resurrects them. Joining Williams on pencils is David Baldeón.
Dawn of X Wave Two Title 5: Children of the Atom
Release Date: April 2020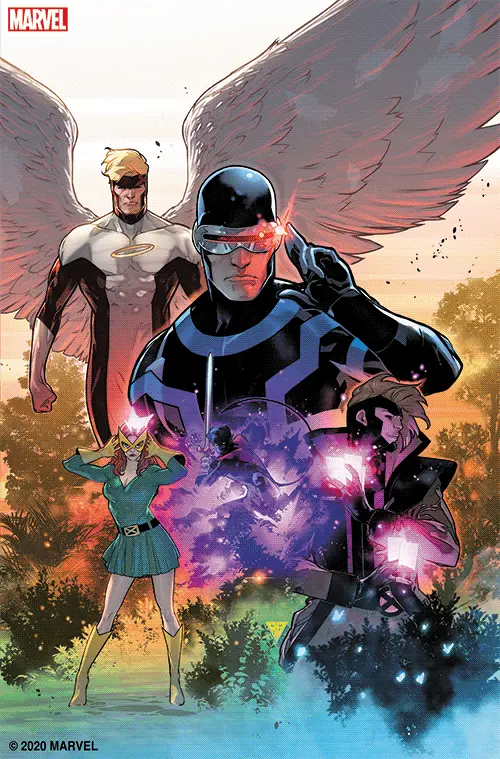 (Image via Marvel Comics)
What do we know about Children of the Atom? Well, Vita Ayala is writing with Bernard Chang on art. We also know that Cyclops, Angel, Nightcrawler, Gambit, and Jean Grey are on the cover…or are they? Marvel released an animated cover that shows the classic X-Men replaced with all-new heroes inspired by the originals. As Ayala stated in the press release:
The initial seed of the idea actually came from Chris Robinson: What if the X-Men had sidekicks? MY take on it became, what would actual kids from our current time be like if they were X-Men sidekicks? What would Gen Z X-Men be like?
X-Men sidekicks…X-Kicks? Gen Z? Okay, intriguing.
Dawn of X Wave Two Title 6: X-Corp
Release Date: TBA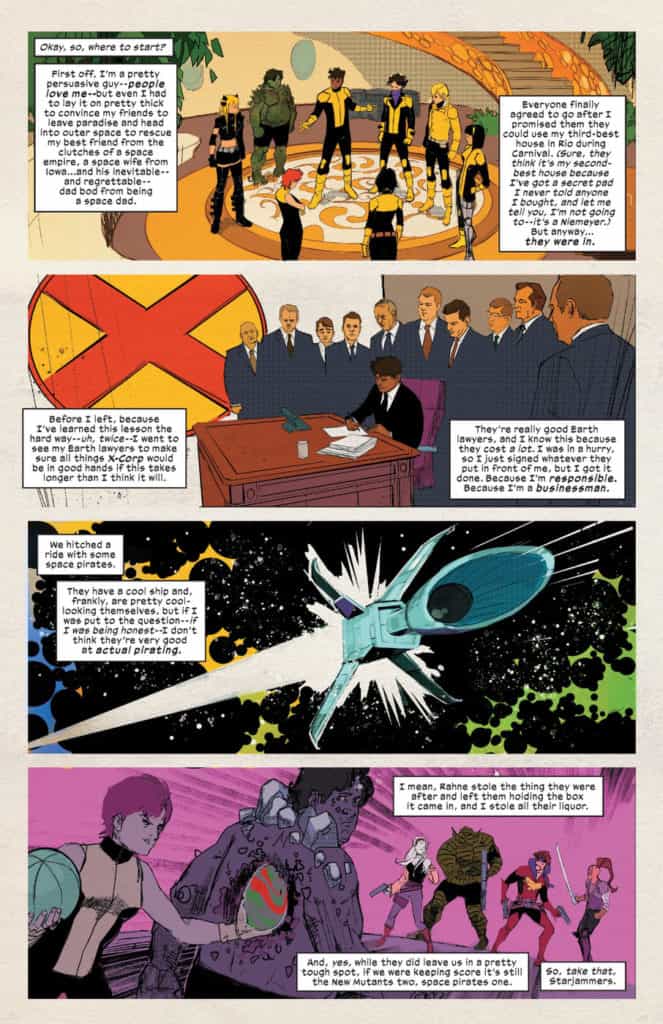 (Image via New Mutants #2, Marvel Comics)
Marvel's been teasing X-Corp for a while now, originally stating that it would come out in February 2020. However, the title was nowhere to be seen in the February or March solicitations. All we have so far is the artist, Carmen Carnero. Well, we also know that Sunspot of the New Mutants, is backing the group, as revealed in New Mutants #1.
Other Unknown Dawn of X Title Release Dates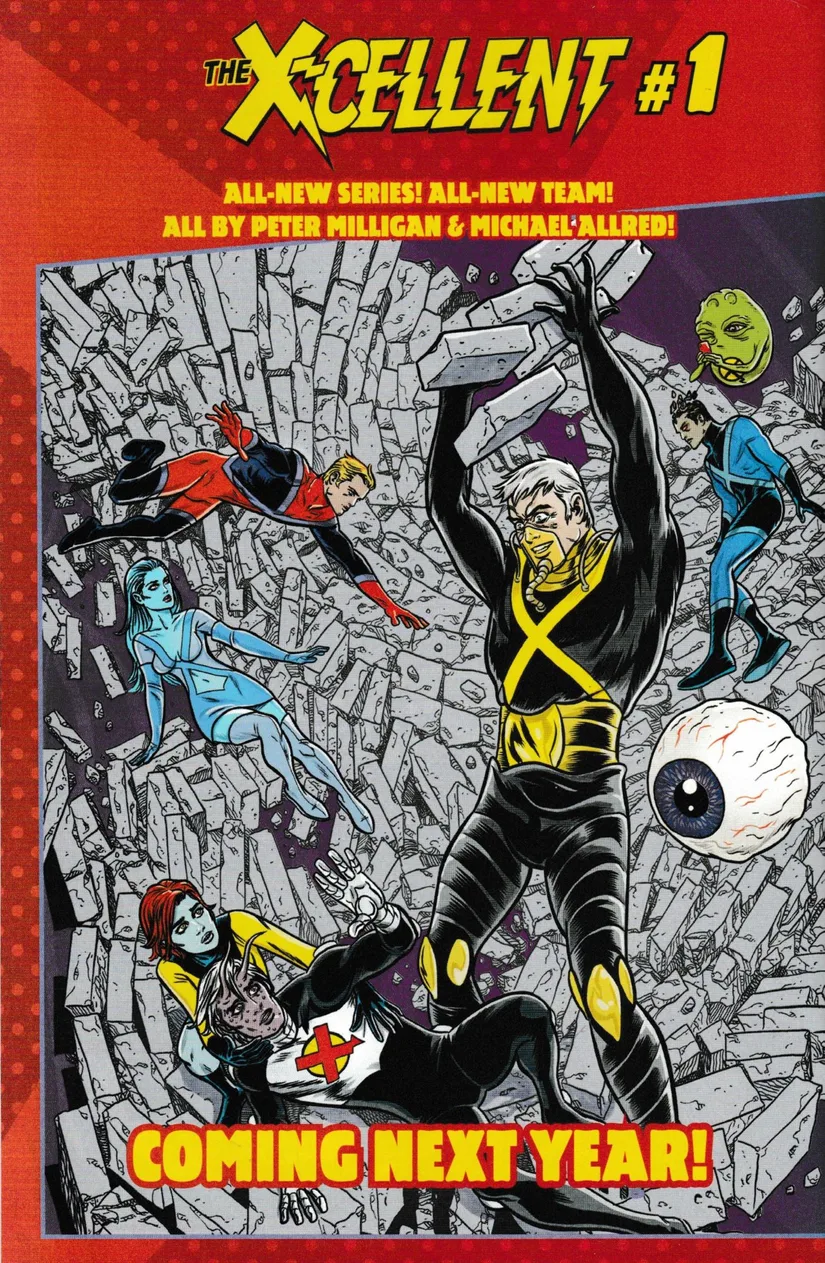 (Image via Marvel Comics)
We can assume that X-Corp will probably be in wave two of Dawn of X, but there are a few more titles up in the air. The first is X-Cellent, which Peter Milligan and Michael Allred announced at the end of Giant-Size X-Statix #1. Obviously, the new series will follow the same team, but all we know is that it will come out sometime in 2020. As well, there is the Moira MacTaggart solo series coming out, but we know even less about that. Just that Jonathan Hickman wanted a particular writer and they agreed to do it. We'll have to keep an eye out for these two titles.
Mini-series and One-shots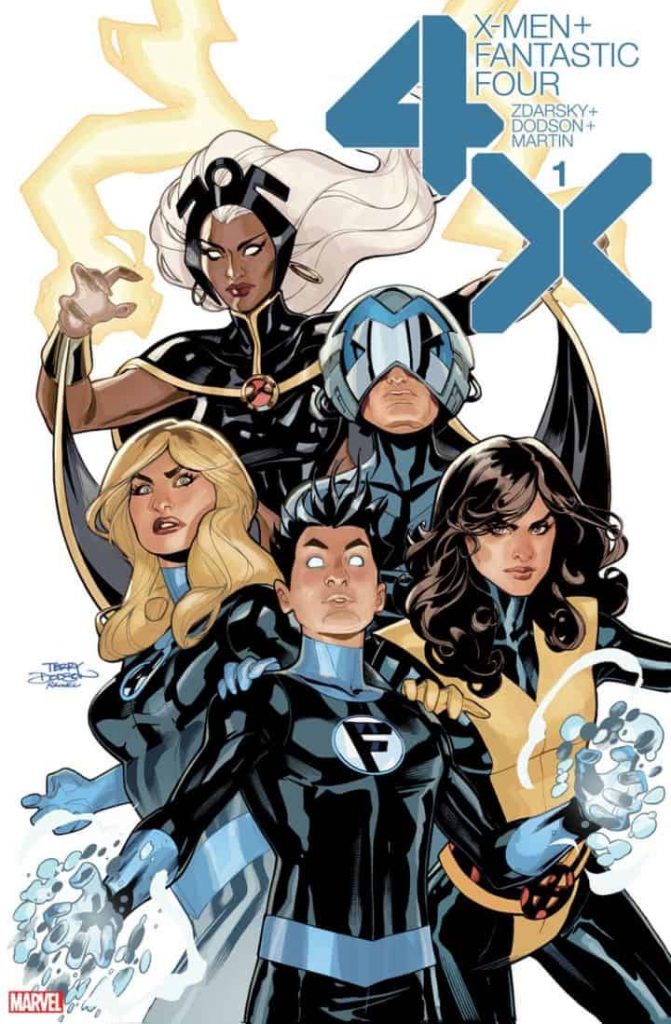 (Image via Marvel Comics)
Starting in February, Dawn of X wave two will also feature the first crossover with the rest of the Marvel Universe with Fantastic Four/X-Men. This four-part series dives into Franklin Richards' role as both the son of Sue Storm and Reed Richards, but also as a mutant. Where will he end up? Considering that Wolverine, along with Spider-Man, Valerie Richards, and Franklin Richards will fill in as the Fantastic Four while the original team fights Skrulls in space during Empyre, we can assume they'll get along fine.
(Image via Marvel Comics)
Then we have Jonathan Hickman's series of Giant-Size one-shots. So far, these include Jean Grey and Emma Frost, Magneto, and Nightcrawler. We don't know how many of these Hickman will write, but it's a great way to explore more characters.
Sure, altogether we'll have 16 or so series, but if you're an X-Men fan, it's an exciting time. What titles are you looking forward to?
(Featured Image: Giant-Size X-Men: Magneto #1, Marvel Comics)
Roman Colombo finished his MFA in 2010 and now teaches writing and graphic novel literature at various Philadelphia colleges. His first novel, Trading Saints for Sinners, was published in 2014. He's currently working on his next novel and hoping to find an agent soon.
Leave a comment