Dawn of X: Marvel Comics Maps the Future of Mutants
Jonathan Hickman is now steering the X-Ship, and after months of wondering what the franchise will look like, Marvel finally revealed six Dawn of X titles at the SDCC: Next Big Thing Panel. Okay, so, what do we have to look forward to?
The Marauders are…Good Guys?
The first Dawn of X reveal is one of the most unexpected title: The Marauders, by Gerry Duggan and Matteo Lolli. The Marauders are best known as Mr. Sinister's team of genocidal maniacs, like Sabretooth. These are the guys who murdered the Morlocks in Mutant Massacre. But this team is a far cry from those days, or so it would seem. There's only one villain on the team: Pyro. And while Emma Frost is also there, she's one of those characters who's been both hero and villain. The rest of the team is even more surprising: Bishop, Storm, Iceman, and Kitty Pryde. Those last two are especially strange for a book called the Marauders. I have a feeling something terrible might happen to them in House of X to put them there.
MARAUDERS #1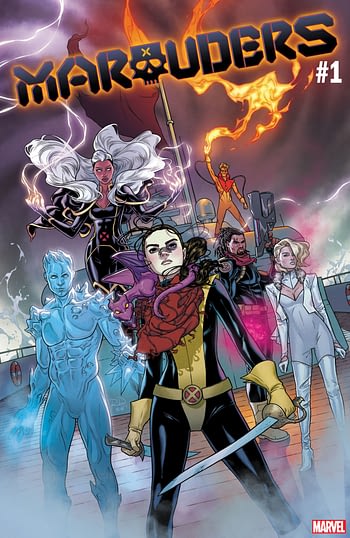 Written by GERRY DUGGAN
Penciled by MATTEO LOLLI
Cover by RUSSELL DAUTERMAN
On sale October 2019
THE X-MEN SAIL AT DAWN!
Even in this glorious new dawn, Mutantkind faces hardships and oppression from their human counterparts. Led by Captain Kate Pryde and funded by Emma Frost and the Hellfire Trading Company, Marauders Storm, Pyro, Bishop and Iceman sail the seas of the world to protect those hated and feared!

Official Solicitation
Excalibur is BACK!
Excalibur was always a fan-favorite X-title, but we haven't seen the England-based team in quite a while. Well, Tini Howard and Marcus To are bringing us a new and interesting team. In fact, this one might be even stranger than the Marauders. Leading the team is Captain Britain, but not the one you know. The honor now belongs to Psylocke! Rogue is serving double duty, also on this team, along with her husband Gambit. Fellow X-Man Jubilee and X-Factor alum Rictor make out the rest of our heroes. And I do mean heroes, because the final member is…APOCALYPSE! Yeah, who knows how that's going to work, but we can't wait.
EXCALIBUR #1
Written by TINI HOWARD
Penciled by MARCUS TO
Cover by MAHMUD ASRAR
On sale October 2019
A NEW DAY IS FORGED!
Mutantkind has always been special…as has their relationship with the world—or WORLDS—around them. As this new era dawns, a new connection forms between mutants and the magic of the world… and that of Otherworld! Can the new Captain Britain forge a new way through the chaos with her companions Rogue, Gambit, Jubilee, Rictor…and Apocalypse?!?

Official Solicitian
X-Force Reporting for Duty
Possibly the most popular non-flagship X-title in existence, X-Force is an obvious choice for a new series. And this team, once again, is bonkers. Some are members we've seen before, such as Wolverine, Domino, and Colossus. We also get Sage returning, and another villain on an X-team, Black Tom Cassidy (I'm sensing a pattern). The other three members are particularly interesting. First, Kid Omega. Now, he's definitely not one to shy away from violence, but Wolverine has always had a problem with kids doing the dirty work. Then, we have Marvel Girl, Jean Grey (I'm assuming), who, though powerful and steadfast, doesn't seem to be the X-Force type. The final member is really hard to figure out: Beast. Beast is as close to a pacifist as a superhero can get, and has condemned the X-Force teams repeatedly in the past. Now he's serving on it. What is happening?!
X-FORCE #1
Written by BENJAMIN PERCY
Penciled by JOSHUA CASSARA
Cover by DUSTIN WEAVER
On sale November 2019
THE COST OF THE FUTURE ISN'T CHEAP.
X-Force is the CIA of the mutant world—one half intelligence branch, one half special ops. Beast, Jean Grey and Sage on one side, Wolverine, Kid Omega and Domino on the other. In a perfect world, there would be no need for an X-Force. We're not there… yet.

Official Solicitation
The Fallen Rise
Marvel Comics' next Dawn of X announcement was for a revamp of an old, obscure X-title, Fallen Angels. Originally, Fallen Angels was a New Mutants spinoff. This new team, however, only has a slight connection to that old team. Here, we only have three members: X-23, the teenage version of Cable that appeared in Extermination, and a new Psylocke, Kwannon. Bryan Hill and Szymon Kudranski will bring these three lost souls together. This looks like it will be one of the darker X-books.
FALLEN ANGELS #1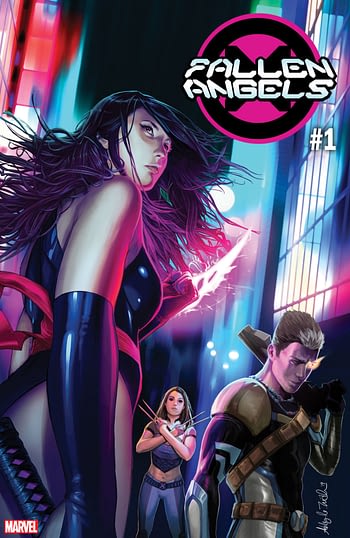 Written by BRYAN EDWARD HILL
Penciled by SZYMON KUDRANSKI
Cover by ASHLEY WITTER
On sale November 2019
NOT ALL BELONG IN PARADISE!
Psylocke finds herself in this new world of Mutantkind unsure of her place in it… but when a face from her past returns only to be killed, she seeks help from others who feel similar to get vengeance. Cable and X-23 join Kwannon for a personal mission that could jeopardize all Mutantkind!

Official Solicitation
The New Old New Mutants
Of course, Marvel saved the announcement for Hickman's books at the end of the Dawn of X panel. And the first is everyone's favorite angsty 80's teenagers, the New Mutants. Though, they aren't teenagers anymore. This is a classic team: Wolfsbane, Karma, Sunspot, Magik, Cypher, Mondo, Mirage, and Chamber. House of X must really be resetting things because three of those mutants, Chamber, Sunspot, and Wolfsbane, all died in the last Uncanny X-Men series. Hickman will write the first arc for the series, and then Ed Brisson will take over from there.
NEW MUTANTS #1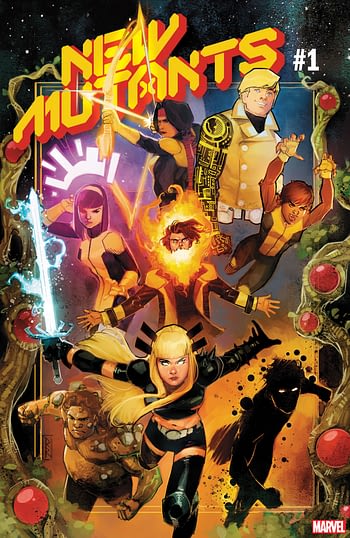 Issue 1 Written by JONATHAN HICKMAN & ED BRISSON
Issue 2 Written by JONATHAN HICKMAN
Penciled by ROD REIS
Cover by ROD REIS
On sale November 2019
THE NEXT GENERATION CLAIMS THE FUTURE!
The classic New Mutants (Sunspot, Wolfsbane, Mirage, Karma, Magik, and Cypher) get together with a few new friends (Chamber, Mondo) to seek out their missing member and share the good news… a mission that takes them into space alongside the Starjammers!

Official Solicitation
The Flagship of X
The final announcement is for the least surprising title: X-Men. Of course, we need the main book, right? But this is a Jonathan Hickman book, and it's not quite that simple. Remember his roster for Avengers? Well, that looks cute now. X-Men's cast includes Professor X, Cyclops, Magneto, Storm, North Star, Glob, and…EVERYONE! No, seriously, Hickman says that every mutant in Marvel will be part of this book. Poor Lienil Francis Yu. He might be drawing them on the moon, but that's still a lot of characters to draw.
However, there does seem to be a core cast, based on the first cover. Actually, it's basically a Summers family affair plus Wolverine. Cyclops, his wife Jean Grey, his father Corsair, his son Cable (teen version), his brothers Havok and Vulcan, and his alternate-reality sister, Rachel. So, Wolverine is just kind of joining the family as the weird angry uncle, I'm guessing.
X-MEN #1
Written by JONATHAN HICKMAN
Penciled by LEINIL FRANCIS YU
Cover by LEINIL FRANCIS YU
A NEW ERA DAWNS FOR THE X-MEN!
The X-Men find themselves in a whole new world of possibility… and things have never been better! Jonathan Hickman (HOUSE OF X, POWERS OF X, SECRET WARS) and superstar artist Leinil Yu (NEW AVENGERS, CAPTAIN AMERICA) reveal the saga of Cyclops and his hand-picked squad of mutant powerhouses!

Official Solicitation
And More…to Come
These six books are just the first wave of new titles. There will be more. Hickman so far revealed that Leah Williams and Vita Ayala are both writing books debuting in November, but didn't give us titles or character. If we've learned anything from Marvel Comics' Dawn of X announcements, it's that this is a great time to be an X-Fan.
Roman Colombo finished his MFA in 2010 and now teaches writing and graphic novel literature at various Philadelphia colleges. His first novel, Trading Saints for Sinners, was published in 2014. He's currently working on his next novel and hoping to find an agent soon.
Leave a comment