Dark Nights: Death Metal Record: The Best Superhero Epic You'll Ever…Hear?
With a name like Dark Nights: Death Metal, you'd almost expect there to be an accompanying soundtrack to go along with it from day one. But instead, the Dark Nights: Death Metal record came a bit afterward. Through a love of the genre and boredom during the quarantine, composer Tyler Bates brought together a true army of Metal artists from across the spectrum. Well, except for any actual death metal artists, as moderator Gwarsenio Hall from Two Minutes to Late Night pointed out. Still, the album is truly remarkable, and it's a record every comic book AND metal fans need to own.
Before the Record, There Was Dark Nights: Death Metal, by Scott Snyder and Greg Capullo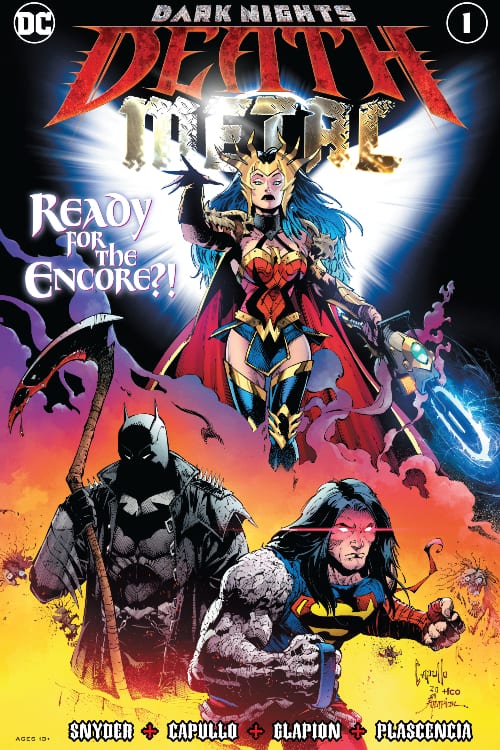 (DC Comics)
During the SDCC 2021 Dark Nights: Death Metal Soundtrack panel, Snyder went into the history of Death Metal and how Capullo wasn't just a partner on the project but a mentor as well. In fact, the two Dark Nights events, Metal and Death Metal, were inspired by the artist. As Snyder explained, Metal (and music, in general, helped Capullo through some very dark times growing up. But the key to why Metal was so important to the stories was that "metal has a freedom to it," and with it, they could go "bigger than ever…balls to the wall."
Even the historical record of Dark Nights: Death Metal is one of drama and turbulence. In Death Metal, Wonder Woman is both fierce and loving (a dynamic that inspired one of the tracks). Even though Diana and Capullo couldn't be more different, they certainly fight the same way. When DC editors said that elements of Snyder's script or Capullo's art went "too far," Capullo stood his ground and helped Snyder get the courage to join him. The imposing artist even quotes Steve Jobs: "Stay Hungry. Stay Foolish." He even made Snyder go radio silent on his bosses at times, sometimes for an entire week. 
Put the Record On, Tell Me Your Favorite…Comic?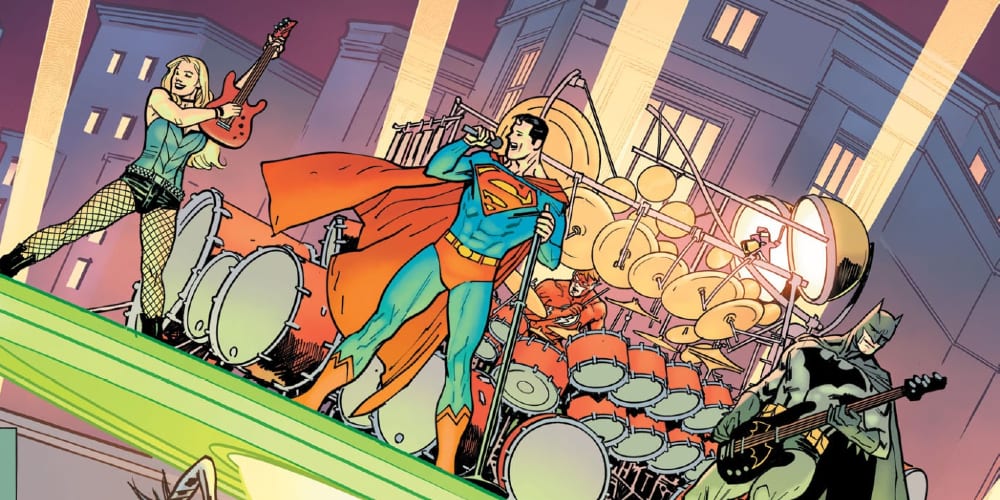 (DC Comics)
The creative team had two goals with Dark Nights: Death Metal, besides telling an awesome story. First, to make it fun. And, somehow, for kids? Did they read their own scripts, because "kids" isn't the audience I'd market it to. But the story, and in particular the Batman Who Laughs, was "born out of a dark moment." But that was even before the pandemic brought us to an even darker place. As Snyder said, he and Cappulo wanted to tell readers, "let's be brave and face this together…and 700 evil Batmans." That is why Wonder Woman had to be the lead protagonist. To rally what was left of the DC Universe, we needed Wonder Woman. Batman and Superman? Just not enough.
But Dark Nights: Death Metal is more than a message of bravery. Just like Dark Nights: Metal, it's a rock opera in the form of pages and panels. And what that really means is that the story has an energy to it. In this case, it energized bravery in a dark time for both the superheroes and for us. So, it's was easy to see why composer Tyler Bates saw such potential for a massive album inspired by the story. With the insanity of Dark Nights: Death Metal, a music record was the only thing missing. So, how did they make it? And how did it come out?
Making the
Dark Nights: Death Metal
Record Was a Much Smoother Process Than the Comic
(DC Comics)
When Dark Nights: Metal came out, Tyler Bates got a few artists together for a six-track LP. It was a fun little project, but Bates knew they could do better. In fact, producer Matt Keller saw it as a missed opportunity. So, just as Death Metal evolved from Dark Nights: Metal, the new record evolves from that first attempt. Even better, DC was all-in. Well, all-in on the idea, not so much on the funding. As Bates said, this wasn't a "cash grab" for any of the creators. It was just something awesome that Metal musicians who loved the comic could do. They each picked a different element of the event and created an "emotional interpretation of the material," taking inspiration from scenes and dialogue. As a result, the bands on the record that INSPIRED  Dark Nights: Death Metal became PART of Dark Nights: Death Metal. 
Unlike Snyder and Capullo's experience making Dark Nights: Death Metal, DC gave Bates no pushback on the record. Instead, as he said, they gave him "complete autonomy…no notes." But then again, they didn't get a blank check either. As a result, they created an "indie version of a comic world" that was "made for fans, by fans."
And there's one more thing that "helped" the production: the pandemic. For the artists, it wasn't just something cool they could do; it was something to do. Just like the timing of the comic itself, the pandemic heavily informed the process. After all, we were "already living in a dystopia," so why not sing about one? And so, the Dark Nights: Death Metal record was born!
The Source Material Deeply Inspired the Artist
(DC Comics)
During the SDCC 2021 panel with the Dark Nights: Death Metal record artists, we got to see how much two of the artists got into the project. Two of Metal's most notable creators, Brann Dailor of Mastodon and solo artist Chelsea Wolfe. Their songs start the record with a whiplash of explosions, whispers, and industrial chaos. It's hard not to feel hooked by the record with these two opening tracks.
In the first track, "Forged by Neron," Mastodon gives the album a punch into the stratosphere. Bates said that Mastadon was a "must-have" to being the Dark Nights: Death Metal record. Comic fans should instantly recognize the name "Neron," as he is a powerful demon in the DC Universe. So when Dailor was reading the comic and came across the line "forged by Neron," he immediately knew that this was their song. "Neron's our guy," Dailor said of the demon. However, the entirety of Dark Nights: Death Metal inspired their contribution to the record.
For Chelsea Wolfe, she knew what her song would be the moment she read one scene:
(DC Comics)
What impressed Wolfe with Scott and Capullo's depiction of Wonder Woman was how she could be this sweet, soft, comforting friend; then, ten seconds later, she sawed in half the Batman Who Laughs with an invisible chainsaw. So, for Diana, she used both soft, whispering vocals with hard industrial instrumentals. It's…transcendent.
Tyler Bates Brought Together a Justice Metal League
That's how Gwarsenio Hall described the variety of bands on this album. With Bate's curated selection, "All the sides of the heavy music genre came together, like the Justice League." Well, again, minus a Death Metal artist. Apparently, Metal fans are very particular on what exactly qualifies as Metal. But Bates was never trying to create a Death Metal playlist; he wanted to create a Dark Nights: Death Metal record. The music is "complementary to the story," Bates explained, adding that the soundtrack "creates another dimension to the source material." To do this, he needed a diverse group of musicians that fit the storyline, and then "let the story resonate with them."
Did it work?
The Dark Nights: Death Metal Record Is Extraordinary, Complex…and F!!!!!G Rocks
(DC Comics)
While I've reviewed a musical or two for Comics Years – probably confusing my editors the first time I did – Dark Knights: Death Metal is the first record I've ever reviewed. I'm not going to pretend I know all the lingo and standard qualities of every aspect of the Metal genre. I love Metal, but I love bands like Metalica on the same appreciation level as Rachmaninov, Bille Eilish, Hans Zimmer, Busta Rhymes, and The Prom. The Spotify algorithms gave up on me a long time ago. So, no, I'm not qualified to assess the quality of an album.
But seriously, the Dark Nights: Death Metal record will rock your face off. The Mastadon and Chelsea Wolfe tracks, "Forged by Neron" and "Diana," are an amazing start. But there are several great tracks on here.
Other Great Tracks on the Dark Nights: Death Metal Record
Maria Brink, Tyler Bates, and Andy Biersack's "Meet Me In Fire" makes you feel like you just triumphantly climbed out of apocalyptic ruins. Next, Rise Against's "Broken Dreams, Inc" puts the warrior in social justice warrior. Then we have Denzel Curry and PlayThatBoiZay's "Bad Luck" is pure chaotic crisis energy bleeding out of the dark multiverse. Finally, "Goodtime Girl," from Starcrawler, is the hard rock tribute Harley Quinn deserves. It really sounds like it should have been in Birds of Prey.
Gunship, Tyler Bates, and Dave Lombardo's "Berserker" is that perfect song for the team going into a battle they have no hope of winning. But of course, they always end up winning, right? "Sodium," by the band Idles, personifies the Darkest Knight (what the Batman Who Laughs evolves into) perfectly. Finally, Soccer Mommy's "Kissing In the Rain" is a perfect end to the record in how it perfectly captures those beautiful last few pages of Dark Nights: Death Metal, with Wonder Woman ascending to a level above godhood.
It's all awesome, really. And not just the music…
The Vinyl Record Release of Dark Nights: Death Metal Gets the Variant Comic Book Treatment
(DC Comics)
The packaging for the soundtrack is impressive as it is, as is the vinyl pressings. But in addition to the standard release, we have seven variant exclusives. Wal-Mart, FYE, Revolver, Barnes & Noble, Record Store Day, Newbury Comics, and Brooklyn Vegan all have their own special editions. Each of them has specially colored vinyl pressings and/or variant covers. I received the beautiful Record Store Day edition, with Superman raging on the guitar and smoke-colored vinyl pressings.
But this might drive collectors a bit insane: each edition has one or two trading cards, totaling eleven in all. So to get every piece of the release, all the trading cards, covers, and colored vinyl pressings, you're looking at about $320-$350. 
And the Dark Nights: Death Metal record won't be the last of its kind. Bates revealed that they are already working on another soundtrack but didn't say what it was. But if we had to guess? The upcoming Batman event Fear State looks like it could use some hard rock tracks.
What do you think? Do you want to see more music based on comics? Tell us below!
(Featured Image: DC Comics)
Roman Colombo finished his MFA in 2010 and now teaches writing and graphic novel literature at various Philadelphia colleges. His first novel, Trading Saints for Sinners, was published in 2014. He's currently working on his next novel and hoping to find an agent soon.
Leave a comment