ComicConnect Original Art Auction: A Fresh Batch Of Comic Art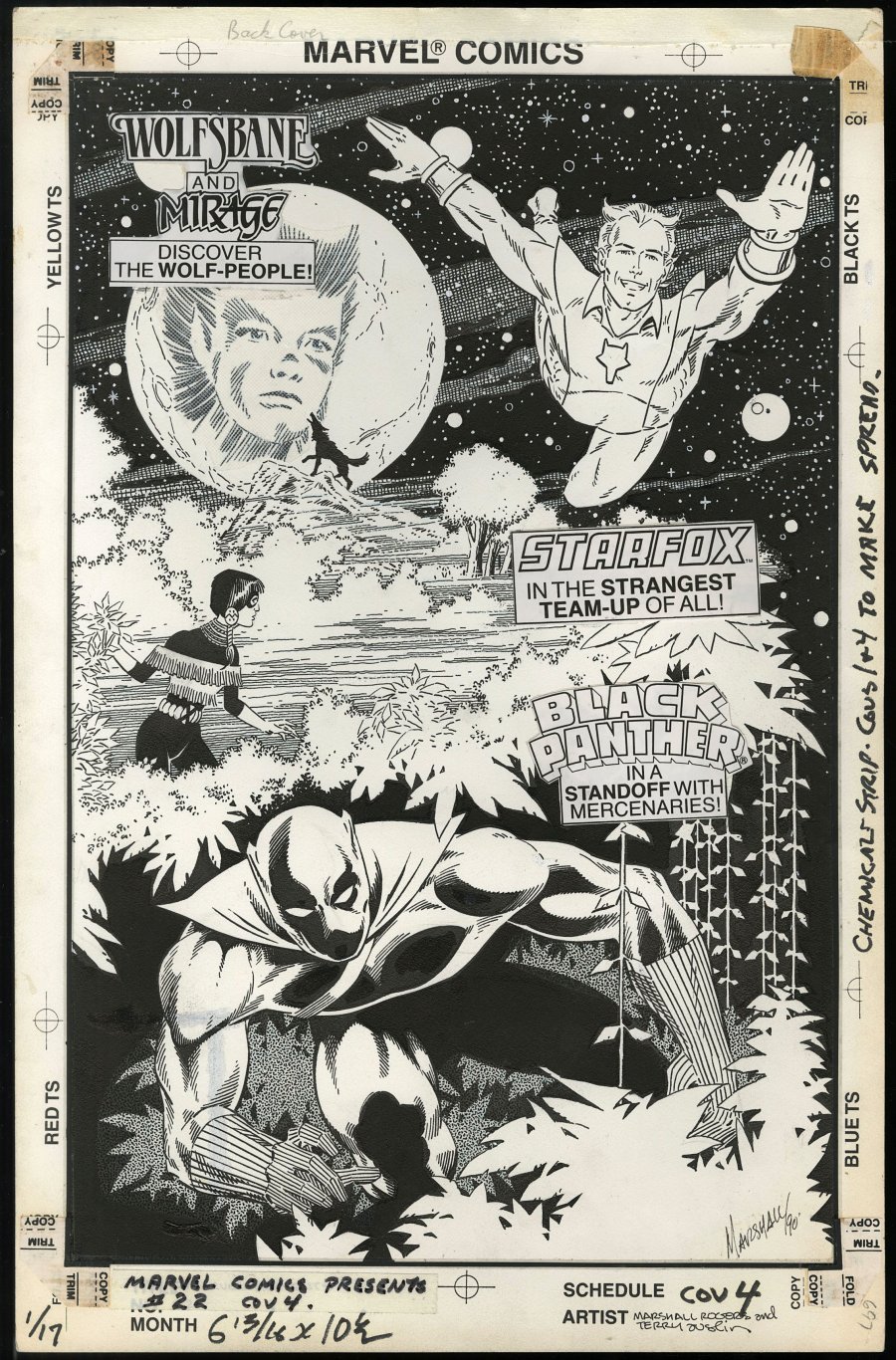 Can you imagine owning an original Don Heck, Alan Davis, or Jack Kirby comic book sheet? It's now possible thanks to ComicConnect's new original art auction. The company's mission is to offer buyers and sellers of vintage comics, original art, and memorabilia an easy-to-use alternative to consignment and auction websites. Now it has just introduced an incredible lot of original comic book art that can be yours.
This selection includes some truly incredible pieces from some of the best artists in superhero comics. Below, we will present some of the pieces available within this platform. 
Interior Art by Don Heck For The Avengers #23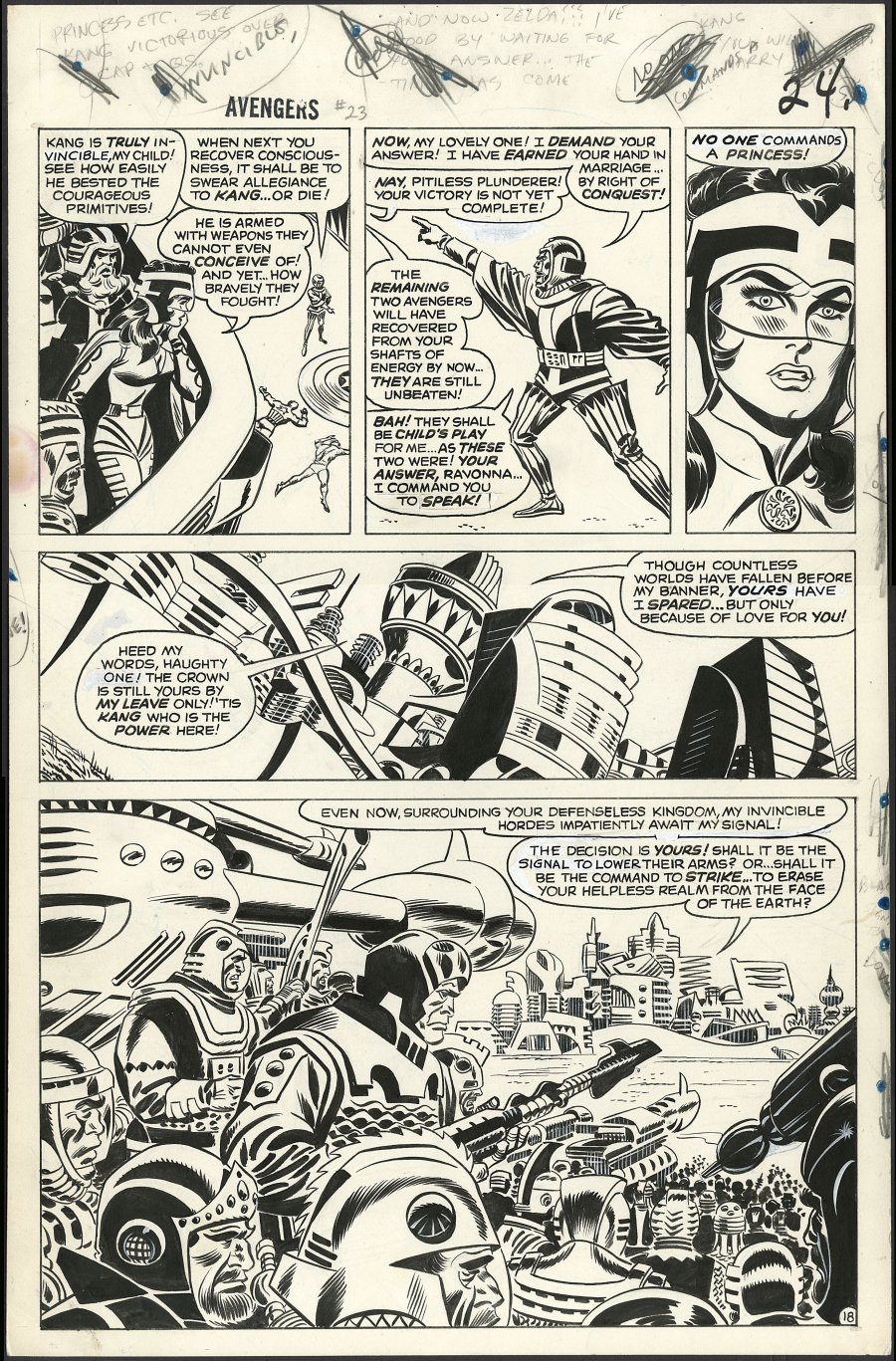 (Image: ComicConnect)
In this incredible Avengers page by Heck, with inks by Jazzy John Romita, we can see Kang the Conqueror over the unconscious bodies of his enemies, Captain America and Quicksilver. According to the description on the official site "demands an answer to his proposal to the Princess Ravonna and is prepared to use force to get it if necessary as his armies are laying in wait". The plate is in excellent condition, it is a 1/3 panel where we can see Kang's army, with pen and ink by Romita. Now you can have it on this ComicConnect original art auction.
Don Heck pencils/John Romita inks; page 18; 1965; image size 12.5″ x 18.5″
Kang the Conqueror!
Artists Information
Don Heck had a long career as a cartoonist for Marvel Comics and is known for creating Iron Man and The Wasp. He is also one of the most relevant artists of the Silver Age, drawing the Avengers.
John Romita was the author who took the reins of Spider-Man after the departure of Steve Ditko and is considered one of the driving forces of the Silver Age of Marvel. Romita is one of the creators of such well-known Spider-Man characters as Mary Jane Watson and Kingpin, among many others. He also contributed to the creation of The Punisher's look, in addition to important contributions during the 1970s.
Davis, Alan – EXCALIBUR SPECIAL EDITION(1987) Interior Page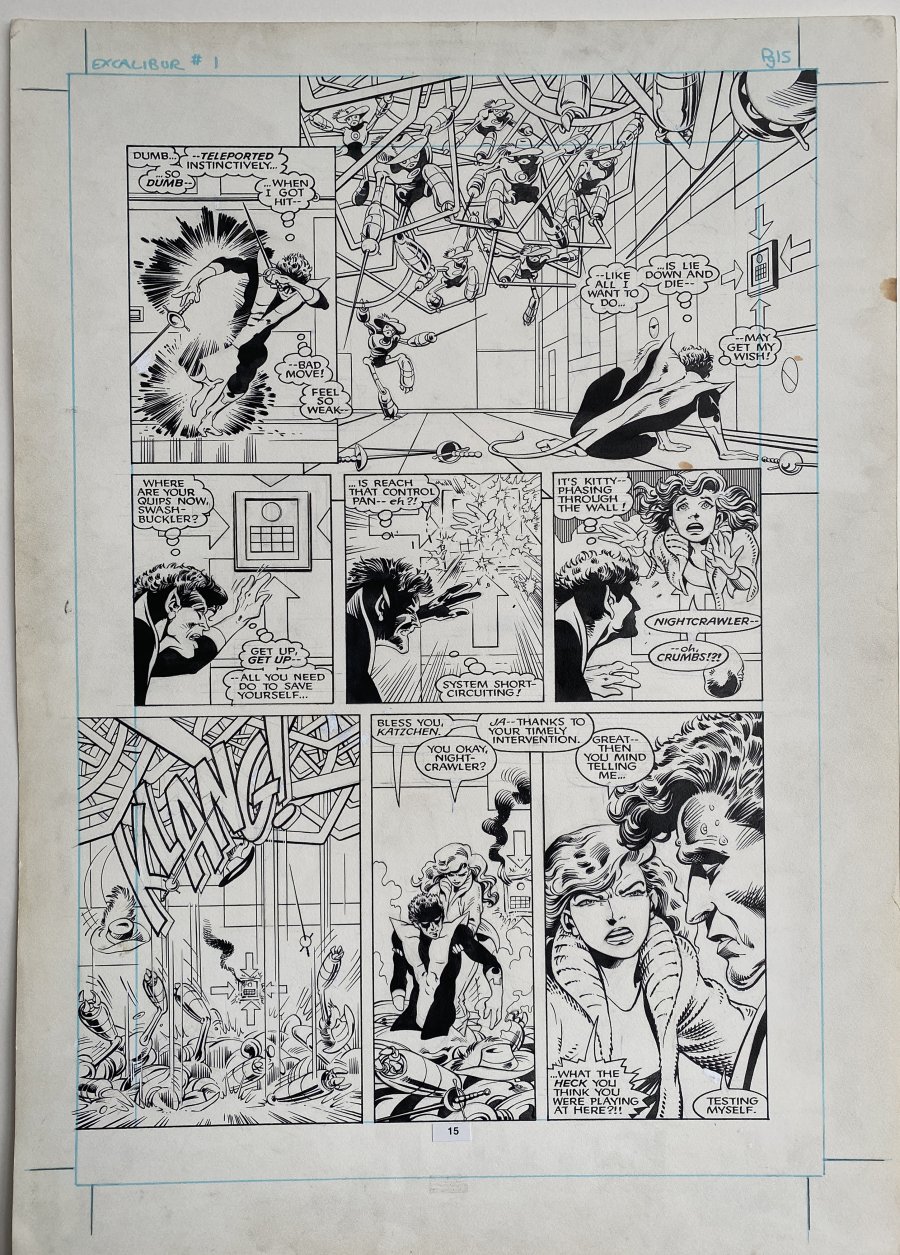 (Image: ComicConnect)
On this sheet available in ComicConnect original art auction, we can see two X-Men characters in this beautiful plate: Kitty Pryde and Nightcrawler. Both are in the Danger Room. The sheet displays how Kitty saves Nightcrawler from a great danger after testing himself. A piece of pen and ink, in excellent condition.
Alan Davis pencils/Paul Neary inks, page 15; 1987; image size 11.75″ x 17″
Artist Information
Alan Davis is not only an excellent penciler but also a screenwriter and is known for his work on Excalibur, The Uncanny X-men, JLA: The Nail and Captain Britain.
Kirby, Jack – HUNGER DOGS Interior Page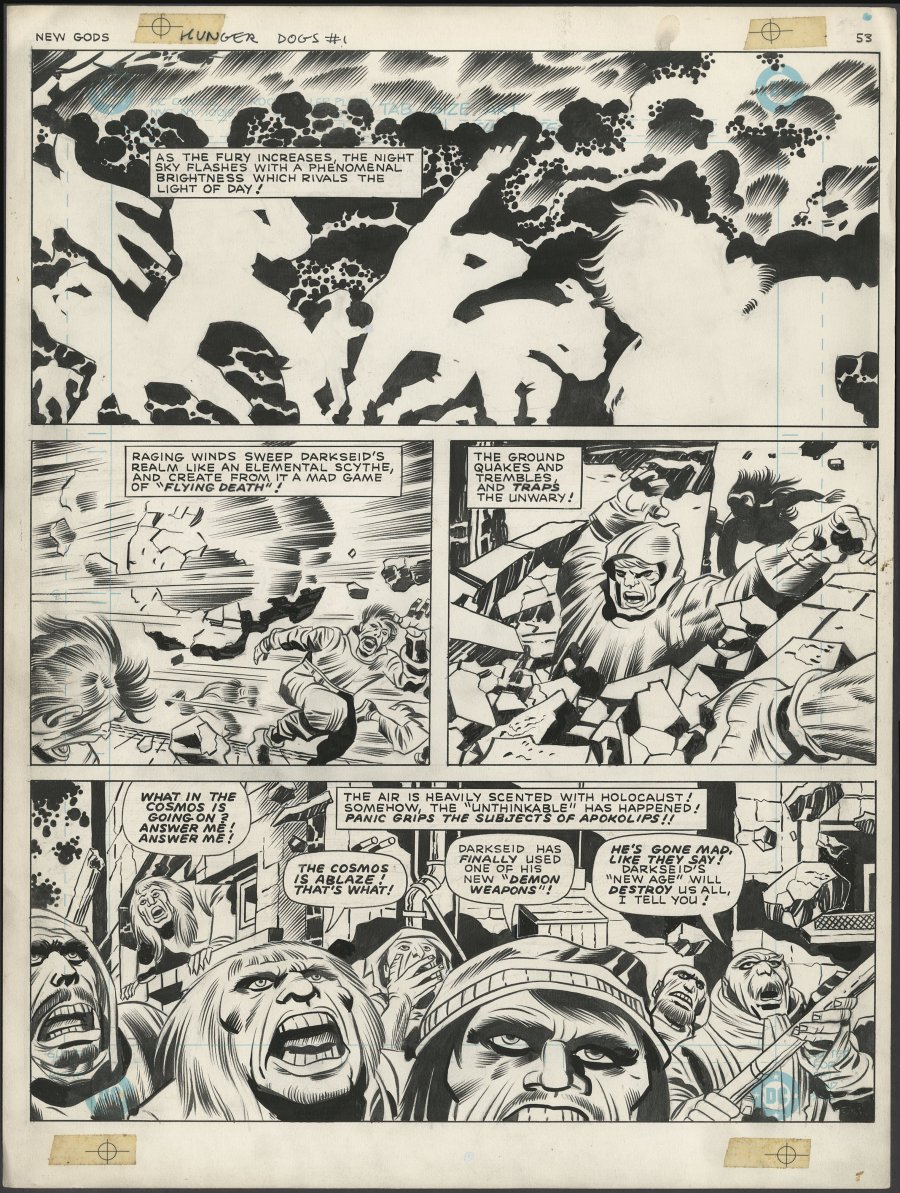 (Image: ComicConnect)
Piece by Jack Kirby pencils/D. Bruce Berry; page 53; 1985; image size 14.25″ x 18″. From Kirby's epic conclusion to his Fourth World saga, originally printed as DC Graphic Novel #4, comes this stunning page, filled to the brim with classic Kirby flourishes. The first panel is bursting with Kirby magic, and the rest of the page is simply Jack at his purest. Pen and ink. The art is in excellent condition.
This Jack Kirby piece was originally printed as DC Graphic Novel #4, from his Fourth World saga. A piece loaded to the brim with Kirby's skill. A pen and ink sheet that is preserved in excellent condition. 
Jack Kirby pencils/D. Bruce Berry; page 53; 1985; image size 14.25″ x 18″
Artists Information
Jack Kirby had a career that spanned over six decades, in which he left us with some of Marvel's most iconic characters, such as Captain America. During the 1960s he left his legacy in Iron Man, Fantastic Four, Hulk, Thor, X-Men, and Ant-Man, among others. During his time at DC, he also made great contributions, such as Mister Miracle, The New Gods, and other cosmic characters, like Darkseid.
Inker for Jack Kirby in the 70s
Sekowsky, Mike – BRAVE AND THE BOLD, THE (1955-83) #29 Interior Page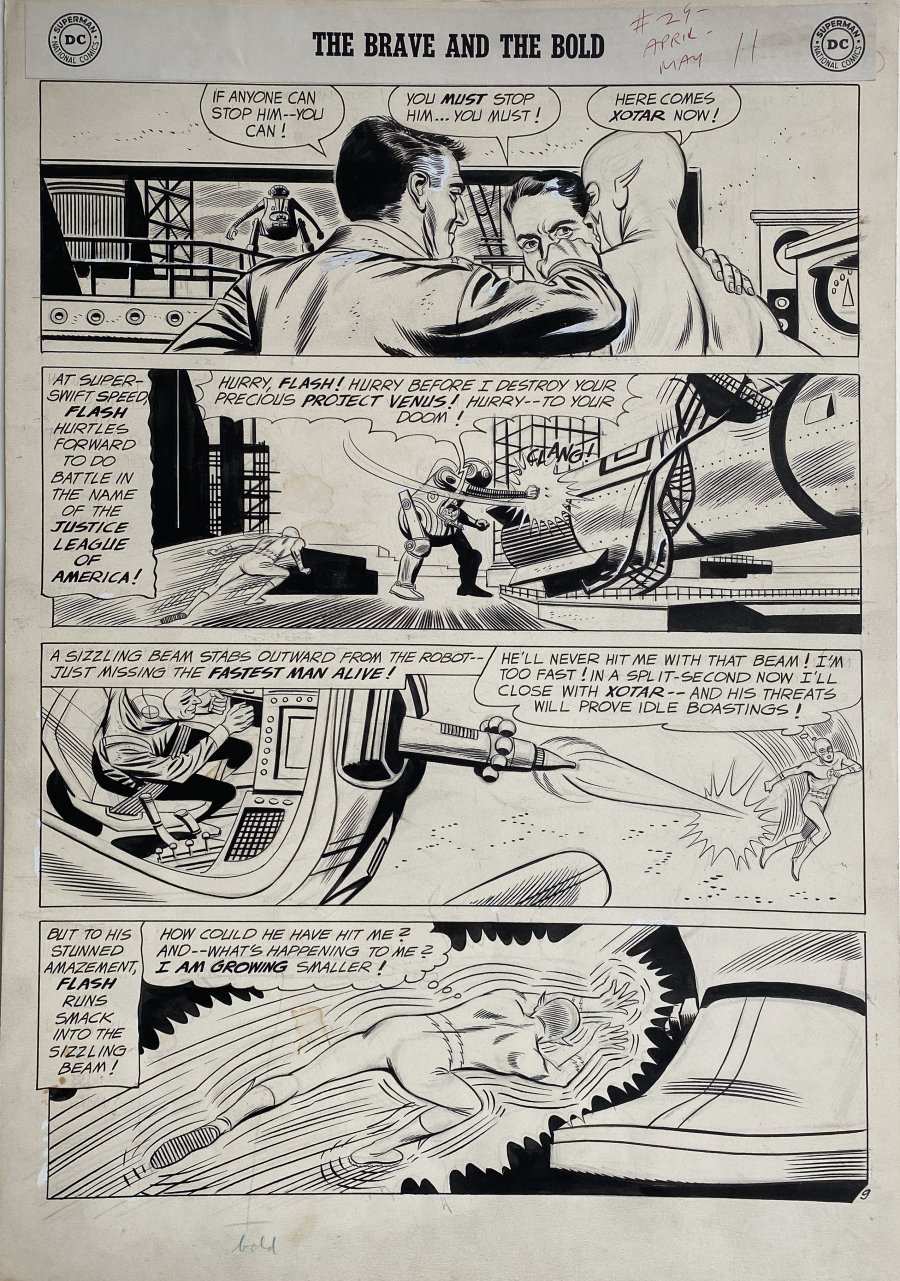 (Image: ComicConnect)
In this piece by Mike Sekowsky, we can see the second appearance of the Justice League. In the plate, we can see Flash, the fastest man alive in full action. Pen and ink. The art is in perfect shape.
Mike Sekowsky pencils/Joe Giella inks; page 9; 1960; image size 13″ x 18″.
Artists Information
Joe Giella is a cartoonist best known for being an inker for DC Comics during the Silver Age of comics in the late 1950s and 1960s. It was in the Silver Age that he achieved his greatest prominence, working at DC on many of their most important titles, such as Batman, Green Lantern, and Strange Adventures, often collaborating with cartoonist Carmine Infantino.
Mike Sekowsky was an artist best known for being the cartoonist for DC Comics' Justice League of America during the 1960s. In addition to this, he was a cartoonist and writer for Wonder Woman in the 1970s. Moreover, along with Gardner Fox, he created the Justice League of America and worked on over 60 issues. Later he continued to work as a cartoonist leaving wonderful works such as the Supergirl series in Adventure Comics and Metal Men.
Toth, Alex – Illustration by UNDEROOS ADVERTISING ART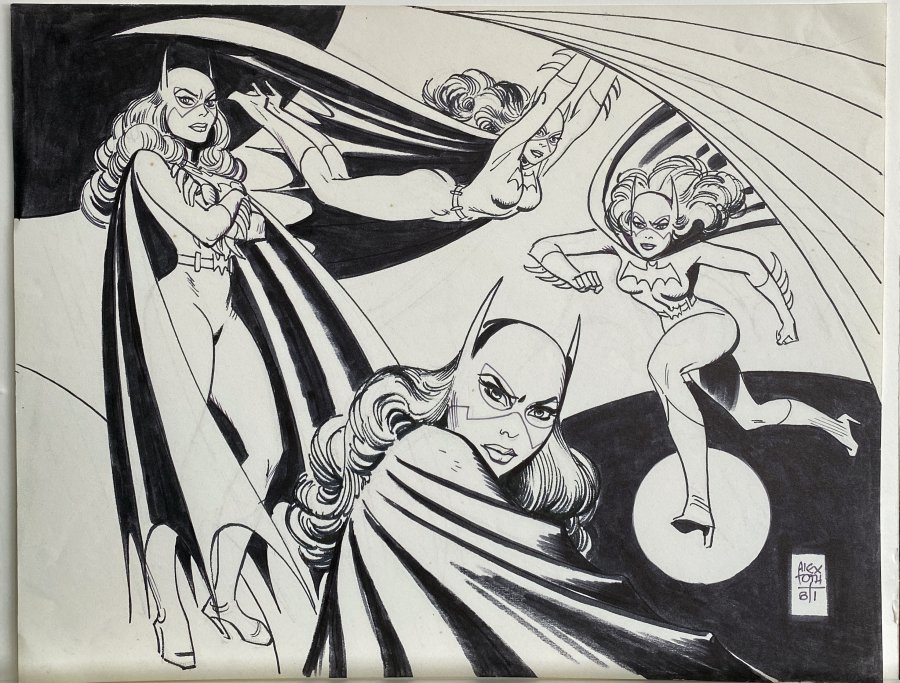 (Image: ComicConnect)
For Batgirl fans, this piece illustrated by Alex Toth in 1981 features the superheroine striking different poses within the same frame. Pen and ink. The art is in pristine condition.
Artwork by Alex Toth pencils and inks; Batgirl illustration; 1981; image size 14″ x 11″.
Artist information
Alex Toth belongs to the Golden Age at DC, where he worked on Green Lantern in addition to other titles. He later went on to work on cartoons such as the Herculoids or Space Ghost but continued to draw comics in other genres.
In addition to these, there are also available pieces by Mark Schultz, Tradd Moore, and a cover by Marshall Rogers for Marvel Comics Presents #22 featuring the Marvel Cinematic Universe's latest cosmic hero, Starfox (AKA the Eternal, Eros).
Moreover, ComicConnect is assembling an impressive list of original comics for its upcoming event auction. It will kick off next month and will be headlined by Frank Miller's first published cover of his indie hit, Ronin, and Batman and Carrie Kelley before the release of The Dark Knight Returns.
Are you interested in any of these works? If you have any additional questions, you can contact ComicConnect directly via email at [email protected]. You can also make an appointment for next Saturday, April 23rd at Comic Art Con in New Jersey, where they will be able to hand-deliver any artwork to you.
Feature Image Via: ComicConnect
I am a circus aerialist influenced by Dick Grayson and Spider-Man. Fortunate to write about the characters that inspired me. I also have a Bachelor's degree in Political Science and a Master's degree in International Trade.
Leave a comment