Dwayne Johnson Shares Behind-The-Scenes Clip of Black Adam Reshoots
In case you missed it, Black Adam reshoots are ongoing for the DC's feature film. Not so long ago, the news came out about Warner Bros. pushing back Black Adam's release date to October. With the release postponed, the Black Adam reshoots began in April. Luckily for us fans, Dwayne "The Rock" Johnson gave us a quick behind-the-scene clip.
Johnson happily captions his video with, "Now for the fun part… We go to work." It seems like the former WWE star is enjoying the reshoots with the rest of the movie's crew. At the end of the video, a crew member greets him while he's on his way to set.
Now the fun part…

We go to work.

The wolf is always scratchin' 🐺 #ManInBlack #BlackAdam⚡️
In theaters worldwide October 21st 🌎💪🏾@TheHuOfficial 🎶🇲🇳 pic.twitter.com/XhsyVwxRdF

— Dwayne Johnson (@TheRock) May 20, 2022
 This is not the first time Johnson has given his followers a sneak peek at Black Adam reshoots. Earlier this May, he shared a photo of himself and Black Adam's director Jaume Collet-Sera. Together with them is Krisztian Majdik, one of the movie's lead VFX editors. At the latter end of the caption, he shared some thoughts about the strict diet he underwent to prepare for this film.
We share Johnson's excitement about this film, and we can't help to notice the amount of appreciation he gives to this movie's entire crew. 750+ creative minds are working together to bring this movie to fruition—and we expect nothing but great things for this film.
Delayed Release and Black Adam Reshoots
We might not know the full details behind the Black Adam reshoots, but it must be something big. In an interview with Collider, producer Hiram Garcia shared his vision about Black Adam. 
"We've never viewed this as just a one-off movie, I'm such a gigantic comic book nerd and fan, and I love this universe so much, if you can tell from my excitement about talking about all these things. I've always gotten into this with a vision of, 'This is the story we want to tell, this is where we would love to see this go, this is how we would see multiple pictures play out, possibly including spinoffs for individual characters,' but there's always been a rough, kind of loose outline in our head on an imaginary white board of how we'd want to do it. As we're making that, we start to look at that a little bit more. But, again, ultimately, we need the movie to be received well and we want fans to like it, but there's 100% a vision of what we'd like to be doing in a multiple picture aspect when it comes to Black Adam and the JSA." 
Hopefully, the Black Adam reshoots will coincide with this vision Garcia mentioned. In the end, all we want is a film that captures Black Adam's tendencies and quirks.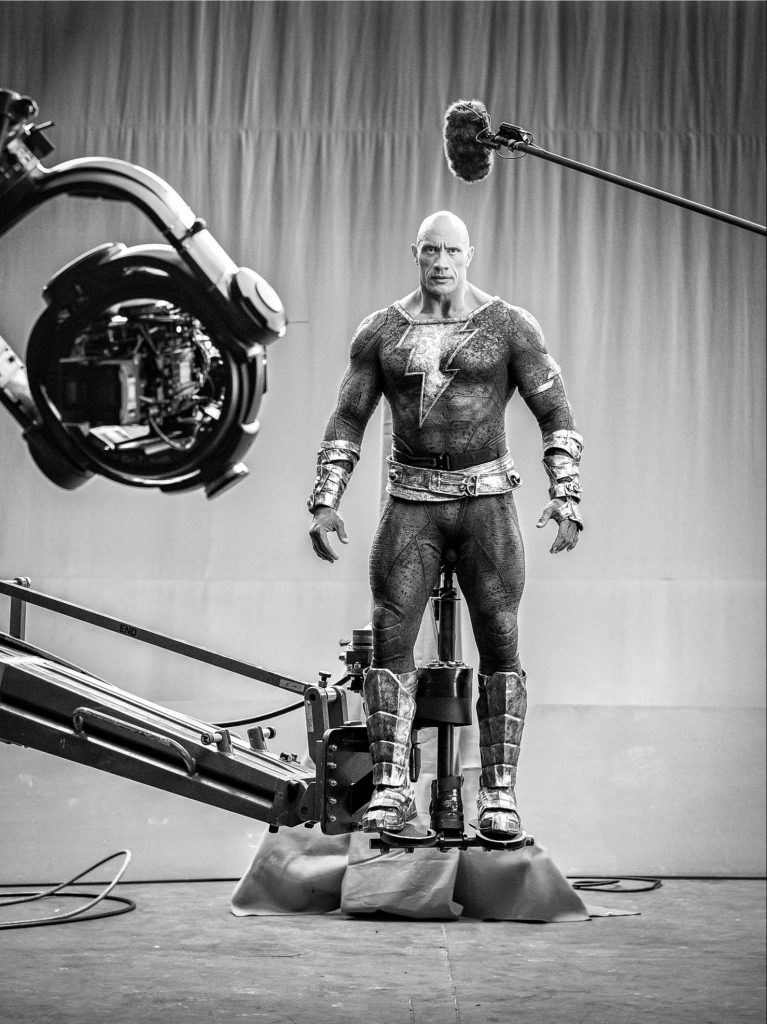 Twitter | @TheRock
The Rock's Thoughts on the Movie
The sudden order for Black Adam reshoots was a bummer for most solid DC fans. After all, Black Adam is a significant figure in the DC Universe, and his upcoming debut will change the landscape of DC films.
At last month's CinemaCon, The Rock appeared and shared his thoughts about the movie. He talked about the show's lengthy development and his enthusiasm for bringing the story of Black Adam to the public.
"It really served us well to wait and hold and watch these other stories and these other superheroes unfold and have that really inform us moving forward how we were going to create Black Adam and the story that we were going to tell. So this truly is a dream of mine. It has been a dream of mine… It's one of the things in my life that gets me out of bed, it stokes that flame in that passion. It makes me a burner. And I know there's a lot of burners in this room here." 
He says a few lines about what might happen when Black Adam finally debuts in the DC Universe. 
 "We have been talking that Black Adam, the hierarchy of power in the DC universe is about to change. That's not far off. And that's not hyperbole. And you know, when you see the movie and you see the character, you'll understand what I mean. Jaume Collet-Serra, when I met with him probably about four or five years ago. He said 'Who is your favorite actor of all time?' I said 'Clint Eastwood 'and he goes, 'I'm glad you said that because I see Black Adam as being the Dirty Harry of the superhero world.' And that was in many ways our North Star." 
Black Adam is not your typical superhero. He has the grit and the superhuman strength, but he can be ruthless in time. He's an anti-hero, and with him in the DC Universe, we'll get to see a different perspective on things. 
Black Adam will release on October 21st.
Paul is many things. He's a fan of anime, superheroes, and everything in between. He dedicates his downtime to annoying the heck out of his cats and dog.
Leave a comment