Black Adam of the Justice Society: Is he a Hero, Villain, or Something More?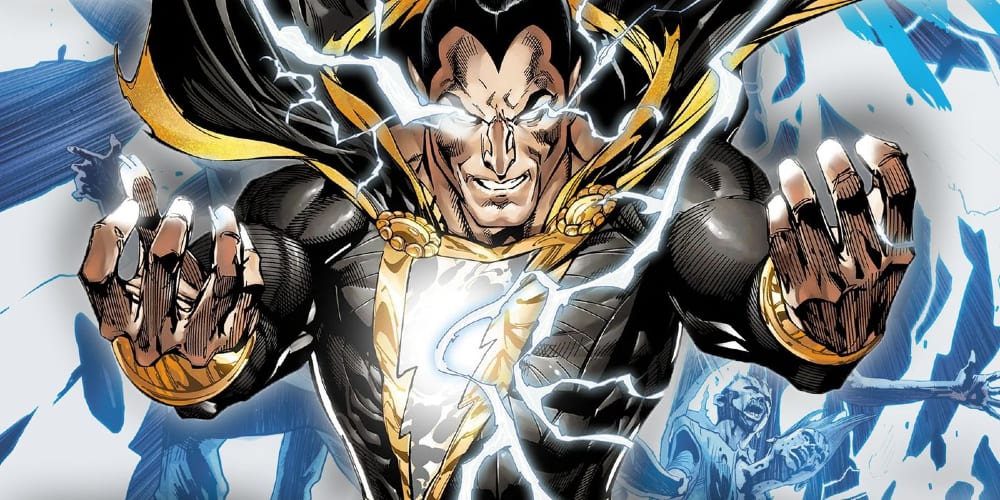 The Black Adam panel during the DC Fandome event was by far one of the best segments. Maybe it was just The Rock's charisma, considering they announced a lot with no footage and only one bit of casting news. Or perhaps it was the awesome motion art they used in place of an actual trailer. Whatever the cast, we learned one major piece of information: the Justice Society, consisting of Hawkman, Doctor Fate, Cyclone, and Atom Smasher, will be joining Black Adam on his quest for justice. Or, his brand of justice, that is. So, who are these five characters, and why should we be excited?
Before the Justice Society, Black Adam was Just a Man Named Teth-Adam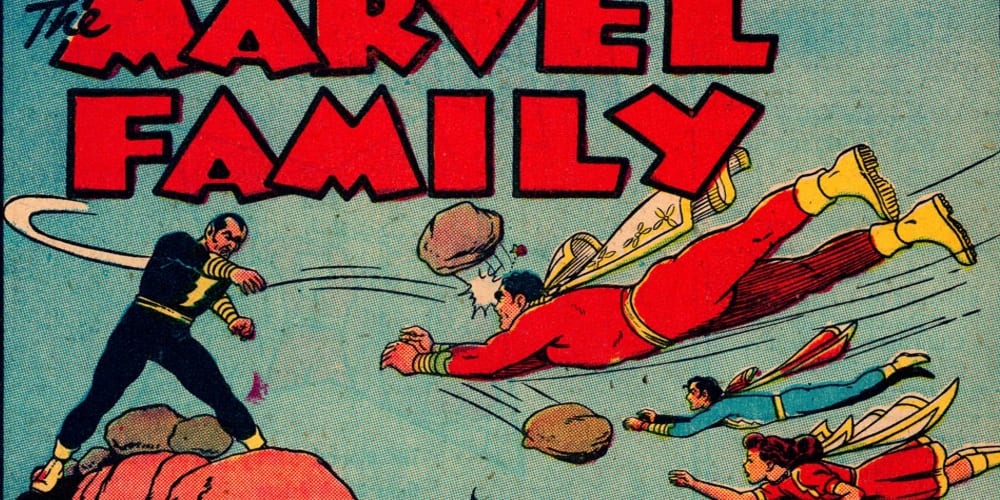 The lost art of hurling rocks at superheroes. (The Marvel Family #1, DC Comics)
Real Name: Teth-Adam
First Appearance: The Marvel Family #1, 1945 (not that Marvel)
Creators: Otto Binder and C. C. Beck
Even though Black Adam first appeared in 1945, he wouldn't be seen again—in a new story—until 1994, when Jerry Ordway made him the villain of the graphic novel, The Power of Shazam! He also gave Teth-Adam a much-needed origin revision. In the original origin, the wizard Shazam saw goodness in Teth-Adam, a young man in ancient Egypt. He was wrong. Teth was corrupted by his newfound power and took over Egypt as a ruthless dictator. Shazam, who named him "Mighty Adam," when in his superpowered form, labels him "Black Adam" and banishes Teth to the far side of the universe. Black Adam flies back to Earth. It was a pleasant, short, 5000-year journey.
Don't you miss when the characters narrated precisely what was happening on the page? (The Marvel Family #1, DC Comics)
Ordway's Black Adam origin took a much different and darker approach. Everything is relatively the same, but Ordway introduces Shazam's evil daughter, Blaze. Blaze seduces the Mighty Adam and convinces him that they should rule over Egypt together. Adam then kills the pharaoh and takes his place. Like the original origin, Shazam wasn't too keen on this development. But his punishment was a lot harsher. At this point, Black Adam had been serving Egypt for centuries. As long as he stayed in his superpowered form, Adam remained young and healthy. So Shazam rips that power away and locks it in a scarab amulet. Since he no longer has his magical powers, Teth immediately ages, dies, and becomes shriveled up remains. Shazam buries his greatest mistake, along with the scarab, and moves on.
One More Change…
Writer Geoff Johns also made a change to Black Adam's origin during his Justice Society of America run. Instead of having Blaze seduce and corrupt Teth, Johns makes him a vengeful character. First, Johns changed his country of origin from Egypt to the fictional Northern African kingdom of Kahndaq. In this new new origin, the supervillains Vandal Savage and Ank-ton destroy Kahndaq, killing Teth's wife and children in the process. When Adam decides that murder is the only option for vengeance, Shazam takes away his power.
Return of the Black Adam, and his Introduction into the Justice Society of America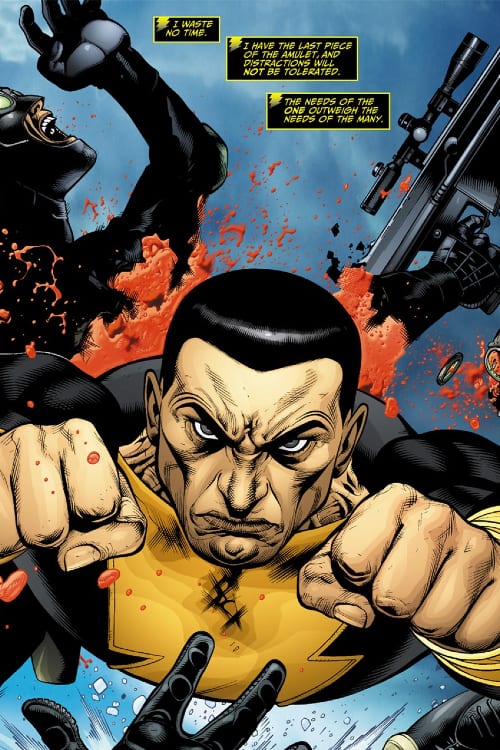 Black Adam literally flying through people makes him perfect Justice Society material. (Black Adam: The Dark Age, DC Comics)
Five thousand years later, archeologist Theo Adam finds the scarab while on a dig with Billy Batson's parents. After killing C. C. Batson and his wife, Shazam chooses Billy as the new host of his power. Theo, seeing "Captain Marvel," as he was originally called, recognized C. C. Batson in his face. When he sees the lightning bolt, he realized that he was the reincarcerated Teth-Adam, and becomes Black Adam. They battle it out, Billy wins, and then, like all comics, it just gets more complicated. It turns out that Theo isn't Teth at all. When on trial for the Batsons' murders, a fingerprint analysis reveals that they are two separate entities.
So, Black Adam, now innocent, reforms and…attacks the Justice Society of America? Despite Teth reforming, there's still murderous old Theo in there. After some classic fisticuffs, Black Adam overcomes Theo's murderous intentions, and joins the Justice Society! And then spends the next decade or so swinging back and forth from good and evil. His brand of "eye for an eye" justice often puts him at odds with other heroes in the DC Universe, yet they also go to him for help when things are bad (like in Dark Nights: Metal).
Where is Black Adam?
Yet, despite having a more prominent presence since Ordway's reintroduction, DC uses him sparingly. Though fans want more—especially an ongoing series—DC is smart in keeping him lurking in the background. Recently, he popped up as a member of the Council of Immortals (alongside Vandal Savage and Hawkgirl). He also fought against the Shazam! family in the most recent Shazam! series. Now that Dwayne the Rock Johnson is playing him, don't be surprised if Black Adam and the Justice Society pop up again soon in the comics.
Is It SHAZAM! or Is It SHAZAM!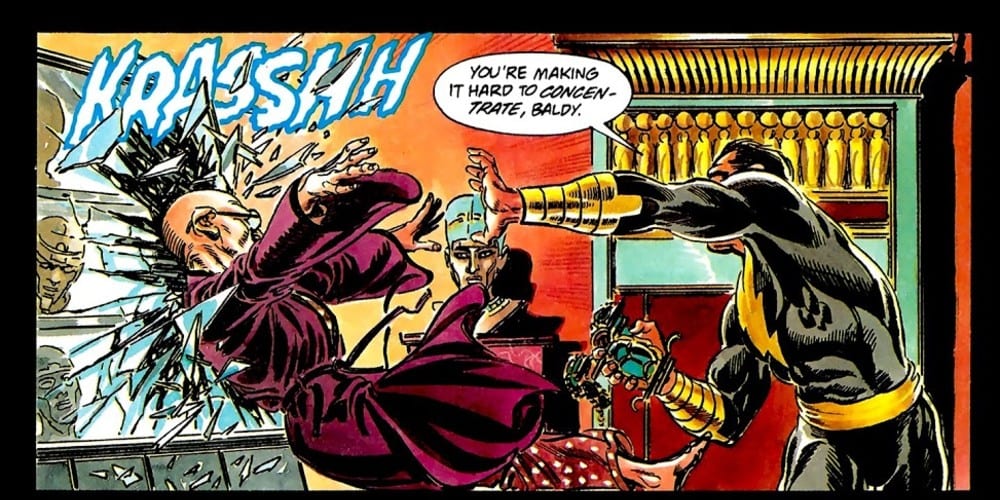 Take that, old man! (The Power of Shazam! DC Comics)
The wizard Shazam is a mysterious figure. His name is also a word of power. It's also an acronym. However, that acronym changes depending on who says the word. For the most part, such as when Billy Batson yells the name, it stands for several Greek gods and heroes:
Solomon
Hercules
Atlas
Zeus
Achilles
Mercury
But when Teth-Adam yells SHAZAM!, it takes on a different meaning, focusing on Egyptian gods:
Shu
Heru
Amon
Zehuti
Aton
Mehan
Regardless, they all deliver the same power set:
Courage
Power
Wisdom
Strength
Stamina
Speed
Is it problematic that the character who draws from Egyptian gods is also a violent-yet-heroic sociopathic character of color, while the character who draws from the Greco-Roman gods is an innocent and honorable white kid from America? Sure. But is it also true that Black Adam is a far more interesting character than Billy Batson, and those very faults make us want to know more about him? Yep.
Black Adam, the Justice Society, and…a Malt Shop?
So, where do you start with Black Adam, whether he is on his own or part of the Justice Society or Council of Immortals? If you want a straightforward reading order, our friends at Comic Book Herald have an excellent, very detailed guide of all of his essential appearances. However, one of the best moments in Black Adam's appearances isn't one of vengeance and violence. It's one of hilarity. Spoilers to follow!
At the end of the event World War III, Billy Batson, finds a way to change the magical word Teth-Adam needs to shout to transform into Black Adam. And he keeps this word a secret from Teth, locking him away from the powers of gods. Remember, however, that Billy is a teenaged boy. So it's not going to be a word of any importance or weight or tact. It's not even going to make sense. Teth goes on a quest to find the word, which eventually leads him to Faucet City. Like any supervillain would do, Adam goes to a malt shop and orders a chocolate egg cream…and transforms into Black Adam again. Billy had changed the magical word to "chocolate egg cream." But Adam doesn't explode with rage and humility. The moment is actually quite quiet:
I only know two things about egg creams: they are delicious, and they contain no eggs. (Black Adam: The Dark Age, DC Comics)
But this also meant that, for a while, Black Adam had to yell "chocolate egg cream" to harness his powers. Yes, Black Adam has appeared in great stories like 52 and Black Reign. But this moment? Priceless.
Are you looking forward to seeing The Rock's Black Adam and his Justice Society deliver brutal justice on the big screen? At this point, I'd be fine just seeing The Rock and Zachary Levi have egg creams for four hours if it means going back to the cinema.
(Featured image: DCeased: Hope at World's End #2, DC Comics)
Roman Colombo finished his MFA in 2010 and now teaches writing and graphic novel literature at various Philadelphia colleges. His first novel, Trading Saints for Sinners, was published in 2014. He's currently working on his next novel and hoping to find an agent soon.
Leave a comment