Best Run Ever: Batgirl by Gail Simone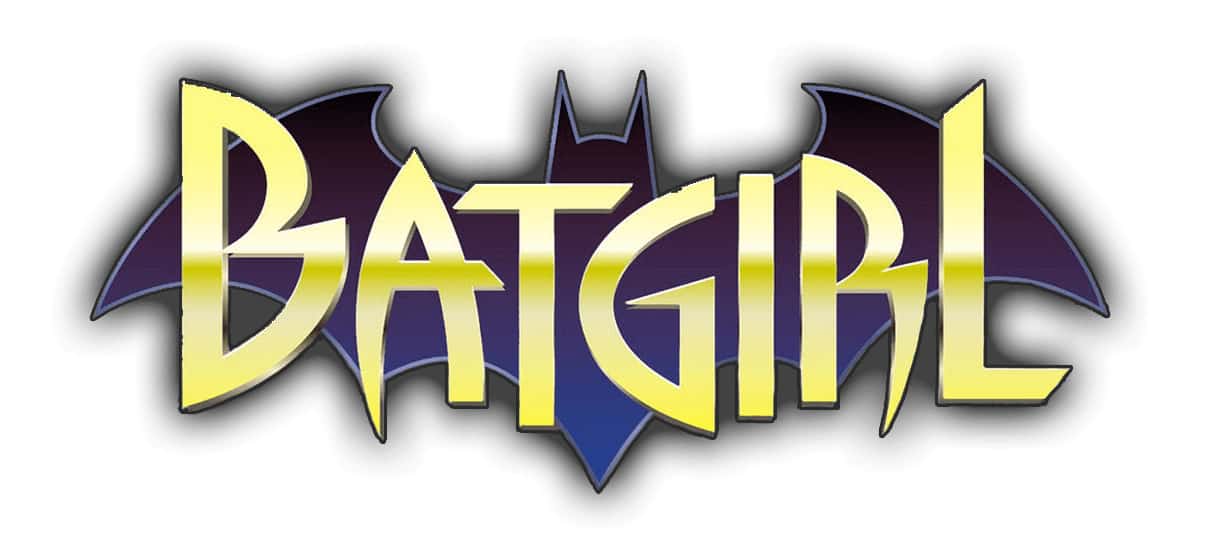 It's 2011, and DC Comics is yet again rebooting their universe with the "New52." Some of the announcements were welcomed, such as a new Animal Man series (we'll definitely be writing on that soon), while others were a bit puzzling (Resurrection Man was an odd choice). And there were way too many Batman titles. Not simply Bat-family, but Batman himself got like four different books. Yet in the Bat-family titles was one of the more controversial choices: the paralyzed Barbara Gordon would once again be Batgirl. And fans were rightly split on this decision, but that before we knew that this would end up being the best run on Batgirl in years.
Batgirl and Disabled Representation
So, why was this move so controversial? Because some of the best Batgirl runs for over a decade didn't feature Barbara as Batgirl, but as the Oracle. In fact, she was a very popular character. In the classic Allen Moore Batman story, The Killing Joke, the Joker shoots Barbara in the spine, paralyzing her, and ending her career as Batgirl. However, she wasn't a "former superhero" once she was put in the wheelchair. The strength of Barbara Gordon wouldn't be limited to paralysis. Instead, she became a computer genius and became a critical part of the superhero community all over the world, but especially in Gotham. Someone needed information or access? Call the Oracle. Giant crisis with several heroes having to be 900 places at once? The Oracle has that handled and organized. A terrorist organization is kidnapping girls? Call Oracle and her Birds of Prey. In a wheelchair, Barbara Gordon became one the most powerful superheroes in comics—and she didn't need to be a mutant either. She was just incredibly intelligent. More than that, she represented people with disabilities in the best possible way. And the New52 would end that?
Learning to Walk (on rooftops) Again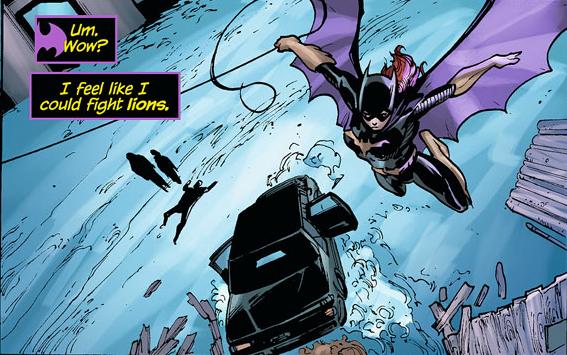 It wasn't as simple as "Babs can walk again!" And there's one reason why this return worked instead of just offending the disabled community. Gail Simone. Much of Gail Simone's work can be called "the best run on" any character she writes, but Batgirl is one of her best best runs. Giving Barbara the ability to walk again could have been extremely distasteful, but Simone handled it with grace. The paralysis was still part of Batgirl's story, and still haunted her. She might be swinging on ropes and doing backflips again, but that history was never far behind. Simone weaves it into Batgirl's being.
Gail Simone's Batgirl Collections
Volume 1: The Darkest Reflection
The first volume's title says it all—there is a darkness to this series that is undeniable, and right out of the gate, Simone forces Barbara to confront her past head-on with a villain that makes his victims confront the darkest moments of their life. Batgirl has to work her way through PTSD and her return to the streets of Gotham. This has more effects on her than just being scared. Batgirl is out of practice, and for the first time since she was paralyzed, she is unsure of herself. She might have gained back her legs, but she loses some of her confidence. But don't think that it's all doom and gloom either. She isn't mopey Barbara (not all the time)—she's still nerdy and sweet. She's still optimistic and caring in the face of it all. It's a dark story but not a dark character. That nearly impossible balance is what makes this Batgirl run one of the best.
Volume 2: Knightfall Descends
Now that Simone established Batgirl back in action, she tackles other aspects of her character, such as her mother abandoning her and her brother James Jr. being a psychopathic murderer. And Simone creates a villain perfect for Barbara: Knightfall. Knightfall is both the physical enemy Batgirl needs and the intelligent villain Oracle needs. And she has some crazy henchmen too. Now we get to see Batgirl do what she does best, and run right at her most challenging test yet. You would almost think that she's made peace with all the terrible things that has happened to her over the best three (according to the comics) years, but there's still more to come.
Volume 3: Death of the Family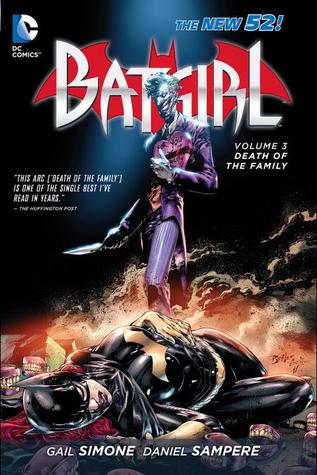 Death of the Family was a Bat-family crossover event that ripped that family apart. The Joker doesn't just return (after cutting off his own face), he takes down Batman in a way he's never done before, by going directly after his loved ones and unleashing hell on them. Bad enough Barbara has to relive her trauma, not only is she temporarily forced to marry the crazed clown, but her brother is also coming to destroy her life too, working with the Joker. Barbara, like everyone else in this painful event, is dismantled down to the last remnants of her psyche and is left having to rebuild herself. But the best thing Gail Simone does for this midway point of her run is show that Barbara is much stronger than the rest of the Bat-family, even when she's brought to her lowest point yet.
Volume 4: Wanted
The events in volume three may not have broken Barbara completely, but she does have to question if she should continue wearing the cape. To make matters worse, her own father believes she murdered someone close to him and wants to take her down. She's struggling, but she still manages to go on a date and have a life of some kind. She's still Barbara despite it all. When characters are thrown through the gauntlet like this, they usually have a year or two of being super-dark afterward. We've seen it with Daredevil, Superman, Spider-Man, etc. Not Batgirl. She's stronger than that.
Volume 5: Deadline
The final volume in Simone's Batgirl run isn't the best, but it's still really good. One of the problems is that there were too many stories. We get vampires, boogie monsters, mass hallucinations, etc. But we also get the final showdown between Batgirl and Knightfall, and it was one hell of a showdown, bringing in Black Canary and Huntress. Despite a lot of editorial issues happening in DC Comics at the time, and writers leaving left and right, Simone still concluded her run in a fitting way…right before Batgirl was revamped into a Squirrel Girl/Ms. Marvel knockoff.
Was Bringing Back Barbara Gordon as Batgirl Worth It?
There's still that lingering question though: Even if the stories were good, did this need to happen? In an interview with Newsarama, Simone explained why it did:
Arms and legs get ripped off, and they grow back, somehow. Graves don't stay filled. But the one constant is that Barbara stays in that chair.

Role model or not, that is problematic and uncomfortable, and the excuses to not cure her, in a world of purple rays and magic and super-science, are often unconvincing or wholly meta-textual. And the longer it goes on, the more it has stretched credibility.
That's why Simone was so integral to Batgirl, and why she was able to deliver such a great run: at best, she loved this character and wanted to see her change and grow, at worst she simply respected her. That's how you make such a dramatic and potentially polarizing change work, and it took Gail Simone to do that.
Roman Colombo finished his MFA in 2010 and now teaches writing and graphic novel literature at various Philadelphia colleges. His first novel, Trading Saints for Sinners, was published in 2014. He's currently working on his next novel and hoping to find an agent soon.
Batgirl
Batman
DC Comics
Gail Simone
Leave a comment