The Best Superhero Comics of 2020: X-Men and Beyond (Plus Deadpool)
Though the entire publishing line suffered this year, we still got some great superhero comics. At Marvel, they had to scramble to cut about 30% of their major event, Empyre, while increasing X of Swords by about 40%. At DC, they took the forced hiatus to scrap Dan Didio's final plans completely, bolster Dark Nights: Death Metal, and completely re-imagine Didio's 5G into Future State.  Even with the cuts all around the line, there were still too many superhero comics to pick from. But here are the Best Marvel and DC Comics superhero comics of 2020
The Best Marvel Superhero Comics of 2020
Marvel had some big plans in 2020, with Empyre, X of Swords, and King in Black. They ended 2019 with Incoming, a massive comic setting up dozens of plot lines. And Empyre was the biggest. The setup for Empyre framed the entirety of Incoming. There was also Outlawed, an event focusing on teenage superheroes. Marvel basically scrapped that event. Luckily, they still had some of the best superhero comics of 2020. In fact, one corner of their world monopolized our attention—and our wallets.
Donny Cates's Thor Debuted With a Thunderous Boom

(Image: Thor by Donny Cates Vol 1: The Devourer King)
In the first week of 2020, before we knew how terrible the year would be, Marvel released Thor #1—and it looked like it would be a promising year for comics. Donny Cates's storytelling is routinely intense, and we started this series with a mutilated Galactus crashlanding into Asgard. From there, the series just kept getting better and remains one of the best series of the year.
Savage Avengers Continued to Be an Insane Epic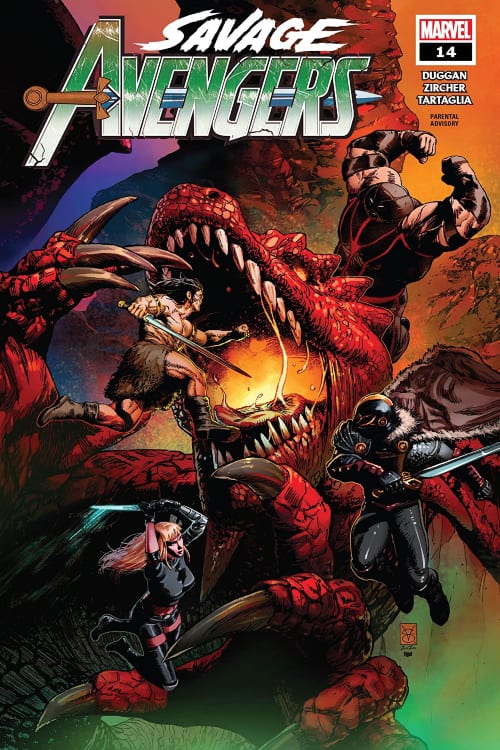 (Image: Savage Avengers #14, Marvel Comics)
Though Mike Deodato Jr left the title to pursue creator-owned projects, the series lost none of its momentum. Gerry Duggan's Savage Avengers keeps getting crazier issue-by-issue. And the cast gets bigger and bigger. In fact, it might be the best superhero team in comics during 2020. The team now consists of Doctor Voodoo, Electra, Punisher, Brother Voodoo, Venom, Wolverine, Doctor Strange, Magik, Black Knight, Juggernaut, Black Widow, Hellstrom, Doctor Doom, and CONAN THE BARBARIAN! Of course, not every character appears in every issue, but Gerry Duggan balances the epic cast well.
The X-Family Reigns Supreme As the Best Superhero Comics of 2020
(Image: Marvel Comics)
Ever since Jonathan Hickman took the wheel of the Mutant-verse, the X-titles have been getting better and better. And in 2020, they didn't just have the best superhero comics; they also had the best event of the year too: X of Swords. Everyone expected X of Swords to be a big epic—and that was before they beefed it up to 22 chapters. The end result was far bigger, far crazier, and far more adventurous than we could have imagined. Along with the event, several titles were brilliant too. Marauders, Wolverine, X-Factor, and Hellions all had great years. And that's it for the X—hey! What is that? Who's trying to buy into this segment. Oh, damn it, Deadpool! You're not a mutant. Yes, I know you debuted in New Mutants. Ugh. Fine, you can be on the list.
Deadpool just had to find his way onto this list somehow. That's Leah Thompson for you.
The Best DC Superhero Comics of 2020
Marvel might have had the benefit of X-Men, that doesn't mean DC didn't have a few of the best superhero comics of 2020. Behind the scenes, it was a rough year for DC. Canning Didio was probably the right choice, but the powers-that-be didn't seem to have a plan beyond that. Then the shutdown came, forcing all comics without warning…and giving DC a chance to actually plan. So, did this help them? Mostly…yes.
Far Sector Represent the Best DC Has to Offer

(Image: Far Sector #1, DC Comics)
The Green Lantern family is a bit of a hard sell. First of all, you have Hal Jordan. I was going to say the bad taste of Hal Jordan, but that would imply any form of flavor. Hal's like dipping untoasted white bread in skim milk. And though other Lanterns are more interesting, it's never entirely clear what they do and how. They're supposed to police the universe with willpower alone…and usually cause more harm than good. Then we have Sojourner Mullein, the Green Lantern of NK Jemison and Jamal Campbell's Far Sector. She's entirely removed from the rest of the DC universe, off in her own sector, actually policing. Far Sector isn't just one of the best superhero comics of 2020; Sojourner is the best superhero of the year.
Dark Nights: Death Metal Proves that DC can Still Produce One of the Best Superhero Event Comics of 2020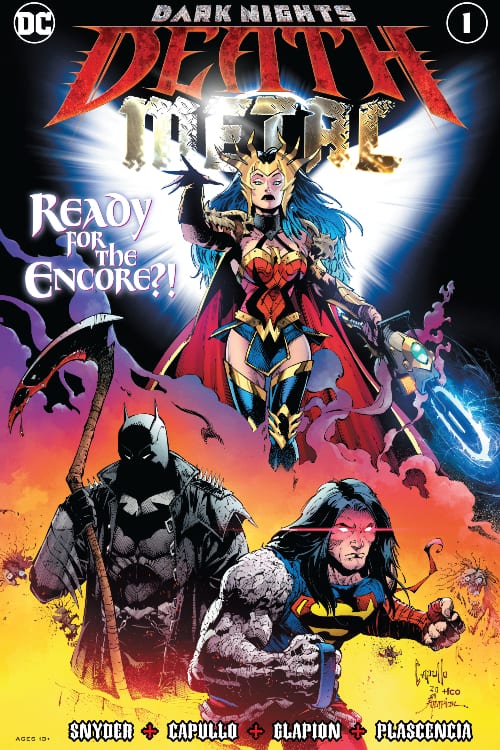 (Image: Dark Nights: Death Metal, DC Comics)
Despite the behind-the-scenes drama, DC turning the dial up to 11 on Dark Nights: Death Metal was the right choice. The main series started with epic twists and turns, but where Death Metal really started to get fun was when the one-shots started coming out. Speedmetal, Trinity Crisis, The Multiverse Who Laughs, and more showcased the totally insane world of Death Metal, but each of these comics told some of the best superhero stories of 2020. My favorite one-shot? Speedmetal—the redemption of Wally West.
Endless Winter: The Best Superhero Comics of 2020 that Came Out of Nowhere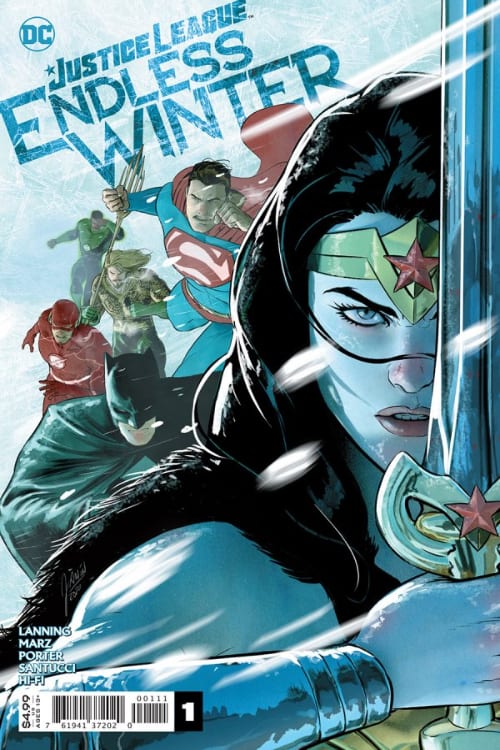 (Image: Justice League: Endless Winter #1, DC Comics)
Throughout December, Andy Lanning and Ron Marz delivered a mini-event that felt like a classic crossover and a brand new story. With a host of awesome artists, Endless Winter tells the story of Hippolyta, Black Adam, and that age's Swamp Thing's biggest mistake: how they defeated the Frost King. What makes this stand out as some of the best superhero comics of 2020 is that it showcases the very best of every hero involved—and even some villains. As of this writing, there's only one chapter left—but at the rate it's been going, it'll be an epic end.
And that's all for the best superhero comics of 2020. It might have been a hard year, but at least—damn it, Deadpool, what now? No—you can't be on DC's best-of list! Because you aren't even a DC character! No, your name sounds like Deathstroke's because Rob Liefield actually copied your name and moniker from him. Yes, it's true. Oh, stop crying, you have a billion-dollar film franchise, and you're the king of Monster Island. Okay. Fine…
(Featured Image: Deadpool #1, Marvel Comics…he made us do it.)
Roman Colombo finished his MFA in 2010 and now teaches writing and graphic novel literature at various Philadelphia colleges. His first novel, Trading Saints for Sinners, was published in 2014. He's currently working on his next novel and hoping to find an agent soon.
Leave a comment