The Best Lesbian Superhero Couples In Comics Plus One Movie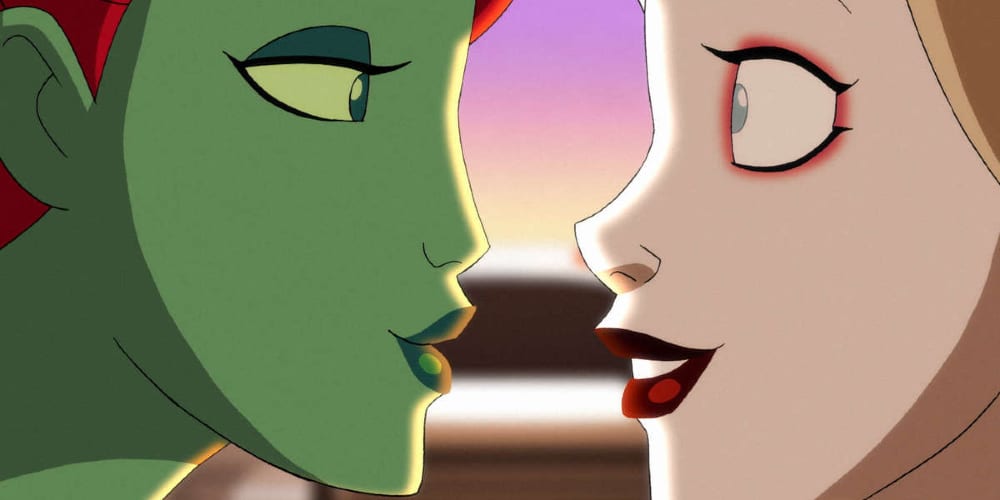 For the end of Pride Month, we're taking a look at some of the best lesbian and gay superhero couples in comics (and one movie). Now, these lists will in no way be comprehensive, and we'll explain why at the end. However, instead of trying to cram in 10 or more couples and only write a brief 100-200 words for each couple, we're looking at five couples – and taking, not exactly a deep dive, but like a "this part of the pool is where diving begins" kind of dive. This first article will explore five of the best lesbian superhero couples, four from comics, and one important one from a superhero film.
However, since we already know that Harley Quinn and Poison Ivy will always be the best lesbian couple in comics, we'll look at other ones. Besides, our movie editor Meghan Hale already wrote an excellent piece about how we need a Harley Quinn and Poison Ivy DCEU story. Now, onto the other lovebirds!
The Best – and so far only – Gay or Lesbian Superhero Couple in Superhero Movies: Wolfsbane and Dani Moonstar
They deserved so much more. (Image: New Mutants, Disney/20th Century Fox)
There are many amazing queer superhero couples in the comics – and we'll be exploring a few of them – but as far as superhero films, we have Rhane Sinclaire, AKA Wolfsbane, and Dani Moonstar, AKA Mirage, from The New Mutants, and…that's it. Sadly, since it had a turbulent release schedule and came at the fizzled end of Fox's X-Men era, this milestone ended up more like a pebble stuck in the tire tread of the Superhero film industry. So, even though we're going to look at queer couples in superhero comics, let's give them their moment!
It would have been well-received had the movie come out when originally planned and didn't build two years of expectations. It's a cool little movie. A strange little horror movie. But the biggest disservice Fox committed was ruining Dani Moonstar and Wolfsbane's New Mutants romantic debut. They aren't a couple in the comics (yet…Vita Ayala seems to be pulling the two closer together), but they worked wonderfully in the movie. And that's thanks to Maisie Williams and Blu Hunt. As Salomé Gonstad said in her New Mutants movie review:
Where it shines, though, is in its performances. The characterizations aren't as strong as they could be, but the young actors make the material better than it should be.
So, Williams and Hunt made queer superhero history…but nobody was there to notice. But we see you, Wolfsbane and Mirage, and we love you!
Also, aside from being on the New Mutants, Dani Moonstar is a Valkyrie of Asgard, while Wolfsbane, after getting pregnant by an Asgardian Wolf-Prince, has some residual godlike abilities. Can we see these two together, kicking ass, as the mutant Asgardians they were meant to be?
The First Lesbian Couple of the Future: Lightning Lass and Shrinking Violet
America: where scantily clad women are less controversial than two women holding hands. (Image: Legion of Super-Heroes (2010) #6, DC Comics)
The 1980s were a strange time for the comic book industry. Writers and artists were dismantling norms and restrictions, but they were still shackled in many other ways. There were plenty of queer characters…but they still couldn't explicitly say they were gay or queer. Northstar (we'll talk more about him later) was the first out superhero. But even though he debuted in 1979, he didn't come out until 1992.
But one area creators seemed more comfortable introducing queer characters was in future-based stories. After all, the future should be a more tolerable place, right? For that reason, several Legion of Super-Hero characters were queer-coded. But the best queer superhero couple in the 1980s Legion era is definitely Lightning Lass and Shrinking Violet. When the Legion went through their darkest time, Five Years Later Saga, they remained consistent. At the end of the series, writing/artist couple Tom and Mary Bierbaum confirmed that they were written as a lesbian couple. It wouldn't be until 2010, in Paul Levitt's run, that the relationship was confirmed. You can see it in the image above. Yep. A hand around the waist and touching hips was still pushing it in 2010, apparently.
The Best Lesbian Superhero Detective Couple: Batwoman and the Question
These two were made for each other. Literally, the writers made all the continuity changes to bring them together. (Image: Batwoman: The Rebirth #1, DC Comics)
Both Kate Kane and Renée Montoya are queer icons in comics. And they've both had great love stories with others. But for a brief time, the best detective on the GCPD and the best military mind of the Bat-Family were engaged. At the time, however, Renée wasn't ready to come out to the GCPD. Meanwhile, Kate was out and gave up her West Point education and military career to be true to herself. They called off the engagement, but the two haven't reconnected even after Two-Face framed Montoya for murder and outed her the world. Despite that they are clearly drawn to each other, it seems the only clue these two detectives don't see is that they belong together.
The Other, Other Women
However, the best thing about Batwoman and the Question, we also get two other amazing lesbian superhero couples. This is important for a few reasons. For the most part, when there is a gay or lesbian superhero couple, once they're paired, they tend to stay that way – as if queer superheroes can a) only be with other queer superheroes and b) once in that relationship, they need to stay that way. So, while Wolverine and Spider-Woman get to, well, get around, Hulkling is only supposed to have Wiccan, and Lightning Lass is only supposed to have Shrinking Violet. For breaking away from traditional norms, having a couple stay together regardless is a bit conservative.
With Renée Montoya, we also get Daria Hernandez, a pastry chef that stayed with Montoya through some of the worst moments of her life – for instance, when Two-Face outed her, and through many other tribulations too. But the sad thing about the best depictions of couples, superhero or not, lesbian or gay or straight, is when they truly reflect real-world problems. Hernandez stayed by Montoya's side through a lot, but when Montoya turned to alcohol following the death of a close friend, Hernandez couldn't be her emotional support any longer. It was a breakup ripped straight out of real life, even if one of them has a superhero name – The Question.
By The Decree of Dan Didio, Thou Shalt Not Be Happy Lesbians
Sorry, you are contractually obligated to be miserable. (Image: Batwoman (2011) #17, DC Comics)
Batwoman also had a non-superhero love interest, Maggie Sawyer. Many fans say that Kate and Maggie are the best lesbian couple in comics, and they are quite notable. When Kate asked Maggie to marry her in Batwoman (2012) #17, they became the first lesbian superhero couple betrothed to each other. Another box that Batwoman shattered? She's the first Jewish lesbian superhero. Sadly, their relationship dissolved too. But where The Question and Hernandez had a very understandable breakup, Kate and Maggie's was for purely editorial reasons. Now-fired editor Dan Didio (DC fired him several years later for other reasons, but still…) said this in defense of ending the engagement:
Heroes shouldn't have happy personal lives. They are committed to being that person and committed to defending others at the sacrifice of their own personal interests.

That's very important and something we reinforced. People in the Bat family their personal lives basically suck. Dick Grayson, rest in peace—oops shouldn't have said that,—Bruce Wayne, Tim Drake, Barbara Gordon and Kathy Kane. It's wonderful that they try to establish personal lives, but it's equally important that they set them aside. That is our mandate, that is our edict and that is our stand.
Um, tell that to Northstar and Kyle, or Hulkling and Wiccan, or Ayo and Aneka (more on them later). Oh…they're all from Marvel. I guess – wait – hold on. Is it really just the Bat-family? Superman and Lois Lane have a happy, enduring marriage. Did Didio hate the Bat-family that much? Damn, Didio.
Beyond Superhero Lesbian Couples, the Best Wakandan Relationship, LGBTQIA+ or Otherwise: Ayo and Aneka
Even Wakanda, the most advanced civilization in comics, still has equality issues. (Image: Black Panther: World of Wakanda #5, Marvel Comics)
Even before his MCU debut, Black Panther and the world of Wakanda finally took off in a very successful run. Ta-Nehisi Coates, whose last issue comes out soon, revitalized the series as a kingdom drama. Along the way, a few notable writers worked with him on Wakandan characters, such as Nnedi Okorafor and Roxane Gay. In Gay and Coates's World of Wakanda, they introduced one of the best lesbian couples in any superhero comic: Ayo and Aneka. After their debut in Coates's Black Panther, Gay explored their relationship further in World of Wakanda. Their romance is a timeless tale in a queer Afrofuturistic setting.
Their Story…
The couple faces a time-old dilemma: love vs honor. As part of the Dora Milage, they pledged their loyalty to the King of Wakanda – and much like the Kingsguard in Game of Thrones, they aren't supposed to marry or have any loyalty to someone else. For Aneka, this is a much harder battle, as she is one of the leaders of the Dora Milage. Ayo, however, was a new recruit and didn't have the same level of devotion. Still, they try as hard as possible to be true to one another while pledging their fidelity to the King. But like all major conflicts, it gets to the point of choice.
And they chose each other, becoming exiles in the process. However, this doesn't stop them from protecting Wakanda. Wearing stolen advanced armor (advanced even for Wakanda), Wakandans start calling them "the Midnight Angels." But The Gay League's Joe Palmer summed up their story best:
The love which Ta-Nehisi Coates and Roxane Gay gave Ayo and Aneka for one another is only surpassed by their honor and desire for truth and equality. To risk one's life and to renounce tradition and country in an attempt to make those ideals a reality is a powerful message.

Truly one of the best lesbian superhero couples, with a tinge of bittersweet to the story. But there's one more we need to address – and, if Didio is right that superheroes shouldn't be happy, they fit that better than any Bat-family member.
The Best Queer Supervillain Couple is Also One of the Most Tragic: Mystique and Destiny
One of the most beautiful couples in superhero comics, lesbian or otherwise. (Image: The History of the Marvel Universe #2, Marvel Comics)
Mystique and Destiny were the premier lesbian couple long before Harley Quinn and Poison Ivy came along. Where Hulkling and Wiccan are beautiful because their relationship is so innocent, Mystique and Destiny have the inverse of that. It's beautiful not despite their tragedies but because of them. Chris Claremont, working under the same "don't say it, imply it" rules John Byrne did with Northstar, was even less coy with these two villains/anti-heroes. And he explored their time together in an age when homosexuality was a punishable offense.
But Mystique has the ability to shapeshift. So she sometimes disguised as a man just so she and Destiny could be together. However, Destiny's mutant ability allowed her to see every future and determine which ones would come to pass. She knew how and when she would die at the hands of Professor X's son, Legion. She knew how this would affect Mystique too. But there's one other thing she saw happening: the rise of Krakoa. She saw Mystique having a major role on the quiet council and that Magneto and Xavier would use Destiny's resurrection as a carrot on a stick.
From here, there were two possibilities. First, the Five would finally resurrect Destiny and reunite Mystique her wife. Or, they would keep stringing her along, promising the resurrection but never committing to it. And that's the route Mags and Charlie landed on. In this case, Destiny had precise instructions for Mystique: "burn to the ground."
The Importance of Mystique and Destiny
However, of all the best queer superhero couples – even counting Poison Ivy and Harley Quinn – it's Mystique and Destiny who will move us the most. Jonathan Hickman wrote their love story in such a way that when Xavier and Magneto betray her that one last time, you kind of side with Mystique's destructive plans. All the couples on this list have endured a lot of tragedy and triumphs. But Mystique is going beyond death and is even willing to destroy the nation she helped build if it means honoring her deceased wife. Thankfully, we won't have to wait long to see how Mystique will follow through with Destiny's last wishes.
Comic Lore Still Needs More Lesbian Superhero Couples
While this is nowhere near a complete list of all the best lesbian superhero couples, even a comprehensive list wouldn't be enough. Just like most mediums, comics have a lot of catching up to do.
Just between Marvel and DC, there are over 18,000 characters. Now, the first problem is that only about 27% of these characters are women. How off is that based on reality? 51% of the US population are women, and 49% of the world's – but this is going by census reports, which shows more of a minimum than an actual average. There should be at least 9000 female characters in DC, and Marvel combined. But going by the absurd 27%, there are just under 5000 women in superhero comics. If we take the, again, very flawed census report statistic that 5% of women in the US identify as lesbian, bisexual, or pansexual, then there should be at least 250 queer women in superhero comics.
There aren't. Not even close. And while not every character needs to be, or should be, in a relationship, we should be able to find at least 100 lesbian superhero couples. We could make several lists with that!
(Featured Image: Harley Quinn: The Animated Series, Warner Bros.)
Roman Colombo finished his MFA in 2010 and now teaches writing and graphic novel literature at various Philadelphia colleges. His first novel, Trading Saints for Sinners, was published in 2014. He's currently working on his next novel and hoping to find an agent soon.
20th Century Fox
Batwoman
Dani Moonstar
Destiny
Disney
Legion of Super-Heroes
Mystique
New Mutants
Renee Montoya
Wolfsbane
World of Wakanda
X-Men
Leave a comment