Believe In Wonder As Wonder Woman Approaches Her 80th Anniversary
It's hard to imagine, but our three founding superheroes are all 80 now. Superman and Batman already had their birthdays. So now, it's time for Wonder Woman's! Yep, 80 years ago, Professor William Moulton Marston, inspired by his brilliantly intelligent wives Elizabeth Holloway and Olive Byrne, created the Amazonian warrior we all love today. She was everything, but as Marston himself described her, she is "as lovely as Aphrodite – as wise as Athena – with the speed of Mercury and the strength of Hercules – she is…Wonder Woman." Over the years, dozens of creators have helped us believe in Wonder Woman. And for her 80th anniversary, that's exactly what DC wants you to do: "Believe in Wonder."
Believe in Wonder Will Be a Year-Long Celebration of Princess Diana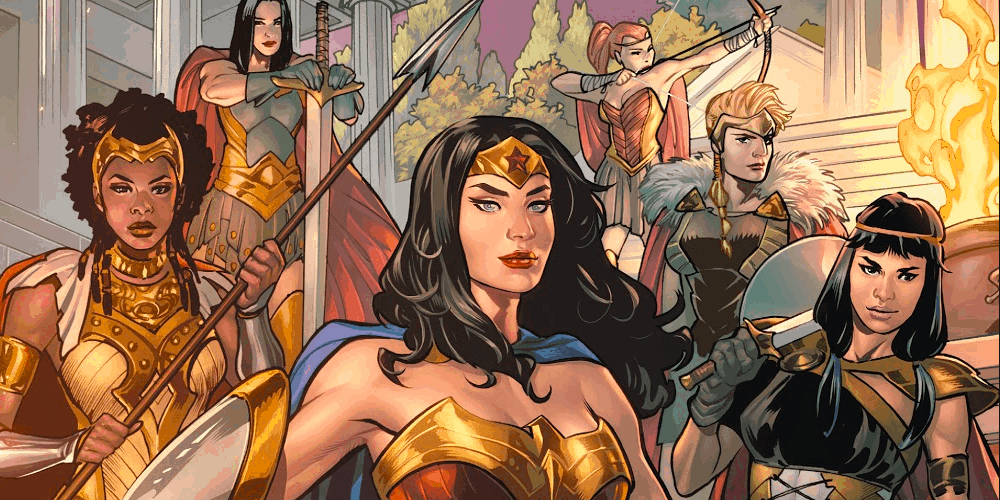 (Image: Wonder Woman #750, DC Comics)
For Batman and Superman, DC released deluxe-sized comics, but with Wonder Woman, they're going all out. Believe in Wonder will highlight "the Super Hero's timeless and relevant message of hope and empowerment with original content, commemorative comics, books, and global fashion collections and experiences." All of this is will lead into "a worldwide celebration of Wonder Woman Day on October 21." What can we expect over the next seven months? A lot:
Image from DC Comics Press Release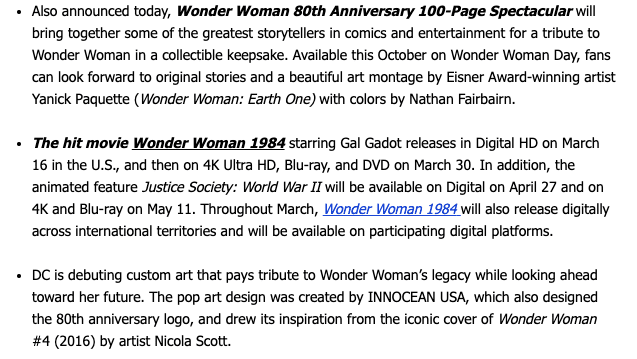 Image from DC Comics Press Release
Last August, during the DC Fandome Event, they presented the Wonder Woman 80th Anniversary, but all of this? A, well, surprise that makes us believe in wonder.
One Last Word from Professor Marston On Why Wonder Woman Is So Important
Sony Pictures Entertainment
Marston, for his time especially, was pretty forward-thinking. His poly triad relationship wasn't about misogyny. In fact, he respected their intelligence and power—and this is what led Marston to believe in Wonder Woman. In a 1943 issue of American Scholar, Marston stated:
"Not even girls want to be girls so long as our feminine archetype lacks force, strength, and power. Not wanting to be girls, they don't want to be tender, submissive, peace-loving as good women are. Women's strong qualities have become despised because of their weakness. The obvious remedy is to create a feminine character with all the strength of Superman plus all the allure of a good and beautiful woman."
He literally created a character that was everything needed in a superhero in 1941. How awesome is that? Even more amazing? She's still the perfect superhero for today's world too. Do you still believe in wonder?
Roman Colombo finished his MFA in 2010 and now teaches writing and graphic novel literature at various Philadelphia colleges. His first novel, Trading Saints for Sinners, was published in 2014. He's currently working on his next novel and hoping to find an agent soon.
Leave a comment