Batman Fear State Event Ties Current Stories To Gotham Future State
Throughout Future State, Gotham was in a bad, well, state. The magistrate had taken over and imposed a totalitarian rule over the city. Bruce Wayne, presumed dead, barely had the strength or resources to stand up to them. Meanwhile, Jace Fox took up the Batman mantle while other heroes formed stronger allegiances and teams. Even a host of Batman's villains formed the team "Arkham Knights." But the Knights weren't just some kind of Suicide Squad. In fact, they rose to the occasion so thoroughly that Two-Face, the second-in-command, was part of Dick Grayson's inner circle. But we only got clues as to how Gotham fell. That's going to change this august with the Batman event Fear State.
Batman Will Take On Scarecrow During the Future State Event – But Which Batman?
Oh, trolls are going to flip when they find out that the next batman is bearded! Wait, what did you think I was going to say? (Image: I am Batman #0, DC Comics)
In DC's announcement of Batman: Fear State, they describe the story as
"a horror themed Gotham City event that unifies plot threads started in DC's fan-favorite publishing events, DC Future State and Infinite Frontier. Fear State not only continues The Scarecrow's vision of a fear-controlled Gotham, but also Mayor Christopher Nakano's mission to protect the city with his ground-breaking deal with The Magistrate."
But it's the prelude issues that are even more intriguing. Or, at least, one in particular. While the Catwoman and Harley Quinn tie-ins look good, it's the one-shot I am Batman #0 that should make Gotham Future State fans excited:
I Am Batman #0 – The age of a new Dark Knight begins! On August 10, picking up immediately from the events of The Next Batman: Second Son, Jace Fox begins the march toward his destiny when he fights to protect Alleytown against the oppressive forces of the Magistrate, using Batman armor and tech he's found in Bruce Wayne's old base of operations, the Hibernaculum!
Fear State Might be James Tynion IV's Biggest Batman Event Yet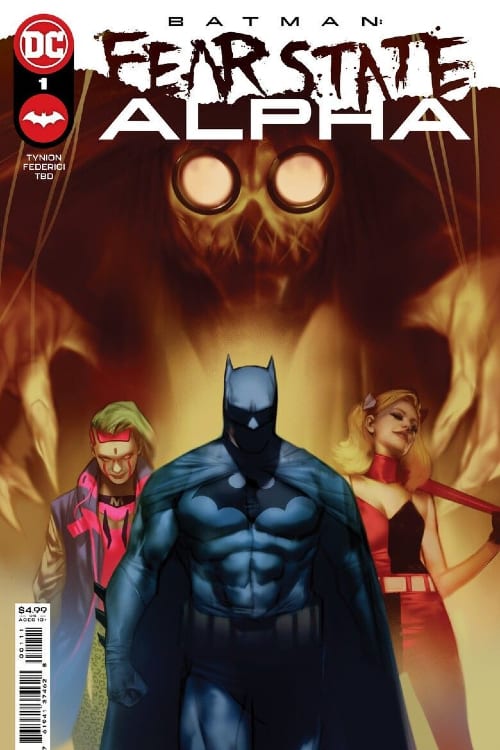 Super broody edition. (Image: Batman: Fear State Alpha #1, DC Comics)
DC promises that Fear State will take place in all titles in the Batman family throughout the event. That's pretty impressive since the number of titles has increased, now including Robin and Joker. However, there are also one-shots along the way, such as the previously mentioned I am Batman #0 and Batman: Fear State Alpha #1 – where the event kicks into madness:
Batman: Fear State Alpha #1 –   The event over a year in the making begins…Fear State settles upon Gotham City, and no one is safe! Overwhelmed by the dual threat of the Scarecrow and Peacekeeper-01, Batman and his allies have been one step behind since the events of Infinite Frontier #0…and with the arrival of a mysterious anti-Oracle and the return of Poison Ivy…Batman might have more than he can handle!
Now, we know what happens in Future State, but does that mean that the future is the one that will definitely pass? Or did the events of Generations Forged and Infinite Frontier create a wrinkle? We'll have to find out in the fall.
What Can We Expect to See in the Batman: Fear State Event?
The theme they went for when designing Peacekeeper-01? Toxic Masculinity Chic (Image: Batman: Fear State Alpha #1 Jorge Jimenez Variant, DC Comics)
There are several loose ends (or since they will occur in the future, not-yet woven ends?) Gotham Future State left for us. Hopefully, when Batman and his allies start fighting a losing battle (as far as we know) for Goth, Fear State will answer questions the former event left. But here are some possibilities and needed answers:
Fox Family Feud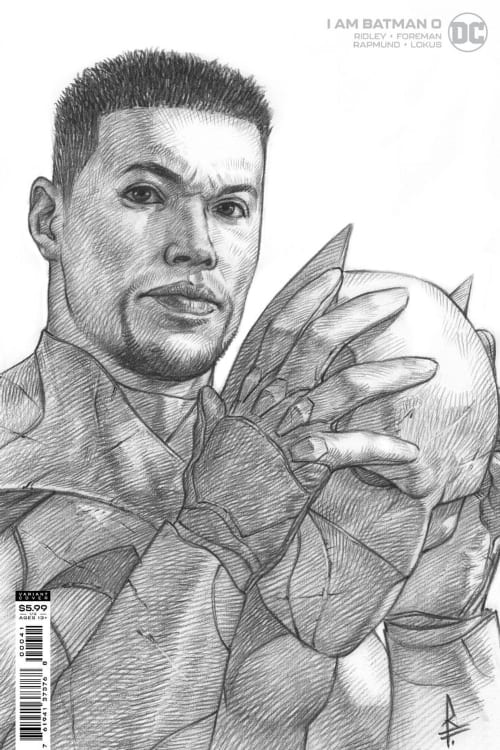 Even Batman doesn't understand the CDC's new mask guidelines. (Image: I am Batman #0 Federici Variant, DC Comics)
Throughout Future State, Luke Fox was always at odds with his estranged brother, Jace (even refusing to call him by his changed name, using Tim instead). However, the rest of the family seems to have moved on from whatever disagreement they had with the family misfit. That doesn't mean Jace fits now, however. While Jace is taking up the Batman mantle, the rest of the Fox family is turning heal. His mother is making sure the Peacekeepers have every legal right to kill without question. Lucious Fox, who now controls Wayne Enterprises, is supplying the technology the Magistrate needs. As we saw in the Grifter story, Luke Fox is willing to sell out fellow heroes to save his own ass. That's not exactly hero material.
In the upcoming event, Fear State, will we see how the family Batman trusted the most begin to turn on him? Hopefully.
Robin is Dead – Maybe?
Another big mystery throughout Future State was the fate of Damian Wayne. By all accounts, it looks like Batman's son died during the early days of the Magistrate, but we don't know if that's even true. Considering the recent Robin series launch, and will be part of the Fear State event, we should see what happens to the infamous Batman sidekick.
Who is Peacekeeper-01?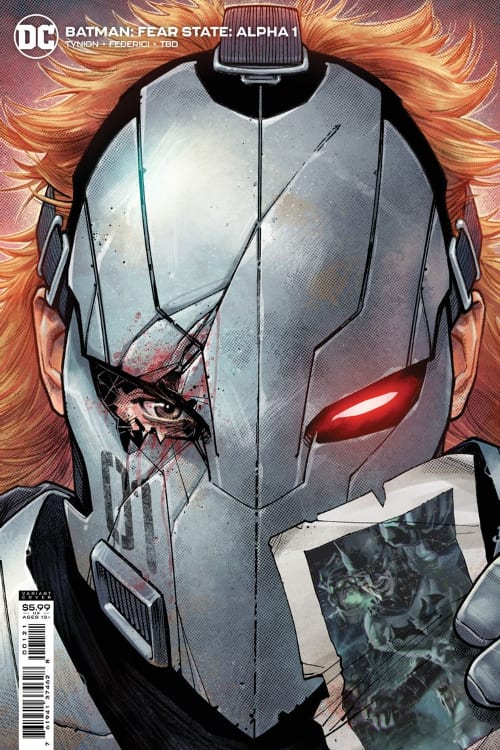 Even bigger mystery: What hair product does Peacekeeper-01 use to get that voluminous shine? (Image: Batman: Fear State Alpha #1 Dylan Teague Variant, DC Comics)
Seriously, he has to be someone important. Early hints made it seem like Jason Todd was Peacekeeper-01, but his Future State stories disproved that…seemingly. What we do know is that the new villain knew that Bruce Wayne was Batman. Is this because they were close, or maybe Lucious Fox told him? Fear State needs to address who killed Batman in the previous event.
I bet he's Alfred, back from the dead and ripped.
What Jonathan Crane Retire the Scarecrow?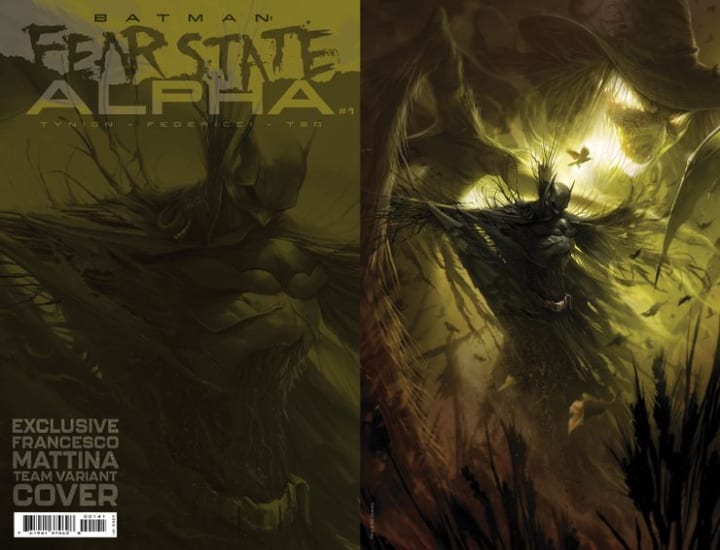 Anyone else just now realizing that scarecrows look like they're being crucified? Just me? Okay. (Image: Batman: Fear State Alpha #1 Francesco Mattina Variant, DC Comics)
Though Scarecrow might be the big bad of the Fear State event, the Batman villain put up his straw in Future State. It's not until Harley Quinn got into his head that he put the costume back on. But why did Crane give it up to begin with? This could have an obvious answer: he wins. As Scarecrow, his ultimate goal was to keep Gotham in a, as you might guess, State of Fear. Working with the Magistrate, he achieves this goal. Maybe he just didn't need the Scarecrow persona any longer.
How Will the Joker Function in the Fear State Event – As a Batman Villain or Reluctant Ally or Both?
Along with Robin, Joker and Jim Gordon were also MIA in Future State. Currently, Gordon and the Clown Prince of Crime star in the Joker ongoing series. But let's go back to Infinite Frontier, and the events of "A-Day." A-Day was the name given to a massive supervillain attack on Arkham. Nearly every resident and member of the staff perished from a new form of Joker toxin, including Bane. However, even though it was the Joker toxin, it wasn't the Joker who set it off – it was Scarecrow. At the end of Joker #1, the Joker reads about his apparent actions in a newspaper, and he's a bit pissed off.
So, will we see:
A – Batman and Joker Vs Scarecrow and Peacekeeper-01
B – Batman Vs Joker Vs Scarecrow and Peacekeeper-01
C – Batman Vs Joker, Scarecrow, and Peacekeeper-01
D – Batman Vs Joker Vs Scarecrow Vs Peacekeeper-01
E – None of the Above
Tell us how you think the next Batman event, Fear State, will unfold!
(Featured Image: DC Comics)
Roman Colombo finished his MFA in 2010 and now teaches writing and graphic novel literature at various Philadelphia colleges. His first novel, Trading Saints for Sinners, was published in 2014. He's currently working on his next novel and hoping to find an agent soon.
Leave a comment