Awesome Comics Coming July 2019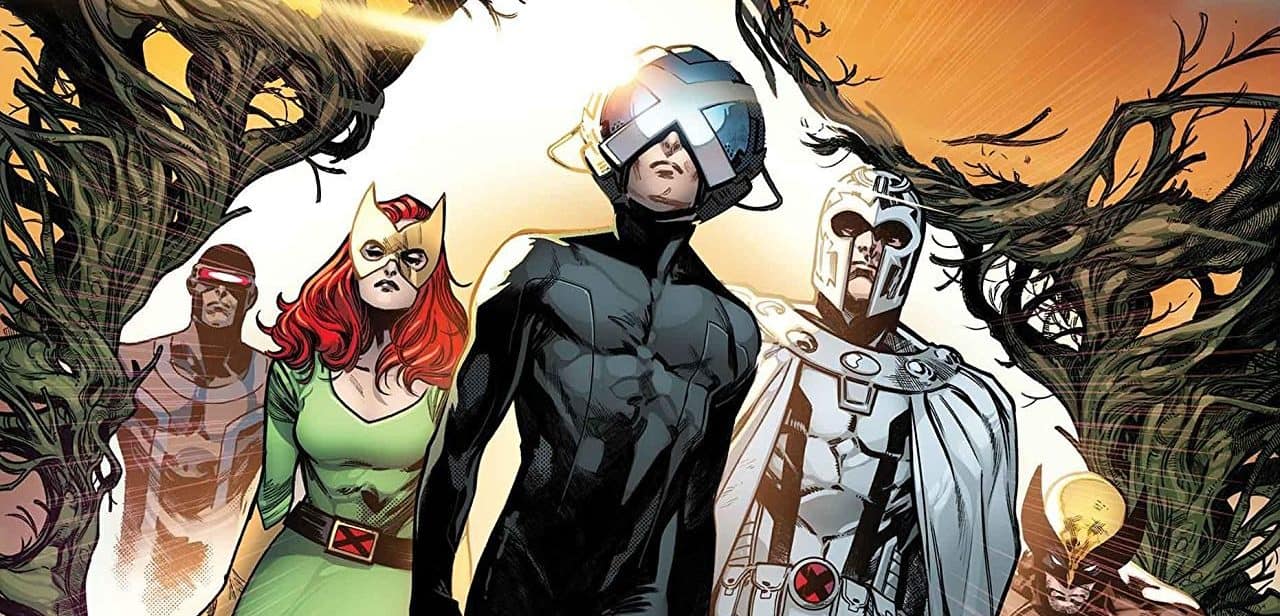 Every Wednesday, we drive out to our local comic shop to pick up our pull list and browse other new comics released that day. Or we scroll through the Kindle and Comixology, seeing if anything jumps out at us. And sometimes, there's something really special waiting that we didn't even know existed. It's hard to read them all, but here's what comics we're looking forward to this July:
House of X #1 and Powers of X #1
Writer: Jonathan Hickman
Artists: Pepe Larraz (House) and R.B. Silva (Powers)
Marvel Comics: July 24 and 31, 2019
The X-Men Comics have been up and down for the last decade. After Avengers Vs. X-Men which finished the Hope Summers Saga and the age of House of M, the franchise became directionless—not always bad, but no solid path. But July 2019, Marvel is bringing in the man who revolutionized both the Fantastic Four and the Avengers comics: Jonathan Hickman. We don't know much yet, but all other X-Men titles are ending before House of X debuts. All we know is that Xavier has "master plan for mutantkind…one that will bring mutants out of the shadow of mankind and into the light once more." Powers of X runs alongside House, exploring the "secret past, present, and future of mutantkind." Whatever that means, we can only guess, but Hickman is sure to bring us the smartest run on X-Men, possibly of their entire history.
Batman #75
Writer: Tom King
Artist: Tony Salvador Daniel
DC Comics: July 17, 2019
Tom King's Batman run is already considered one of the best of all time, and it looks like he's about to ramp things up into insanity mode. Batman #75 begins "City of Bane," where "Bane's minions have moved into Gotham City, taken control and are ruling with an iron fist." Not only has Bane taken over Gotham, but neither hero or villain is safe, as Bane is "rounding up any villain who refuses to sign onto Bane's program." Meanwhile, Batman is MIA. Not since No Man's Lan have we seen Gotham in such chaos, and King will probably go even further. Plus, Tony S. Daniel's art should definitely please.
Black Science #43
Writer: Rick Remender
Artists: Matteo Scalera with Moreno Diniso
Image Comics: July 31, 2019
Black Science is one of the most epic indie comics ever made, and it all ends here. The story of Grant McKay and his family hopping through different realities—and breaking them—is Remender's best work in comics. Matteo Scalera's art has also remained fantastic the entire run. If you're already reading this series, you know how special this moment is. If you haven't—hurry up! It's all ending!
Giant-Size X-Statix #1
Writer: Pete Milligan
Artists: Mike and Laura Allred
Marvel Comics: July 10, 2019
July is shaping up to be a good month for X-Men fans. X-Statix, Marvel's most unique X-Men run, returns with the original creative team. The public's relationship with the X-Men was always tenuous, but they loved X-Statix, making the team celebrities. So, "what new threat is so grave that only the most famous mutant celebrities can fight it?" The team that created the character Doop will also give us another new character: U-Go-Girl!
The Flash #75
Writer: Joshua Williamson
Artists: Christian Duce, Scott Collins, and Howard Porter
DC Comics: July 24, 2019
While Tom King is beginning one of his biggest stories in Batman, Joshua Williamson is wrapping up one of his biggest stories in The Flash: "The Flash Year One." We'll see how Flash's debut went down, and " witness Lex Luthor's offer to Captain Cold." The Year One stories from DC are always special, and The Flash is no exception.
Bad Weekend
Writer: Ed Brubaker
Artists: Jacob and Sean Phillips
Image Comics: July 10, 2019
A noir mystery comic that takes place during a Comic Convention? With convention season gearing up, this is the perfect time to release the revamped collection of some of Brubaker's work from Criminal. Bad Weekend is coming out as a special hardcover with new and remastered art. Brubaker's crime work is phenomenal—and this is a must have for any comic book fan.
Marvels Epilogue #1
Writer: Kurt Busiek
Artist: Alex Ross
Marvel Comics: July 24, 2019
Twenty-Five years ago, Kurt Busiek and Alex Ross gave us one of the most beautiful comic series ever created: Marvels. The series focused on Daily Bugle photographer Phil Sheldon, a regular guy taking pictures of pinnacle Marvel events, like the coming of Galactus and the birth of the original Human Torch. Now they're reuniting for a special one-shot that takes place in the 1970s. In the middle of Times Square, sentinels hunt and attack the X-Men. It's a very interesting choice for the 25th anniversary, especially considering the current political climate in America. But even beyond that, Ross's art alone is worth the cost of the comic ten times over.
Doom Patrol: Weight of the Worlds #1
Writers: Gerard Way and Jeremy Lambert
Artist: James Harvey
DC Comics: July 3, 2019
They're back! Again! Doom Patrol is one of those strange and quirky teams that, when done right, is easily the best comic on the stands. While Grant Morrison made the team a hit with his run, Gerard Way's Young Animal revitalization was good enough to rival Morrison's run. The team took a break last year, but Way is back at it with a new adventure post-Milk Wars. Really, we wouldn't have X-Statix without Doom Patrol, and the fact that both are coming out in the same month is wonderful.
Ragnarök: The Breaking of Helheim #1 (of 6)
Writer and Artist: Walt Simonson
IDW Comics: July 17, 2019
Walt Simonson's run on The Mighty Thor is legendary. He gave us Beta Ray Bill and Surtur and the Mighty Throg (when Thor was a frog). But his love for Norse mythology went beyond the superhero world and into his own series, Ragnarok. The original series came out between 2015 and 2017, but he's returning to that world now. This is not Thor—it's something much more epic and much more brutal, and Simonson's art is better than ever.
Conan The Barbarian Vol. 1: The Life And Death Of Conan Book One
Writer: Jason Aaron
Artist: Muhamed A. Asrar
Marvel Comics: July 3, 2019
When Marvel Comics reacquired the rights to Conan the Barbarian, they wasted no time delivering the goods. Not only did he get his own series, but he also became an Avenger. And who better to write "The greatest sword-and-sorcery hero of all" than Thor scribe Jason Aaron? Aaron is great at delivering epic stories—his Thor: God of Thunder is one of the most epic stories you'll ever read. Now he's writing a character that embodies the idea of an epic more than any he's written so far. It's going to be a good ride.
Teen Titans: Raven
Writer: Kami Garcia
Artist: Gabriel Picolo
DC Ink: July 2, 2019
Kami Garcia's Raven marks the debut of DC Ink's young adult Teen Titans graphic novels. Garcia is a popular young adult writer already, with books like the Beautiful Creatures series. This isn't the only work she'll be doing for DC though. She'll also be writing Joker/Harley for DC: Black Label. But before we get to her dark adult-oriented writing, Raven will be a fun place to start for her DC tenure.
Enemy of the People: A Cartoonist's Journey
Writer and Artist: Rob Rogers
IDW Comics: July 31, 2019
If Marvels Epilogue is vaguely political, Enemy of the People is in-your-face political. Rob Rogers worked for the Pittsburgh Post-Gazette for 25 years creating political cartoons, but when he drew one criticizing President Trump, they fired him. In this graphic memoir, he details his career and the chaos he experienced around the cartoon—including appearing on CNN. This is an important book about censorship, sure, but it's also written by a brilliant political cartoonist, so it'll be really funny too.
Daredevil by Chip Zdarsky Vol. 1: Know Fear
Writer: Chip Zdarsky
Artists: Marco Checchetto, Lalit Kumar Sharma, and Chip Zdarky
Marvel Comics: July 31, 2019
When Charles Soule finished his Daredevil run, Matt Murdock's body was broken—not by a superhero brawl or anything so grand, but because he was hit by a bus while saving a little kid. Zdarksy's Daredevil picks up as Murdock is recovering and having to relearn all the skills he once possessed. He's sloppy and needs more time, but he tries anyway—and as a result, someone dies. Zdarsky is mostly known for humor and fun…this is not that. It's a rough, raw take on Daredevil, one we haven't seen since Brian Michael Bendis's amazing work on the character.
Lois Lane #1
Writer: Greg Rucka
Artist: Mike Perkins
DC Comics: July 3, 2019
Superman might be the most powerful superhero in the DC Universe, but he's still nothing without smarter people around him. Usually, that's Batman. This time, however, it's his wife: investigative journalist Lois Lane. As the cover says, "she uncovered the most dangerous secret in the DC Universe…and now she has to prove it." This series is very promising. A mystery noir with one of the best female characters in the DC Universe, and from a writer known for great crime thrillers. Lois Lane might not be a popular superhero, but she shouldn't be underestimated.
Hellboy: 25 Years of Covers
Artists: Mike Mignola and many more
Dark Horse Comics: July 17, 2019
Hellboy #1 debuted 25 years ago, and since then, some of the industry's best artists proved covers. The covers of Hellboy's creator Mike Mignola, along with artists like Richard Corben and Duncan Fegredo, are collected here. It isn't a new story and doesn't have new Hellboy writing, but it does have some of the most beautiful comic covers you'll ever see.
Roman Colombo finished his MFA in 2010 and now teaches writing and graphic novel literature at various Philadelphia colleges. His first novel, Trading Saints for Sinners, was published in 2014. He's currently working on his next novel and hoping to find an agent soon.
Leave a comment