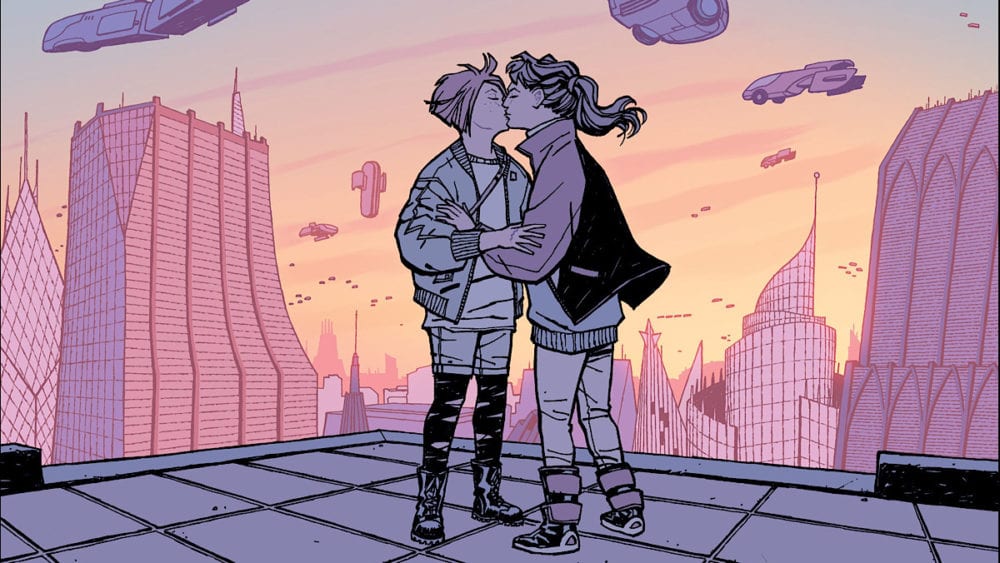 A television adaptation of Paper Girls, the comic book series by Brian K. Vaughan and Cliff Chiang, was announced as being in development last summer. Well, after a year of waiting with anticipation, the series is officially moving forward! Amazon has given the greenlight to Paper Girls.  While little information released the first time around, we've finally learned more about the series and a little more about what we can expect.
What The Paper Girls Greenlight Means
Paper Girls will head directly to Amazon and is being created with Amazon Studios and Legendary Television, as well as Plan B, the production company led by Brad Pitt. Stephany Folsom (Toy Story 4) is the primary writer for the series and will executive produce. Chiang and Vaughan will also serve as executive producers, too, so we can rest assured that the series will keep many of our favorite elements from the comics.
Image via Image Comics.
The story behind Paper Girls follows, you guessed it, paper girls! While working their routes on Halloween, they accidentally stumble upon a time machine. They find themselves up against a group of walkie-talkie thieves, only to find out that the world has much more in store for them. They change from regular, hard-working teenagers, into time travelers. The comics were released in 30 issues, ending in 2019.
We won't be surprised if any further announcements are slow to come, as the world is being transformed by filming restrictions. However, Amazon seems as eager and excited as we are about the Paper Girls adaptation following the official greenlight announcement. We've crossed our fingers that this coming-of-age story hits our small screens soon.
Are you excited about the Amazon adaptation of Paper Girls? We want to hear your thoughts, and if you have any actresses in mind for the paper girls!
Featured image via Image Comics.
Meghan Hale is a graduate student living right outside of Toronto, Canada. She has always been the go-to gal for talking about anything film related and has a frustratingly long list of movie trivia up her sleeve. She is currently working on her first screenplay, as well as a horror novel, with the goal of publishing it while Stephen King is still around to read it.
Leave a comment