Alligator Loki Comic Is Everything You Want It To Be And More
The Marvel Infinite Comics are a fun new design based on what Manga companies do with their comics. You just keep scrolling down. There are some serious comics, like X-Men Unlimited. But also adorable ones like It's Jeff! Yes, it's about the four-legged land shark from Gwenpool. Well, move over, Jeff, because a new precious Marvel pet is on the scene: Alligator Loki, the breakout star of the Disney+ Loki series, now has their own infinite comic! And it is delightful.
Why We Need an Alligator Loki Infinite Comic and Why Did It Take This Long?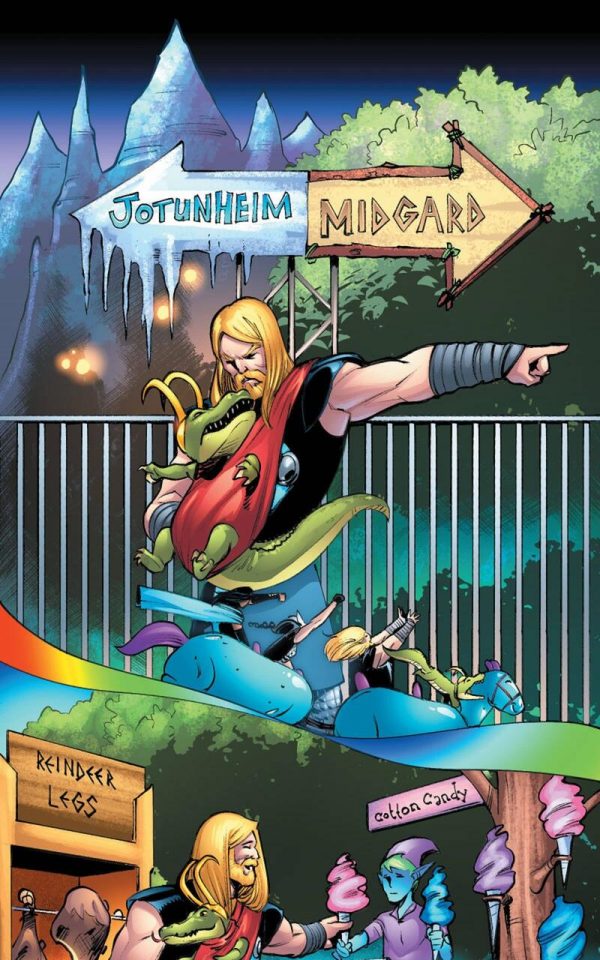 (Image: Marvel Comics)
The moment you open up the infinite comic, we're delightfully ambushed by Pete Pantazis's brilliant color art. Pantazis brings Robert Quinn's art to life with vibrancy. Thor is chasing Loki, who escapes into a portal. However, when Thor tries to follow Loki, our favorite alligator enters the comic – jumping onto Thor. It's love at first sight. For Thor. Alligator Loki looks terrified when Thor smiles at him.
And so we begin Alyssa Wong's first Alligator Loki infinite comic, "Family Bonding." Thor brings his new reluctant friend to an Asgard-themed amusement park. And throughout the adventure, Thor slowly gets Alligator Loki's approval. But really, why didn't Marvel have this comic ready the moment Alligator Loki debuted on the show?!
Will the Beloved Reptile Join the Pet Avengers?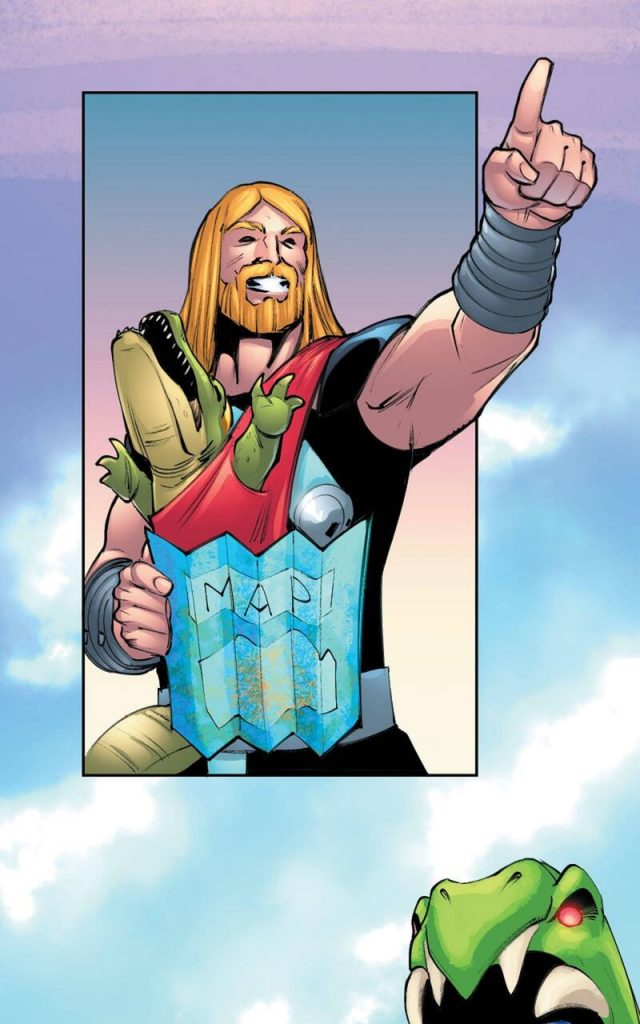 (Image: Marvel Comics)
While the League of Super-Pets managed to snag the big-screen debut of a pet team, the Pet Avengers are equally beloved. Hairball, Lockheed, Lockjaw, Miss Lion, Redwing, Throg, and Zabu aren't just excellent pets but formidable Avengers themselves. Lockjaw even possessed the Infinity Stones for a bit and defeated Thanos. They're a great team, but what could make them better? Alligator Loki.
(Image: Marvel Comics)
In fact, if we don't get an infinite comic about Alligator Loki joining the Pet Avengers at some point, Marvel is missing out on the best superhero team ever. Well, the best team that doesn't have opposable thumbs. At the very least, give us a buddy series with Throg and Alligator Loki. We're not asking for much.
And what about Goose?! Certainly, the flarken that ate the tesseract and took Nick Fury's eye deserves to be part of the Pet Avengers. Speaking of one-eyed heroes, Lucky the Pizza Dog could be their Nick Fury. Or Furry. Another pup? Doctor Strange's talking ghost dog, Bats. Then we also have Rachel Summers' warwolf puppy, Amazing Baby.  While we're at it, Jeff deserves to be on the Pet Avengers too. Oh, and as far as their own Hulk? Um, Devil Dinosaur? How awesome would that be? They could be the Agents of LEASH! Lovable Endearing Animal Super Heroes.
Alligator Loki Infinite Comic #1 is now available on the Marvel Unlimited App
(Featured Image: Marvel Comics)
Roman Colombo finished his MFA in 2010 and now teaches writing and graphic novel literature at various Philadelphia colleges. His first novel, Trading Saints for Sinners, was published in 2014. He's currently working on his next novel and hoping to find an agent soon.
Leave a comment