A King Shark Comic Series Is Chomping Its Way Into Stores This Fall!
After The Suicide Squadtrailer dropped, fans were introduced to many of the DCEU's more unique supervillains (Polka-Dot Man? Ratcatcher 2?), but one of the most compelling and interesting was King Shark. Well, get excited y'all because DC Comics announced that we're getting a King Shark comic series! Besides the fact that he's voiced by Sylvester Stallone for James Gunn's The Suicide Squad and has made appearances on HBO Max's animated Harley Quinn series, not much else is known, so it's exciting to finally have a series to get to know his background better. The first comic will drop later this year and will be titled Suicide Squad: King Shark #1.
What Can We Expect From The King Shark Comic Series?
King Shark, also known as Nanaue, was first introduced as an antagonist to Connor Kent's Superboy in 1994 and appeared sporadically in other comic series, facing off with Batman, the Flash, and Aquaman. According to DC's September solicitations, this new series will look more at King Shark's relationship with his father, Kamo/Shark God, who we didn't know much about in general. The solicitations series description says:
"On leave from the Suicide Squad, King Shark and unfortunate tagalong the Defacer get swept into a mystical tournament for totemic animal spirits at the behest of King Shark's father, the god of sharks! Now King Shark must battle brutal warriors like Queen Tiger, King Roach, Prince Nematode, Princess Peregrine, and the terrifying Man King to finally attain his destiny and make his dour dad proud!"
I'm personally very intrigued by Queen Tiger and terrified of King Roach (this is what New York living has done to me!). Perhaps we'll also see appearances by the League of Super-Pets given that this seems like an animal-centric series? The story for Suicide Squad: King Shark #1 will be written by Tim Seeley, with pencil and inks by Scott Kolins. Even more exciting? We have a cover (by Trevor Hairsine)! Check it out below: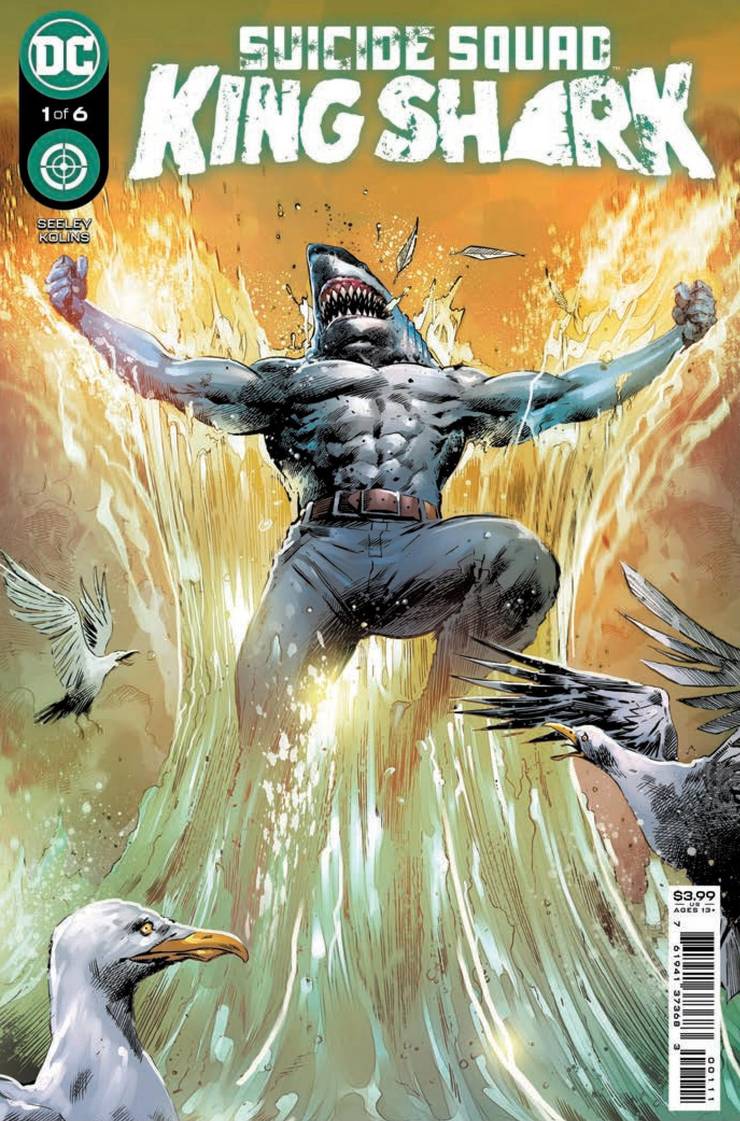 Suicide Squad: King Shark #1 cover/Image via DC Comics
It will be interesting to see where DC goes with this series in terms of King Shark's characterization. As I had mentioned in my earlier post asking who is King Shark, Nanaue was often portrayed as a hammerhead rather than a great white. Given that the cover of Suicide Squad: King Shark #1 is very obviously the latter, it makes me wonder if the series will portray him as intelligent (such as in the HBO series) or dumbed down (as seen in Gunn's movie version, although this wouldn't make for much of a comic series).
Suicide Squad: King Shark #1 will come out on September 21, 2021. 
Are you looking forward to a King Shark comic series? Do you think King Shark will speak fully-formed sentences? Let us know in the comments below!
Featured image via Warner Bros.
Keilin Huang is a freelance writer that likes the Oxford comma, reading from her neverending pile of books from the library, and Reeses peanut butter cups. She thanks her Dad for introducing her to his Superman comics and probably majored in Journalism because of Lois Lane. Contact her at [email protected]
Leave a comment