10 Best Indie Comics of the Decade
While Marvel and DC both had a pretty good decade, the real winners were the indie comics, who delivered some of the best stories we've ever seen in this medium.  It seems like "New York Times Bestseller" is now on more trade covers than isn't. Tired of Marvel or DC? Just look at the next shelf over and you'll find something brilliant. So, let's celebrate some of these titles!
Best Indie Comics of the Decade: Honorable Mentions:
This could easily be a list of the 50 best indie comics of the decade—but that's not possible. Still, these titles deserve some praise:
Southern Bastards
Pretty Deadly
Lazarus
American Vampire
Rachel Rising
Sea of Stars
Die
Kill or Be Killed
Deadly Class
Giant Days
Best Indie Comics of the Decade #10: East of West

(Image: Image Comics)
Alternate Histories about the Civil War aren't new, but Jonathan Hickman's take on it felt very fresh. Though the series went through many delays in the past decade, it's still one of the best indie comics out there. And even if the story wasn't great, Nick Dragotta's art is perfect for the tone and setting. Like most of Hickman's books, this gets weird.
Best Indie Comics of the Decade #9: Sex Criminals

(Image: Image Comics)
Matt Fraction and Chip Zdarsky's Sex Criminals is one of the best and most original indie comics ever, let alone the last decade. Suzie and Jon share a superpower: when they orgasm, they freeze time. Literally. So what do they decide to do with this skill? Rob banks to save libraries, of course! When you read this, make sure it's not on your lunch break—you will get looks (might be speaking from experience.
Best Indie Comics of the Decade #8: Bitch Planet

(Image: Image Comics)
Kelly Sue DeConnick and Valentine De Landro's Bitch Planet takes the themes of Handmaid's Tale but does it better. Sorry, Margaret Atwood, it's true. Women must either be dutiful wives and look like models…or they are sent to a prison planet until they become that way. The characters are so dynamic; you'll wish the series was 50 issues instead of 15. However, it's 15 of the best indie comics out there (and if coworkers stare at you while you read this one, stare right back).
Best Indie Comics of the Decade #7: Excellence

(Image: Skybound/Image Comics
Excellence is one of two 2019 releases on this list. What Brandon Thompson does in this series is pretty bold. Think Harry Potter meets Black Panther. In Excellence, the magicians of the world are all Black, but they don't act like it's still the medieval times like Harry Potter. It's AfroFuturist wizardry. And Khary Randolph's art is a vibrant blend of magic and sci-fi. The first trade just came out, but this series will hopefully last well into the next decade.
Best Indie Comics of the Decade #6: Black Science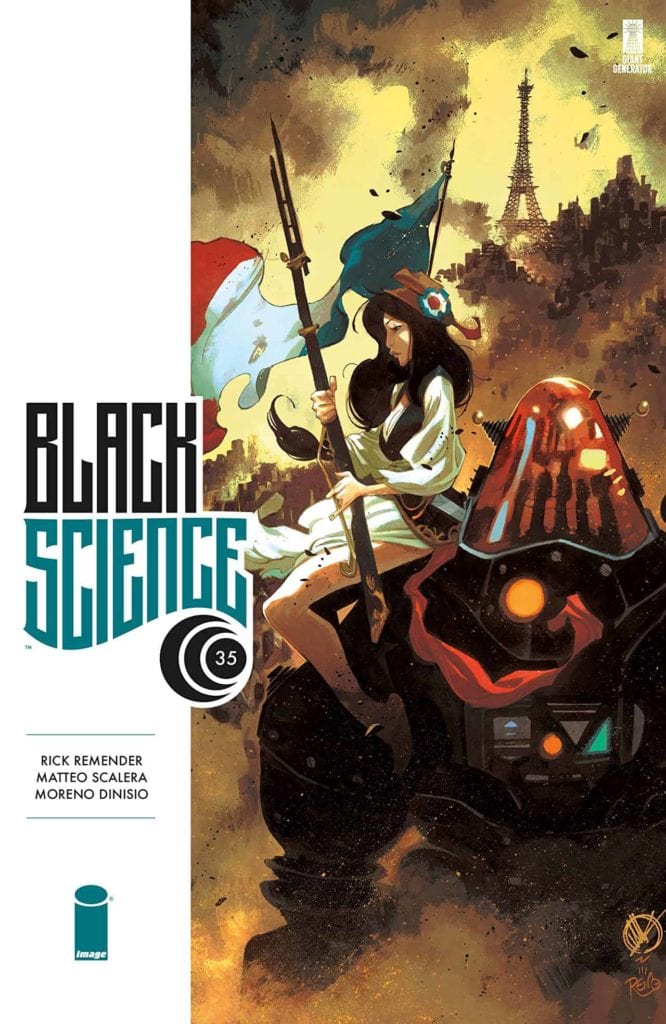 (Image: Image Comics)
It was hard to choose which Rick Remender series to call one of the best indie comics of the decade. He had a few, between Low, Deadly Class, and Black Science. But Black Science won out of two reasons: sheer ambition and incredible art. Matteo Scalera and Moreno Dinisio find the right blend of epic, fantasy, sci-fi, and tragic to portray this series. You will finish some volumes in shock.
Best Indie Comics of the Decade #5: Sonata

(Image: Image Comics)
Another series that started in 2019, Sonata is an incredible experience. In many ways, it feels like Saga, but with a deeper Lord of the Rings kind of vibe. David Hine sets up an incredible story, but the brilliance of this book is mainly due to artist Brian Haberlin. Sonata features some of the best art in indie or mainstream comics all decade. Each page is worthy of framing, and the creatures would make Guillermo Del Toro smile with delight.
Best Indie Comics of the Decade #4: March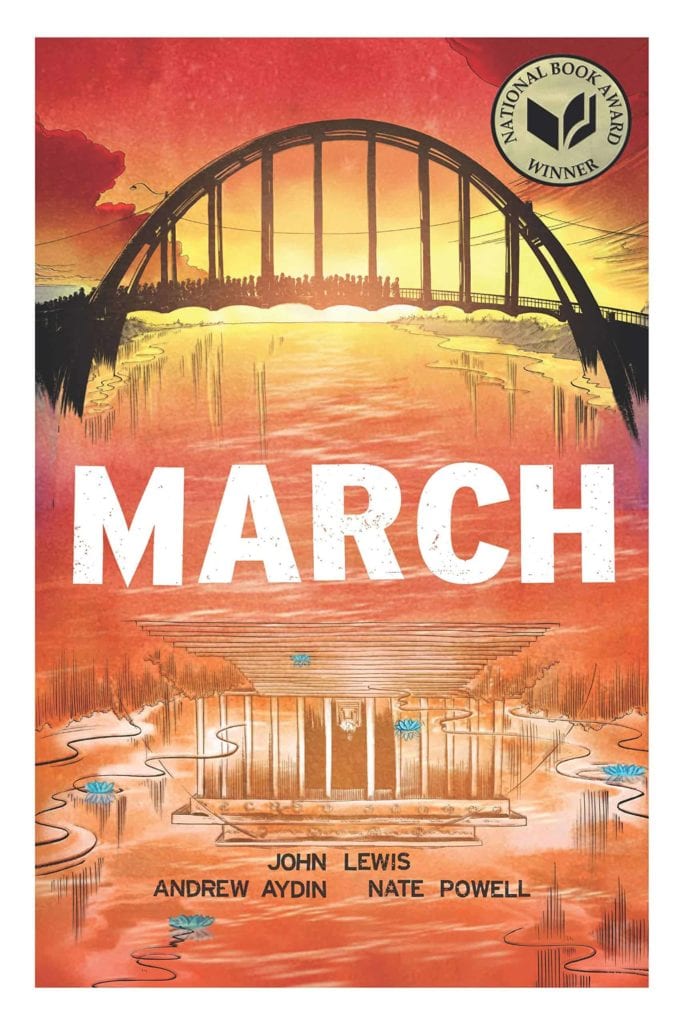 (Image: Top Cow Productions)
There were several graphic novel memoirs over the last decade, making it an indie comic subgenre worth noting—and March was by far the best. When John Lewis announced he was going to write a memoir about his experience in the civil rights moment, no one was surprised. But when he decided to write it as a graphic novel, that was a bit more shocking. A living legend, a member of congress, writing a series of graphic novels? Incredible. And the books are amazing. I've taught March alongside many other books on this list and some of the greatest Marvel and DC books of all time, and students always list this in their top five.
Best Indie Comics of the Decade #3: The Wicked + The Divine

(Image: Image Comics)
Keiron Gillen is by far one of the most original voices in the comic industry. His work on Loki in Journey Into Mystery redefined the character forever. And his indie comics throughout the last decade such as Die, Über, Three, and Once and Future are easily some of the best. But The Wicked + The Divine is a masterpiece. Gillen and artist Jamie McKelvie create a new, unique mythology for some old (young) gods. And there's a lot of rock and roll to go along with it.
Best Indie Comics of the Decade #2: Monstress

(Image: Image Comics)
It's hard to know where to start with Montress. The interesting anamorphic characters? The antagonistic protagonist, Maika? Sana Takeda's gorgeous artwork? Maybe all of it. Monstress is an East meets West comic. It's very much told in Western comics tradition, but has many elements we see in our Eastern counterpart. The ambition of the project pays off too. The artwork and story, both dark and vivid, draw us in and doesn't let us go, and we don't want to let go anyway.
Best Indie Comics of the Decade #1: Saga

(Image: Image Comics)
One or two people might be rolling their eyes, but it's true. Saga definitely deserves to top the best indie comics of the decade list and maybe many best comics of the decade lists too. Brian K. Vaughan and Fiona Staples's sci-fi epic that twists Romeo & Juliet is more than a successful comic; it's a phenomenon. While indie comics became more popular over the last decade, Saga was like a shot of steroids to the entire indie industry. Its impact on the comics medium as a whole is too significant not to recognize. And every six issues, Vaughn and Staples will break your heart. Just a warning.
2010-2019: The Age of the Indie Comic
Since the '80s, indie comics have been rising in popularity, but it's never been as popular as it has the last decade. Starting around 2012's Saga, the amount of excellent indie series just kept growing, especially the output from Image Comics, which became so popular that the "Big 2"—Marvel and DC—became the Big 3—Marvel, DC, and Image. There was also another major comic event in 2012, but not on the shelves. Avengers debuted in theaters, and everyone was ready for comic sales to explode. Sure, Marvel and DC sales did increase, but looking back, it was indie comics that benefited most from the MCU phenomenon. Between Marvel, DC, and Indie Comics, there's one clear truth: this is an industry that supports itself. When one of these three counterparts do well, the others do well. It's symbiotic. It's beautiful.
(Features Image: Sea of Stars, Image Comics)
Roman Colombo finished his MFA in 2010 and now teaches writing and graphic novel literature at various Philadelphia colleges. His first novel, Trading Saints for Sinners, was published in 2014. He's currently working on his next novel and hoping to find an agent soon.
Leave a comment