Star Wars Celebration Europe 2023 Badge Art Revealed
Hey, Star Wars fans, guess what? The badge art for Star Wars Celebration Europe 2023 has been revealed and is seriously impressive. Alice X. Zhang, the talented artist behind the collection of character portraits, has done an amazing job of bringing the Star Wars universe to life. Unfortunately, we have a while until Star Wars Celebration Europe 2023, as Disney won't hold it until next month. Specifically, it'll be on April 7-10 at ExCeL London, England. Naturally, this will mark their first time holding Star Wars Celebration outside of America. 
Naturally, Lucasfilm has always made it a tradition to commission artists to create original badge art for Star Wars Celebration. So, this year is no exception. In fact, Alice X. Zhang was especially excited to be a part of this tradition. Here's what she said:
"Well, it has absolutely been a huge honor! I have never been to a Celebration, but when I was first approached and researched the history of Celebration badges, I was immediately inspired."
In the 19 Star Wars Celebration Europe 2023 portraits collection, we can see characters from the entire Star Wars spectrum. For example, Ahsoka Tano, Luke Skywalker, and Darth Vader are there. According to Zhang, she worked hard to ensure the pieces fit together like a puzzle. In fact, she wanted to create a unique "Easter egg" for collectors!
In addition, Zhang did her art in the style of traditional oil paintings but created through modern techniques. 
Star Wars Badge Art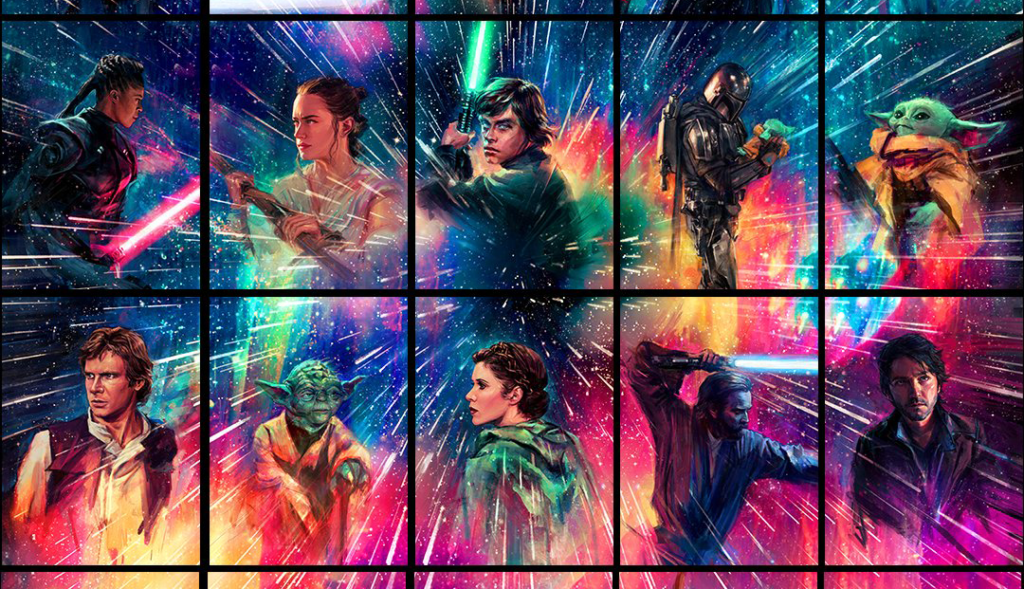 Image: Lucasfilm/Disney
"The style just comes from many years of me messing around with brushes that imitate traditional media and overlaying a variety of digital textures and effects."
To help create this art, Zhang used Photoshop on a Wacom Cintiq tablet. To make the early sketches, she used an Apple Pencil and Procreate. In addition, Zhang sometimes used Rebelle, which Escape Motions created.
However, Zhang said she couldn't pick a favorite piece from the Star Wars Celebration Europe 2023 collection. Even so, she did have a special moment during the review process. During this time, Zhang learned that Dave Filoni "personally approved of the Ahsoka piece, and that's always lovely to hear." It's a pretty big deal since Dave Filoni has been the main storyteller for Ahsoka Tano!
Overall, Zhang is just excited for fans to get their hands on these badges. She said,
"Even though I know not everyone will keep their badges, I hope those that do will treasure the souvenir and the effort that I (and Celebration for commissioning me in the first place) put in to make them special."
Clearly, Zhang is very excited about the Star Wars Celebration Europe 2023 badge art – and so are we! It's nice to see big franchises, like Lucasfilm and Disney, using smaller businesses to help build their brand further.
Star Wars Celebration Europe 2023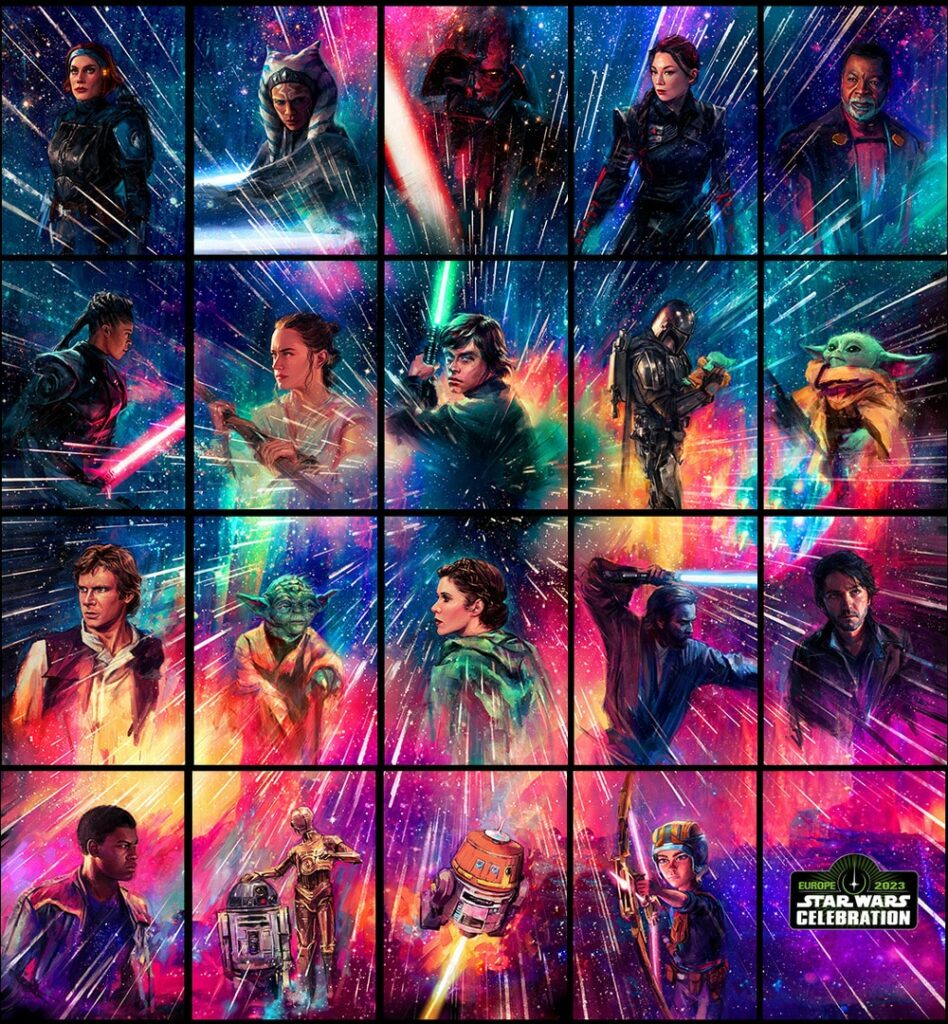 Image: Lucasfilm/Disney
So, if you're looking for an event out of this galaxy, you need to check out Star Wars Celebration Europe 2023. This event is the ultimate celebration of all things Star Wars, with panels, exhibits, and merchandise that will make your inner Jedi jump for joy.
Star Wars Celebration is a convention that's been around since 1999. Since then, it's been bringing fans together to celebrate the franchise.
Previously, the first Celebration took place in Denver, Colorado, and featured appearances by actors, artists, and even George Lucas. Since then, there have been 13 Celebrations held in various locations worldwide, with the most recent one taking place with Star Wars Celebration 2022. These events are known for their amazing panels, cosplay, and exclusive merchandise you can't find anywhere else. And let's not forget about the badge art, which has become a tradition!  
It's the perfect souvenir to take home and display with pride. Whether you're a die-hard fan or love the movies, this event is not to be missed. If you're lucky enough to attend Star Wars Celebration Europe 2023, get your hands on one of these special badges.
Hi! I'm Arvyn, and I'm an English teacher from the UK. I've been teaching English online for over 4 years to students from all across the world and all ages. Outside of work, I'm a huge fan of reading, video games, and playing with my adorable kitties. See ya!
Leave a comment