Threads In The Pattern: Wheel of Time Table-Read Gives Clues to Casting and Plot
Wheel of Time Wednesday delivers once again. Yesterday Amazon released a short video of The Wheel of Time table-read for the first episode of the television series, set to premiere in 2021. Principal photography for the series began on September 16, which was also the 12th anniversary of author Robert Jordan's death. Showrunner Rafe Judkins memorialized Jordan in a lovely video posted to the official Wheel of Time twitter account. But since then, news about the production has been scarce. Now this video gives us a tease for what is to come. Let's dig into the video, and see what it has to tell us about this long-awaited adaptation.
Amazon Releases Video of Wheel of Time Table-Read
On September 10th, the cast and crew of #WOTonPrime got together to read the first episode of The Wheel Of Time. Production is now on its way and we are VERY excited to see this show come to life! #TwitterOfTime, this is for you. pic.twitter.com/FmWA4zeh2r

— The Wheel of Time on Prime (@WOTonPrime) October 2, 2019
The video of The Wheel of Time table-read opens with a shot of the script for the first episode. Showrunner Rafe Judkins previously announced that this episode would be called 'Leavetaking.' But in this shot, the title of the episode is intentionally blurred out. Has the title changed for some reason?
According to the table of contents for Eye of The World (the first book in the series) chapter 10 is titled 'Leavetaking' as well. This gives us an idea of how much ground the first episode will cover. Ten chapters and approximately 140 pages in the first episode should move the plot along fairly quickly. However, if Judkins has decided to change things around that might account for the blanked out title. After all, using another chapter title would definitely give fans more information on where the first episode will end.
Our First Look At The Cast In Character
Around the table we see the main actors who have already been announced. Already some of them are starting to look and sound the part of the characters they will play. Josha Stradowski is a redhead now, one of the main physical attributes for Rand Al'Thor (other than his notable height). Marcus Rutherford looks like he has been hitting the gym, bulking up to play blacksmith Perrin Aybara. Barney Harris delivers his lines with the sharp wit and excellent comedic timing of Mat Cauthon, although he needs to work on his enunciation. I had to watch the clip a dozen times before I could fully understand what he was saying.
The focus however, is on Rosamund Pike as Moiraine Damodred. As the most well-known and experienced actor in the cast so far, Pike is the face of Wheel of Time right now. And she inhabits the character of Moiraine very well in her first spoken lines. Her delivery is cool and precise as an Aes Sedai should be. Her face and voice are both serene, with the barest undercurrent of emotion. The Aes Sedai are portrayed as ageless and wise. Rosamund Pike has already got these integral character traits down.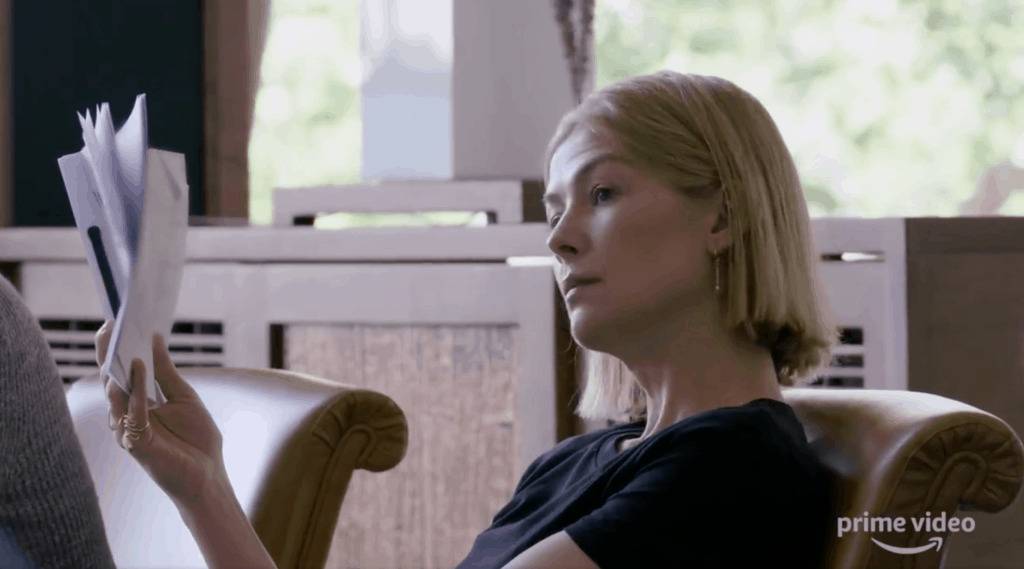 Rosamund Pike | Image via Amazon
A Familiar Face From Game Of Thrones Could Be Joining Wheel of Time
Along with the cast that has already been officially announced, there are other actors sitting around the table whose roles remain unknown. One face in particular caught the eye of many fans. It appears that actor Michael McElhatton will be joining the cast of Wheel of Time. Best known for his role as Roose Bolton on Game of Thrones, McElhatton is certainly no stranger to epic fantasy sagas. Many fans are speculating about who he might be playing in the series. Will he play the cheerful gleeman Thom Merrilin? Or perhaps he will step into a more positive fatherly role as Tam Al'Thor? My first instinct was to see him cast once again as a villain as the devious Padan Fain.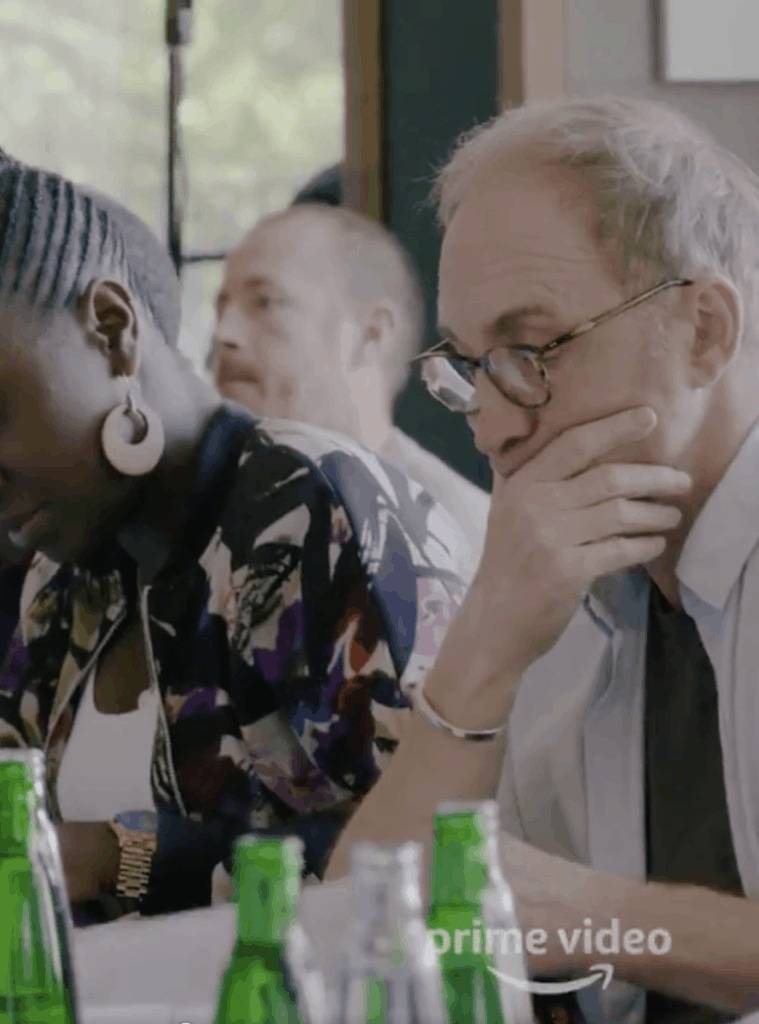 Is that you Roose? | Image via Amazon
It is odd that an actor from another well-known fantasy adaptation would not get his own casting announcement before the release of this video. Perhaps they are trying to avoid spoiling something major. After all, if the series includes the book's prologue in the first episode then we should get to see the dramatic figure of Lews Therin (aka The Dragon) and that is a role that McElhatton could definitely play well.
We will have to wait until the next #WotWednesday for more information. But what did you think of the table-read? Who do you think McElhatton will be playing? Comment below and let's speculate wildly together!
For more Wheel of Time coverage, and all the genre adaptation news make sure to follow Comic Years on Facebook and Twitter.
(Featured image via Amazon)
Emily O'Donnell is a writer and photographer with roots in some of the earliest online fandoms. She cut her genre teeth on the Wizard of Oz books at the tender age of 6 years old, and was reading epic adult fantasy novels by the age of 10. Decades later, she still consumes genre fiction like there is no tomorrow. She is delighted to be living through the golden age of sci-fi and fantasy popularity. She is unashamed of the amount of fanfiction that still lingers online under her name.
Leave a comment