New Marvel Prose Novels Coming Soon From Asmodee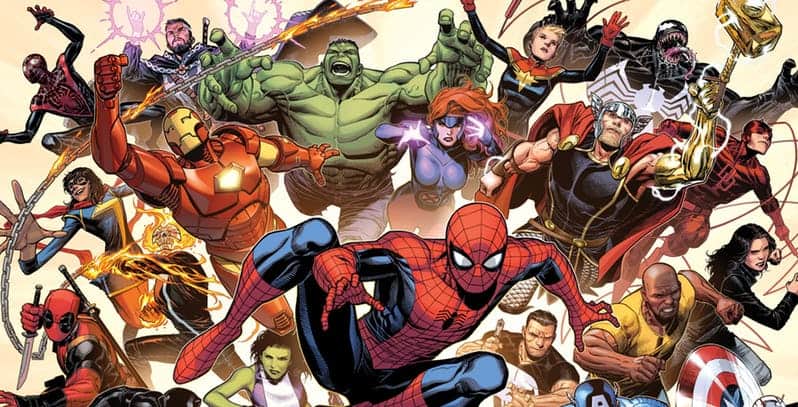 A new line of Marvel prose novels will publish this fall, expanding the world of Marvel fiction. The prose novels will publish through Aconyt – a new fiction imprint from Asmodee Entertainment. Asmodee has worked with Marvel before to put out several games set within the MCU. This line of novels is part of a multi-year agreement the gaming group struck with Marvel Entertainment.
Aconyte publisher – Marc Gascoigne – put out a press release today with the following statement previewing what to expect from the new prose novels.
"You can look out for legends from Asgard, several volumes focusing on some of Marvel's heroines, and stories of some of Professor Xavier's lesser-known students, and that's just to get us started."
These books promise to tell stories beyond movie novelizations and character tie-ins. Asmodee also has plans to tell stories within the worlds of their games. So far they have put out the Marvel Champions card game. There is also a table-top game in development – Marvel: Crisis Protocol.
Marvel Has Many Prose Novels Via Various Publishers
There have been many Marvel prose novels over the decades. A large number of these books are young adult novelizations of pre-existing comic books or movie titles. Just last month, Scholastic announced a multi-year deal to partner with Marvel specifically for young adult prose novels. Among those novels will be a book focused on Shuri, as well as an Avengers novel. Marvel themselves has also had their own fiction imprint since 2003, and put out two novels in 2018 about Black Panther and Squirrel Girl respectively.
However, a number of the novels have featured new and original stories featuring beloved Marvel characters. Just last year, Titan Books and Marvel announced a partnership that would publish original fiction. Among those novels were original titles focusing on Black Panther, Captain Marvel, Deadpool, The X-Men, and Spider-Man. These books focus on fleshing out the worlds and characters of the Marvel universe with stories not found in the graphic novels.
Image via Marvel
With so many Marvel books, graphic novels, games, movies, and media abundant it is clear we are truly living in a new golden age of comic books. Is Marvel taking over the world? It definitely feels that way sometimes, but we are not complaining.
What is your favorite Marvel prose novel? Let us know in the comments, or start a conversation with Comic Years on Facebook and Twitter today.
(Featured image credit – www.cbr.com)
Emily O'Donnell is a writer and photographer with roots in some of the earliest online fandoms. She cut her genre teeth on the Wizard of Oz books at the tender age of 6 years old, and was reading epic adult fantasy novels by the age of 10. Decades later, she still consumes genre fiction like there is no tomorrow. She is delighted to be living through the golden age of sci-fi and fantasy popularity. She is unashamed of the amount of fanfiction that still lingers online under her name.
Leave a comment