Daniel Radcliffe, JK Rowling, and Transgender Discrimination…And How To Be An Ally
Recently, beloved author JK Rowling made some remarks on Twitter that were, at best, ignorant and, at worst, transphobic. According to the Harry Potter author, gender fluidity or anything outside of the binary definition of gender, male and female, erases all gender and therefore negates the experiences of women. Or something like that…for a writer, she didn't make her stance very clear. All we know is that she doesn't like or believe in the idea of the gender spectrum. For the most part, the Potter professional community stayed quiet, but today we heard from Harry Potter himself, Daniel Radcliffe. And though Radcliffe admires Rowling, he made his feelings about her transphobic remarks clear.
Radcliffe, A Spokesperson for the Trevor Project, Condemns Remarks, but Not Rowling Herself
The face most of Rowling's fans made when they saw her remarks. (Image: Warner Bros. Pictures)
Radcliffe might be a little too nice in the statement he wrote for the Trevor Project website. However, he made it clear that he didn't want to make it a "Rowlinradcliffe-responds-to-j-k-rowlings-tweets-on-gender-identity/?fbclid=IwAR2gdw3OWEsvTomokHMIF_3HT_0P5KIUkryjf56b7MzcBuiAhSotXofSSpMg Vs. Radcliffe" issue. He has a deep respect for "Jo," as he calls her, and not just because she launched his career. In one part of his short letter, Radcliffe writes:
Transgender women are women. Any statement to the contrary erases the identity and dignity of transgender people and goes against all advice given by professional health care associations who have far more expertise on this subject matter than either Jo or I. According to The Trevor Project, 78% of transgender and nonbinary youth reported being the subject of discrimination due to their gender identity. It's clear that we need to do more to support transgender and nonbinary people, not invalidate their identities, and not cause further harm.
He also explains how he is trying to be a better ally and how readers can do the same. But he also talks about fandom too.project.org/resources/trevor-support-center/a-guide-to-being-
What Happens When Someone Who Created Something You Love Says or Does Something Stupid?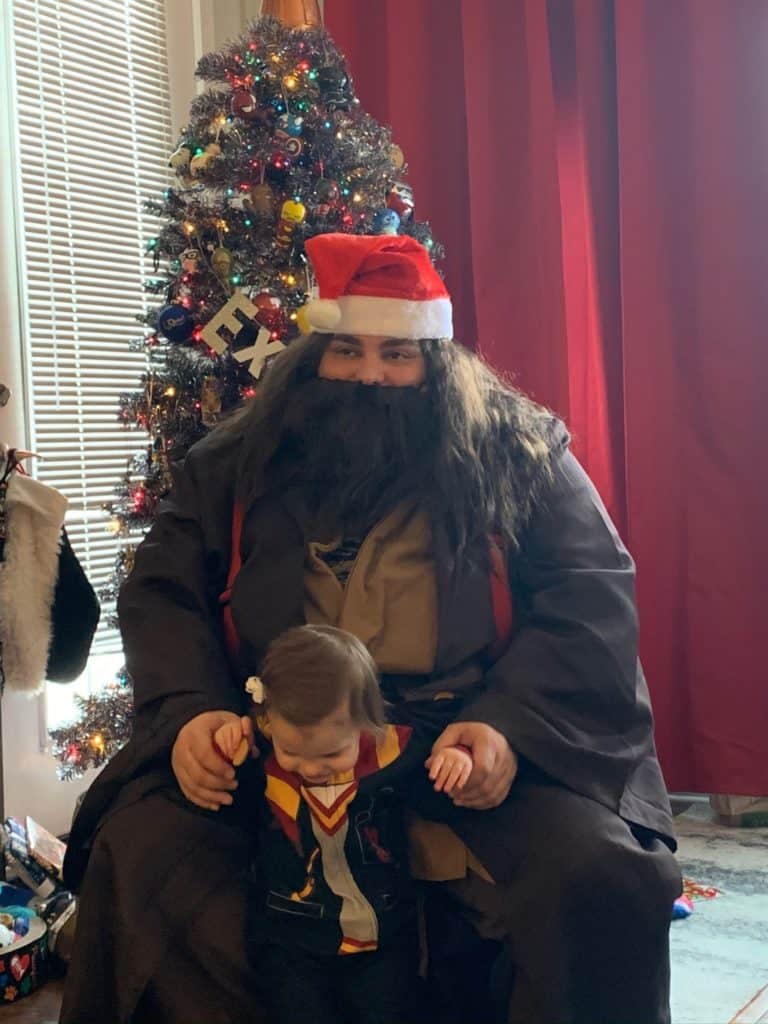 Me, as Hagrid…as Santa, taking Christmas pictures with my friends' kid. Harry Potter is a big deal in our circles.
Radcliffe knows how important Harry Potter is to millions of people. Few books have changed the culture the way those seven books have. We've all been there. I have a poster in my room, a bucket list challenge of 100 great movies; two of the entries, and two of my favorite films, star Kevin Spacey. I'm not sure if I can ever watch those movies again. But for works like Harry Potter, Lord of the Rings, and Star Wars, the work transcends the creators. As Radcliffe states,
To all the people who now feel that their experience of the books has been tarnished or diminished, I am deeply sorry for the pain these comments have caused you. I really hope that you don't entirely lose what was valuable in these stories to you.

If these books taught you that love is the strongest force in the universe, capable of overcoming anything; and if they taught you that strength is found in diversity, and that dogmatic ideas of pureness lead to the oppression of vulnerable groups; if you believe that a particular character is trans, nonbinary, or gender fluid, or that they are gay or bisexual;
Going on, he added:
if you found anything in these stories that resonated with you and helped you at any time in your life — then that is between you and the book that you read, and it is sacred. And in my opinion nobody can touch that. It means to you what it means to you and I hope that these comments will not taint that too much.
This Pride Month is unlike any in history, while celebrating the anniversary of the civil unrest that led to a push for equality for LGBTQIA+ Americans, another civil rights movement is happening in real time. We all have our own work to do in our families, amongst friends, and in our own minds to ensure that we are on the morally right side of history. As fans of genre stories that have clear heroes and villains, the real-world is full of so many more shades of gray. As a wise wizard once told the Boy Who Lived, there comes a time when all of us have to choose between doing what is right and what is easy. Radcliffe's example continues to remind us that doing the right thing is always the right thing to do.
How About You?
What do you think? Do the transphobic remarks that Rowling made tarnish the books for you, or is Radcliffe right? Is your connection to the books is more sacred? And check out Radcliffe's Trevor Hero acceptance speech below:
(Featured Image via Warner Bros. Pictures)
Roman Colombo finished his MFA in 2010 and now teaches writing and graphic novel literature at various Philadelphia colleges. His first novel, Trading Saints for Sinners, was published in 2014. He's currently working on his next novel and hoping to find an agent soon.
Leave a comment