Transphobic Novels and Where to Find Them: The Whines of JK Rowling
Over the summer, JK Rowling shocked her fans with two announcements. One, she would release a Harry Potter story during the COVID-19 pandemic. And two, she believed that transgender people were a threat to cisgender women. Fans and stars of the Wizarding World franchise immediately spoke out against her, Daniel Radcliffe most of all. But instead of listening to her large LGBTQ fanbase, she double-downed with a 4000-word blog post. But in her adult mystery novels, JK Rowling often writes transphobic scenes. Her newest novel, however, is so transphobic, it's like a rallying cry for other transphobes.
Be warned: Some sections below include a scene description discussing violence and sexual assault.
JK Rowling is a TERF. What is a TERF? And How Does That Lead to Transphobic Novels?
Harry Potter was not amused by Rowling's statements. (Image: Warner Bros.
TERF is an acronym for "Trans-exclusionary radical feminists." While the term is new to most, its history goes bck to the 1970s. As Vox explains:
TERF originated in the late 2000s but grew out of 1970s radical feminist circles after it became apparent that there needed to be a term to separate radical feminists who support trans women and those who don't. Many anti-trans feminists today claim it's a slur, despite what many see as an accurate description of their beliefs. They now prefer to call themselves "gender critical," a euphemism akin to white supremacists calling themselves "race realists."
While "radical feminists" is something we hear from alt-right crowds, the preface of "trans-exclusionary" changes that definition. Both trans people and women are oppressed groups, but by excluding trans rights, TERFs switch the focus of fighting oppression to fighting another oppressed group. In an interview with The Daily Beast:
"The 'divide and conquer' method of pitting women's rights against the rights of trans people has been a very effective tool for dividing marginalized people," she said. "So then what we're seeing in that moment … is that we're pitting marginalized communities against each other."
For JK Rowling, the transphobic "us vs them" is manifesting in her novels, as we'll see.
JK Rowling and the Transphobic Novels That Shall Not Be Named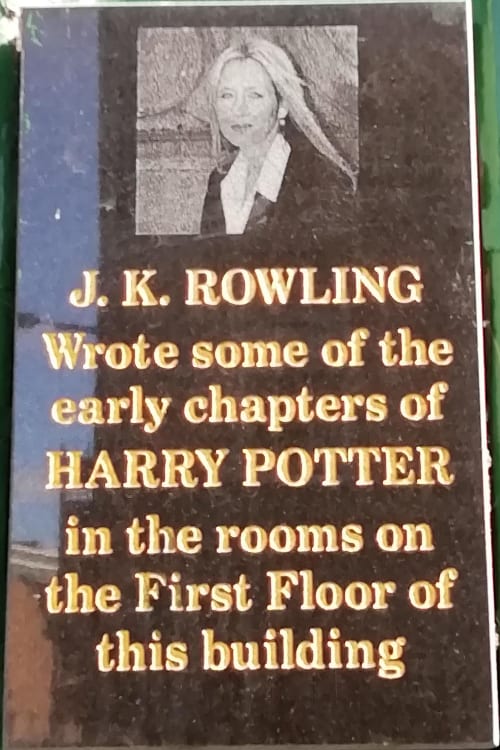 Image: WikiCommons
Her newest work of fiction isn't even the first time JK Rowling used transphobic plotlines in her novels. It's just the first based on the fearmongering and false claims that transgender people are a danger to cisgender women. The plot of this particular novel that shall not be named revolves around a man who dresses as a woman to kill his victims. But to understand just how prevalent transphobic scenes are in JK Rowling's novels, take a look at this passage that the online Transgender magazine Them highlights:
In a scene from The Silkworm, a trans woman named Pippa attempts to stab Strike. Having detained her in his office, the detective asks for Pippa's ID, revealing her trans status. When Pippa attempts to escape, Strike blocks her exit, informing her that "'If you go for that door one more time I'm calling the police and I'll testify and be glad to watch you go down for attempted murder. And it won't be fun for you Pippa,' he says. 'Not pre-op,'" he adds, implying she may be raped in prison.
That was just a scene from one book. Consequently, it now seems that every time JK Rowling tweeted something transphobic, it was just to promote future novels.
Transphobia Is Dangerous to Transgender People…which Includes JK Rowling?
Wikimedia Commons
As if writing a series of novels heavy on transphobia wasn't enough, there are two other points we can't ignore. The first is that the transgender and/or cross-dressing psychopathic killer trope is pretty tired out. We already had this in Dressed to Kill and Silence of the Lambs. There's nothing unique or original in JK Rowling's new novel. That leads us to point number two. The Strike mystery novels aren't published under JK Rowling's name, but "Robert Galbraith." That' right, JK Rowling uses a traditionally masculine pen-name, essentially posing as a man who writes novels about men pretending to be women. That takes a lot of cognitive dissonance, and—ironically—balls (metaphorically speaking).
And a final note: if you want to support the transgender community, please consider donating TransLifeLine.Org, a suicide hotline specifically for trans people.
(Featured Image: Sphere Books)
Roman Colombo finished his MFA in 2010 and now teaches writing and graphic novel literature at various Philadelphia colleges. His first novel, Trading Saints for Sinners, was published in 2014. He's currently working on his next novel and hoping to find an agent soon.
fantastic beasts
harry potter
JK Rowling
Transgender Rights
Leave a comment