2020 Hugo Award Winners Announced Amidst More Controversy in the SFF Community
The 2020 Hugo Award Winners were announced last night in an virtual ceremony. This year's awards made history with nominations exclusively for female authors in the Best Novel category. (Update: we were incorrect about this. 2019 was actually the first year where this happened. Our apologies for the error.) Despite the widely diverse nominees, the 2020 Hugo Awards were not without controversy yet again. Accusations of racism and misogyny still plague the awards, despite an attempt to appear more progressive.
The Hugo Awards Decided to Give a Prize to some Old, Dead Racists
Image via Hugo Awards Website
Author George R.R. Martin acted as the host for the evening that saw the fiction awards going predominantly to women and people of color. Martin used his time to give lengthy speeches, including one about noted racist and sexist author John Campbell. The Hugos used to give out a 'Campbell Award' and recently changed the name of that award to the "Astounding Award for Best New Writer."
On top of this, the Hugo Awards also decided several years ago to start retroactively awarding prizes to 'classic' works in the genre. Among the authors that were given this award this year was H.P. Lovecraft, who was also notoriously racist and anti-Semitic. All of this leads us to ask, what exactly is wrong with the Hugos? It seems as though every year they fall prey to controversy that does not plague other book awards the same way. After all, it was not that long ago that a rabid band of 'sad puppies' attempted to sabotage the Hugo Awards because they were upset at how much N.K. Jemisin was winning for her Broken Earth trilogy.
The Hugo Awards are considered the 'most prestigious' award in the science fiction and fantasy community. But it seems that every year they give awards to people of color, while also allowing racism to go unchecked. While we are mostly happy with the major awards given out this year, it is clear that the Hugo Awards and the genre community as a whole still has a long way to go to truly becoming an inclusive space. (Also, worth nothing, the forthcoming Lovecraft Country from HBO features a number of black lead actors and promises to deal with real-world social issues as much as they do Cthulhu and things.)
Women and Authors of Color Were The Prominent 2020 Hugo Award Winners
All that said, there were a fair number of authors and books that did win at the Hugos last night who fully deserved the honor. To that end, we give you the 2020 Hugo Award Winners in every major category. A full list of the 2020 Hugo Award Winners can be found online at the Hugo Awards website.
Best Novel
Even with all of these amazing books by female genre authors, there were still so many others that did not make the cut. However if 2020 proves anything, it is that the future of the genre is definitely female. Surprisingly, the favorite to win – Gideon the Ninth – did not take home the top prize. Instead that award went to Arkady Martine for her sci-fi space opera: A Memory Called Empire. I have not personally read this book (I was rooting as always for the underdog of The Ten Thousand Doors of January) but it is certainly getting added to my never-ending TBR pile.
Image via Tor
Winner: A Memory Called Empire, by Arkady Martine (Tor)
The City in the Middle of the Night, by Charlie Jane Anders (Tor)
Gideon the Ninth, by Tamsyn Muir (Tor)
The Light Brigade, by Kameron Hurley (Saga)
Middlegame, by Seanan McGuire (Tor)
The Ten Thousand Doors of January, by Alix E. Harrow (Redhook)
Best Novella
Image via Simon & Schuster
Winner: This Is How You Lose the Time War, by Amal El-Mohtar and Max Gladstone (Saga Press)
"Anxiety Is the Dizziness of Freedom", by Ted Chiang (Alfred A. Knopf)
The Deep, by Rivers Solomon, with Daveed Diggs, William Hutson & Jonathan Snipes (Saga Press)
The Haunting of Tram Car 015, by P. Djèlí Clark (Tor)
In an Absent Dream, by Seanan McGuire (Tor)
To Be Taught, If Fortunate, by Becky Chambers (Harper Voyager)
Best Novelette
Image via Amazon
Winner: Emergency Skin, by N.K. Jemisin (Forward Collection (Amazon))
"The Archronology of Love", by Caroline M. Yoachim (Lightspeed)
"Away With the Wolves", by Sarah Gailey (Uncanny Magazine: Disabled People Destroy Fantasy Special Issue, September/October 2019)
"The Blur in the Corner of Your Eye", by Sarah Pinsker (Uncanny Magazine)
"For He Can Creep", by Siobhan Carroll (Tor)
"Omphalos", by Ted Chiang (Exhalation (Alfred A. Knopf)
Best Short Story
Winner: "As the Last I May Know", by S.L. Huang (Tor)
"And Now His Lordship Is Laughing", by Shiv Ramdas (Strange Horizons)
"Blood Is Another Word for Hunger", by Rivers Solomon (Tor)
"A Catalog of Storms", by Fran Wilde (Uncanny Magazine)
"Do Not Look Back, My Lion", by Alix E. Harrow (Beneath Ceaseless Skies)
"Ten Excerpts from an Annotated Bibliography on the Cannibal Women of Ratnabar Island", by Nibedita Sen (Nightmare Magazine)
Best Series

Image via Hachette
Winner: The Expanse, by James S. A. Corey (Orbit)
InCryptid, by Seanan McGuire (DAW)
Luna, by Ian McDonald (Tor)
Planetfall series, by Emma Newman (Ace; Gollancz)
Winternight Trilogy, by Katherine Arden (Del Rey)
The Wormwood Trilogy, by Tade Thompson (Orbit)
Best Graphic Story or Comic
Image via Dark Horse
Winner: LaGuardia, written by Nnedi Okorafor, art by Tana Ford, colours by James Devlin (Dark Horse)
Die, Volume 1: Fantasy Heartbreaker, by Kieron Gillen and Stephanie Hans, letters by Clayton Cowles (Image)
Monstress, Volume 4: The Chosen, written by Marjorie Liu, art by Sana Takeda (Image)
Mooncakes, by Wendy Xu and Suzanne Walker, letters by Joamette Gil (Oni Press)
Paper Girls, Volume 6, written by Brian K. Vaughan, drawn by Cliff Chiang, colours by Matt Wilson, letters by Jared K. Fletcher (Image)
The Wicked + The Divine, Volume 9: "Okay", by Kieron Gillen and Jamie McKelvie, colours by Matt Wilson, letters by Clayton Cowles (Image)
Good Omens and The Good Place Take Top Prizes In Television
2019 was certainly a banner year for excellence in genre film and television. These categories were stacked and every nomination also fully deserved to win. While we may have been personally rooting for Watchmen to win everything, we also can't be mad at The Good Place for finally getting some recognition after their excellent final season. There is still time for Watchmen to win big at this year's genre-heavy Emmy Awards however.
Best Dramatic Presentation, Long Form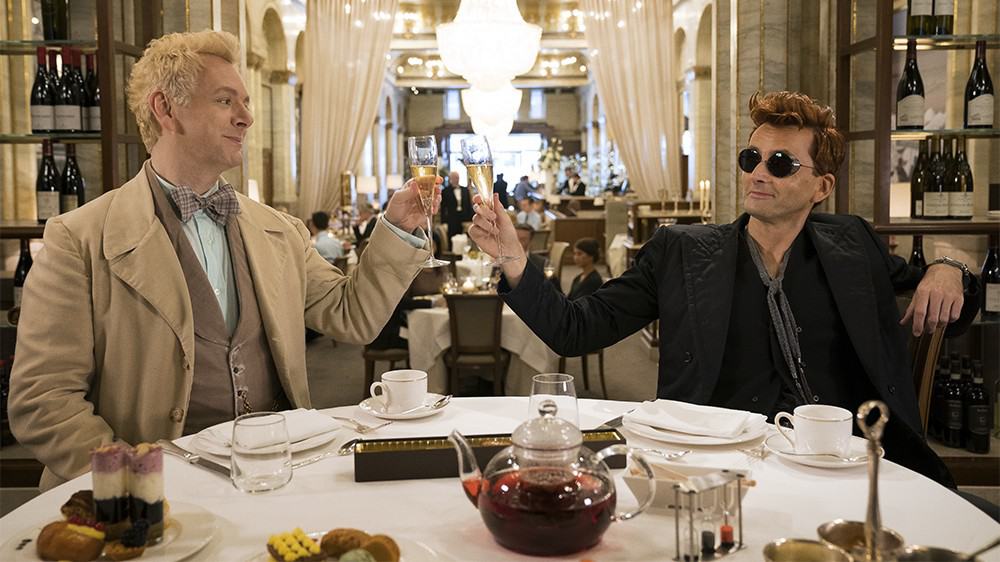 Good Omens
Winner: Good Omens, written by Neil Gaiman, directed by Douglas Mackinnon (Amazon Studios/BBC Studios)
Avengers: Endgame, screenplay by Christopher Markus and Stephen McFeely, directed by Anthony Russo and Joe Russo (Marvel Studios)
Captain Marvel, screenplay by Anna Boden, Ryan Fleck and Geneva Robertson-Dworet, directed by Anna Boden and Ryan Fleck (Walt Disney Pictures/Marvel Studios)
Russian Doll (Season One), created by Natasha Lyonne, Leslye Headland and Amy Poehler, directed by Leslye Headland, Jamie Babbit and Natasha Lyonne (Netflix/Paper Kite Productions/Universal Television)
Star Wars: The Rise of Skywalker, screenplay by Chris Terrio and J.J. Abrams, directed by J.J. Abrams (Walt Disney Pictures/Lucasfilm/Bad Robot)
Us, written and directed by Jordan Peele (Monkeypaw Productions/Universal Pictures)
Best Dramatic Presentation, Short Form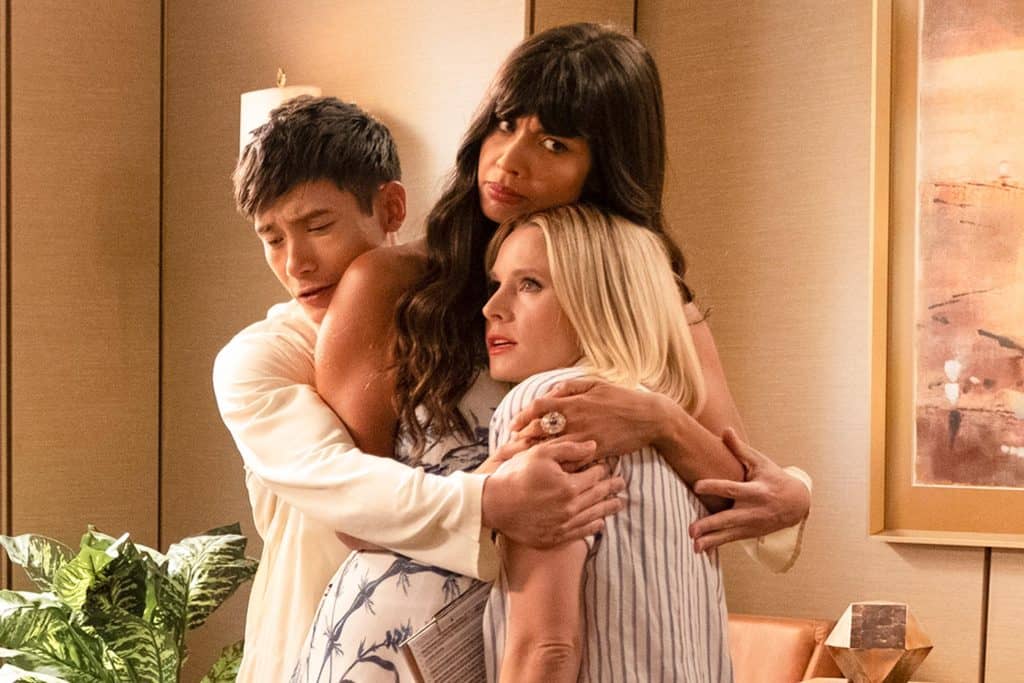 The Good Place | Image via NBC.
Winner: The Good Place: "The Answer", written by Daniel Schofield, directed by Valeria Migliassi Collins (Fremulon/3 Arts Entertainment/Universal Television)
The Expanse: "Cibola Burn", written by Daniel Abraham & Ty Franck and Naren Shankar, directed by Breck Eisner (Amazon)
Watchmen: "A God Walks into Abar", written by Jeff Jensen and Damon Lindelof, directed by Nicole Kassell (HBO)
The Mandalorian: "Redemption", written by Jon Favreau, directed by Taika Waititi (Disney+)
Doctor Who: "Resolution", written by Chris Chibnall, directed by Wayne Yip (BBC)
Watchmen: "This Extraordinary Being", written by Damon Lindelof and Cord Jefferson, directed by Stephen Williams (HBO)
How do you feel about the 2020 Hugo Award winners? Any notable snubs or new books/shows you're excited to delve into after hearing about their win? Join the conversation with Comic Years on Facebook and Twitter today to share your thoughts.
Emily O'Donnell is a writer and photographer with roots in some of the earliest online fandoms. She cut her genre teeth on the Wizard of Oz books at the tender age of 6 years old, and was reading epic adult fantasy novels by the age of 10. Decades later, she still consumes genre fiction like there is no tomorrow. She is delighted to be living through the golden age of sci-fi and fantasy popularity. She is unashamed of the amount of fanfiction that still lingers online under her name.
Leave a comment