The Mandalorian Manga Adaptation – Star Wars Turned Into Anime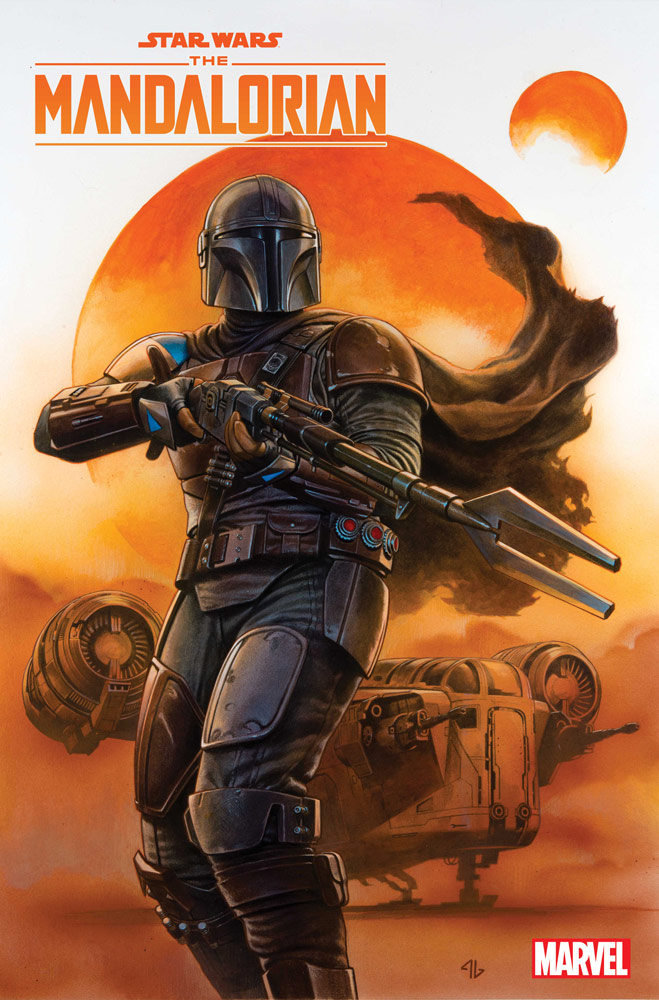 The Mandalorian has undoubtedly been one of the most significant TV phenomena of the last few years, although it helps to be under the Star Wars content umbrella. The franchise in question is still quite the sci-fi beast, and today it has proven that it can diversify its content and expand its lore in many different ways, with great success to boot. Now, it is The Mandalorian's turn to have its adaptation in the manga concept.
After the success of Star Wars: Visions, Star Wars, and anime were a perfect match. Now we know that The Mandalorian series will be adapted into a manga, and there couldn't be more exciting news. This adaptation will begin at the end of next month, May, and feature a manga author who has worked on Marvel, specifically Spider-Man.
Image via Disney Plus
There are many parallels between the Star Wars universe and some manga stories. Seeing Din Djarin carrying and protecting Grogu reminded many fans of stories like those in The Lone Wolf and Cub, manga by Kazuo Koike and Goseki Kojima.
What We Know About The Mandalorian Manga Adaptation
We still don't have an official image of The Mandalorian. Still, here we can see the tweet from MangaMogura that informs us about the release date of the volume and the artist who will carry out the adaptation:
"Star Wars – The Mandalorian" will get a manga adaption by Oosawa Yusuke (Spider Man – Fake Red) starting in Big Gangan issue 6/2022 out May 25

Below image is for illustration only, not related to the manga pic.twitter.com/9y8UhylHgX

— Manga Mogura RE (@MangaMoguraRE) April 22, 2022
Oosawa Yusuke will be in charge of adapting The Mandalorian into manga. Some fans know the artist for works such as Spider-Man: Itsuwari no Aka. This means he already has experience working with Marvel. We will learn more about this adaptation on May 25th through Big Gangan magazine, the publishing label owned by Square Enix.
Is still unknown the story's scope that unites Star Wars and manga into one. We know that this will not be the only story they will adapt. Sources also confirm that the story of The Elder, which we saw in Star Wars: Vision, will have its manga. Kamone Shinarama, the author of Witch Hat Atelier, will develop this manga.
Image via Disney Plus
It seems that the two genres go very well together, and we will see collaborations of this kind for a long time. Certainly, this is something that you should celebrate if you are a fan of these genres. We remind you that a second season of the Star Wars Visions anime is developing.
Samurai Style in the Lucasfilm Universe
Many people miss these "crossovers", but the truth is that every genre is inspired by others and then creates its formula. In The Mandalorian, we could see from the hand of Jon Favreau and Dave Filoni how well the "samurai" style looks in the Star Wars universe.
Image via Disney+
The Mandalorian was a global phenomenon for many reasons. Still, one of them was because it successfully reminded us of samurai movies. Since George Lucas was inspired by samurai movies, which inspired cowboy movies, and looking sideways at Dune, he created Star Wars.
Image via Lucasfilm
In fact, in several episodes, we could see tributes to the films of Akira Kurosawa. Such as The Seven Samurai or Yojimbo. Now that in the third season of the series comes the story of the dark saber, owned by Tarre Vizsla, the first Mandalorian Jedi, we will surely see more nods to this genre.
It's always good news to have new Star Wars content. And where is the other big news? The author of Witch Hat Atelier will also adapt as manga the story of The Elder, which was included as a short film in Star Wars: Visions.
Featured Image Via Marvel Comics
I am a circus aerialist influenced by Dick Grayson and Spider-Man. Fortunate to write about the characters that inspired me. I also have a Bachelor's degree in Political Science and a Master's degree in International Trade.
Leave a comment